Ever wondered if there's something, someone, somewhere out there that could warn you before that speeding ticket gets sent to your mail? Or, maybe to alert about that traffic jam you spent a whole 4 hours in? Sure, you could rely on your satnav or Waze, but there's only so much it can do. If you'd like a hint of more forewarning before problems hit your way, Saphe's Drive Mini is what you need.
On the surface, it looks adorable, no? Physically, its appearance doesn't aim to shout, and it's mostly a simple machine inside. But buried deep in its software, this unassumingly cute device is the sort of live-saver that could get you out of some serious trouble. Their so-called "traffic alarm" has already helped hundreds of thousands of people so far. It could help you out, too.
Seamless Synching And Notifications
The Saphe Drive Mini is a small little device that you could tack onto your dashboard. The beauty of Saphe's traffic alarm starts when you download the app, and sync the cutesy brick to it. Over Bluetooth, you'll primarily interface with Saphe's traffic alerts system through the app anyway. So, how does this alarm thing work?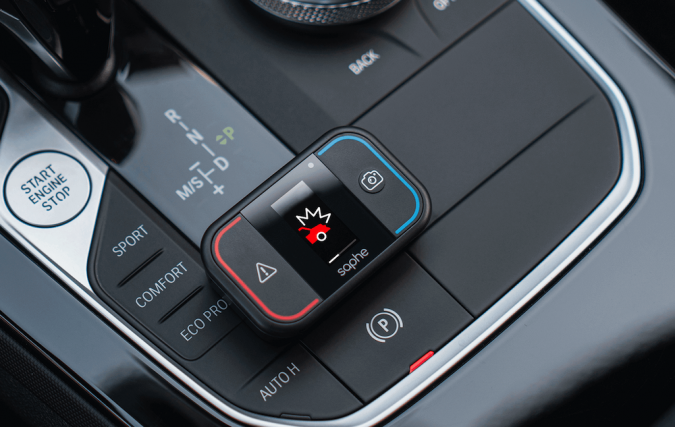 Well, once it's paired to your phone, it'll access your phone's GPS to figure out where you are. Perhaps most importantly, it can also gauge where you're heading to. From there, it can then aptly warn you if you're about to drive into danger. Be it a traffic collision or a cheeky speeding camera hidden in the bushes.
It includes your typical fixed and mobile speed cameras, as well as average speed cameras. They could also warn you about those subtle cameras mounted on traffic lights, and so forth. This will be important, given that there are over 7,000 speed cameras that are strategically placed throughout most British roads. Yet, how does it actively warn you about it?
Be Aware Of Your Surroundings
Well, Saphe's Drive Mini doesn't work without one key aspect – you. That's not to mention its rapidly growing community with more than 11,000,000 users. 700,000 of whom have Saphe Drive Minis, just like you. It's from all of these people – including yourself – is how the Drive Mini's databank is filled to the brim with where certain accidents, speed cameras, or troubles lie. It works sort of like Waze.
As you drive along, you can report incidents so that other drivers could see them. But instead of having to tap clumsily at your phone, Saphe makes this process a whole lot easier. This, I think, is where its USP can be found compared to mapping software or your satnav screen. On the Saphe Drive Mini, you ought to see two buttons flanking its small, yet crisp, display. You can spot the outlines.
A red one, and a blue one. This is how you report incidents, which automatically warns others using the Saphe app – and its mapping system – of where troubles are located. As you drive along, you can press gently on either one of these two buttons. That particular event will then be noted down onto the map in the Saphe app…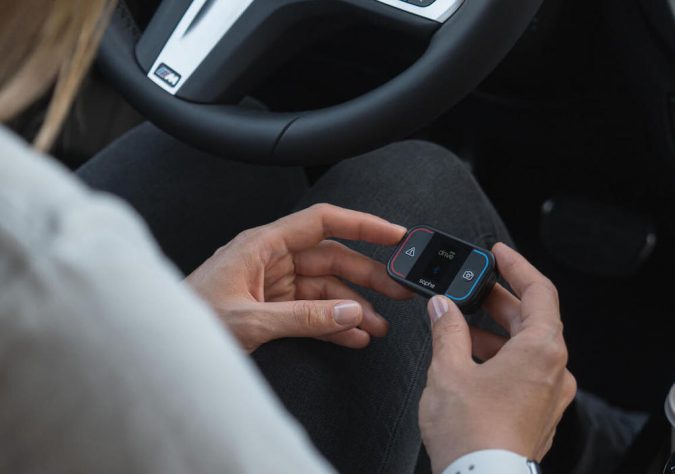 If you spot an accident, press the red button on the left, with a picture of a warning triangle. This lets others know that there could be a nasty pile-up or a lengthy jam waiting to happen. Thus, they're now aware that they should probably reroute their journeys elsewhere.
If you spot a speed camera, press the blue button on the right, with a camera icon. Simply, this warns others behind you that they should probably slow down.
Ease Of Use Comes Standard
On the flip side, the Saphe Drive Mini isn't just a tool for you to inform others. You can be more aware of your surroundings thanks to what other users up ahead have reported. Suffice it to say, it may save you a lot in speeding fines. And can prevent you from being stuck in a jam. But don't think for a second, however, that you're completely reliant on just the Saphe app.
Remember that miniature screen in the middle? Not only is it sharp, but it's also rather bright. This is good news, seeing that we can read its prompts clearly even under direct sunlight. As you're driving along, reports from other users will proactively appear on this display. It keeps you informed if you're about to drive into a speed camera or an accident. It's a speedy thing, which updates every second.
For all its simplicity, the Saphe Drive Mini works brilliantly and is easy to use. That latter part is vital, as it's meant to be a tool that you'll bring with you on every commute. The best experience that I was able to exploit out of the Drive Mini is keeping my phone by my side during the drive. For starters, the app can be used just like a regular satnav. You can thus preview warnings far in front of you.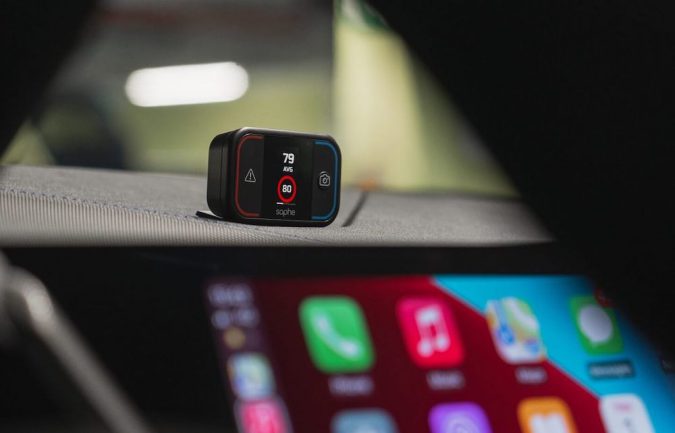 Another neat aspect of the app is how it keeps a log of every obstacle you just drove through. This also includes your reports, and warnings fed to you by other users. Speed tickets are one thing, as Saphe has catalogued more than 100,000 of them so far. Additionally, it has a monumental impact on your safety, as well. It can promptly warn you of accidents ahead of time, and numerous other dangers.
Does Everything You Want, And More
Saphe's Drive Mini is just about big enough that you can tap the buttons and look at the display with minimal difficulty. Nonetheless, it's also small enough that it sits inconspicuously on your dashboard, or stuck onto your windshield. You can keep its battery topped up through micro-USB. To save power though, the screen stays off most of the time. That's until it comes up to alert of you something.
With that being said, the battery is rated to last up to 6 months on a full charge. So, it's a sort of set it and forget it kind of device. Do bear in mind that the Saphe Drive Mini isn't a standalone device, as it needs to pair with your phone to work. For £59.99, the Saphe Drive Mini does exactly what it says on the tin, and accomplishes so much more. It's a simplistic device, but a consequential one at that.
As its user base grows and continually report incidents to its databank, the alerts will continue to get better. You, on the other hand, will benefit massively from being left more informed of the things going on around you. It can keep your wallet happier from speeding fines, and you could spend more time outside of a jam. Saphe's Drive Mini may even keep you out of getting into an accident, too.
This 20% discount offer will be active for three weeks from the day this blog post is published.
Code: motorverso20
The code can be used on saphe.com/uk or amazon.co.uk.
Saphe Drive Mini:
https://saphe.com/uk/products/saphe-drive-mini-traffic-alarm/