Do you need to upgrade to a better car? Maybe you own a car that you barely use? Need to get rid of an outdated ride? Do you need something that would more suit your needs like a pickup? Or maybe just to get some extra cash? Selling your car is a good option. Remember there is always someone out there who would pay good money to buy something that you want to get rid of. But can you sell a car to a dealer?
If you own a car there will come a time that you want to sell it. If you bought it brand new, you probably will not make your money back. But there are ways that you can make your car more presentable. Following these techniques will allow you to get the best possible offer for your car.
You can try to sell your car online. There are tons of websites that can be used for this purpose. But meeting up with the buyer or deciding on an exact method for the money transfer can be daunting. And if you want your car sold fast this will not be an ideal option.
So if you want cash fast and do not want to get involved in any shady business you can sell your Mercedes Benz AMG to a dealer. This is a seldom chosen option. But in some cases, this can prove to be the best possible option. You won't need to spend lots of time and energy if you sell your car through a dealership.
Resale Value
Before you decide to sell your car to a dealer you need to know the value of the car. Without knowing the exact value of your car you won't be able to get a good price for it. Try not to be a victim of price depreciation. So, how much is your car worth? And how to find out?
There are many ways to get a rough idea of the resale value of your car.
Pricing Guides
Many websites such as NADA, KBB, or Edmunds will allow you to get an estimation of the resale value of your car. Here, once you input all the data about your car, you will get an estimated resale value for your car. This data includes the model, year, mileage, etc…
The more data you can enter, the more accurate the value will be. These online pricing guides can be effective when you are trying to find the value of your car.
Which Tool Is The Most Accurate
All of the above tools estimate a value using data from past sales.
Edmunds is a pioneer in the concept of true market value. This is because they use real-world dealership transactions to provide an estimate. It further classifies pricing depending on the region. Originally it was made for consumers, to get a good deal. But it can be used for an impartial valuation as well.
And then we have the Kelly Blue Book. It offers an easy-to-use car value calculator that shows trade-in (and it's worth learning how to trade car that is not paid off), private party, and even certified pre-owned car pricing. But the KBB is often criticized on the fact that it favors the seller more. This makes the valuation higher than the actual value of the car.
Finally, we have NADA. This was created by the National Automobile Dealers Association. It uses the data from millions of transactions to get an approximate value for your car. This is backed by most experts as the most accurate source to get a proper valuation.
Each of these sources will show a different value for your car. This is because they all get data from different sources. But they all should be within the range of a few hundred dollars.
Research
Doing some research is another way to find the value of your car. You can check the local market for similar cars to your own. Or you could use listings from websites like Trophy Ford Used Cars or Autotrader. These listings will show the price of similar cars or maybe even the same is being sold for. This way you could value your car at the same amount.
Other platforms such as eBay Motors and Craigslist can also help you get an estimate for your car.
These are the best ways to get an accurate resale value for your car.
Factors That The Valuation Depend On
There are many factors that your car's resale value depends on. Most of these will be asked in pricing calculators. But some of these factors vary every now and then. Here are a few factors that could determine the value of your car.
Year and Model
The year the car was manufactured is a huge factor that could change the value of your car. The newer the year the higher the value. Similarly, the model could prove to be a huge difference as well.
For example, assume you have a 2021 Ford F-150 XLT. Here the model is the F-150 and XLT indicates the trim. The trim offers different additional features to the car. Similar to the price variation when buying different trims brand new, the resale value also will change according to those trims.
Color
The color of your car could also change its value. Colors like silver and white tend to be more popular in the US. Therefore you can demand a higher price if your car is painted with a popular color. The original paint also holds a higher value than a repainted car.
Additional Features
Additional features such as heated seats, sunroof, or leather upholstery will be offered in some cars when you buy them. You would have to pay a higher price to get these features. You can ask for a higher price if you paid to get any additional features. Though you won't get a significant change in price, you could ask for a slight increase.
Condition
The condition of your car can significantly change the value of your car. If you maintain your car in pristine condition you should be able to get a good price for it.
Pricing guides also ask for this data before giving an estimated value for your car. For example, in Edmunds, you will be asked about the condition, and you can choose between Outstanding, Clean, Average, Rough, and Damaged.
Use the description for these conditions and try to find which your car fits into. By submitting an unbiased report you could get a more accurate estimation. This is an aspect where people tend to overestimate the value of their car.
Mileage
Every mile you travel in your car decreases its value. If you've driven more than the average amount of about 12,000 to 15,000 miles a year, your car will be valued less. Similarly, if your car has been sitting for a while in the garage and does not have a lot of miles under the hood your car will have a higher resale value.
Understanding these factors that affect the value of your car will allow you to have a realistic value for your car. Don't lie to yourself and overestimate the value of your car. This way you will just get disappointed with the offers you get.
Required Paperwork To Sell Car To Dealer
This is the first task that you should do. If you wait to gather all the paperwork till the end, you will be scrambling for all the necessary documents. The best approach is to have all the paperwork in order before you finalize the sale.
Here's all the paperwork you need to sell your car to a dealer.
The Title
This is the most important paper when it comes to a sale. You should get this when you buy the car yourself. As you pass your car to someone else this paper should be handed over as well. Just like you got it, you have to sign the title and hand it over to the new owner. The title is the certificate of ownership.
Maintainance Records
Maintainance records are not necessary to make a sale. But if you can provide them it can increase the value of your car. As long as you have done all the scheduled maintenance. If you provide the dealership with these records, you can get a better price as you guarantee the reliability of the car.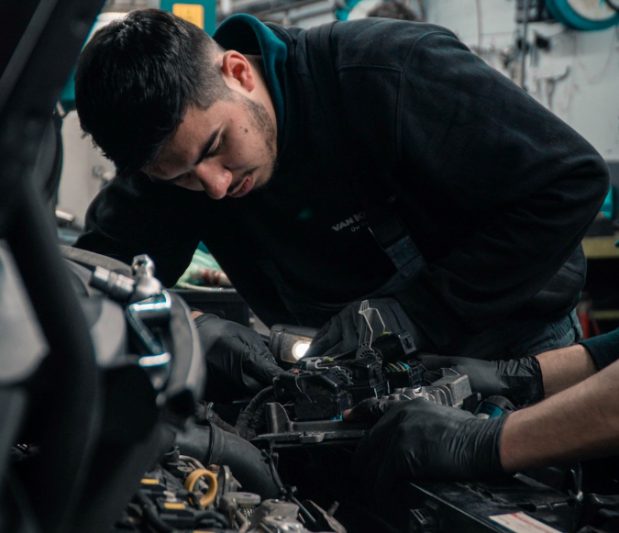 If you do not have the maintenance records, you can try to get them by contacting the dealership or garage you got the work done from. Though there is no guarantee you will get your records, it is worth a try.
Release Liability
This form will keep you from being liable for any damages incurred after the vehicle is sold. Without this, you could be liable for any damages until the vehicle is registered under the new owner.
Warranty
If your car is still under the manufacturer's warranty or extended warranty, make sure to hand them over to the new owner. This includes warranties for any parts that you replaced while the car was under your name.
If you do not have any of these documents, let the buyer know that as well.
Prepping It Before You Sell Car To Dealer
There are many things that you can do to increase the resale value of your car. But most of these are done throughout the years of usage. But if you want to touch up your car before selling, there are a few things that you can do to make sure it looks pretty. Other than that there are a few things that you must do as well.
These are the things that you should do before selling your car.
Wash Your Car Thoroughly
Having your car washed and detailed will make it look spotless. The first impression means a lot when it comes to getting a good value for the car. This will convince the buyer or the dealership that the car has been well maintained and taken care of.
You can either do it yourself or take it to a professional. It is best if a professional work on your car before the sale. His experience in the field will guarantee much better work than what you can do yourself.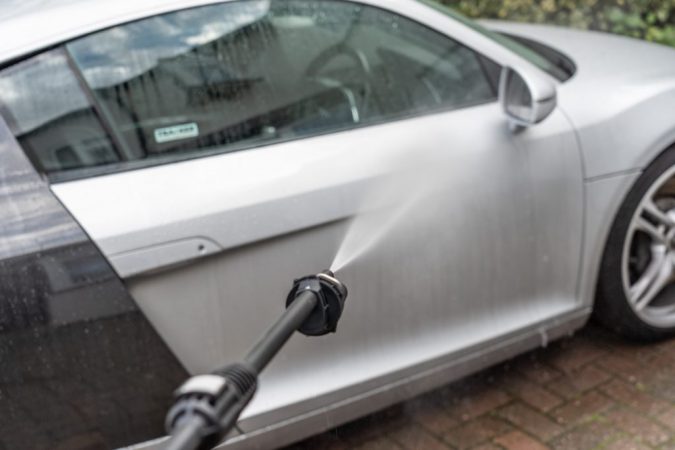 Vacuuming the interior is important as well. This too will be done better by a professional, but this is a task that you can do just fine. If you want to save a few bucks you might as well do it yourself. Make sure to take out all the old fast food bags and gum wrappers. Then thoroughly vacuum the seats and wash the carpets.
While cleaning the interior make sure to remove all the personal belongings from the car. You might find some money shoved into those storage cabinets a long time ago. Other than money you might even find personal stuff in there as well. So make sure to double-check your glove compartment and your trunk before you hand it over.
Making your car presentable and clean will give a good impression for whomever you are trying to sell it to.
Clean Foggy Headlights
The front should be in pristine condition when you are selling your car. This means that the headlights should look clean (which you can practice by learning how to fix foggy headlights). First, make sure that all the lights are in working condition. Bulbs are fairly inexpensive so, replace any burnt-out bulbs.
You can always pay a professional to get your headlamps buffed out. But this is one of those that can be easily done yourself. Try using some toothpaste, those are sure to make your headlights look good. Or place a rag over the lens and use some elbow grease. Rinse it with water and it should look just like new.
Touch Up The Glass
This is another thing that everyone will immediately notice. Make sure that your windshield, windows, and side mirrors are crystal clear before you take your car to the dealership. Check the windshield wipers before taking them to the dealership. If they are cracked or dry, replace them. They don't need to be expensive ones, just enough to look good.
If your windshield has cracks on it try to replace it. The insurance company would cover it. Even if it doesn't get it replaced yourself. You should be able to get your money back when you sell it.
Take Care Of Dings
Dings and dents will surely set a bad impression. Having dents removed is not that costly. If the dents are deep repairing them yourself is risky. Let professionals work on it just to be on the safe side.
On the other hand, you can easily fix small dents yourself. There are plenty of hacks such as using hot water, dry ice, etc… These won't cost a single penny so make sure to do them before you take your car to the dealership.
Refill Your Fluids
This is not all necessary. The dealership can easily refill these with ease. But having your motor oil, windshield washer fluid, and coolant topped up will give the impression that your car is well maintained.
Having these done would probably cost you a few bucks. But investing in these small things would be the factor that would get you few extra hundreds when you sell it. So eventually that extra amount you get would pay for these touch-ups and more.
How To Negotiate For The Best Deal When You Sell Car To Dealer
Now that you have all your paperwork in order and prepped your car there is only something left. The only thing standing in between you and a sale is the negotiation. This could make a huge difference in the amount you get for your car.
While some people love the rush of going back and forth during a negotiation some people dread it. This mindset will make you cave in early, and you won't get a good deal. Whether you like it or not you do not have a choice if you are selling your car to a dealer. You should be ready for negotiation.
Here are a few tips that would arm you to go into a negotiation.
Create Urgency
Let the dealership know that they are not the only ones to buy the car. If they know that you have other buyers interested in your car that will create a sense of urgency for them.
This is exactly what happens in grocery stores or supermarkets. Those buy one get one free signs or sale signs, create an urgency inside our head. So even if do not want the product we tend to buy it. Implement the exact strategy when you are selling your car.
Be Ready For A Haggle
You are not going to get the exact amount you want for in the first offer itself. You will get a lot of outrageous lowball offers. This is just to test the waters to find out how low you are willing to go. You will require a lot of back and forth to get a fair price.
Try to let the dealership make the first offer. Keep some room above the price you want for the car, on your counter. That will leave you enough room to haggle.
Know Your Product
To sell a product you should know your product inside and out. Every good salesman learns this before selling the product. Since you have used the car for years you should know it well.
When you are hit with a low ball offer, hit them back with what is good about the car. Maybe it is the mileage, maintenance, or an upgrade you have done. Mention this to get a better offer. Being knowledgeable about the car from a mechanical perspective makes you seem more prepared.
Be Ready To Walk Away
The guy you are trying to sell to is not the only one who buys cars. If his final offer doesn't meet your bottom line just walk away. Be confident during the negotiation. Do not give to the buyer's emotions.
There are plenty of other options for selling your car.
Now that you have the skillset for a proper negotiation you are fully equipped to sell the car to a dealer. As long as you go into a specific car dealership rather than an independent dealership, you won't need to haggle a lot. These dealerships will research the value of the car and make a fair offer. But knowing to negotiate could get you a few extra hundred bucks.
Pros And Cons When You Sell Car To Dealer
Selling your car at a dealership has its pros and cons. If the option suits your needs, certainly a dealership is worthwhile.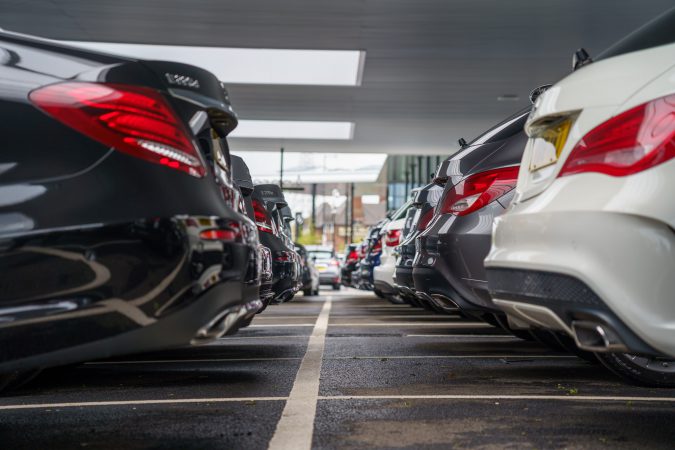 Sell Car To Dealer – Pros
Selling your car yourself will take a lot of time. A few weeks at least. But if you are selling through a dealership the process is quicker. And dealers are putting an emphasis on making this process as fast and easy as it can be.
It is much safer since you won't have to meet up with a ton of potential buyers. The dealership will also take care of the necessary paperwork. And you don't have to worry about the check bouncing.
Sell Car To Dealer – Cons
The problem with selling a car at a dealership is the money. They offer less than the amount you would get from selling it to a private party. This is because they intend to resell the car. They need some meat left on the bone as well. So they will leave enough room to pay for the bills, wage for the workers, and make money out of it.
The price they sell at after all this is the price that you could get if you sell it on your own. Selling it yourself just takes your time and effort, instead.
Whether selling your car via dealership or yourself entirely depends on your priorities. If you are in a hurry to get rid of your car or need some money fast a dealership is a good option. If you are in no hurry to sell your car and if you are willing to spend some time to get the best price for your car selling it privately is better.