Car owners often want the best entertainment system for their vehicles. However, as most people don't completely understand the differences between single DIN vs. double DIN, choosing the best car stereo becomes a more difficult task than it is in reality. This article discusses both kinds of stereo units as well as the many factors that make them unique.
A 2 DIN car radio is larger than 1 DIN unit. Generally, cars have either one of them, and car owners must learn about the differentiating factors between these units.
If an automobile expert recommends that you buy a double-DIN unit rather than a single-DIN, they probably said that because your vehicle features a specific kind of stereo given by the manufacturer, and changing it with one of the same features is the optimal way to upgrade the audio system. These are the two primary stereo sizes and they aren't all that hard to understand.
What Is Din Size?
"DIN" stands for Deutsches Institut für Normung. In English, that is the German Institute for Standardization – a Berlin-based organization running to maintain a variety of standard measurements implemented in various engineering, technological, and automotive fields. 
To the average North American, the phrase "DIN size" is a reference to the car stereo chassis' size. You will come across mainly those sizes when you are out shopping for a car stereo.
Single DIN
The easiest way to know that the car stereo is a single DIN is by having a good look at it. Size is the biggest differentiating factor. Single DIN is ½ the size of a double-DIN, much like the name would suggest. You can also measure it. It is a single DIN if the measurement stands at 7" x 2".
If your car originally came with a single DIN, you cannot install a double DIN in its place due to the shortage of space. You are one Google search away from some of the best single DIN stereo systems the market has to offer today.
Double DIN
The head unit of double DIN measures about 7" x 2". Like we said before, the primary difference in single DIN vs. double DIN is the size. Double DIN stereo units are some of the most popular and also the most common types of stereo units. A few of them feature amplifiers to help improve the sound quality of the system. Almost all of them are touchscreen enabled.
You may also hear about the term "DIN-and-a-half" size. These stereo head sizes are rarely made anymore. Some older GM vehicles needed them back in the day so they were manufactured. Your car can accept either one or both sizes. Interestingly enough, you cannot always tell simply by doing a visual inspection of the factory stereo, particularly in modern vehicles.
Single DIN Vs. Double DIN: The Noteworthy Differences
Now that we have defined the two stereotypes, let's move on to the key differences between the two that you need to be aware of. We will begin with the most obvious one.
1. Size Differences
Perhaps this is one of the most important factors to know about. The double-DIN stereos are 2x bigger than single DINs. However, both have the same width. This variation in physical size lets some additional features be added to double DIN stereos. When selecting a stereo for your vehicle, pay emphasis to the right size. Otherwise, your brand new stereo system will be a waste. 
2. Extra Features
There are also a handful of feature differences in single DIN vs. double DIN to be mindful of. Due to the bigger size of double DINs, manufacturers got more space to play around with. Naturally, they fitted extra features in there. 
Double DIN stereos come with additional features like easy-to-control UI options and touch screens. This makes the end-user experience better by leaps and bounds. Some might even come with HD video screens and DVD players for the best content consumption experience.
Deviating from the topic for a second, please be responsible when you are on the road. Your favorite TV show or movie can wait; don't jeopardize your life to binge on your beloved show. 
Keep in mind that we are not saying that single DINs are inferior. They are quite practical and rich in features. Just because your vehicle didn't come with a double-DIN setup doesn't mean you cannot get a world of features. 
Many single DIN stereos are on par with double DINs.
3. Usability
The final difference in single DIN vs. double DIN is the usability. Touch screen stereos come with many modern features such as support for Apple's CarPlay and Android Auto functionality (make sure you know how to use Android Auto and how to connect Android Auto).
To make it easier for the driver, they also come equipped with a GPS and rear-view camera. Therefore, you will often find that modern features are a must in double DIN stereos. The extra features and usability are things to consider.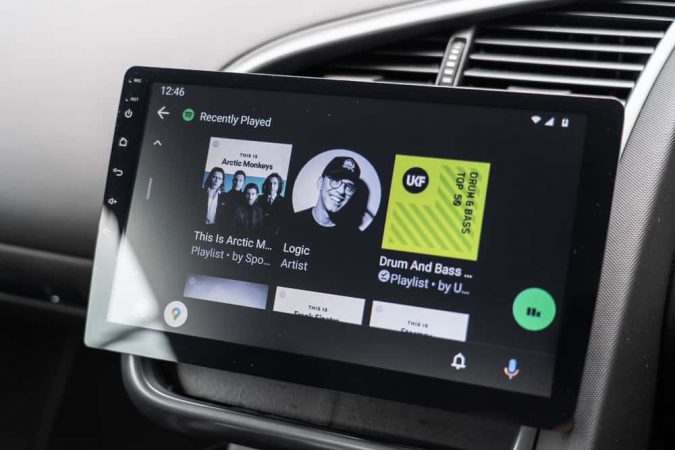 Single DIN Vs. Double DIN: Pros And Cons
Just because a double DIN stereo unit has more features than a single unit, doesn't make it better. Both stereo units come with their own sets of advantages and disadvantages that are enough to tip the scales of personal preference.
These are some advantages and disadvantages of single-DIN head units:
Pros Of Single-DIN Units
Relatively easier to install

A cheap yet significant upgrade to an outdated or broken car stereo.

Add features such as wireless Bluetooth audio and auxiliary input jack.
Cons Of Single-DIN Units
Somewhat small so there is not much room for controls. Due to the lack of space, the controls can be difficult to locate and access; even use in some cases.

Don't usually have a touchscreen. Some do come with fold-out touch screens but they are quite rare and more so, expensive. 
Now let's have a look at the notable pros and cons of double DIN stereos.
Pros Of Double DIN Units
Allow more room for controls. Thanks to the extra real estate, double DIN models are typically easier to use and access than single DIN units.

Because of their size, double DIN stereos have enough room for a touchscreen whereas single DIN does not unless it is a foldout touchscreen. A touch screen adds many helpful features to the stereo unit. In comparison to stereo units without screens, touchscreen-enabled ones are not only easier to use, but also easier to read. They also facilitate better phone integration.
Cons Of Double DIN Units
Harder to install in comparison to its counterpart.

Are more expensive (typically).
Single DIN Or Double DIN: Which One Is Best For You?
So, which one should you get? First and foremost, the size has to be taken into consideration. Which one is your car compatible with? A super important aspect of any stereo is surprise surprise: the sound quality. What good is a stereo jam-packed with features but it cannot play music all that well – the one job it was made for? In terms of sound quality, there aren't many major differences in single DIN vs. double DIN.
The only time you will get better audio output from double DIN is if it comes with a built-in amplifier. Apart from that, good car audio gears add a dedicated amplifier in the mix and you can jam to your favorite tunes to your heart's content. 
Where the double DIN reigns supreme is in its additional usability features. There are quite a few excellent features that will make your ride more joyful on a day-to-day basis. 
If your car is compatible, it's best to go for a double-DIN. Yes, they are pricier, but there is an obvious trade-off between price and features. Otherwise, you can do it with a single DIN.
Which DIN Size Does My Car Use?
You need to figure out which is the best for your vehicle and your demands before buying a stereo unit. Usually, vehicles that can fit double DIN stereo units can accommodate single DIN head units just fine. The reverse, however, isn't true, since vehicles made for single DIN units usually do not have enough room in there to hold a double DIN stereo. 
You might be able to tell which size would work for your vehicle by taking a look at the panel that holds the stereo controls. The short 2" one is a single DIN, as mentioned before. 
Many online lookup tools can help you identify a stereo unit's DIN size. All you have to do is enter the model, make, and year of the vehicle and the application will let you know whether your car can accommodate a single DIN, a double one, or both.
An aftermarket stereo will effortlessly upgrade the driving experience (if you can select a good one). Now with all this information, you can make an informed decision about which to get between single DIN vs. double DIN.
Things To Consider When Buying A Car Stereo
Upgrading the car stereo is a great way to add additional features and also improve the interface of the vehicle. In addition, the better sound quality will make you want to ride your vehicle more often. The decision is not as simple as one would think as there are simply too many options to choose from. Let us make it easy on you. These are the factors to keep in mind when shopping for a car stereo. 
1. Audio Sources
The main thing to notice before investing in any car stereo is ensuring that it supports all kinds of playback formats. Recently there has been an influx in the formats available in which sound files are encoded. The format type will decide the quality of the audio file. Formats such as AAC and MP3 offer traditional quality whereas other formats such as FLAC, WAV, and ALAC give better resolution and sound quality.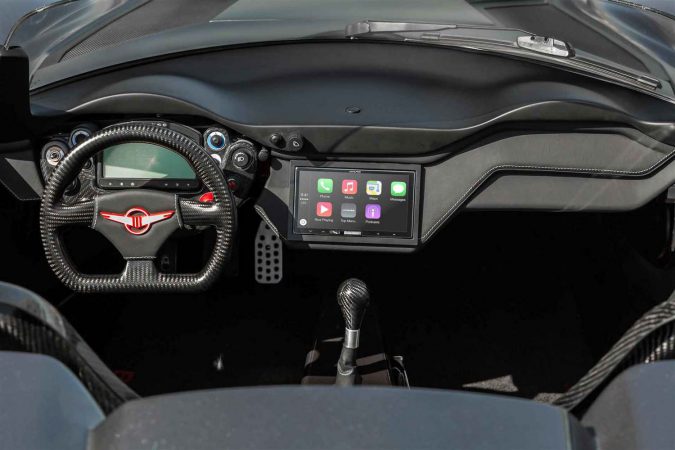 Thus, make sure that the chosen car stereo can support all types of playback formats. Moreover, ensure the stereo can accommodate any type of audio source, be it Radio, AUX, USB, SD card, Bluetooth, Smartphone, and the age-old CD/DVD.
2. Smartphone And App Integration
Nowadays, customers want a unit that could be integrated with their smart devices and can operate in tandem with it.  So, it is essential to make sure that your aftermarket stereo of choice has that feature. 
Smartphone integration is a must in modern times. Apple CarPlay (and if your car doesn't have one natively, you could learn how to install Apple CarPlay) and Android Auto need to be supported by the stereo. This simplifies the entire process of enjoying the content and lets you manage your device through the head unit for a safer and seamless driving experience.
3. Local Satellite And Radio
Although not as prominent as it was in the past century, radios are still a big deal for many, especially when they are driving. It's a great source to get brief news bites and stay up to date with the present affairs. Nowadays, digital radios are swiftly replacing conventional ones. 
Not only are digital radios loved for their better, crisper sound quality, but they also win the game with their array of helpful functions such as the ability to play songs straight from your Spotify library. You can enjoy the music made to suit your taste without having to shift your concentration from driving.
4. GPS Navigation
A GPS lets you give your undivided attention to the road when you are crossing a new area and you can get to your desired location without asking around every shop around every block. 
Aftermarket stereos do tend to come with integrated GPS systems sometimes but that does not mean that the price will be higher due to this. As smartphone integration becomes a necessity more than a trend, you can rely on using GPS navigation on the stereo unit.
5. Physical Dimensions And Controls
In some cases, a double-DIN or a single DIN stereo unit might be the straight replacement needed for your vehicle. In other cases, a vehicle-specific dash kit may be best for a seamless installation. 
These days, there has been a rise in the use of head units that can also be used as detachable Android tablets. Not only can they provide a seamless experience inside the vehicle when you are driving, but they can also be helpful outside – functioning as a regular smart tablet.
Such tablets feature a genuine Android OS along with a 13-band equalizer. They combine to let you fine-tune your music. In addition, it is also resistant to serious vibrations and severe temperature and the detachability feature will give you the added benefit for anti-theft properties. The tablet can connect with the rear camera of the vehicle automatically once shifted to reverse gear and can be linked with the optional parking sensor.
Furthermore, it supports streaming applications such as Spotify, YouTube, and more. You can enjoy your favorite tunes and shows with great sound quality. If the people in the backseat are getting bored, simply detach the tablet and hand it over to them so they can put on their favorite content.
Whether a good stereo unit is a business need or something you need to kick back and relax in your vehicle, or even act as a learning medium for your children, this will be the one simple solution to all your demands.
6. Power
The head unit is tasked with receiving inputs from the audio sources. Another important job that it has is to output the sound to the vehicle's speakers through the internal amplifier. Two power ratings come with this amplifier – RMS and peak power.
Peak power expresses the maximum amount of power the vehicle's amplifier is equipped to produce while RMS power describes the amount of power an amplifier will make consistently with regular usage. If you aren't one to blast their vehicle speakers at full volume 24/7, RMS rating is more important for you.
Usually, a high RMS power is considered good as it provides more leeway when it comes to volume without exceeding the amplifier's limit – which may lead to distortion. Remember: more wattage does not equal better audio quality. It is decided by numerous factors such as digital signal processing, quality of the audio source, equalization, digital-analog converter, and lastly, your vehicle's speakers.
However, these parameters are far from being set in stone. Audio tuning features are a regular thing in most modern stereo head units, which allows you to modify the quality and texture of the output as per your requirements. For instance, you can use the "Bass Boost" feature to make the lowest sound frequencies sharper, the "Time Alignment" feature to correct course in case the tune goes out of sync, and "Bad-equalizer" for overall soundstage control.
7. Upgrading The System
Additionally, if you want to upgrade the sound system of the vehicle by incorporating extra subwoofers, amplifiers, or similar accessories, make sure the car stereo you are choosing is scalable – will let you upgrade if you need it. To do this, check the number of preamp outputs; you can find them on the rear end of the head unit. The perfect stereo unit has an adequate number of outputs.
Preamp outputs come with a specific line voltage label too (2V, 4V, 8V, and 16V in some models). The more the line voltage, the lesser the noise produced by the speakers. This is why it is best to look for a unit with high voltage RCA pre-outs.
8. Budget
Everything comes at a price. You have to find the perfect balance between what you need and how much you are willing to pay for it. You can find many decent car stereos in the market that would not burn a hole in your pocket. However, if you are willing (and able) to splurge a little, you can take things to the next level. Thus, decide on a budget before you start to note down what you want and what you don't.
This way, you can get a clearer picture to begin weighing out your options. Once the over-budget stereos have been eliminated, choose the best one within your budget.
The Verdict
In this discussion of single-DIN vs. double DIN, there is no ultimate "best" one. Simply because the single stereo has fewer features does not make it inferior to the double DIN in any way. That being said, it cannot get better than a double-DIN if you want to upgrade the system. It helps to alter and elevate the entire look of the vehicle. Gone are the days when you had to refer to your phone to see the route because now it will be displayed on the double DIN stereo screen.
When you put all the features together you get two solid options good for a vast array of things. Before finalizing anything, have a budget in mind and try to stick to it. You do not have to go out of your way to afford a stereo unit as there are quite a few affordable options that are equally amazing.
FAQs
Q. How Much Do I Miss Out On If I Get A Single DIN Stereo?
Not a lot. Single DINs are very usable and come with tons of exciting, practical features. 
It's just the touchscreens and smart features that you may be missing out on. If your car cannot accommodate anything more than a single DIN and you don't think you could get too much use out of the smart features, the disappointment will not be that strong.
Q. Are Double DINs Worth It?
If there is space and your vehicle can support a double DIN stereo, it is recommended that you go for a double DIN. They impress with smart, modern features you would truly enjoy.
Q. What Do I Do If My Car Stereo Sounds Muffled?
The issue is probably a loose connection – one of the most common problems with stereos. In summary, the poor installation may be posing a challenge. Other plausible causes include stripper wires or improper grounding.
Q. What Brand Stereo Should I Get?
Selecting a brand to get your car stereo isn't that tough a choice. Choose from any renowned brand that fits your needs. For this, refer to the section where we discussed everything to look for in a car stereo. That way, the choice will be easier.