Most people love sporty Honda cars because of their high performance. A sports car has unique features that allow it to function at high speed, often with a foldable roof. Some prefer it because it is fancy and classy. For many users, sports cars are more than having a ride; it is more about having a car that matches their status and caliber in society.
Sporty cars are excellent rides for first-class citizens, but not beyond the reach of an average buyer. And no, this is not an article that attempts to marginalize some people or divide society into classes. Brands like Honda strive to create cars that accommodate different people from several walks of life and society. Read further to learn about sporty Honda cars and why you should buy one.
What to Look Out For Before Buying A New Sporty Car
Below are some buying guidelines and questions you must ask when buying a new sporty car. For you, owning a sporty car might have been at the very front of your vision board, or you want to impact your lifestyle or personality.
1. Why Do I Want It?
It would help if you asked yourself the purpose of the buy. That will not only determine the type you will buy but will require you to count the cost, and consider how it will influence who you are and the people around you. You need to know if a sports car is right for your personality, the number in your family, and other practical purposes you need a car to perform.
For example, a sports car has two seats in most, and if you are considering transporting more than 2 persons with lots of luggage, you might have to reconsider your option.
2. What Kind Or Model Do I Want?
Several types, shapes, and sizes of sporty cars have unique functionality and performance at the forecourt. Would you rather have a closed roof-coupe or an open-roof convertible? Do you want new or used? What certain engines and trim levels are you looking at (for more context, check out our guide on what does SE mean on a car)?
It would be best if you asked yourself the specs and options you are looking out for in your ideal sports car. The kind of car you want will determine and influence the price you will have to pay to get what you want. That leads to the last and very important point.
3. Can I Afford And Maintain It?
Sporty cars are usually luxurious, and if you want to be comfortable and feel great, you should consider buying one. However, driving a luxurious car comes with a great demand monetarily. There is a price you must pay for it. The onus is upon you to consider your current financial situation before buying that dream car.
Your dream can still come true if you go for an old sporty car knowing that sporty cars have a record of maintaining their value more than other vehicles.
The Honda Motor Company
The Honda Motor Company is a reputable Japanese brand that manufactures many products, including automobiles, luxury, executive vehicles, motorcycles, and power equipment. They are known for building durable cars with high performance. Honda has consistently produced motors to meet users' needs, tastes and pleasures.
Users get pleasurable experiences from driving in safe and comfortable automobiles produced by Honda. The company's website shows the organic growth in sales globally and how they have contributed to the world's economy.
When you walk into a dealer's lot, there are various Honda cars for you as a buyer. You get a chance to compare and contrast the lineup of cars till you find the one that perfectly matches your taste. One of Honda's staples for any Honda fan is their sports cars.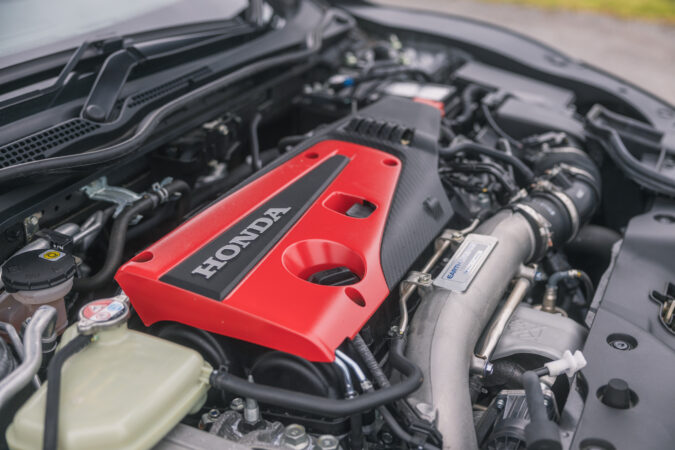 Types Of Sporty Honda Cars
There have been popular Honda sports cars over the years, each with a unique feature. Recommending a specific model of sporty Honda car is tricky and almost difficult. They all come with unique features that make them pretty good in their ways. Generally, Honda cars are fast and perform well during acceleration.
All sporty Honda cars are amazing, comfortable, reliable, and luxurious for a compact car. But if you are wondering which models to choose from, here are a few suggestions for how techy and sporty they are. These are the best you can get in any market across the globe. This list is in no particular order:
Sporty Honda Cars #1 – Honda Civic
Honda Civic is one of the most popular, affordable cars manufactured by Honda (if you want to learn more, check out our write-up on are Honda Civic reliable). It also ranks as one of the most reliable cars and has been through decades of development since its release during the 1970s oil crisis.
The Honda Civic is renowned for its longevity, reliability, and resale value. It also won the 2019 Edmunds Buyers Most Wanted Awards and Kelley Blue Book's 2019 Best Buy of the Year Award for five consecutive years. You'd find it in the market in different versions and generations.
Sporty Honda Cars #2 – Honda Civic Type R
Honda Civic Type R is a ready-to-race car that saves racers the time and money of doing it themselves. It is specially engineered for high performance and can be used in SRO TC Americans and amateur Touring Car Competition.
The Civic Type R came on the scene in 2017 with an outstanding and dynamic performance in acceleration and cornering. This Honda sports car broke the Nurburgring record, with a lap time of 7:43.8 seconds. One of its newest technological innovations is the Sport Hybrid Super Handling All-Wheel-Drive (Sport Hybrid SH-AWD).
Sport Honda Cars #3 – Honda NSX
Honda NSX is a high-tech, cutting-edge, hybrid (gas-electric) supercar. You can ride with silent electric power alone as a hybrid sports car. It also comes with an additional beautiful interior and sophisticated exterior design.
The Honda NSX is one of the sports cars with spacious boot space enough to contain a set of golf clubs, baby strollers, and other long items. The NSX- Type R is powered by a 3-liter mid-engine V6 capable of producing 276 horsepower at 7300 pm.
Sporty Honda Cars #4 – Honda Integra
Honda Integra (as we call it here in the States, the Acura Integra) is notable as a luxurious and sporty car with high performance. Its layout includes a front-engine, four-wheel. It is front-wheel drive. Integra Type R has made massive sales in the market as it launched its sale with more than a quarter-million cars in its first release.
Honda Integra Type R was considered the best front-wheel drive to be produced. Other exclusive features of the Type R include the seam-welded chassis, 1.8L B18C5 engine that produces 195 horsepower and can launch to 60mph from standstill in 6.5 seconds.
Sporty Honda Cars #5 – Honda Civic Si
Honda Civic Si (Sport Injected) is a compact sedan that delivers thrill on sight and joy while driving. It is combined with a 6- speed manual transmission and exceptional power control. Innovative technologies are seen in the gloss exteriors, offering a delectable driving experience.
The latest model of the Honda Civic Si debuted in 2021 for 2022. Since the coupe body style has been taken off the market, it can only be bought as a sedan. It has a 1.5-liter turbocharged four-cylinder engine with direct injection and variable valve timing management.
Sporty Honda Cars #6 – Honda S2000
Honda S2000 is considered one of the best convertibles Honda has ever made. It is a 2-door car that debuted in 1999 and evolved till 2009. It is characterized by its 2.0-liter four-cylinder DOHC VTEC engine capable of generating 240 horsepower at 8,300 pm.
The Honda S2000 is remarkably mated to a six-speed manual transmission. It came in various models and types since its debut in 1999. The Type S was the 2008 version while the Ultimate edition – the 2009 version marked the last model produced to date.
Why Sporty Honda Cars
If you are a Honda fan, you should consider getting a Honda Sports car for these reasons:
1. They're Fun To Drive
Honda's 2030 vision is to serve people worldwide with the joy of expanding life's potential through its products and services. To expand the potential and experiences of its customers, Honda has advanced its innovation and made high-grade and next-level technology available.
2. Safe And Comfortable Mobility
This is one key element that automobile users look out for. With reliable innovation, all Honda users can rest assured of secure and stress-free mobility. Honda cars have sophisticated built-in security features ranging from ABS to anti-theft features.
3. Safe For Our Environment
One of Honda's visions is to create cars with less or zero CO2 emissions. Over the years, actively from the 1960s, Honda has intentionally developed and improved its products to emit lesser greenhouse gases for a sustainable environment.
The company observes the principle of recycling in designing and manufacturing its products. That is one of its major contributions to preserving the global environment and human health.
Unique Features of Sporty Honda Cars
Technology In All Its Beauty
Honda has increasingly produced sporty cars in recent years with high performance by leveraging newer technologies in the auto world.
Four Wheeled Vehicle
Most Honda models have all-wheel drive (AWD) (also, check out our list of the best all wheel drive cars), which applies both front and rear-wheel drive systems. The four wheels receive power from the engine, using a pair of differentials to help with the steering. This way, the four wheels can complement and compensate for one another from wearing.
That means you can feel confident driving through snowstorms and other icy conditions. The vehicle has improved traction, and this makes the car easier to drive on rough pavements or surfaces such as sand or snow.
Features Remote Starting
This invaluable feature provides comfort. You can comfortably start or turn off your Honda Accord Si remotely. With the remote, you can also control other features like the air-conditioning system. It solves cooling problems on hot summer days or warming up on winter mornings.
The Honda Remote start feature is designed to start the engine while you are away from the vehicle without using the ignition key. The remote system allows you to conveniently operate the air conditioning and heat system from a range of 400 feet. That would vary by the year and model of the Honda car.
Pros Of Sporty Honda Cars
Without any doubt, the benefits of a sporty Honda Car cannot be overemphasized, and below are some of the top benefits of owning a sporty Honda car.
1. Compact
This primarily characterizes sporty Honda cars. As compact and mid-sized cars, Honda sporty cars are more functional for commuting than comfort. That answers why Honda sporty cars do not have much seating or large trunk space.
2. Punchy Engines
Honda sports cars are distinguished by their higher and superior acceleration performance. Honda builds and styles their sporty cars with the finest and highest engineering.
3. Affordability
This is a major factor to consider when buying a car, and Honda is successful partly for its affordability. A new Honda sports car has a cheap asking price that allows buyers to save money even after purchase.
4. Fuel-Efficiency
Honda car owners have expressed their satisfaction with the fuel consumption of their sporty Honda cars. The Honda Civic Sport S has great gas mileage.
5. Pleasurable Ride
Sporty Honda cars are fun to drive and provide a pleasurable and memorable experience for the driver. Every Honda is specially designed to unleash driving excitement.
6. Great Safety Ratings
Honda offers reliable vehicles with advanced safety technologies. The cruises can be controlled as much as possible. It equally has traction and stability control.
7. Sporty Interiors And Exteriors
A Honda car's engineering and exterior/ interior features make it sporty. With all of the interior features of a sporty Honda car, from the seating to the dashboard, to the cargo area and infotainment, the user experiences a sporty sense.
8. Residual Value
Honda won the 2022 ALG residual value award. Their cars have great second-hand value. With this credibility, you can be at rest when you invest a lot of money into purchasing a sporty Honda car, as Hondas have a great resale value.
9. Honda Sporty Cars Are A Combination Of Speed And Stability
Honda has the rugged capability to tackle bad weather, rough terrain, and conditions. Even after Honda cars have traveled 100,000 miles or more, they usually have a lot of life left in them. The average life span for a sporty Honda car is about 11 years.
Cons of Honda Sporty Car
Not the best quality cabins and narrow spaces are not comfortable to accommodate taller adults.
Only one 2-door version, the Honda S2000.
Low to the ground: This is typical of all sports cars and is the most common layout of sporty cars.
How To Care For A Sporty Honda Car
Sporty Honda cars are low-maintenance vehicles. It is cheaper to maintain your sports car than when it breaks down. Routine maintenance at scheduled intervals should be observed to sustain its quality and functionality. Below are 3 helpful maintenance routines you should practice for your Honda old sports car:
Keep Your Car Clean
Keep parts of your car extra clean to avoid unnecessary and avoidable damage by regular washing. That will also prevent rust to the paintwork of the vehicle. Since sporty cars are low to the ground, owners should always ensure their wheel wells are free from litter. Pay attention to the undercarriage of the car. Do well to replace the car parts when necessary.
Regulate The Speed Of Your Car
This care tip is to avoid wear and tear of tires. Honda Civic Si owners are strongly advised to pay attention to the tire pressure and tread depth regularly. Please keep a close watch on the tires and replace them when they expire or are worn.
Monitor The Fluid Of Your Car Regularly
To keep your Honda sporty car in good condition, regularly check your engine's oil, power steering fluid, brake fluid, and coolant. Use the right fluid at the right time, for the right purposes, and in adequate proportion. When needed, change the engine oil along with the filter to ensure lubrication and maintain the engine's high performance.
Availability And Pricing Of Sporty Honda Cars
Some of the frequently asked questions about sporty Honda cars is the availability in the nearest market, question about dealers, pricing, and the highest sales. Fast Honda cars have rivals in the market but have ranked and thrived regardless. Its groundbreaking features give a comparative advantage over existing competitors in the vehicle space. Honda has a global market and offices in every country.
Japan is where the head office is located. At the same time, America, Europe, Africa, the Middle East, and Asia Oceania are affiliates and partners in the development, manufacture, advertising, and sales of Honda products. Honda's newsroom provides statistics on world production. In May 2022, Japan produced 37,285 cars, and outside of Japan, 244,368. Sports car price ranges between 27,500 US dollars- 50,000 US Dollars.
Used Sporty Honda Cars Vs. New Sporty Honda Cars
A buyer can purchase either a used or brand new Honda, and the decision is mostly influenced by pricing, affordability, and budget. Used versions of Honda sports cars are cost-effective, and you will save some cash depending on the year of production and the extra whims that interest you the most. Carry out all the usual checks – fluid level, tire wear and tear, gear, and responsive brake.
You also must be vigilant and ensure you buy from a trustworthy dealer. When choosing a driven car, get ready to overlook imperfections in the body, undercarriage, convertible, and other features. Noteworthy is the fact that Honda offers a 3-year/36,000-mile warranty for all Honda new vehicles.
New Honda sporty cars have a relatively cheap asking price and are available in several forms, depending on the buyer's desired practicality and taste. If money is no big deal for you, a new sporty Honda is a better option, but if otherwise, you may have to go for a pre-owned Honda. Whether you go for a brand new Honda or a certified pre-owned Honda, you are guaranteed to get a great car.
Top 8 Best Honda Sports Cars: Facts
Honda is a car manufacturer known for making quality cars, and sports cars are no exception.
Honda has produced many popular sports cars over the years, and eight of the best are the S800, Civic Type R EK9, NSX-Type R, Integra Type R, S2000 AP1, Civic Type R FK8, S2000 Club Racer, and NSX – Second Generation.
The Honda S800 is a 2-door two-seater sports car produced from 1966 through to 1970, with an advanced DOHC inline-four engine that produced 70 horsepower.
The Honda Civic Type R EK9 is a hot hatch produced by Honda from 1997 to 2001, with a naturally aspirated engine, sport-tuned suspension, and wind tunnel-designed aerodynamic body.
The Honda NSX-Type R is a track car with a 3-liter mid-engine V6 that produces 276 horsepower, containing innovative production technologies like titanium connecting rods and forged pistons.
The Honda Integra Type R is one of the best front-wheel-drive cars ever produced, with a 1.8L B18C5 engine that produced 195 horsepower, and a seam-welded chassis.
The Honda S2000 AP1 is an open-top sports car with a 2.0-liter naturally aspirated four-cylinder DOHC-VTEC front-engine that generates 240 horsepower, with a production run from 1999 to 2003.
The Honda Civic Type R FK8 is a sensational hot hatch that set a new Nürburgring record for front-wheel drive cars, with a refined 2.0-liter VTEC TURBO engine that generates 316 horsepower.
The Honda S2000 Club Racer is a track-oriented version of Honda's iconic roadster, with a revised body kit, stiffer suspension, stickier Bridgestone RE070 tires, and a quicker steering rack.
The Honda NSX – Second Generation blends timeless sports car attributes with next-generation technologies, with a mid-mounted 3.5-liter twin-turbocharged V6 engine that generates 573 horsepower and 476 lb-ft of torque, and a Sport Hybrid SH-AWD system.
FAQs About Sporty Honda Cars
Here are some popular FAQs:
How Much Is A Honda Civic
The price of a Honda Civic will range from $22,000 to $47,000, depending on the model and year. There are a lot of alternatives to choose from when it comes to the Civic. It's up to you whether you want a sedan or a hatchback. Buy a basic model to save money and still enjoy many common features.
How Many Miles Can A Honda Civic Last
According to Consumer Reports, Hondas are one of the vehicles that last the longest, and you can use them for 15 to 20 years. The average mileage of a Honda Civic is high, and they cover incredible miles of distance. With scheduled maintenance as recommended above, the Honda Civic should cover around 200,000 to 300,000 miles or more.
Is A Honda Civic A Compact Car
Yes! For sure, the Honda Civic is a sporty compact car. The new 2022 model will mark the beginning of the model's eleventh generation. The inside of the Civic is jam-packed with high-tech features, all of which are housed in a sleek, contemporary design. The trunk has an incredible amount of space for a vehicle in its class, and the rear seat region offers plenty of headroom and legroom.
Does Honda Make A Convertible
Yes, Honda makes convertibles, but there are no current convertibles. The S2000 was a great convertible and the last entry available on the market from Honda since 2009. If I am not mistaken, a convertible costs more than a closed-roof coupe. There are hard-top or soft-top convertibles. With a convertible, there is always the possibility of a roof leak during snow and winter, and there is not enough demand to make manufacturing convertibles profitable. Now, Honda has got its focus on producing enough sporty models with fewer side effects.
Why Is Honda Civic Insurance So High
A typical Honda Civic insurance would cost around $2,000 per year. The pricing depends on some factors, including the level of coverage, type of insurance, age, gender, location, specific features of your car, year of your car, trim level, vehicle, and materials, as well as driving record.
Is A Honda Civic A Sports Car
The Honda Civic Type R takes the lead in the category of the sportiest Honda car. It is the fastest production of the Civic you can get. Regarding speed and acceleration, the Civic Type R ranks among the Honda sporty car lineup with the following sporty features and badges: 6-Speed manual transmission (6MT) with Rev-Match Control, wing spoiler, and underbody spoiler tool kit that assists with handling and performance. Furthermore, as the fastest Civic, the latest Type R comes loaded with the fastest Honda VTEC engine- 306 Horsepower turbocharged 2.0 liter and can boast a 0-60 mph time of just 5.0 seconds.