Are you having trouble finding the perfect steering wheel cleaner for your car? If this is the case, I understand your struggles and I know that is kind of a difficult task to find the right cleaner for a specific steering wheel. Also, for an aesthetically pleasing interior look, it is highly recommended to use the best paint sprayer for cars. Since steering wheels can be made out of numerous materials that require specific care.
Personally, one of the key aspects that make me proud of my car is the steering wheel. I always try to make it as clean as possible and make it look perfect. There is nothing better than a three-spoke wheel, that when you always enter the cabin, it looks immaculate.
Three-spoke wheels are also sportier and give you that racy feel. But enough about me. The thing is with wheels, is that they have to be properly maintained and you need to make sure that you always maintain your steering wheel properly. This is good for the visuals but it's also good for your health since you clean off the harmful bacteria that are collected with the long use of a steering wheel.
In this article, we are going to cover how you can perform that task in your car. First, we will learn the steering wheel materials and learn from which material is your specific steering wheel made. Then we will cover the reasons why you should clean it. Then we will cover some steering wheel cleaner solutions that will help you out with cleaning the steering wheel. So, let's dive into it.
What Materials Are Steering Wheels Made Of, And Can Cleaner Work?
Steering wheels are manufactured by a handful of materials. The core of the steering wheel is always a piece of steel that is bent to form the circle. While the padding and other commodities are up to the manufacturer and the desired audience of customers.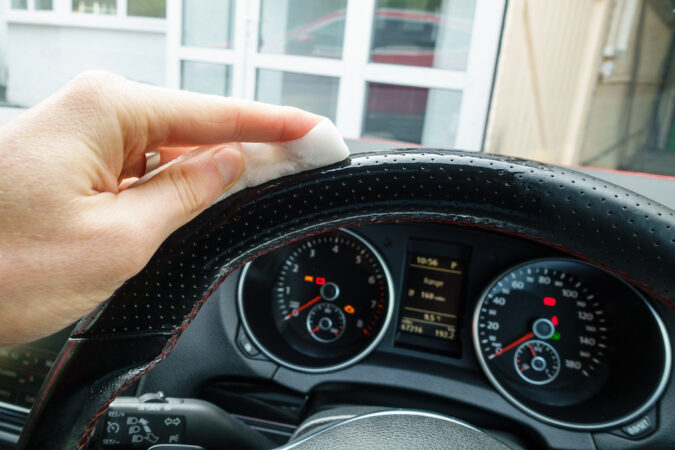 There are posh steering wheels that implement complex electronics and steering wheel heating. And there are some steering wheels that are more utilitarian and made from cheaper materials. In this chapter, we are going to cover all of these materials and see from which of these materials is your steering wheel made. So, let's discuss.
Plastic
The simplest material that you will notice which is used on the steering wheel is plastic. This is the cheapest that you can get.
Hard plastic today is not used as it was in the past and a lot of drivers are trying to avoid it. But still, the bottom end of the spectrum at the car lots and the commercial vehicles are still using plastic steering wheels. The upside of the plastic steering wheel is that they are dead easy to clean and do not involve using some fancy cleaners.
But the downside is that after many years baking in the sun. They tend to crack and this is something that could be annoying for many owners.
Synthetic Resin
Since plastic is extremely hard to touch and gives a bad impression to car owners of their cars. Then manufacturers have decided to make the steering wheel out of synthetic resin.
This is a completely chemical compound which is a kind of softer material and doesn't look that cheap compared to plastic and many people like it.
It is also very simple to clean it off with a simple steering wheel cleaner. The downside is that after quite a lot of miles on this steering wheel is starting to develop some chipping. With every 1,000 miles, you will have less and less of the steering wheel in your hand. That's why when you notice this chipping, the best thing is to start using a steering wheel cover. This cover will make sure that your steering wheel will not chip itself completely.
Faux Leather
Faux leather or fake leather as we know it is a synthetic material that is created to resemble real leather. We all know that real leather is made from cows. But this faux leather is the closest that you will get to real leather. Except for getting a real leather steering wheel, which can be quite expensive.
Faux leather steering wheels are still expensive but they are not that expensive like real leather steering wheels. That's why many people prefer these types of steering wheels on their cars and I quite understand them.
The fake leather is of good quality and can last for a very long time. But you need to use a special steering wheel cleaner to maintain it properly. And which one should you use we are going to cover later.
Leather Steering Wheel
Real leather is a leather material that is harvested from animals and the most exquisite steering wheels are made out of this material.
Leather was considered to be the way to go for the rich since the early days of the car industry when leather seats were the most exquisite items. But as the years went by, the steering wheels were also started to be produced out of real leather and the demand became even bigger. And it still is.
The downside is that leather is not that easy to maintain and requires a steering wheel cleaner designed for leather, unlike the other steering wheels that require only regular steering wheel cleaners. This is the case because you can damage the leather if you use abrasive materials.
Wood
Wood steering wheels are rare, but when you have a wood steering wheel you probably drive a Rolls Royse or an expensive Maybach.
These steering wheels are the pinnacle of luxury and are often combined with real leather to take them a level higher. They are maintained in a similar fashion to the leather steering wheel and require an expensive steering wheel cleaner to keep them in good shape.
Alcantara
Alcantara steering wheels are also one of the most popular options on the market. This type of steering wheel material is in huge demand when it comes to performance applications.
The Alcantara is a cloth material that is extremely grippy and will allow you to grab that wheel really tight to catch a corner on the racetrack. But this also makes these steering wheels a mess to maintain because grease enters the material and it deteriorates the Alcantara.
That's why regular maintenance for these steering wheels is a must and also using a steering wheel cleaner that is intended for this application. We have covered the steering wheel materials and now let's see what is coming next.
Why Should You Use Steering Wheel Cleaner?
Before we jump into the steering wheel cleaner reviews. Let's first why you should clean your steering wheel regularly. Because knowing the outcomes if you don't clean your steering wheel regularly might help you out make your mind quicker and start cleaning your steering wheel more often than you did. But which are these three reasons? Let's find out.
1. The Steering Will Wear Off Prematurely
The first and the most important reason why you should use a steering wheel cleaner is that by cleaning it, you will make sure that the steering wheel lasts for a very long time into the future.
The more crud and debris that ends up in the steering wheel makes the steering wheel deteriorate much quicker than a steering wheel that has been cared for and loved during its life.
For example, if you have a leather steering wheel it would be a pity to leave it like that and let the steering wheel deteriorate. This will also affect the resale value if you plan to sell the car in the near future.
Also, when it comes to Alcantara steering wheels it is recommended to clean them off regularly if you don't want your Alcantara material to get damaged. Cleaning the material is going to rejuvenate it and improve its longevity.
2. It Is Good For Your Health
Another benefit is the health benefit that you will have. Usually, on steering wheels, there are a ton of germs that you could transfer into yourself and possibly do some harm to your health. That's why using a steering wheel cleaner every once in a while, is a good thing for you and your health.
Cleaning the steering wheel every week for example is an excellent idea. Your steering wheel will look splendid and also you will remove all of the germs that are stuck on it.
3. It Looks Good
The last reason why you should clean your steering wheel regularly is the looks. This will be quite noticeable if you are using a wood, leather, or Alcantara steering wheel.
The grease on the steering wheel is going to ruin its looks and will turn off your passengers when they will see that you don't care about your car's interior and you don't maintain it properly.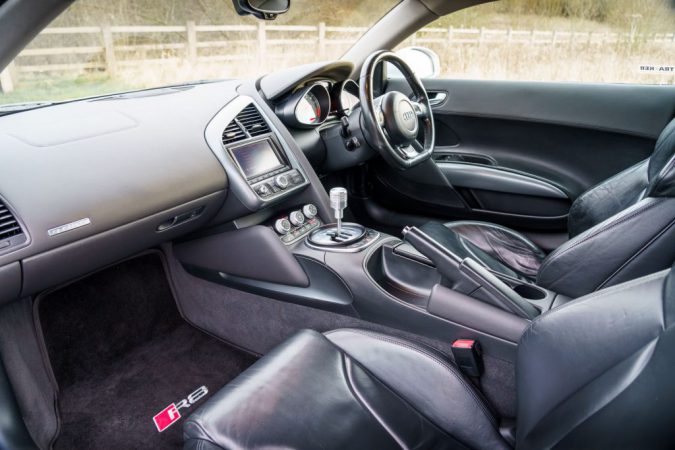 Cleaning it off will give you also a good feel for your car every time you enter your car and will fill your mood with positive emotions as well. Not to forget that cleaning is also a sort of a hobby that you will enjoy on the boring Sunday afternoons (like learning can I use dish soap to wash my car).
If this has woken up the desire in you to grab a steering wheel cleaner and clean your car then excellent. Because in the following chapter we are going to list all the cool steering wheel cleaners. That you can get for a cheap price and make your interior look excellent.
Top 6 Steering Wheel Cleaners For Your Car
In this chapter, we are going to share with you six compelling reviews on steering wheel products that are going to make your car look spectacular. So, let's dive into it.
1. CarGuys Super Steering Wheel Cleaner
This cleaner is a multipurpose cleaner that would clean most of the materials that are out there. With 17,000 reviews on Amazon and almost an impeccable rating, we chose this product specifically for you.
As the manufacturer claim, this cleaner will clean anything. Starting from leather, carpets, vinyl, plastic, and rubber. You could use it on anything without worrying that you will potentially damage the surface of your steering wheel. This is a key thing if you consider using this cleaner on leather. Since leather is easily damageable and you could destroy it if you are using some low-quality cleaners.
That's why the CarGuys Super Cleaner will take care of this work for you and you will not have to worry about anything.
This cleaner is an all-American product made in the USA and it comes in a bottle of 18 Fl Oz. The bottle has a sprayer and you can spray it on almost any surface. If you are not happy with the product you may ask for a refund and you will be completely refunded. If that is not a guarantee of the quality of this product, I don't know what is!
2. Chemical Guys SPI_109 Leather Cleaner And Conditioner
When it comes to leather the Chemical Guys SPI_109 leather cleaner is one of the products on the market that you need to consider before you start cleaning.
This kit comes in two bottles. It includes a leather cleaner and a leather conditioner for you to condition the leather after you finish cleaning it.
This product is also one of the top picks when it comes to leather conditioning. With many positive reviews that are available for you to study and learn more about the product.
As the manufacturer claims, this product is good to use on any leather product. Steering wheel, seats, upholstery even your own leather jacket. It works on everything that is made out of natural leather.
The product has an advanced pH formula that will hydrate the leather and will rejuvenate almost any leather product. So, when it comes to your leather steering wheel, this steering wheel cleaner will be perfect and up for the task. After cleaning the steering wheel with this cleaner and conditioner will be good as new.
As the producer claims, this product will also improve UV protection and will lay a protective coat on your leather steering wheel. So, the harmful UV rays don't come even near to the leather and possibly damage it. Overall, good product that is made for leather cleaning and conditioning.
3. Adam's Leather Care Kit Steering Wheel Cleaner
The Adam's Leather Care Kit is another product that is intended for leather cleaning and conditioning. This product comes in two bottles. One bottle is the cleaner that you use to clean the leather and then the second bottle includes the conditioner that you will later use to protect and rejuvenate the leather.
A few simple pulls on the steering wheel will be enough to clean it and later wipe the cleaner with a microfiber. Then apply the conditioner that will moisturize the leather with the enriched pH formula and make your interior look good as new.
This product also has excellent ratings on Amazon and that's why we chose to review it. The conditioner could also be used for vinyl and also on any leather product that you can find. The manufacturer also claims that it is safe from chemicals and will not going to harm your health.
The product is made in the USA and includes a 16 oz cleaner and a 16 oz conditioner. The manufacturer also guarantees customer satisfaction and makes sure that you made the right choice. If you are on the search for a good quality product to clean your leather interior, this might be it.
4. Sonax Upholstery And Alcantara Cleaner
Sonax Upholstery And Alcantara Cleaner is perfect for the guys that are using Alcantara in their cars. This product is going to become one of the essentials that you will need to maintain the Alcantara material nice and fresh without grease spots.
Not only for Alcantara, but this product is also good for any upholstery and cloth products. As the manufacturer claims this product is going to clean and rejuvenate almost any cloth material.
You just spray it down on the surface and give it a good rub with a brush. Then clean it off with a towel. It can't be easier than this, to be honest.
The product also has plenty of positive reviews which means that there are a ton of happy customers behind it. That's why if you have an Alcantara steering wheel, then this steering wheel cleaner will be the way to go.
This product comes in a bottle of 8.45 fl, oz. Overall an excellent product if you are running Alcantara and you want to rejuvenate the material and bring it back to its former glory.
5. Carfidant Ultimate Leather Cleaner
The Carfidant Ultimate Leather Cleaner is another product that enjoys huge popularity among customers and has nearly impeccable ratings on Amazon with 4.5 stars. Which is quite a respective to be honest.
This leather cleaner as the manufacturer says is only a cleaner. It's not like other kits where you get a conditioner as well to protect the leather in the long run. That's why for some people would be a turndown. But if you only want a cleaner, this is the product for you.
If you want to get a conditioner, you might want to take a look at their conditioner as well. Or you can get a conditioner from another maker, it doesn't matter.
This product will clean any leather or vinyl material with ease. The product weight is 18 oz and it comes with a special sprayer and a microfiber towel.
The product is formulated to make sure that it doesn't damage your skin or the leather that you want to clean. Carfidant also strongly believes in their product and guarantees the quality of their product. If you are not satisfied, they are going to offer you a full refund. Overall, excellent product if you want to use it as a steering wheel cleaner.
6. 3D LVP Interior Cleaner
The 3D LVP Interior Cleaner is a perfect multipurpose cleaner that can be used on almost anything to remove anything. As the manufacturer claims, it removes dirt, grime, grease, and oil stains from vinyl, leather, and plastic.
This makes it perfect to use it a steering wheel cleaner without caring if your steering wheel is plastic or vinyl. This product has also a lot of positive reviews and it scores a solid 4 stars out of five making it a good purchase.
I would recommend this product to guys that have cheaper interior materials such as vinyl or plastic. On the other hand, if you run leather, a more specific cleaner for leather and also a conditioner is a must.
Because these cleaners do not have conditioners and you will dry out the leather by cleaning it. Without a conditioner, you will not be able to bring life back to it and moisturize it.
This cleaner is excellent when it comes to plastic dashboards and door panels. It could also be used at home or for your office. It comes in a 16 oz bottle that has a special sprayer. For you to spray it on the surface that you intend to clean. Overall, decent product for the price.
Conclusion – Steering Wheel Cleaner
In this article, we have covered a lot when it comes to cleaning the steering wheel. We learned the types of material the steering wheels are made of. As we can recall, these materials were plastic, faux leather, vinyl, and Alcantara. All these materials require special care and you cannot use the same steering wheel cleaner on all of them.
Then, we have covered the reasons why you should clean your steering wheel. And as we noted there were three main reasons. The first was that with cleaning you maintain the wheel and you rejuvenate and protect the surface of it. Then the second reason is that you remove all of the harmful bacteria. The last reason is that you make it look good. Which is the most important. Your car should always be clean and presentable because that tells a lot about you and your habits.
Lastly, we have covered six excellent products that you can use to clean your steering wheel. Starting from leather cleaners and conditioners, Alcantara cleaners, and general-purpose cleaners for plastic materials.
Frequently Asked Questions On Steering Wheel Cleaners
Here are some of the most popular frequently asked questions on steering wheel cleaners…
Leather Steering Wheel Cleaner
Seeing that most steering wheels these days are leather, faux or real, there are plenty of steering wheel cleaners that work with them. The best ones we've found are the Chemical Guys SPI_109, Adam's Leather Care Kit, and Carfidant Ultimate Leather Cleaner. Unlike wood, vinyl, Alcantara, or other materials used for wrapping the steering wheel, leather requires special care. It tends to be fairly fragile compared to the rest and could crack or wear out quickly if not cared for.
How To Clean Leather Steering Wheel
Well, if you have one of the abovementioned leather steering wheel cleaners, then your job is as easy as spray and wipe. If you don't have access to specialty cleaners, then it's still doable. If it's only dust that you're cleaner, it's easy enough to wipe it gently with a dry cloth. Otherwise, you need special leather cleaners to wipe it clean. You could use leather cleaners. Or, and if the grime or grease is baked in, you could use a steamer and leather degreaser for the more stubborn dirt.
Best Wheel Cleaner
Based on what we've researched and found thus far, the CarGuys Super Steering Wheel Cleaner kit is the best steering wheel cleaner out there. It's highly popular on marketplaces like Amazon and has seen incredibly positive reviews all around. One of its best features is the ability to clean any type of steering wheel, regardless of the surface that it's made from. For its versatility and great price, you can't go wrong with it.
Can You Use Clorox Wipes On Leather
But what if you need it cleaned in a pinch, and don't have access to a steering wheel cleaner? Could you instead use Clorox wipes as a suitable alternative? Absolutely not! This applies to anything leather – steering wheel, sofa, briefcase, everything. The reason is down to the presence of isopropyl alcohol in Clorox. While this is great for general cleaning and bacteria-busting, this alcohol removes the natural oils of leather. This causes the leather to dry out, crack, and become brittle with age.
What Household Products Can You Use To Clean Leather
If you don't have special leather cleaners, there are several household items and concoctions that you could make as a fitting substitute. The best option seems to be using a mixture of vinegar and olive oil. First, pour an equal portion of both vinegar and olive oil into a bowl, and mix them thoroughly. Now, grab a soft towel, and dunk it slightly into the vinegar and olive oil mixture. Next, rub it over the leather surface to clean it. Once that's done, grab a paper towel to remove any excess oils.
How To Disinfect Leather
With the COVID-19 pandemic still in full swing, it's always a good idea to disinfect any surfaces or items that we regularly come into contact with. Unlike most materials, leather is a bit tougher to clean, owing to how sensitive it is to most cleaning solutions. Especially, if those solutions contain any alcohol. The best way to disinfect leather surfaces (besides using a leather cleaner) is to use simple dish soap and water. Mix them, and carefully apply and scrub them onto the leather with a microfiber cloth.