The 2017 Jeep Compass is a vehicle that has had quite a bit of attention. Some of it good and some not so good. So, if its sleek looks have seduced you, it's probably best to read the following review before you part with any money.
Style
Without a shadow of a doubt, the 2017 Jeep Compass is a looker. Check out https://www.youtube.com/ for a video to see for yourself. It has ultra-modern styling with a jeep vent grill, a rugged design becoming of an SUV, with nicely modelled bodywork. As well as a nice sturdiness that isn't clunky and a good choice matt and metallic paint finishes.
Inside it's pretty swish too, with sporty looking seats that have good back and neck support for both the driver and the passengers. Although, it does have the tendency to be a bit over jammed with buttons and gizmos. While this is fun, and everyone loves a bit of tech functionality, it is something in this particular case that can make you feel like you are stuck inside an atomic-era spaceship rather than a contemporary car. Fine if you are trying to recreate the title scene of the Jetsons every morning when you drop the kids off at school, to see what we mean, but a bit off-putting if not.
Although it is worth mentioning that the compass has a great infotainment system that is easy to use and does the job well. Check out http://www.autoguide.com/auto-news/2014/05/ for some more on this in-car tech and how they work.
It's also slightly shorter than also SUV on the market making it a tiny bit more manoeuvrable when parking, something that may appeal to some possible owners.
Safety
The compass also performs well on safety, getting a good NCAP safety plus rating. Scoring especially well on both adult and child passenger safety. Something that probably has a lot to do with the Compass having a fair few safety features as standard. Including front and side airbags, for drivers and passengers, as well as seatbelt pretensioners, load limiters, as well as speed and lane assistance. Tech that can be a godsend if you spend a lot of time on the road.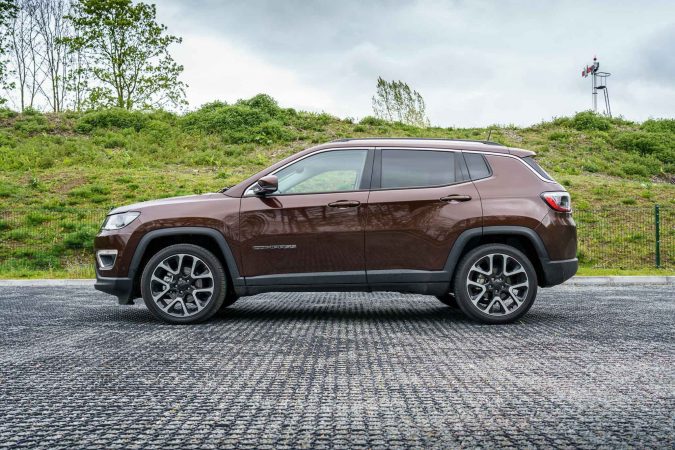 Truly, the advanced safety features are something that is a real benefit if you can buy a new car like the Compass because you know you are getting the latest tech that will keep both you and your passengers, safe. Of course, safety is always a consideration whether you are buying new or a used vehicle, especially in relation to the condition and the reliability of the said vehicle. 
If you are interested in buying a Jeep take a look at our Jeep reliability guide before making that big decision.
When you buy a new car, issues should be covered by warranty, and it's also worth knowing that if your vehicle has to go in for repairs twice or more, whether it's old or new. Ones that are designed to prevent serious injury then it might make it what is known as a lemon. If so, in some places your purchase is protected by law, see http://nealefhima.com/riverside/lemon-law/ for details. Meaning whomever you bought it from is required by law to refund or replace you. Something that can come in very handy whether you buy a new car like the Jeep Compass or other used SUV type vehicle.
Cost
The cost is another area on which the compass doesn't do so well. They aren't cheap, even for SUVs at around $30,000, and with only 30 mpg for open road driving, and less for built-up areas, she is a gas guzzler as well. Something that will further hurt your pocket throughout ownership.
Underneath she is not refined enough to keep up with the competition in her class from models such as the Honda CR-V, see http://www.caranddriver.com/reviews/ for a detailed review, or the Mazda CX-5. Making her an expensive purchase for all but die hard jeep fans.