Along with most other Japanese manufacturers, Subaru is known for making reliable cars (and among the list of the most reliable cars). But Subaru Crosstrek is an ill-famed child in its family. Subaru Crosstrek problems are a widely discussed topic on the internet.
But how does an otherwise dependable manufacturer create a car like the Crosstrek that is riddled with problems? Let us find out if the Subaru Crosstrek problems are real or just another internet fad.
Subaru Crosstrek History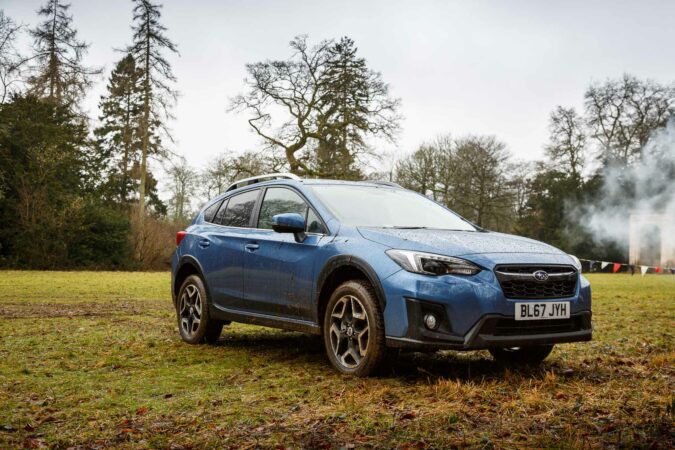 Subaru Crosstrek was launched at a time when crossovers and SUVs had strengthened their assault on the industry. In 2012, Subaru had a dismal crossover lineup. Subaru did try its luck with some products but could not cook up a fruitful recipe.
The smallest of them was the Outback Sport, which was just a raised version of the Impreza hatchback. There were the larger Subaru Forester and Outback, but they were more like people carriers than crossovers. This left Subaru in a rut, with effectively no SUVs or crossovers in the lineup when the entire market was asking for one.
Enter the Subaru Crosstrek. Subaru's desperate attempt to create a crossover to cash on started with the Crosstrek. The Crosstrek replaced the Outback Sport from the lineup. But nothing changed much. Just like the Outback Sport, the Crosstrek was also a raised Impreza hatchback.
The Crosstrek was based on the fourth-generation Impreza hatchback and looked exactly like it. Credit where it is due, they did put a bit more effort into it to make it look distinct. But this could not do much for the Crosstrek.
Concept To Reveal
Subaru showcased the concept form of the Crosstrek to the world for the first time in 2011. This first appearance happened at the 2011 Auto Shanghai and at this point, it was named the Subaru XV concept. It had a 2.0-liter four-cylinder DOHC boxer engine hooked up to a CVT.
The Subaru XV Concept did not have to wait a lot to morph into a production form. At the 2011 Frankfurt Motor Show, the production version was showcased as the Subaru XV. It retained this name when it went on to sell in its home market, Japan, in late 2012.
At the 2012 New York Motor International Auto Show, Subaru Crosstrek entered the US market with a new name. It shared its internals with its twin, the Impreza. The 2.0-liter four-cylinder boxer engine churned out 148 hp, and the CVT channeled it to all four wheels through Subaru's Symmetrical all-wheel-drive system.
This, in no way, was impressive. Even for a market looking for a frugal no-nonsense crossover, the Crosstrek seemed underpowered.
Subaru Crosstrek Hybrid
In 2014, Subaru Crosstrek Hybrid was launched, catering to the needs of a market that was growing increasingly eco-conscious. This was the brand's first production hybrid car.
It was not an impressive hybrid technology but was good enough for the first shot at it. The Crosstrek Hybrid added an electric motor to create a hybrid SUV good enough for 13 hp and 48 lb. ft to the powertrain. The same story repeats here too. Nothing impressive, just enough for the job.
Second Generation Crosstrek
This is where things got heated up at a crossover level. The new Subaru Crosstrek came in 2017, and adopted the brand's new Subaru Global Platform, along with the Impreza. But this was where the Crosstrek received the visual bulk that it deserved as a crossover in the first place.
The design of the second-generation Subaru Crosstrek was more rugged than ever. Even though it still took after the new Impreza hatchback, it had its own identity. The vehicle was raised, and the black cladding was made more pronounced.
In this iteration, it came with an uprated 2.0-liter boxer engine with 154 hp and 145 lb. ft. It also received a six-speed manual transmission. Later, in 2019, Subaru re-introduced the Crosstrek Hybrid as a Plug-in Hybrid with an all-electric range of 17 miles.
Subaru Crosstrek Reliability
Subaru is a car brand known for its reliability. Many cars they made still run with thousands of miles on their clock. This was in the same vein as most other Japanese brands. But the Crosstrek was an anomaly, well, almost.
There was fundamentally nothing wrong with the Subaru Crosstrek. It was built on the proven platform of the Impreza, with the same tried and tested mechanicals. But Subaru Crosstrek problems surfaced on the crossover in its initial years, making it stand apart from the sedan. On top of this, it suffered from a bunch of recalls as well.
But do not be worried, the Subaru Crosstrek problems are in no way critical like the ones that Northstar engined Cadillacs had. Nor is it a troubled creation, like the Chevrolet Cruze.
The story of the Subaru Crosstrek's problems starts with several key issues plaguing the first models and then progresses on to being one of the most reliable cars in the market right now. This progression had Subaru's continuous improvement to thank, which almost annihilated these Subaru Crosstrek problems.
Problems With Subaru Crosstrek
If you are looking for a list of blown-up engines or broken driveshafts in this list (for more insight, check out our guide on the drive shaft center support bearing replacement), you may not find it here. This is a Subaru after all. But that does not mean that the Subaru Crosstrek problems did not exist at all. Let us have a look at what made the Crosstrek the minger in their lineup.
1. Low Power
Yes, this is not among the Subaru Crosstrek problems that owners might experience. But this is the area where it received the most criticism. The 2.0-liter boxer engine of the Subaru Crosstrek used to churn out 148 hp, which was puny compared to most of its rivals.
It was an okay engine for a small car like the Crosstrek, but Subaru could have given the option of a more powerful engine. On many pages and forums, cries for a Subaru Crosstrek WRX are loud and clear. It makes proper sense too. A turbocharged engine would be the perfect answer to this Subaru Crosstrek problem.
With its compact body, a potent engine, and a brilliant all-wheel-drive system, a Crosstrek WRX could have been the driver's crossover. And in these SUV-crazy times, it is no secret that it will rack up good numbers. But Subaru, weirdly, did not make one.
In the 2021 facelift for the second generation, Subaru tried to address the most criticized of all Subaru Crosstrek problems.  With a larger 2.5-liter engine as an option, the Crosstrek could make 182 hp. Better than before? Yes. A proper answer to the WRX demands? Not really.
2. Head Gasket Issue
This is the biggest of all the Subaru Crosstrek problems, head gaskets. In fact, it is one of the issues that many Subaru models face, despite their reputation for being reliable. As such, one of the things that you should be most cautious about is understanding Subaru head gasket problems.
Since the 1990s, Subaru has been fighting this trouble, yet it turned into one of the Subaru Crosstrek problems later. This problem is more prevalent on the larger 2.5-liter engine. These were on par with the Northstar engine of the time.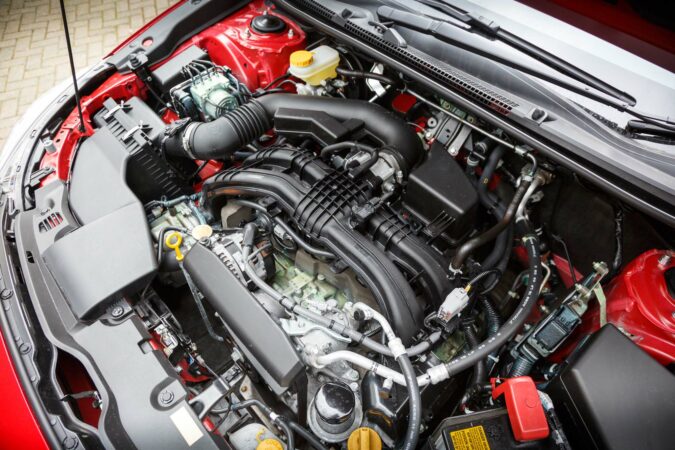 What Does A Head Gasket Do
The gasket is a thin strip of metal that forms a seal between the cylinder block and cylinder head. The gasket is responsible for proper oil and coolant flow. If this is blown, oil and coolant can leak out, overheating the engine and damaging the internals.
As the replacement of the head gasket involves opening the engine, it can be a ginormous maintenance task. No DIY repair should be attempted on it. It is always best to leave it to a seasoned professional, who may be more familiar with Subaru engine problems.
Symptoms
If you notice any blown head gasket symptoms, the first sign will be overheating of the engine. White smoke coming out of the exhaust can also be an indicator. If you choose to drive even when this Subaru Crosstrek problems pop up, it can end up frying the engine. Not a great situation to end up in.
How Much Does It Cost To Fix
As always, swapping a gasket is a hefty task. The only remedy is to open the engine head and replace the gasket. The repair job cost is as complicated as the procedure itself. This is why a typical Subaru head gasket replacement cost is rather expensive.
A head gasket replacement can cost upwards of $1,500 just for labor. The parts cost will add in another $1,100 to $1,200 just for the gasket and an additional $700 for other associated parts. So, if you do the math, a gasket replacement can cost….a lot.
3. Rodent Attack
How can this be among the Subaru Crosstrek problems that you'll likely face? We had the same question when we read about it the first time. Turns out, it was a good deed from Subaru that turned around and bit them, quite literally. Therefore, there are benefits to learning how to keep mice out of your car.
Subaru, in a bid to be as eco-friendly as possible, swapped some of the synthetic plastic electrical wire coatings with greener material. This bio-degradable soy-based coating was great for nature as it reduced the synthetic waste going to landfills. It was also cheaper, helping Subaru save money.
But in the eyes of a rat, this was a large chew toy nestled in a dark, safe environment warmed up by an engine after a drive. Rat heaven maybe. The soy-based compound was constantly attacked. Many owners woke up to severed fuel lines or torn-out wiring harnesses.
Subaru was not the only manufacturer caught in this mess. Along with Subaru Toyota, Honda, Hyundai, and Kia had lawsuits filed against them. These were made by furious customers who were enraged to find out that their warranty does not cover this damage.
The repair bills for replacing what is left of the rat dinner were humungous. So, you should be diligent when looking up which cars have soy-based wiring.
4. CVT Issues
In 2018, Subaru announced a warranty extension program for its Continuously Variable Transmissions (CVTs). This hiked the warranty for the transmission from the original 5 years or 50,000 miles to 10 years or 100,000 miles, whichever comes first.
This extension applied to almost all their models, including the Crosstrek, Legacy, Forester, Impreza, WRX, and Outback. Subaru claims that there were no customer complaints or concerns raised against the CVT. The warranty extension was more of an added assurance about the reliability of the CVT, they reported.
But customers had a different story. According to Subarucomplaints.com, almost 1,500 complaints are logged in connection with this issue. Customers experienced shudders, stalling, and knocks from the CVT. In short, the CVT started to give a jarring ride, a few years into the life of the vehicle.
Under this warranty for Subaru CVT transmission problems, customers could get free repair and replacement of parts if they were facing problems with their CVTs. Dealers conducted free inspections even for vehicles that did not have any symptoms.
5. Excessive Oil Consumption
This is yet another of the Subaru Crosstrek problems that are shared with its sister models. Many Subarus, including the Crosstrek, from the years 2012 to 2015 were found to have consumed more oil than it is used to. This is among a litany of other Subaru oil consumption issues.
Subaru dealers were replacing pistons and oil rings to bring this issue under control. But they later decided to replace the entire short block assembly as a final remedy to these Subaru Crosstrek problems.
6. Faulty PCV Valve
Out of all Subaru Crosstrek problems, most of them are relevant for older models. But this is a problem found in the second generation Crosstrek, built after 2018.
The PCV valve keeps the waste gases from building up inside the crankcase. It lets the gases escape back into the intake system for reuse. But this valve can go wrong.
If the PCV valve fails, the engine oil may enter the combustion chamber. It can be even worse (unless you spot the bad PCV valve symptoms early on), as the parts of a PCV valve can also enter the engine, damaging the internals.
A recall was issued for this problem. If the PCV valve was found to be faulty in these vehicles, a PCV valve replacement is needed. If the faulty valve had already caused damage to the engine, the entire engine was replaced, free of cost.
7. Brake Light Switch Defect
A trivial problem can cause king-sized issues. Out of all the Subaru Crosstrek problems, this may sound like the smallest of them all. But it was one of the most inconvenient.
Let us talk about the effects first. If your vehicle has this problem, you may face any of the following situations.
What Causes It
All the above-mentioned issues can be traced back to a single fault. The brake light switch in a Subaru Crosstrek is exposed. Over time, silicone deposits can build upon this, from some products used to clean the car.
This stops the light switch from sending a signal. When there is no signal from the brake light switch, most functions that need an OK from the switch get disabled.
Recall Fixing The Issue
The only fix for this problem was to replace the brake light switch. Subaru announced a recall in 2019 for more than 2.3 million vehicles to replace their brake light switches. The vehicles included in this recall were the Crosstrek, Forester, Impreza, and WRX.
An alternative issue that you might come across is noticing why is my brake lights staying on, or if the brake lights won't turn off. Regardless, if you're noticing these issues outside of the recall, you might have to instead search up where can I get my brake lights fixed.
8. Failure Of Subaru Eyesight
Subaru Eyesight is a suite of driver-assist technologies that helps improve safety. It includes active safety systems pre-collision automatic braking, lane-departure alerts, collision warning, and adaptive cruise control.
The Eyesight technology can fail to function properly and turn into one of the Subaru Crosstrek problems. In fact, this problem can be traced back to the name of the technology. "Eyesight" is just like our actual eye which gets hindered by fog, water spray, and a myriad of other environmental conditions.
To make matters worse, Eyesight used monochrome cameras in its earlier versions. This made it difficult for it to spot and recognize brake lights. Though Subaru swapped it for smaller, color cameras starting in 2015, it still was not all good news.
Another one of the Subaru Crosstrek issues that we talked about before meddles with Eyesight. The faulty brake light switch in many Subaru Crosstreks has been found to disable the Eyesight function.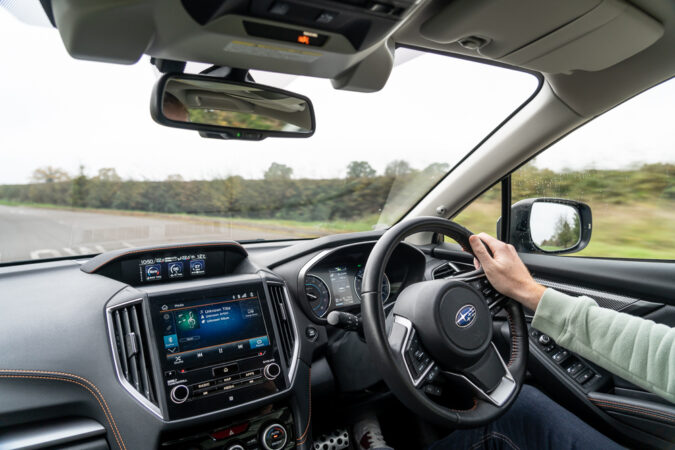 9. Steering Issues
The next one of the Subaru Crosstrek problems is associated with the steering of the vehicle. Mainly found in the 2016 Subaru Crosstrek, this problem can be a pain to live with.
The steering of these vehicles reportedly gets locked while driving or made a clicking or clunking noise when turning at full lock. The car also may pull to one side while driving. This one is particularly a little frustrating one among the Subaru Crosstrek problems but would not be a massive headache to fix.
10. Cracking Windshield
Many reports of windshield cracking have been reported, forming another one of the Subaru Crosstrek problems. Many owners reported their windshield cracking without an impact. Hence, necessitating a possible windshield chip repair to help solve the issue.
The crack may spread rapidly across the windshield. Obviously, the only fix for this issue is to replace the windshield. Or, if you can find the best windshield repair kit. The problem, however, is not rampant. Only a few vehicles are found to have developed this Subaru Crosstrek problem.
Are Subaru Crosstreks Reliable
We have established that Subaru Crosstrek problems have their ugly side. But Subaru being Subaru, strives to hold up its reliable image. This reconstruction of their image is aided by consistent improvement of the Crosstrek, along with regular recalls.
This proactive approach to the development of the Crosstrek helped them mend the dent, at least a little bit of it. The consistent improvement helped them get rid of most Subaru Crosstrek problems and improve overall reliability.
2021 Subaru Crosstrek Problems
The 2021 Subaru Crosstrek, unlike the first-generation Crosstrek, is known for being reliable. Though not surprising from Subaru, the fact that it grew from the problem-riddled first-gen Crosstrek is commendable.
As per Edmunds.com, the 2021 Subaru Crosstrek is awarded 4.8 out of 5 stars by consumers. This was a strong leap from the 3.9 out of 5 scored by the 2019 Subaru Crosstrek.
It is an impressive feat, as the segment it competes in is quite crowded. Consumers are presented with a lot of choices that the slightest glitches can displeasure them. Leading automotive data analytics firm, J D Power is also impressed by the latest Subaru Crosstrek.
Safety Improvements
Even though safety was not one of the major Subaru Crosstrek problems, it had room for improvement. Subaru did their work on this, and this shows in the latest model.
If you head over to the Insurance Institute of Highway Safety (IIHS) website, you can see the proof of this growth. The Subaru Crosstrek Hybrid is given the prestigious title of Top Safety Pick+, both for 2020 and 2021. Its less green twin, the Subaru Crosstrek earned the title of Top Safety Pick for 2020 and 2021.
Subaru Eyesight and steering-responsive headlights of the Subaru Crosstrek also earned it the coveted IIHS Superior Front Crash Prevention honor. It also scored the highest score possible for front crash prevention from IIHS, when kitted up with Eyesight.
Subaru Crosstrek Years To Avoid
If you're thinking of getting a used Subaru Crosstrek, here are some of the worst Subaru Crosstek years to avoid:
Best Year For Subaru Crosstrek
Otherwise, if you're insisting on getting a used Crosstrek, some of the best model years of the Crosstrek include:
Facts about Subaru Crosstrek Model Years to Avoid
The Jeep Renegade and Subaru Crosstrek are both options for an off-road capable SUV that is easy to park.
The Crosstrek was released in 2016, one year after the Renegade.
The base model Crosstrek has standard all-wheel drive (while you're here, also check out our list of the best all wheel drive cars) and a rugged suspension with high ground clearance, making it more suited for an off-road lifestyle.
Relatively few issues have been reported with the Crosstrek, making it a reliable option.
The 2016 and 2018 Crosstrek model years have the most complaints lodged against them, making them the model years to avoid.
Safe model years for used Crosstreks are 2017, 2019, 2020, and 2021.
The 2017 model year was criticized for chipping paint and hesitation to accelerate.
The 2019 model year has had complaints of the electrical system giving out while driving, windshield cracking, and the radio losing presets.
The 2020 and 2021 model years have had zero complaints logged so far.
Common issues with the Crosstrek include a head gasket issue, excessive oil consumption, rust and corrosion, and a defective brake light switch.
Subaru Crosstrek Problems: In Conclusion…
If you need a long answer, it starts with a solid maybe. But if you need it short and sweet, not really. The initial years of the Subaru Crosstrek problems were quite bumpy. People who expected bullet-proof reliability from their Subaru were not delivered the right product.
Yes, the Subaru Crosstrek had problems. So do many other cars. We do not intend to name and shame any other cars but many of them record more complaints in a year than the Crosstrek did in its entire life.
So, almost all the online hate it garnered was due to its identity as a Subaru. But that does not take away the fact that it had its fair share of problems. Will you be safe buying one?
If you want a proper Subaru, go for the latest Crosstreks which is known to have fewer issues. They can be as reliable as any other Subaru, if not better. If you are in the used market, looking for a steal, you can still choose the Crosstrek. Subaru Crosstrek problems will haunt you a little, but you will certainly be better off than buying the most unreliable cars in the market right now.
FAQs On Subaru Crosstrek Problems
If you still have some questions and uncertainties about Subaru Crosstrek problems, our FAQs here might have the answers…
Subaru Crosstrek Transmission Problems
Subaru's CVT gearboxes have been known to cause issues before. Although not prevalent, it's significant enough to cause headaches for many owners. In regards to Subaru Crosstrek problems, owners noted shuddering, stalling, and knocking from their CVTs. It caused poor performance and driveability, even just a few years into ownership. The good news in all this is that Subaru had doubled the powertrain warranty to cover this issue. From 5 years or 50,000 miles, the warranties now encompass 10 years or 100,000 miles (whichever comes first). Its coverage includes free diagnosis, repairs, and part replacements for Crosstrek owners who've had problematic CVTs.
Subaru Crosstrek Years To Avoid
Owners and pundits have agreed that certain years of the Subaru Crosstrek are well worth distancing from if you're worried about reliability. These include the 2013, 2016, 2017, 2018, and 2019 model years of the Crosstrek. In particular, most would highly recommend that you avoid the 2016 and 2018 model years, respectively. The 2018 model year Crosstreks exhibited various suspension issues, as well as other engine problems. Elsewhere, the paint would start chipping, while the windshield would suddenly crack. Inside, the electronics are just as woeful, as well. The 2016 model year Crosstreks were even worse, somehow. Owners noted how their keys would get stuck in the ignition. Not to mention, constant stalling and shuddering from the engine. The brake lights also had trouble illuminating.
Subaru Crosstrek Accessories
Subaru conceived the Crosstrek as an adventurous, fun, and lifestyle-focused crossover for an active owner. It's no surprise then that Subaru offers a plethora of accessories to suit the needs of this group of owners. You could buy official bike racks, kayak carriers, roof racks, and ski-slash-snowboard racks. Not to mention, a tow hitch and wiring harness for trailers. Besides that, Subaru offers exterior bumper covers, engine splash guards, fog lights, and other off-road accessories. You could even choose from a variety of interior accessories, such as cargo nets, mats, and carpeting, or even an interior ambient lighting kit.
Subaru Crosstrek Mods
From the get-go, the Subaru community has long been keen on modifying their Crosstreks. For the most part, owners have modified their Crosstreks' ground clearance, adding another 1.5 inches to the existing 8.7 inches of ride height. There are plenty of Crosstrek-specific lift kits out there. To complement this, owners have also changed out their Crosstrek's wheels for more off-road-ready ones. Cooper seems to be a popular brand of all-terrain tires for the Crosstrek. With chunky rubber, a set of chunky rally wheels also suit it quite nicely. Moreover, owners have since modified their Crosstreks with tow hitches, roof racks, bumper guards, winches, auxiliary lights, and more.
Subaru Crosstrek Safety Rating
The 2022 Subaru Crosstrek is one of the safest cars on the market today. The IIHS, for example, had awarded the latest Crosstrek with their Top Safety Pick accolade. It scored well in front overlap tests, both the passenger and driver sides. Moderate overlap tests in the front are held pretty well, including side collisions and rollover crashes. Similarly, the Crosstrek had passed NHTSA testing with flying colors, scoring 5 out of 5 stars. There, it did well on side, front, and rollover crashes. This score is elevated further thanks to Subaru's active safety systems and driver aids.
Is Subaru A Good Car
As a whole, yes, Subaru does make some great cars. They're well-regarded as a brand with strong loyalty and following among its customers, and that's for good reason. They make some of the most easy-going and practical cars that you can buy today. Subarus are utilitarian, without any odd quirks or excessively fancy features. Thus, Subarus are great as family cars. Moreover, the brand's outdoorsy focus, alongside Subaru's highly capable all-wheel-drive systems, also make Subaru vehicles fantastic if you're an adventurous folk who might want to do a bit of off-roading on the side. In addition to its respectable reliability and affordable price point, it's no wonder why Subarus are so popular.
Is The Subaru Crosstrek A Good Car
Compared to many other similar crossover SUVs on the market, the Crosstrek is indeed a great car. With its standard all-wheel-drive system, the Crosstrek will more than easily handle a little bit of off-roading and outdoorsy excursions. Combined with its potent Boxer flat-4 engine and smooth-shifting CVT transmission, the Crosstrek is easy to drive, too. The latter two also contribute to the Crosstrek's good fuel economy. Besides practicality, you'll note the Crosstrek's plethora of driver aids and active safety systems like Subaru's EyeSight. With a spacious (albeit, somewhat dull) interior, the Crosstrek is a great all-around, do-everything family SUV.
Do Subarus Hold Their Value
When you're comparing them to rival brands, Subarus tend to hold their value the best. In other words, you can mostly expect less depreciation over time with a Subaru. This is in part due to Subaru's many character traits. For example, there's their long-lasting reliability, standard all-wheel-drive system, off-road focus, easy-going practicality, distinct Boxer engines, and more. These are also the very reasons why Subaru owners are among the most brand-loyal of any other automaker out there. Most Subarus (including an Impreza, Crosstrek, WRX, Outback, Ascent, Forester, and Legacy) will usually depreciate between 20% to 25% after 5 years, which is pretty good.
Where Are Subaru Crosstreks Made
Side by side with other, larger Japanese automakers, Subaru has a relatively small footprint. Its primary production plants, for example, include its Lafayette plant in Indiana, and the Yakima plant in Ota, Gunma Prefecture, Japan. If you're wondering where your Crosstrek was made, it would be the latter – Japan. While most Subaru models in America are put together in Subaru's Indiana plant, there are a few noteworthy exceptions. The Crosstrek is one of them, being imported from Japan to the US. You can double-check to see if your Subaru is made in the US or Japan by checking the VIN. The letters 'JF1' represent Subarus made in Japan, while '4S3' is for the US-built Subarus.
Which Subaru Engines To Avoid
Subaru is a brand well-known for its (relatively) solid reliability and bulletproof longevity. Although, there are some exceptions, including problematic Subaru engines that you should ideally avoid. There are 3 such unreliable engines in particular – Subaru's 2.5-liter turbo 4-cylinder, the (in)famous EJ25, as well as the EJ205 (also known as the EJ207 and EJ20G). One of the most common issues that plague these engines are the abundance of oil-related problems, head gasket failures, overheating woes, and PCV issues, and it doesn't end there. In the worst cases, you might even encounter total engine failure, so it's worth being cautious when looking at these 3 Subaru engines.
Approved Tools
These tools have been tried and tested by our team, they are ideal for fixing your car at home.
AI Car Expert Thinking 

.

.

.