We all know that Subaru is committed to making the safest cars on the road – but did you know that they also make fast cars? When I learned about Subaru and their performance vehicles, I knew I had to check them out myself. One thing that makes Subaru fast cars famous is how reliable they are.
Subaru fast cars include the Impreza WRX STi, Forester, etc. The Japanese car brand is dedicated to creating legendary performance vehicles and letting people enjoy their drive protected and comfortable. Their unique 4-wheel drive system gives drivers all the power they need to handle most surfaces. 
Subaru designed most cars to reach a specific speed level with electronic limiters. In this list, we will ignore concept models, one-offs, and altered variants; we will also not include models with low-reliability scores.
14 Fastest Subaru Cars
When you want to get a Subaru car, you need the correct information to get the best and the fastest ones. Check this list and make the right choice.
Subaru Fast Cars #1: 2004 Impreza WRX STi
The 2004 Subaru Impreza WRX STi is an old Subaru car that outperforms new models. It has a six-speed manual gearbox, a 2.0L turbocharged four-cylinder engine, and a top speed of about 155mph.
What sets the 2004 Impreza apart is its rallying-inspired feature which people still use today. It comes with a DCCD (Driver's Control Centre Differential) that can allow you to switch from automatic to manual mode and a simple dial that can allow you to change the torque sharing between the front and back wheels – this directs 65% of power to the back.
This Subaru model is a "do it all" supercar, not the best, but it delivers excellent performance, speed, and handling levels.
Subaru Fast Cars #2: 2012 WRX STI S206
Subaru engineers have their way around WRX models, and the 2012 STI edition is one of the best. Though not popular in America, this Japanese neck-snapper produces 316 horsepower and 318 pound-feet torque. It can achieve 60mph in 4.5 seconds. Like many Subaru vehicles, manufacturers only build the 2012 WRX for the Japanese domestic market.
This year's model is rare because the brand only produced 300, but it's very cool and reliable.
Subaru Fast Cars #3: 1998 Impreza 22B STI
When Subaru produced this car, people called it the Japanese Ferrari. More than 20 years later, it's still one of the fastest Subaru on the market. This car was close to becoming a road-going World Rally Championship car. It has a boxy early 90s appearance and a top speed of 144mph and can accelerate from 0-60 mph in 4.7 seconds on and off-road.
It has a 2.0L engine that can produce 276 horsepower and even more and 267 pound-feet of torque. Subaru only built 424 pieces of this model to celebrate the 40th anniversary of the brand, and they sold out not long after the launch.
Subaru Fast Cars #4: 2013 WRX Special Edition
Manufacturers called this model the "rare unicorn". They made just two hundred and sold it all within a short period. It comes in beautiful pumpkin orange and black, and it's one of the fastest Subaru cars. It has a wider body, blacker and bigger wheels, and it's a beast whether on the track or not. The car can cruise from zero to 60mph in 4.7 seconds.
It comes with a 2.5L turbocharged four-cylinder engine that produces 265 horsepower and 244 pound-feet of torque. Also, it has a five-speed manual box and all-wheel drive.
Subaru Fast Cars #5: 2009 Impreza 330S
The 2009 Impreza 330S is not popular even with some lovers of the Subaru cars; however, the car made some great numbers and performance at the end of the last decade. It will achieve 60mph in 4.8 seconds and comes with a 2.5L turbocharged engine that can produce 425 horsepower and 347 pound-feet of torque.
The 2009 Impreza 330S has a six-speed manual gearbox and an all-wheel-drive system. It has a UK-only version, and people consider this version the best.
Subaru Fast Cars #6: Subaru WRX STI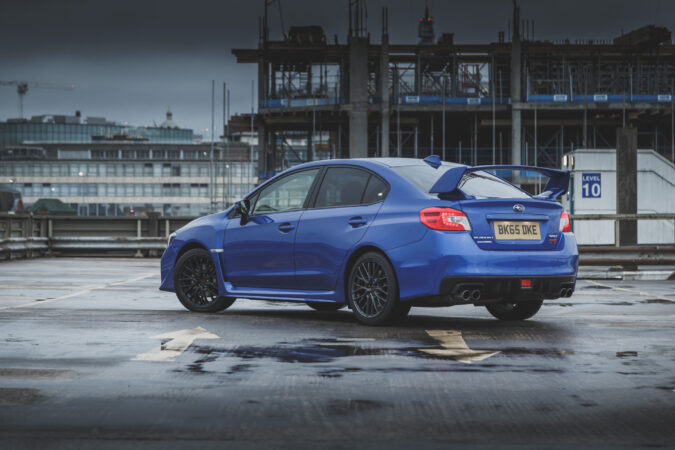 The WRX is sleek, and the souped-up version can achieve 160mph. It will cruise from zero to 60mph in 4.8 seconds. It has several features of rally cars and can be an everyday car you can drive from place to place. WRX will always be on the list of fast Subaru cars. Although several generations have passed since the 90s, all the models and versions have excellent acceleration.
Subaru Fast Cars #7: Subaru WRX
WRX is a Subaru model that users have been looking forward to. An enthusiast has said a lot about the car even before its release, and it fulfills everything people have predicted about it. It's one of the fastest Subaru cars, has an all-wheel-drive system, and can cruise from zero to 60mph in 5 seconds.
It has a 2.0L four-cylinder engine that produces around 248 pound-feet of torque. Also, it comes with a six-speed manual transmission and is affordable despite its quality.
Subaru Fast Cars #8: 2006 Legacy GT Spec B
2006 Subaru Legacy GT Spec B is a limited edition model of the Subaru car; the brand produced just 500 Legacy GT Spec B between 2006 to 2009, and they are only available in dark silver color. It has a great suspension and brakes, has wider wheels, and can achieve 60mph in 5.3 seconds.
It comes with a beautiful interior and a six-speed manual gearbox. The standard 2.5 liters four-cylinder engine can produce about 250 horsepower and 250 pound-feet of torque.
Subaru Fast Cars #9: 2010 Impreza WRX Sport Wagon
The 2010 Impreza WRX Sport Wagon is an upgrade of the base WRX. It will cruise to 6mph within 5.8 seconds. It has a 2.5-liter turbocharged four-cylinder engine that produces 227 horsepower and 217 pound-feet of torque. Users have described this car as "one of the coolest carpool vehicles on the planet."
Subaru Fast Cars #10: 2010 Legacy 2.5 GT Limited
You may have to purchase this model as a used car, but the 2010 to 2014 Legacy 2.5 GT is one of the fastest Subaru cars the brand has produced. It has features similar to the Subaru mighty STI and can jet from zero to 60mph within 5.8 seconds. Its standard 2.5-liter turbocharged four-cylinder engine will produce 265 horsepower and 258 pound-feet of torque.
You can use this car with an automatic box, but the 6-speed manual transmission will give you perfect performance and speed.
Subaru cars are the best when it comes to acceleration and speed, and the 2.5 GT model is a confirmation of that fact. If, by chance or luck, you find a Legacy GT wagon anywhere, make the purchase and get yourself a high-powered unicorn.
Subaru Fast Cars #11: Subaru BRZ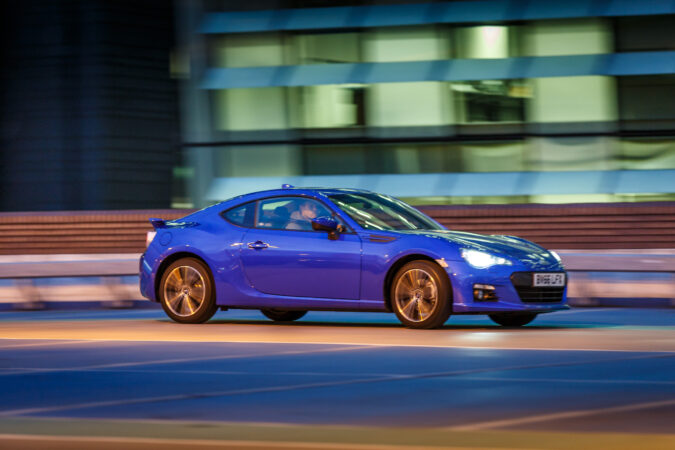 Subaru and Toyota came together to develop the BRZ. It has a top speed of 134mph and can cruise to 60mph within 6.2 seconds. It comes with an engine that produces a compact 205 horsepower; although it's light on power, it's many users' favorite Subaru.
Subaru Fast Cars #12: 2014 Forester 2.5 XT
It's funny that a little crossover like Forester can outrun the top cars on the list, but it does. Its revised edition has better gearing and a turbocharged 2.5-liter four-cylinder engine that makes 250 horsepower. It can reach 60mph in 5.9 seconds and achieve more speed by swapping some of its essential parts with that of WRX.
Subaru Fast Cars #13: 2016 Legacy 3.6R Limited
This model has every mechanical feature of the Outback 3.6R except the long open roof and extra cargo. Although it has a lower ride height compared to the 3.6R but its six-cylinder engine, all-wheel-drive, and Continuously Variable Transmission are quite the same.
The six-cylinder engine produces 256 horsepower and 247 pound-feet of torque. It has a top speed of 139mph and will cruise from zero to 60mph in about 7.1 seconds.
Subaru Fast Cars #14: Subaru Outback 3.6R
Subaru lovers can't get enough of the Outback, a long-serving all-wheel-drive wagon. Its appearance is beautiful, the car is reliable and safe, and it has great value. It's a modern family car with a 2.5-liter engine; you can opt for the 3.6-liter engine that can produce 256 horsepower and 247 pound-feet of torque.
Its top speed is 139 miles per hour, and it can cruise to 60mph in 7.1 seconds.
The perfect Subaru BRZ sports coupe and the always-available Subaru WRX are two of the best Subaru performance cars. They both come with the sleek SUBARU BOXER engine in two distinct drivetrain layouts – the reliable AWD (the WRX) and ultra-lightweight RWD (the BRZ).
The Japanese car brand designed all these to give you an affordable, reliable, fuel-efficient, and comfortable way to drive cars with a rally-inspired heritage.
Subaru Fast Cars: History Of Subaru Performance
The Subaru automotive brand is one of the oldest in the world, with the first-ever Subaru car hitting the streets in 1953 after Fuji Heavy Industries established the company in 1954. While this may not seem like a long time ago, many people who drive Subarus today know little of its history.
The brand started with the Subaru Legacy form and has made several breakthroughs over six generations.
The Subaru Outback was first available as a trim in the second-generation Subaru Legacy L Wagon. The Outback's suspension lift arrived in 1996 with a 2.5-liter four-cylinder engine that produced 155 horsepower. By 1997, they sold some of these cars to test if the people wanted them, and fortunately, they did, and the cars of this generation continue to sell even after two generations.
In the second generation, Subaru and Legacy parted ways, even though they still use the same architecture today. The 3.0 liter six-cylinder boxer engine, which produced 212 horsepower, could be used in this generation's larger, wider automobiles for the first time.
This generation of Subaru cars also came with a new multi-link suspension to improve ride and a variable torque distribution system that improved performance on slippery roads by sending power to all wheels with traction. The second generation Subaru also came with stability control and side airbags.
Subaru now has several SUVs; the third generation had several features like previous years but is distinct because of its stiffer body. In 2007, it introduced a 2.7 turbocharged four-cylinder engine and automatic transmission, more ground clearance, and Legacy-based construction.
In 2008, it came with a six-cylinder engine, slightly modified front styling, a standard all-wheel-drive system, sedan or wagon body styles, and three engine options.
Subaru Fast Cars: CVT Transmission
Fourth-generation Subaru cars are taller and wider, giving them more interior space than handling. Subaru decided to go with the two engine choices and dropped the turbo in the fourth generation. This generation Subaru came with a CVT – Continuously Variable Transmission and paired it with a 2.5-liter four-cylinder engine and another 3.6-liter cylinder engine.
There was more cargo room because of the new rear suspension, providing a more comfortable driving experience. The fact that the Subaru of this generation is bigger made it one of the best crossovers then. In 2012, Subaru cars came with stereos, manual or automatic transmission, and a revised roof-rack crossbar design. It introduced a revised suspension in 2013 and 2104; it came with a backup camera.
There were changes in the styling of the fifth-generation Subarus. It now has smaller cladding, a new headlight design, and a larger grille. Every model of Subaru produced in this generation came with a Continuously Variable Transmission for better fuel economy. There were changes in the infotainment interface, more excellent materials, and more back seat space.
Subaru of this generation has a new optional power liftgate, a backup camera, and several safety systems. In 2018 it came with a touch screen, revised transmission, and suspension.
However, in 2019, Subaru cars now had an eyesight active safety suite and steering adaptive headlights with automatic high beams.
The sixth-generation Subaru cars look a lot like the previous years but have a new outlook and platform for a better ride, excellent handling, and less noise. The cars in this generation came with two engines – the 2.5-liter four-cylinder turbocharged engine and a 2.4-liter four-cylinder engine.
Subaru cars now have an eyesight safety feature, automatic emergency braking, adaptive cruise control, and lane-centering steering assist for drivers.
Subaru Fast Cars: Most Reliable Subaru Cars
Everyone knows Subarus are great quality cars. They're also popular with car enthusiasts and aren't just great to drive but they're also built to last. But when shopping for a new vehicle, it can be hard to decide which model suits you. Here are some of Subaru's most reliable cars.
Subaru Fast Cars Reliability: #1. 2019 Subaru Outback
2019 is a perfect outdoor Subaru car simply because of its all-wheel-drive system, high safety ratings, and outstanding reliability. Subaru sorted out troubles with the engine, suspension, and transmission, and several consumer reports gave this car a 5 out of 5 rating in reliability. Although it's not perfect, its users will forever appreciate the excellent work.
Subaru Fast Cars Reliability: #2. 2020 Subaru Forester
This compact SUV is versatile and very reliable. If you want to shop for a reliable SUV, the 2020 Subaru Forester should be among your picks. It has a spacious interior, excellent safety, and rugged body features. The 2020 Subaru Forrester did so well that Consumer Reports gave this car a 5 out of 5 rating for reliability and customer satisfaction.
Subaru Fast Cars Reliability: #3. 2021 Subaru Crosstrek
The 2021 Subaru Crosstrek is a small best-seller crossover SUV next to the Outback and Forester. If you want a compact SUV with the ruggedness of a typical Subaru, the 2021 Crosstek has all the features you need. It comes standard with an all-wheel-drive system, a standard drivetrain, an affordable price, outstanding off-road performance, and top-notch safety technology.
This car got an overall rating of 81 out of 100 and 77 out of 100 for reliability. Also, the 2021 Subaru Crosstrek has not gotten any recall for the past two years.
FAQs On Subaru Fast Cars
Where Are Subarus Made
Subarus are made in two different production plants; the original plant is in Gunma, Japan, and the second plant is in Lafayette, Indiana. Toyota is the biggest shareholder of Subaru as it owns 20% of the brand because the sophisticated materials used to produce these cars are gotten from Toyota.
Who Makes Subaru
Subaru, a sub-division of Subaru Corporation, makes Subaru cars. The name Subaru is from the Pleiades star cluster, mostly called seven sisters. You can't see the seven and six stars with the normal eye, and stars still show in the Subaru logo today.
Where Is Subaru From
Subaru is from Japan. Subaru's parent company, Fuji Heavy Industries (FHI), was founded in 1953. The Subaru of America came into existence in 1968, and the first Subaru car sold in America was the Subaru 360. Subaru is known for its boxer engine layout, which they've used since 1966.
What Does WRX Stand For
WRX stands for World Rally Experimental or World Rally Cross. The standard Subaru WRX came with an original turbocharged pocket rocket as it introduced itself in the automobile industry in 1992. Since then, it has become an icon, won three straight manufacturer's championships, and became the first Japanese car brand to achieve that fit. It also won the 24-hour Nurburgring race. For some generations, blue and gold symbolize rally, and that's the color of Subaru. The brand designed the WRX to show off the performance specification and coolness you will enjoy if you get a Subaru car.
Are Subarus Good Cars
Subaru is a good car with several positive reviews based on excellent reliability scores and satisfaction reviews. These vehicles have a reliability score of 3.5 out of 5 and rank 14th out of 32 automobile brands. Its annual repair cost is $617, less than some brands with $652 and above.
What Does Subaru Mean
Subaru means unite. It signifies a group of six stars which the Greeks called the Pleiades. Following the history of the Greeks, it was Atlas' daughters that changed into these six stars. In 1953, some Japanese companies came together to form Fuji Heavy Industries Ltd, and they chose the Subaru group of stars as the official logo for their automobile sub-group.
How Long Do Subarus Last
Subarus can last about 200,000 miles, approximately 13 years. Subaru produces reliable, affordable, and quality all-wheel-drive cars, which means you can't describe the brand without adding customer satisfaction and reliability.
How Much Is A Subaru
The cheapest Subaru car is the Crosstrek – a lifted hatchback, and you can get it for $23,000. The most expensive Subaru car is the Ascent three-row SUV. You can get it for about $46,000. For sedans, the WRI STI Limited is the most expensive, with an MSRP of $41,945.
Is Subaru American Made
Subaru is a Japanese car brand, but it manufactures some models in America. The brand made Models such as the Impreza, Impreza WRX, Legacy, Outback, Forester, and Tribeca in the United States. Making these cars in the USA means eradicating shipping fees and the availability of these cars to the people.
Are All Subaru AWD
Every Subaru model except the Subaru BRZ is an AWD car. However, the system of AWD will vary from model to model. All Subaru cars except the one mentioned above come with an AWD system. The Subaru AWD system is a standard all-wheel drive that is permanent in all its models. This means there is always power in the wheel instead of when the car loses traction. The AWD can always transfer power from wheel to wheel, left to right. The AWD prevents your wheels from spinning while driving on a slippery, wet road.
Which Subaru Is The Best
Users and manufacturers tagged all 2015 Subaru Legacy models as the best. The 2019 Subaru Forester is the best Subaru vehicle in terms of ground clearance. The 2020 Subaru Ascent offers space and is best for a large family. The 2019 Subaru Outback is one of the best because of its impressive profile and the fact that it is an adventurer's car.
How Old Is Subaru
Subaru is now 68 years and will clock 69 by July 15th. Subaru was founded on July 15th, 1953, with its headquarters in Shibuya City, Tokyo, Japan. It's the automobile sector of the Subaru cooperation.
Why Are Subarus So Expensive
Inventory shortage makes Subaru cars more expensive and hard to find in the market. The chip shortage also affects the price of these fast cars. They don't give significant discounts, but the brand can roll out incentives to save users money.
When Was Subaru Founded
Subaru was founded on July 15th, 1953. The company's first model, the Subaru 1500 Sports Sedan, was introduced in 1954 and became a success with consumers because it was affordable and easy to maintain. The company changed its name to Subaru Corporation in 1968.
What Does Subaru STI Stand For
The STI stands for Subaru Tecnica International, and it is used to describe Subaru's motorsport program. Subaru wants to ensure that what is under the hood and behind the wheels is quality and that the STI trim can improve your driving and provide a comfortable riding experience.
Conclusion On Subaru Fast Cars
Subaru is an automotive manufacturer known for its high-performance vehicles and their "Boxer" flat-four engine layout. Subaru fast cars include the Impreza WRX STi and Outback. It's no surprise that the already popular Impreza line has expanded to include several body styles for additional personalization.
Approved Tools
These tools have been tried and tested by our team, they are ideal for fixing your car at home.