Are you looking for an SUV with highest towing capacity? A truck-based, full-frame SUV is a product offered by every carmaker that produces a full-size pickup truck. You can modify any of these SUVs, from the Nissan Armada to the Chevrolet Suburban, to tow 8,000 pounds or more.
Then, there's the Toyota Sequoia, Ford Expedition, and Stellantis/Jeep Wagoneer are the three SUVs with the greatest towing capacities. Although the towing capacity of an SUV is sometimes disregarded, owning a car with a good towing capacity has several advantages.
They work well for relocation, travel, and camping. Here are some of our top picks for SUVs with lots of hauling power to get you started.
Best SUV For Towing
The following are the best vehicle for towing travel trailers:
SUV With Highest Towing Capacity #1: 2023 Land Rover Discovery
Tow Capacity: 8,200 lbs
The Discovery is the best Land Rover for transporting families because it has three rows of seating, including heated third-row seats. There isn't much cargo capacity when all three seats are occupied. But with the second and third rows dropped, there is a sizable 74.3 cubic feet of freight space. That ranks high in the field.
The R-Dynamic S version, priced at $67,500, with its six-cylinder engine producing 355 horsepower and 369 pound-feet of torque, is required to tow the stated 8,200 pounds. The only thing you might want to bear in mind is the Land Rover reputation for reliability, which can be spotty at times.
Additionally, you must select the Towing Pack ($1,100), which comes standard with Terrain Response 2, Advanced Tow Assist, and All-Terrain Progress Control. By using the backup camera and a dial in the center console. The latter method eliminates all the head-scratching involved in backing up a trailer (of course, it's worth understanding beforehand how to backup a trailer).
SUV With Highest Towing Capacity #2: 2023 Ford Expedition
Tow Capacity: 9,300 lbs
The Expedition SUV from Ford is built on the F-150 truck's frame. 9,300 pounds can be towable by a 2WD Ford Expedition equipped with the $800 heavy-duty trailering equipment. According to Kelley Blue Book, your towing capability will significantly decrease if you upgrade to the long-wheelbase Expedition Max or the 4WD model.
One of its remarkable features is that the Ford Expedition can tow this much weight while not having a V8 engine option. The 3.5-liter Ecoboost V6 engine, which is turbocharged, is a feature of every Ford Expedition.
The Platinum trim has 480 lb-ft of torque, while the Timberline and Stealth trims have 510 lb-ft. It produces 470 lb-ft of torque on the majority of cars. Ford's 10-speed automatic transmission is also available in the Expedition.
This transmission's eighth, ninth, and tenth ratios are overdrives. Ford designed this transmission to increase your fuel efficiency when towing. And while you're here, we also have a guide on the Ford Expedition model years to avoid. While it's mostly fairly dependable, some of them can be issue-prone.
SUV With Highest Towing Capacity #3: 2023 Toyota Sequoia
Tow Capacity: 9,520 lbs
Toyota completely revamped the Sequoia for the 2023 model year. In fact, Toyota transferred its assembly to the new Toyota Tundra's San Antonio, Texas, facility because this full-size SUV and the Tundra share so many parts.
The outstanding 9,520-pound towing capacity of a 2WD Toyota Sequoia with the trailering/tow hook kit is impressive. The fact that Toyota builds every single Sequoia with their top-of-the-line Tundra engine, the i-FORCE MAX hybrid, is one of the factors that makes it so powerful.
A 3.44-liter twin-turbocharged V6, a ten-speed Aisin transmission, and an electric motor/generator are the components of this drivetrain. The most recent Sequoia did away with independent rear suspension as well, switching back to a solid rear axle that was supported by coil springs.
The end effect is a very stable car that accelerates smoothly even when towing a big trailer. Beyond that, if you're looking for an alternative, you could look at our guide on the Toyota Sequoia vs the Land Cruiser. Also, just to make your ownership as headache-free as possible, be wary of the Toyota Sequoia years to avoid.

SUV With Highest Towing Capacity #4: 2023 Jeep Wagoneer
Tow Capacity: 10,000 lbs
It's obvious who the class leader is: Stellantis' reborn Jeep Wagoneer, built on a Ram truck chassis and capable of towing an incredible 10,000 pounds. It's the first in this list of vehicles that can tow beyond 10 000 lbs.
The Wagoneer must be ordered with a $1,500 Heavy-Duty Trailer Tow Package, much like the other SUVs on this list, to receive the highest towing capacity. Along with improved engine cooling, an electronically limited slip differential, and a trailer brake controller (for more insight, do check out our guide on how to adjust trailer brakes), this also features a better rear axle ratio.
The Wagoneer is the best SUV with highest towing capacity vehicle, and it has a setting on the rear camera that makes it easier to connect a trailer.
SUV With Highest Towing Capacity #5: Lincoln Navigator
Tow Capacity: 8,700 lbs
Along with being posh and elegant, the Lincoln Navigator is also capable. It has a twin-turbocharged V6 engine as standard, producing 440 horsepower and 510 pound-feet of torque. Additionally, it has a ground clearance of 9.6 to 9.7 inches, enabling it to traverse places that other luxury SUVs might not.
The 10-speed automatic transmission in the Navigator distributes power effectively, keeping whatever you're towing moving. Pro Trailer Backup Assist 2.0, which automatically makes all the steering inputs point the trailer in the desired direction, a heavy-duty radiator, and reverse trailer guidance.
SUV With Highest Towing Capacity #6: Chevrolet Suburban
Tow Capacity: 8300 lbs
The Chevrolet Suburban has a lot of power and space. Three rows of roomy seating in the spacious cabin may accommodate up to eight people… Just in case you're wondering about how many seats there are in a Suburban. The Suburban offers astonishing 144.7 cubic feet of cargo space with all rear seats folding.
Additionally, the Suburban offers a user-friendly touchscreen with wireless Apple CarPlay and Android Auto. The Suburban has a 5.3-liter V8 engine that produces 355 horsepower and 383 pound-feet of torque as standard.
The best towing capacity is achieved when this engine is combined with the Max Trailering Package ($250). It upgrades the radiator and includes the Advanced Trailering Package, an integrated trailer brake controller, and more.
SUV With Highest Towing Capacity #7: GMC Yukon
Tow Capacity: 8,400 lbs
The GMC Yukon and the Suburban are related, despite the Yukon's lower length. It still has three rows of comfortable seating for adults and an astounding 122.9 cubic feet of cargo space. The same 5.3-liter V8 engine and 10-speed automatic transmission are standard on the Yukon.
By choosing the Max Trailering Package ($470), you receive the greatest setup for towing. Or, if you want something bigger and fancier, our comparisons between the Yukon Denali vs Cadillac Escalade, as well as Chevy Suburban vs GMC Yukon XL might be helpful.
It also has a Smart Trailer Integration Indicator, an updated radiator, a trailer hitch guidance system with a view from the hitch, and an integrated trailer brake controller. A two-speed active transfer case is also included with the four-wheel drive SLE and SLT variants.
SUV With Highest Towing Capacity #8: Chevrolet Tahoe
Tow Capacity: 8,400 lbs
The Tahoe completes the trio of General Motors cars on this list and comes in at number one since it is the most reasonably priced model. The 355-horsepower 5.3-liter V8 is the base engine.
You can upgrade it by adding the Max Trailering Package ($250), which comes with an upgraded radiator, an integrated trailer brake controller, and the Advanced Trailering Package. The Tahoe has a good tow capacity and offers up to 122.9 cubic feet of cargo space.
You still get a practical 72.6 cubic feet of cargo space even with the second-row seats occupied. The Tahoe also has a simple-to-use touch-screen infotainment system with wireless Android Auto and Apple CarPlay.
But… Are you still wondering about how many miles does a Chevy Tahoe last? As far as the Chevy Tahoe reliability is concerned, it's fairly decent. Just be sure to be diligent about those Chevy Tahoe model years to avoid. Otherwise, there's not too much for you to worry about.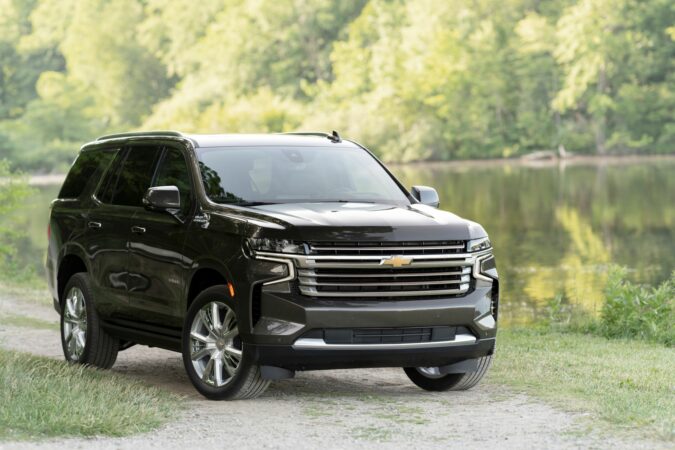 SUV With Highest Towing Capacity #9: Infiniti QX80
Tow Capacity: 8,500 lbs
Due to its height relative to other vehicles, the Infiniti QX80 offers a dominating view of the road. The 5.6-liter V8 engine, which is standard, produces 400 horsepower and 413 pound-feet of torque behind the car's intimidating grille. Four-wheel drive is optional, and the engine is connected to a seven-speed automatic transmission.
The QX80 has one of the greatest towing capacities in the category of premium big SUVs, at 8,500 pounds. The QX80 boasts a self-leveling rear suspension to help keep the weight under control and is pre-wired for towing. Infiniti has revised the infotainment system of the QX80.
Still, some do wonder if it's worth getting an Infiniti. After all, they're quite a left-field brand. If you're still concerned, we have guides on both are Infinitis good cars. As well as, whether Infinitis are reliable, or not.
SUV With Highest Towing Capacity #10: Dodge Durango
Tow Capacity: 8,700 lbs
The old Dodge Durango is the "muscle car" of the SUV market, sporting a muscular front end and curved fender flares. This is especially true for variants like the R/T, which comes with a 5.7-liter Hemi V8 engine. It generates 390 pound-feet of torque and 360 horsepower. With all-wheel drive, this engine offers the best towing capacity.
You should choose the Tow & Go Package ($5600) after purchasing the R/T AWD, which starts at $53600. It adds a tonne of new hardware, such as Brembo brakes, an electronic limited-slip rear differential, a performance exhaust system (fun fact, learn more in our guide on the NB Miata catalytic converter), a performance suspension system, retuned steering, run-flat tires, a trailer brake controller, and more.
Best Truck For Towing
A pickup's ability to tow has always been a key selling point. For enthusiasts of supercars, it's similar to top speed. Better bragging rights come with higher numbers. However, a large towing capacity isn't just there to stroke the vanity of the pickup owner or the truck manufacturer; it also provides a glimpse into the engineering and capability of the vehicle.
Here is the ranking of the newest pickups with the most hauling power. According to towing capacity, they are arranged from lowest to highest, starting with the lowest.
1. Ford Maverick (4000 Pounds)
The compact truck market has just two products, including the new Ford Maverick. These tiny vehicles are designed to use less fuel and have lower starting prices than the weight they tow.
Front-wheel drive and a 191-hp inline-four hybrid are standard on the Maverick. This standard power plant has a 2000-pound towing capacity. With the $750 4K Tow package installed, front- or all-wheel drive Mavericks powered by the 250 horsepower turbocharged inline-four are capable of towing up to 4000 pounds.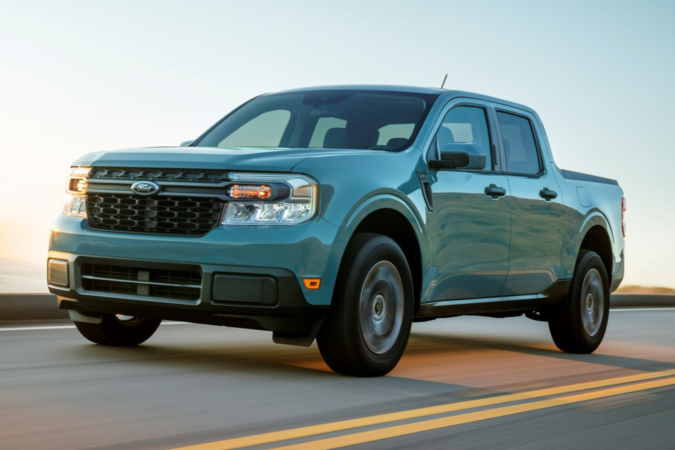 2. Hyundai Santa Cruz (5000 Pounds)
The Hyundai Santa Cruz stands out from the other trucks on this list because of its lighted front grille. It doesn't resemble the other options at all, yet despite its small size, it can perform on par with larger vehicles in at least some ways.
The base engine is a 191-hp inline-four with an eight-speed automated transmission. A nearly four-foot-long bed, a four-door body design, and front-wheel drive are also included.
That model's maximum towing capacity is 3500 pounds, which is equal to the front-wheel-drive Honda Ridgeline and 1500 pounds more than the base Ford Mavericks. The Santa Cruz with all-wheel drive and the 281-hp turbocharged inline-four with an eight-speed dual-clutch transmission is the best options for towing bigger loads.
That is also equivalent to the all-wheel drive Ridgeline's weight capacity of 5000 pounds.
3. Nissan Frontier (6720 Pounds)
The Nissan Frontier moves forward owing to a 310-hp 3.8-liter V-6 and nine-speed automated transmission following an overdue overhaul. Although it has stronger mounting points for the suspension, redesigned bump stops, and hydraulic body mounts that better insulate the cab from road noise, it nevertheless employs the same ladder-type chassis as the preceding Frontier.
The cheapest Frontier also happens to be the one that can tow the greatest weight due to its 3.8-liter V-6 engine's 281 pound-feet of torque at 4400 rpm. The Frontier's lowest towing capacity in PRO-4X form is 6270 pounds, whereas a Frontier S with an Extended cab and rear-wheel drive can haul up to 6720 pounds.
However, that is 20 pounds more than the Frontier's maximum towing capacity from the previous generation. For any potential buyers, ensure that you're also acquainted with the Nissan Frontier years to avoid. The Nissan Frontier reliability is generally decent, but some Nissan Frontier problems might be problematic.
4. Ford Ranger (7500 Pounds)
A 2.3-liter turbocharged four-cylinder engine that runs purely on gas powers the Ford Ranger midsize pickup. It produces 270 horsepower and 310 pound-feet of torque and is mated to the same 10-speed automatic transmission as the larger F-150. It isn't far behind some of its main competitors in terms of towing weight, though.
The maximum towing capacity for every Ranger, including 2WD and 4WD models, is 7500 pounds. This is more than the Nissan Frontier and Toyota Tacoma and only 200 pounds less than the freshly redesigned Chevy Colorado and GMC Canyon.
As a whole, you generally don't need to worry too much about any Ford Ranger reliability concerns. Nonetheless, if you want to get a second-hand example, it will be handy to discern the Ford Ranger model years to avoid, as well as the best model year for the Ford Ranger.
5. GMC Hummer EV (7500 Pounds)
The GMC Hummer EV appears to be a vehicle with a lot of towing capacity, given its size and power. Even GMC's midsize Canyon, which has a maximum towing capacity of 7500 pounds, can out-tow this enormous vehicle.
It could still pull a 6100-pound camper 140 miles on a full charge, outdistancing both the Rivian R1T and Ford F-150 Lightning. This achievement can be attributed to the enormous 212.7-kWh battery pack in the Hummer EV rather than the effectiveness of the truck.
6. GMC Canyon (7700 Pounds)
The Chevrolet Colorado's sibling is the GMC Canyon. As a result, the Canyon receives the same thorough updating as Colorado for the 2023 model year. A 2.7-liter four-cylinder engine with turbocharging sits under the hood mated to an eight-speed automatic transmission with a rear- or four-wheel drive option.
The 2023 Canyon is no longer powered by its prior V-6 and Duramax diesel engines, just as Colorado. This turbo inline-4's towing capacity is unaffected by the fact that only one engine is available.
Higher trims have output ranging from 237 horsepower to 301 horsepower. When properly equipped, the Canyon Elevation, AT4, and Denali trims offer a class-leading 7700 lb. towing capability.
7. Toyota Tundra (12,000 Pounds)
To compete with rivals like the Ford F-150, Ram 1500, and Chevrolet Silverado, the Toyota Tundra full-size truck has finally received the equipment it needs. Following a significant overhaul, the Tundra's standard engine is now a 3.4-liter twin-turbo V-6 with 389 horsepower and a 10-speed automated transmission.
Although there is a hybrid version of this powertrain with 437 horsepower, the Tundra's top towing capacity necessitates keeping with the base engine. With rear-wheel drive and the SR5 model, the Tundra can tow 12,000 pounds.
Should you opt for a used example, make sure that you're aware of the Toyota Tundra model years to avoid. While they're pretty reliable trucks overall, getting one from the best model year of the Toyota Tundra should help you to avoid some of those sporadic Toyota Tundra reliability problems.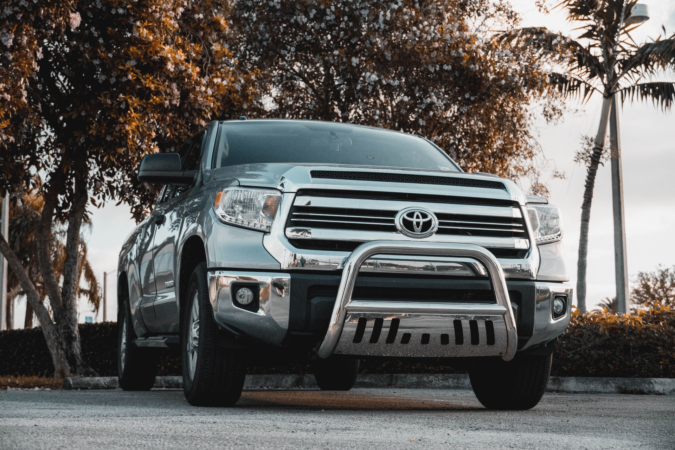 8. Ford F-150 (14,000 Pounds)
The Ford F-150, the most popular car in America, comes with various engines, one of which is a hybrid V-6. When coupled with four-wheel drive, the 430hp powertrain can tow up to 12,400 pounds – a high towing capacity for a 1/2 ton truck. The 3.3-liter turbocharged V-6, which has 290 fewer horsepower, can pull up to 8200 pounds.
The maximum weight of the battery-powered Lightning is 10,000 pounds. That figure rises to 13,000 pounds for versions with a 141.5-inch wheelbase that are rear-drive 5.0-liter V-8 vehicles. If you're buying an older one, make sure you're wary of the Ford F150 5.0 engine problems. Otherwise, it's one of the most reliable F150 engine.
When powered by its twin-turbo 3.5-liter V-6, the F-150 can carry more weight. There is 500 pound-feet of torque in that engine. The F-150 can lift 14,000 pounds due to all that torque. Or, if you're willing to sacrifice towing capacity to gain more sportiness, you could consider comparing the F150 vs its sibling, the Raptor.
Speaking of, if you are getting a used F-150, you should ideally look up what year of the F150 to avoid. When looking at the Ford F-150 reliability by year, some of them can be rather troublesome. If anything, our guides on the 2005 Ford F150 problems and 2013 Ford F150 problems are quite telling.
SUV Towing Capacity Chart
The owner's manual typically contains the towing capacity information that the vehicle's manufacturer specifies. Although some towing hitches have a higher towing capacity than some automobiles and trucks, this is because hitches are frequently compatible with a wide range of towing vehicles.
To avoid damaging your car, always adhere to the towing capacity recommended by the manufacturer. It is simple to determine your vehicle's towing capacity due to this chart that breaks down towing capacity by year, make, and model.
Remember to calculate and include additional cargo, optional equipment, and passengers weighing more than 150 pounds when using this towing capacity chart. Never exceed the towing capacity of your vehicle because doing so could impair handling, reduce stopping power, or even harm the drivetrain.
Best Vehicles For Flat Towing
It is a good idea to start with the following list of the best vehicles for flat towing. To determine whether a particular model year is appropriate for flat towing behind an RV, just make sure to do your research on it.
Jeep Wrangler Rubicon, Hard Rock Edition
It includes a 4-wheel drive system and a 6-speed manual transmission. Around 6,300 pounds on average make up the curb weight.
There are two transmission choices: a 5-speed automatic or a 6-speed manual. It's typical to have a curb weight of 3,800 to 4,200 pounds.
The Jeep Wrangler Unlimited
It sports a 6-speed manual transmission and a 4-wheel drive drivetrain. Another grade level comes with an eight-speed Torqueflite 850RE automatic transmission. A curb weight of 3,900 to 4,500 pounds is typical.
The Jeep Grand Cherokee Trailhawk
This new Jeep model is incredibly well-liked (being wary of how much does a Jeep cost and how much is a Jeep). It features a curb weight of about 4,300 pounds and a 9-speed 948Te Auto W/Active Drive II 4-wheel drive transmission.
One of the market's most popular half-ton pickup trucks comes in various trim options. The base model comes with an electronic 6-speed automatic transmission with 4-wheel drive as an option.
A model level with a 10-speed automatic transmission is also available. The curb weight can range from 4,000 to 5,700 pounds depending on the trim level.
Best Tow Hitch
The CURT 13333 trailer hitch is made to offer a wide range of towing possibilities. It is compatible with all vehicles, including SUVs, trucks, vans, and full-size sedans. These Class III trailer hitches are excellent for hauling utility trailers, ATVs, and fishing boats.
They also offer greater storage space in case you wish to pull a hitch-mounted cargo carrier or a bike rack for the highway. Every car is precisely accommodated by the hitch, making installation quick and hassle-free for any family.
It has been proven to be capable of supporting 6,000 lbs GTW and 600 lbs TW of weight in accordance with government protocol. With a weight distribution of 10,000 lbs WD and 1,000 lbs WDTW, the hitch may be used with any weight-distributing hitch to provide a stable towing experience.
The ball mount can be inserted into the 2-inch tube aperture using any ball mount with a 2 x 2-inch shank. Using hands-on manufacturing for the ideal fit, the hitch is created in the United States to offer a high-quality design and a lovely finish.
Both manual and robotic processes are used to improve manufacturing speed and quality. Indeed, the company's one-of-a-kind co-curing method is a technical marvel. The hitch is submerged in liquid Bonderite to prevent rust, and after being co-cured in a black powder coat finish, it is protected against rust, chipping, and UV light to boost endurance.
Even if you're still worried about the lifetime of the hitch, CURT offers you a limited lifetime warranty to provide you peace of mind on all of your adventures. The CURT 13333 trailer hitch is a great companion for your travel requirements, whether for work, hunting, fishing, camping, or any other reason.
Best Car For Towing
The finest vehicle for towing 3,500 kg is the SsangYong Rexton. The Rexton's seven seats offer exceptional value for the money. The Rexton's substantial weight and ladder frame structure, as well as the torquey 202hp 2.2-liter diesel engine sending power to the wheels via an eight-speed automatic gearbox, give a full 3,500kg braked towing capacity, which is exceptional at this price point.
Although a higher-end model with more amenities is available, the base Ventura has everything most people actually need, including front and rear parking sensors, faux-leather heated seats in the front and back, front seat cooling, and an 8.0-inch infotainment touchscreen.
The higher-level Ultimate model is still great, with a larger touchscreen, motorized tailgate, 360-degree video system, and a few additional safety features. With 225g/km of relatively high emissions, it will only get about 30 mpg at best.
Best Small SUV For Towing
Jeep is unquestionably one of the greatest SUVs with sufficient towing capability. Most of the SUV models made by this automaker come with all-wheel drive as a standard option. The Jeep Renegade offers this option with unmatched hauling capabilities.
Jeep Renegade is one of the best small SUVs for towing campers and trailers. Even the pre-2022 vehicles have more than enough towing power to pull a compact camper. The Jeep Renegade lineup will go above and beyond your expectations if you seek the ideal SUV for off-roading and camping with your family.
Best Used SUV For Towing
The Jeep Grand Cherokee is a good option if you need something more compact. Jeep launched the two-row SUV in 2017 and 2018 with a gas V6, a diesel V6, and a few V8 engines. This mid-sizer has a towing capacity of up to 7,400 pounds, depending on the powertrain and a few extras.
The model with the 5.7-liter V-8 engine and the Trailer Tow Group IV equipment is your best option because it has the highest towing capacity. The kit includes improved engine cooling, a Class IV hitch with wiring for a trailer, and, most compellingly, a load-leveling suspension that maintains the Jeep's balance when towing a trailer.
FAQs On The SUV With Highest Towing Capacity
How Much Can My Truck Tow
Your truck's towing capacity can be found in the owner's manual or determined independently. To find your truck's towing capacity, deduct the curb weight from the gross combined vehicle weight rating (GCVWR). The maximum weight of your loaded truck and its attached trailer is known as the GCVWR.
What Is GCWR
The Gross Combined Weight Rating (GCWR) of your vehicle refers to the entire weight of the trailer you are towing and the weight of the goods and passengers. The GCWR is also known as the 'Gross Vehicle Weight Rating.'
How Much Does SUV Weigh
Most SUVs weigh between 2,000 and 6,000 pounds, with mid-size models being the most common, coming in at roughly 5,000 pounds. Mid-size SUVs also provide the ideal balance of functionality, comfort, and off-road ability.
What Is A Tow Package
A tow package should, in the simplest terms possible, be a whole set of everything you'll need to consistently and safely tow your desired load. The hardware and equipment that are included in tow packages might vary greatly. For instance, the majority of aftermarket tow kits are made to include everything you need to modify your tow vehicle. On the other hand, a factory tow package might include the tow vehicle itself as part of a complete setup that is made, tested, and designed to be a towing setup first and foremost.
What Is The Towing Capacity
The maximum weight your car can safely and legally tow is referred to as its towing capability. Too much weight being towed can cause your trailer to swing and pull your car out of control.
Can A Jeep Pull A Camper
The Jeep Wrangler is a popular choice among new owners of tiny camper trailers because it can securely pull up to 3500 pounds.
What SUV Can Tow The Most
With the 2022 Wagoneer, Jeep has introduced a strong rival into the full-size premium SUV market. Only if you select a higher specification and rear-wheel drive does it have a class-leading towing capability of 10,000 pounds and seating for up to eight people. The maximum weight for four-wheel drive Wagoneers is 8,530 pounds, which is still quite a bit.
How Much Can A Tahoe Tow
The Tahoe can tow up to 8,400 pounds securely when fully outfitted with the appropriate towing package and specifications, allowing you to easily complete various tasks and embark on your next trip.
Can A Car Pull A Trailer
Yes, but only if the combined weight of the RV and trailer does not exceed the GVWR (Gross Vehicle Weight Rating) of the towing vehicle, which is the maximum weight your vehicle is capable of towing. Staying under 80% of your maximum towing capacity is a good general rule.
What Is The Best Truck For Towing
The 2022 Ford F-150 has a towing capacity of 14,000 pounds, which was previously reserved for heavy-duty vehicles. Base models can only pull up to 8,200 pounds, but there are more than 130 axle, body, and engine configurations, many of which are powerful towing vehicles.
What Is Best Rated SUV
The Toyota RAV4 achieved the most sales out of all the SUV/Crossover models bought by American consumers, with 407,739 vehicles sold.
What SUVs Can Tow 5000 lbs
The 5000-lb towing capacity of the Subaru Ascent, Tesla Model X, Toyota 4Runner, and Toyota Highlander.
How Much Can A Ford Escape Tow
With a 3,500 pound towing capacity, the Ford Escape SUV can haul a lot of cargo in addition to carrying passengers.
SUV With Highest Towing Capacity: Final Verdict
Looking for an SUV with highest towing capacity? Maximum towing capacity is a crucial feature to consider while searching for an SUV with strong towing capabilities. If towing is vital to you, it's not the only feature you should be searching for since the towing capacity you require depends on your particular requirements.
MotorTrend notes that not everyone who tows regularly must tow more than the 3,000-pound national average for trailer weight. Some drivers could prefer an SUV with a moderate towing capacity but excellent off-roading skills to transport their towed cargo anywhere they need. At any time, as opposed to needing the largest towing capacity SUV possible.