With a base price of $35,000, the Model 3 is the first Tesla with mass market appeal. Over 50,000 people put a preorder on the 2018 model and, as a result, Tesla has become more profitable than any other electric car company. However, there are still very few Teslas on the roads and it is yet to be seen whether Musk's dream of mass electric car ownership will become a reality. If any vehicle can make it happen, however, it will be the Model 3. Tesla has net profit margins of above 30%, higher than many experts thought possible and share prices now stand at over $315. So how does an electric car bring in so much cash?
Tesla Model 3 Most Profitable Electric Car
With an advertised 0-60mph time of 3.5 seconds, the Tesla Model 3 is as fast as a Mustang Shelby GT500 or an SRT Viper. This makes is a car for driving enthusiasts. Most reviews suggest that it corners well and is enjoyable to drive. This smashes the misconception that you need gasoline-powered engines to create a fun driving experience.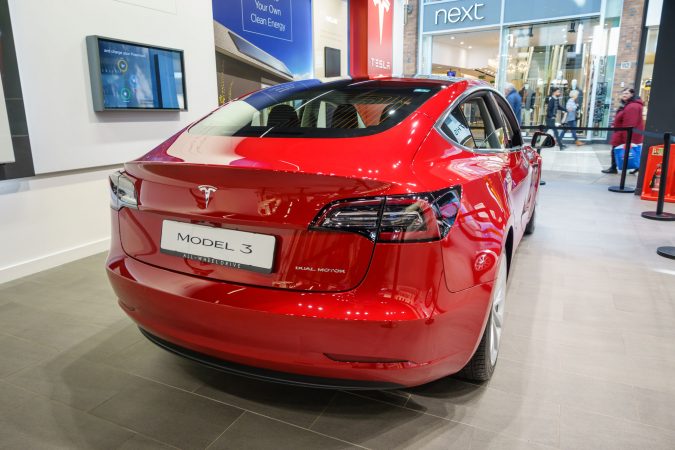 The Tesla, then, is not like the electric cars of days gone by: the G-Wizes, milk floats and golf carts. This is a proper car. It handles well, it's quick and it looks like any other automobile. In fact, it looks better than most of its rivals. This sense of being "normal" gives it a mass appeal. It is desired both by conservative buyers who want something familiar and the risk takers wanting to own the most cutting edge and technologically advanced vehicle.
It is Future Proof
Although it looks like a normal car from the outside, the Model 3 has a few crucial differences that you'll notice once you start using it. The first is the giant touch screen tablet in the center of the dashboard. You can even enter it using your smartphone as an automatic unlocking enabled key.
By fully integrating tech into the car, the Tesla will age better than many of its non-electric rivals. It is fitted to use the most advanced autopilot systems, but will be able to take advantage of full automation, once the technology is available. This means that its lifespan alone makes it worth it to the average consumer.
Affordable Running Costs
Previous Teslas have seemed out of reach to the average consumer. The Model S has a base price of $74,500, while the Model X starts from $79,500. Even with different financing options, this is simply too expensive for mass sales, meaning a limit on the profits these models could pull in.
The Tesla Model 3 has a cheap base price, but running costs are cheaper as well. By purchasing this car, you will benefit from lower motor vehicle coverage, government tax breaks, all while spending far less on fuel. Even with the maximum insurance policy, the monthly cost of protecting your new Tesla will be less than $1500, putting it at roughly half the cost of its gas powered rivals.
The Model 3 is Tesla's best achievement to date, both for the company's profits and the consumer. The Model X and Model S were meant to show how good a Tesla could be, but cannot be sold at high volumes. The Model 3 solves this problem, potentially bringing electric vehicles to the mass market and blazing a trail for a truly profitable electric car industry.