Finding your way when driving is so much easier than it has ever been before. There's no need to mess around with paper maps and work out a route because you can just use a GPS system instead. You can buy a dedicated sat nav to go in the car, but you'll save a lot of money if you just download an app instead. There are so many great apps out there that can help you to plan a route, avoid traffic, and dodge speed cameras, but which one should you choose?
There are a lot of different things that you should consider when downloading a GPS app for your phone, like the quality of the directions, extra features like traffic monitoring and dash cam functions, and the amount of data and battery that it will use on your phone. If you are looking for a GPS app for your car but you don't know where to start, these are some of the best ones out there right now.
Google Maps
Google Maps is the most popular and recognisable GPS out there, and it's the default for most people. It has great route planning features and you will get a choice of different routes, all with an estimated time of arrival on them, so you can choose whether you want the most direct route or the most scenic one. It's also useful if you want to avoid certain areas because you have the option of a different route.
The traffic monitoring system is very simple and uses colour coding to point out areas where the traffic is heavy. If you see a big red section of road on the map, that means it's gridlocked. The routes will adjust automatically if there is heavy traffic, so you will always get the quickest routes.
The other great thing about Google Maps is that it links up with all of the other Google products, which means that you get loads of great information about local businesses that are in the area. This makes Google Maps a perfect app if you are taking a road trip and exploring a new place. If you want to explore further on foot, you'll get a lot of information about the terrain so you don't get caught out by any big hills.
When you use Google Maps, it uses mobile data to calculate your route and track your movement while you are driving. So, if you are going to be using it a lot, you need to make sure that you have a good data package that won't run out. Companies like smarty SIM offer some great sim only deals with high data allowances, so you will never run out of data while driving. You can also save on data if you set the route while you are still connected to wifi.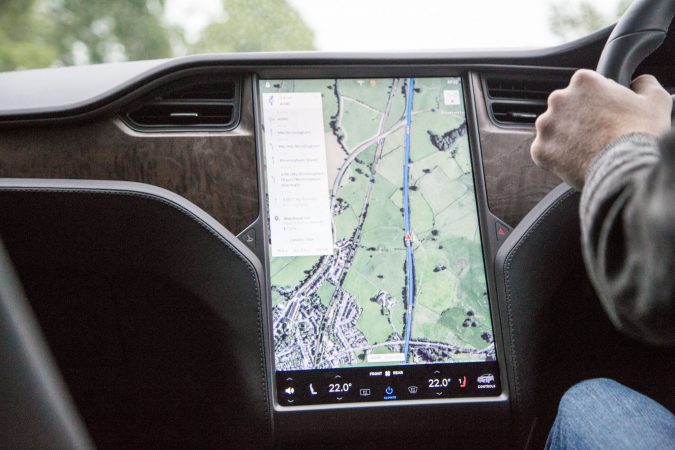 Waze
Waze is an app that is owned by Google, and a lot of the information about traffic that you find on Google Maps will be powered by Waze. However, Waze is more effective when you use it as a standalone app and it gives you great, real time traffic updates. It is a user focused app, and you can input information about different routes, road closures, speed cameras, and landmarks. All of this data is collated to create the best possible routes, and the more people use it, the better the service is. If you give the right permissions, the app will also monitor your speed and if you are travelling significantly slower than the speed limit, the local traffic information will be updated accordingly.
Waze is a highly customisable app and you can link it to your social media accounts as well, so you get a tailored navigation experience from the app. If you want to find the best possible routes and get up to date traffic reports by the second, Waze is a must have app.
Maps. ME
If you want a detailed maps app but you don't want to use mobile data while you are driving, Maps.ME is the best option. There is a very detailed search function that allows you to search through a huge database of maps, which all have places of interest listed on there, so you can easily find where you need to go. It's all divided into simple categories, so searching through all of the maps is so easy. You can bookmark maps so if you need to use them again in the future, you have them all there.
If you do want to use the online feature, it's easy to switch it on and then you are able to share your location with others, and get the latest traffic updates. You can even book hotels through the apps as well, so it's great if you are travelling. All of the maps are updated a few times a month, so you can be sure that the information is always up to date.
The developers of the app are dedicated to keeping the service free, which does mean that it is supported by adverts. They are not too invasive, but if you do want to get rid of them, you can pay for the premium version of the app.
Scout GPS Navigation
Scout GPS navigation is one of the best no-frills navigation apps out there. It is a rebranded version of the old telenav app and it has a great turn by turn navigation function. The navigation is very accurate and the traffic updates are great as well. You will also get plenty of notice if you are coming up to a speed camera, so you can adjust your speed and make sure that you don't get any tickets.
One of the main selling points of the Scout GPS Navigation app is that you can link it up to your social media accounts and send people an automatic message to update them about your estimated time of arrival. The pedestrian feature is not that good, so if you spend a lot of time on foot, you may want to use a different app.
There is a free version that will give you access to all of the basic navigation features, but you will not be able to use the offline maps. However, if you want to unlock all of the features and get rid of the ads, you can pay a subscription.
TomTom GPS Navigation Traffic
TomTom is a well known company that started out selling sat nav systems, but they have now developed their own dedicated navigation app. Its route planning feature is very good, and it will constantly change and update the route based on real time traffic information, as well as your own preferences, so you always take the quickest possible route. You will get turn by turn directions and plenty of notice about speed cameras. This app also has a great lane direction feature that you won't find on most other directional apps. It will give you plenty of advance warning about which lane you need to be in, which is especially useful when you are driving in unfamiliar places.
The pricing structure for the TomTom app does put some people off because it is a little unusual. You can download the app and get 50 miles worth of driving each month for free. If you only use it every now and again, you may find that this is plenty. However, if you use it more regularly and you need to use more than 50 miles, you will have to take out a subscription. The only two options are a one year subscription or a three year subscription, so you need to decide whether it is worth making that commitment.
Mapfactor GPS Navigation Apps 
If you want a great map app that you can use worldwide, Mapfactor is one of your best options. Although it doesn't have an online feature, it does have a huge database of maps from all around the world, with more detailed maps of large urban areas. They are all organized by country and region so it is quick and easy to find all of the maps that you need and download them. You can get voice directions, and the maps are very detailed. You even have a choice of 2D and 3D maps, so you can get a detailed picture of a place before you visit. When you plan a route, you can input details about the kind of vehicle that you are driving and any preferences you have in terms of road types etc. so you get a route that is tailored to you and your driving style.
The navigation features on the Mapfactor app are not quite as advanced as the other entries on this list, but you do get far more detailed maps from around the globe. It's the ideal app for somebody that is travelling and needs to find their way in a new country. Although apps like Google Maps do have worldwide maps, some areas are not as detailed as the maps on Mapfactor.
These are all great navigation apps that you can use on your smartphone. They each have their pros and cons, so download a few and find one that works for you.