That's right, Audi has gone full Tony Stark mode for its newest concept car. It could very well show us an exciting future that lies ahead of the brand, and they're not holding anything back. Previewed as a possible addition to their line-up, the Skysphere concept is a big two-door electric grand touring cabriolet that would look quite good as the next Batmobile.
It's less of a conventional car, and more of an "interactive space", and yes, you read that title right. The Skysphere concept has a variable wheelbase, and it could stretch its bodywork back with the help of some electric motors and a special mechanism. At a touch of a button, you can turn your rather cosy grand tourer into a two-seat limo, having extended the wheelbase by 250mm.
So Much Room For Activities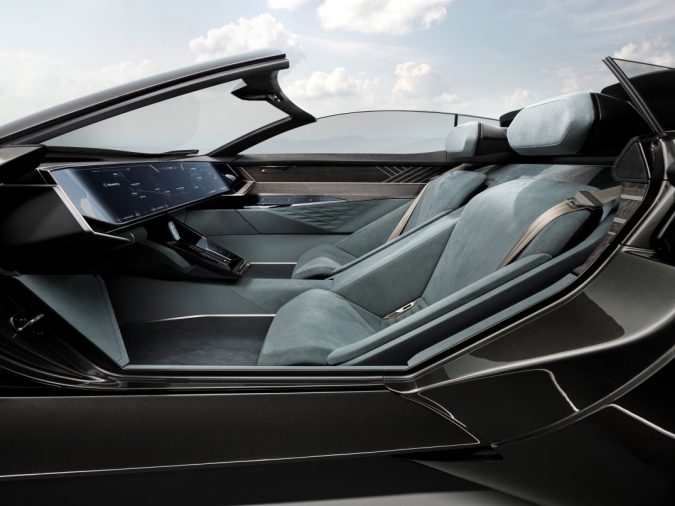 The Skysphere concept's ability to elongate itself when needed plays a role in how you drive it, as well. You could choose to pilot this land yacht as a sporty roadster, which does at least have rear-wheel steering to make it more agile. Or, you could let it waft you along autonomously, letting you enjoy the open skies, luxurious cabin, and as much legroom as you could possibly need.
But we can't see why you wouldn't want to drive this beast yourself. A rear-mounted motor could produce 465kW of power (or around 623hp) and 750Nm of torque. That's not bad for a car that weighs around 1,800kg and could boost itself from 0 to 60mph in 4 seconds. Additionally, you get an electric range of 500km. Aiding to provide ample waft, there is a set of adaptive air suspension.
It looks striking too, in all the best ways possible, which was inspired by the Horch 853 roadster of the 1930s. The Skysphere is long, wide, and very low, with as much cyberpunk as it is sharp and architectural in appearance. LEDs stretch across the entire front-end, including the grille, with a cabin that's so very art deco. So-called the 'sphere', you're cocooned with huge lounge chairs.
Up ahead, there are screens aplenty for all your controls, with a sumptuous mix of leather and wood to make even sitting in the Skysphere a first-class experience. A few more similar concepts from Audi are coming soon, and we can only wish that Audi would put this into production.