Paint protection products come in all sizes, shapes, and types. From the old-fashioned car wax and polish method, to exotic, professionally installed ceramic coatings and paint protection film. But is there a happy medium; a do-it-yourself product that will keep your car looking sweet and protected from UV rays, makes it easier to clean, and provides superior paint protection for years? Fortunately, the solution you're looking for is a DIY ceramic coating for cars. 
Made with a slightly different formulation from their professional cousins, the DIY ceramic coating uses nanotechnology to penetrate the microscopic peaks and valleys on your clear coat to provide a microscopic yet exceptionally durable and flat layer of protection. Like any other consumer product, there are some that are better than others. 
So, let's take a look at three of the best DIY ceramic coatings for cars. We'll also explain how they are applied and answer a few commonly asked questions to help you determine if it's a good option for you.
The Top 3 DIY Ceramic Coatings for Cars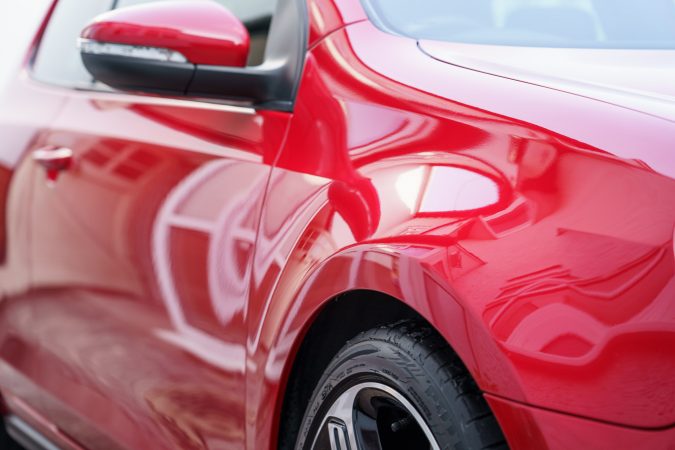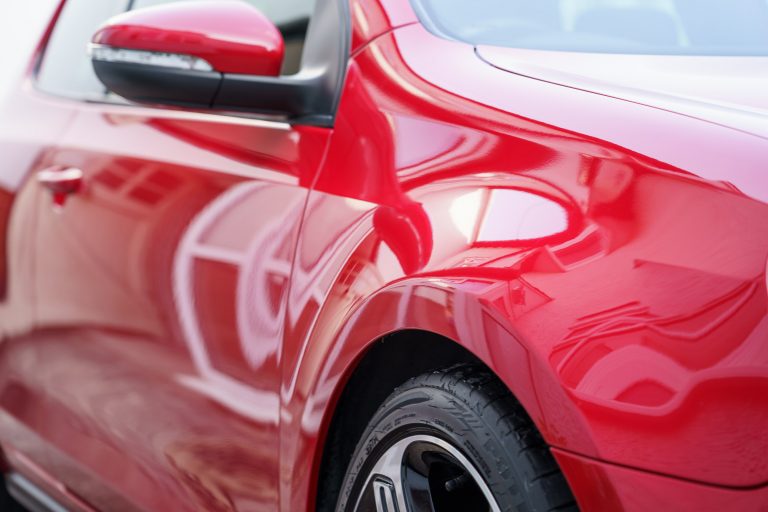 If you're looking for the best ceramic coatings to use on cars, trucks, SUV's or motorcycles, we've got 3 worthy contenders to review. When you're considering a DIY ceramic coating, there are a few important attributes you should consider. 
How easy is it to apply?

How strong is the protection layer – mainly due to the SiO2 percentage?

How long will it last?

Does the company offer good support and items in their DIY kit?
Based on those criteria, here are three products to consider. 
Armor Shield IX – by AvalonKing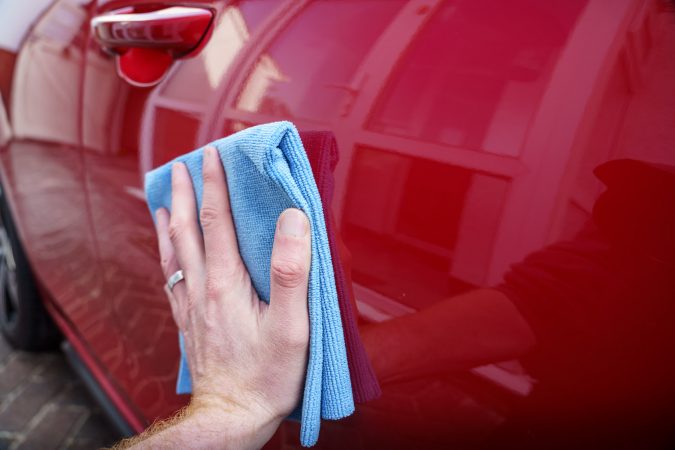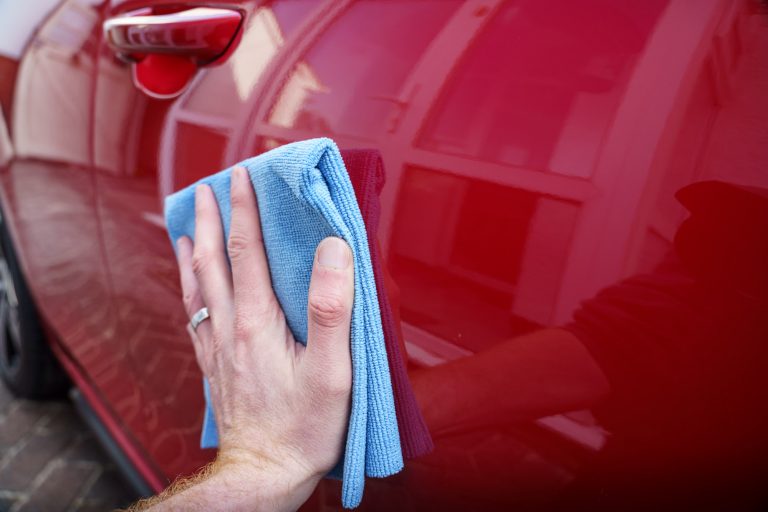 Remember those four important items above? Well, Armor Shield IX has them in spades. Armor Shield IX is a DIY Nano-Ceramic Coating that is manufactured by AvalonKing. It's a scientifically engineered coating that features a class leading +80% SiO2 percentage, which results in an exceptionally hard and durable layer of protection, that can last from 3 to 5 years. Armor Shield IX is made in the USA, with free shipping offered to North American customers. 
Armor Shield IX is packaged in a sleek, matte-black box, that includes everything you'll need to correctly apply the product. Inside the kit, you'll find an applicator sponge, several applicator cloths, protective nitrile gloves, and detailed illustrated instructions. Their product is sold in a 30ml bottle which is good enough for a motorcycle or small car, while (2) kits will protect sedans and coupes, while (3) are recommended for larger trucks and full-sized SUV's.
While the product and packaging are superior, their customer support really elevates Armor Shield IX to the top of this exclusive list. Not only do they communicate very well with customers, but they have a website filled with FAQ's, helpful installation and aftercare instructions, and a plethora of professional written and no spin articles that are fun to read. Plus, they are the only DIY ceramic coating to offer a 2-year minimum effectiveness guarantee. 
Key Product Features: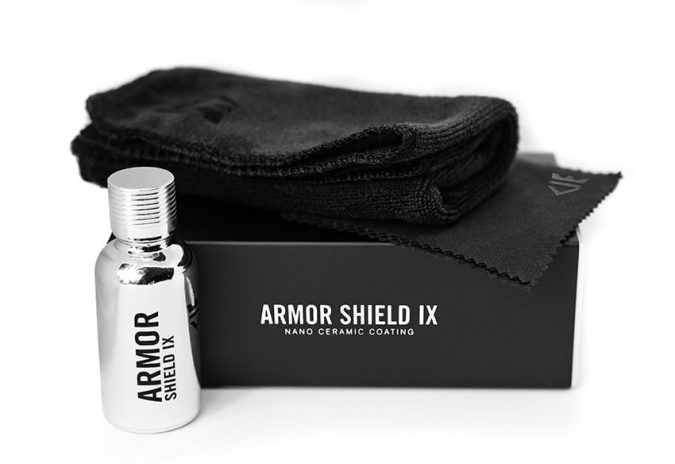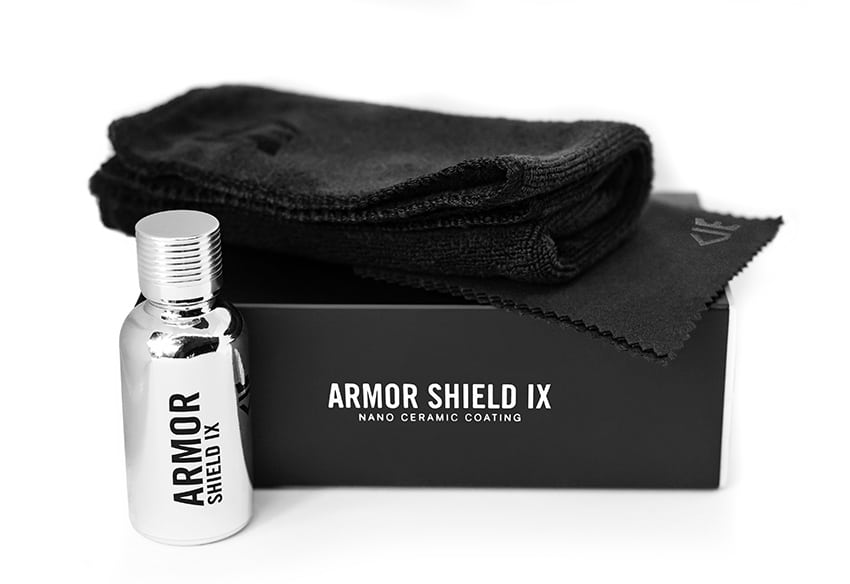 Armor Shield IX has the strongest protection in the DIY ceramic coating segment

Great Hydrophobic Properties (repelling water)

Kit has everything you need to install

3+ Years of Protection

Volume Discounts for Multiple Bottle Purchases

Free Shipping to North American Consumers
Click here to check out Armor Shield IX by AvalonKing
Nasiol ZR53 Car Ceramic Coating
Nasiol is another nano-ceramic coating worth consideration. It's a good product that can be used on multiple vehicle parts like headlights, wheels, and bumpers. The unique feature of Nasiol ZR53 car ceramic coating is it's two-layer protection and application process. The bottom or primary layer infuses onto a clear coat and remains flexible, while the top layer hardens to become quite rigid. According to the manufacturer, this unique application process helps the product hold up against extreme weather conditions better.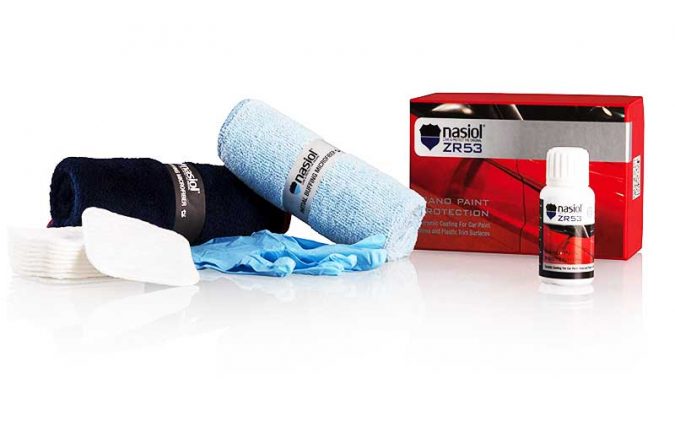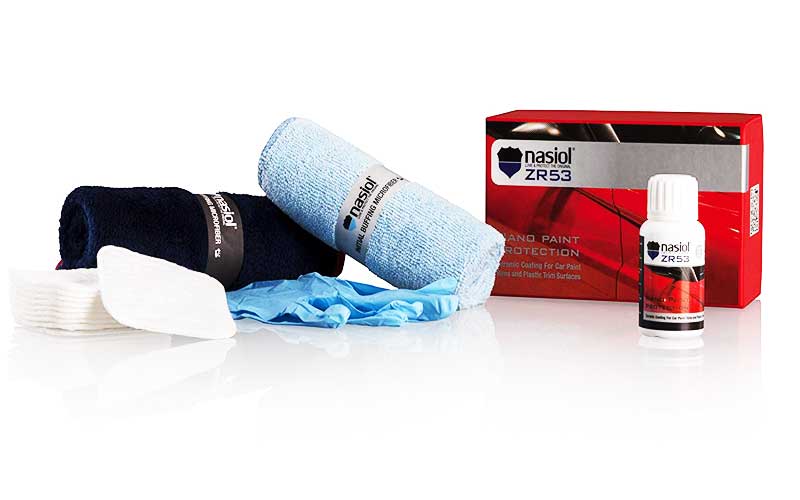 It's also sold in a 50ml bottle. This provides enough product for most average sized cars. Inside the kit, you'll find (10) application pads, (2) microfiber cloths, and a pair of protective gloves. There is no product warranty or guarantee with Nasiol ZR53 car ceramic coating. It's also a bit tricky to apply, since there top of the bottle is completely open. Still, Nasiol ZR53 is a capable ceramic coating for cars. 
Key Product Features: 
Only requires a single coating

Last up to 3 years

Extra application pads help for larger cars
Nano Bond Ceramic Coating PRO Premium 
Imitation is the most-sincere form of flattery. If that's the case, then Nano Bond Ceramic Coating PRO Premium deserves a nod of consideration. This new formula and packaging program from Nano Bond appears quite similar to Armor Shield IX, as it's sold in a similar, chrome-plated 30ml bottle, packaged in a similar-appearing box, and features an SiO2 percentage hovering around 80%. The PRO Premium formulation helps the product provide a stronger layer of protection than previous versions. 
While the product itself is pretty good, their kit of ancillary supplies is less than stellar. They only offer a single application sponge, and a single microfiber cloth, so you'll have to purchase additional application cloths at the minimum.  
Key Product Features
Produces a good shine

3+ Years of Protection

Easy to maintain
DIY Ceramic Coating FAQ's
Each of the three products listed above will do a good job protecting your cars paint. However, there are a few common FAQ's that we've listed below that will help explain a few important details about ceramic coatings. This should help you make the decision as to whether applying a DIY ceramic coating is worth it, and comfortable for you.
Q – What does a DIY Ceramic Coating Protect Against?
DIY Ceramic coatings are applied to a cars paint to protect against UV rays, chemicals, and other debris that can cause damage to the clear coat. Since they provide a hard and flat layer of protection on top of the clear coat, they also produce amazing hydrophobic properties. This means it repels water, dirt and debris from sticking, which keeps the car looking cleaner – longer. It also helps to remove bird droppings and bug splatters, since they don't stick well to ceramic coated surfaces. 
Q – How Do You Installing a DIY Ceramic Coating?
There are four steps for applying a DIY ceramic coating product.
Prep work: This usually includes washing, clay bar treatment, completing some paint correction (to remove any paint damage like swirl marks), and a final polish and IPA solution wipe down.

Application: The application process is different for each manufacturer. Basically, it involves applying the coating in small sections, letting it cure for a few minutes, then buffing off excess residue with a microfiber towel. This process is completed until the entire car is coated and can be repeated for better results. 

Curing: Most ceramic coatings take 24 to 48 hours to cure and should be kept indoors (in a garage) and out of direct sunlight or water until it's cured.

Aftercare: The ceramic coatings we've listed on our list above have very simple aftercare instructions. Just wash the car every few weeks using the two-bucket method for best results.
Conclusion
A DIY ceramic coating is fairly simple to apply. The key to longevity and superior results really breaks down to the prep work. Since a coating is designed to provide a clear layer of protection, it will amplify the paint surface underneath. If you've got swirl marks or scratches, they will be amplified after applying a DIY ceramic coating. 
So, if you are thinking about investing in these affordable paint protection products, make sure to reach out to the manufacturer to ask them questions about their products. It's also important to research each possible product. Look up reviews online, social media pages, and YouTube.com to find one that fits you best.