One of the best ways to have a fulfilling career is to base your choice on your passion. If you are a bike enthusiast and love working with machines, there are plenty of opportunities. Depending on your skills, experience, and education, you can apply to various motorman jobs in various industries.
In cooperation with Jooble experts, we've gathered the best options for bike riders in 2022. They differ in the required level of skills, industry, and responsibilities.
Top Jobs For Bike Riders In 2022
Brand Ambassador
This is an advanced position for an experienced and knowledgeable motorman. It shares some responsibilities with sales representatives. But overall, it is a higher job one might work towards.
Usually, a specific college education is not required. Employers value your knowledge of their brand and machine models much more. However, if you have a BA in Marketing or Communications, it is an advantage.
Brand ambassadors organize and plan events, conventions, or conferences. They take care of setups and demonstrations of motorcycles. You'll need to communicate with customers and tell them about the brand and a particular model. Often, you'll get to travel a lot.
Rider Coach
Another career opportunity is to teach others how to ride. You can help people to prepare for introductory education courses to get a license, for instance. Another option is to participate in safety programs and educate others on the best practices.
As an instructor, you'll engage with students and demonstrate the fundamentals in a classroom. There is no requirement for a college degree. But you'll need to complete a course on becoming an Instructor first. You also need First Aid and CPR certification and a motorcycle license for at least 3 years.
In many cases, it is a part-time job that can be easily combined with other activities.
Mechanic
Those who prefer to work with motorcycles instead of communicating may consider becoming mechanics or technicians. The main responsibilities include:
Repairing;
Maintaining;
Adjusting;
Checking the performance;
Working on engine, brakes, and transmissions.
It is a physically active career that requires deep knowledge of motorcycle details and principles. In most cases, repair shops do not ask for any specific education. However, you need a decent experience in the field. Often, you'll need to get on-job training before you start.
Courier
This is not the fanciest opportunity, but it is available for beginners. Motorcycle couriers can work for many companies to deliver goods, sensitive documents, small packages, or food. For instance, many young adults work through various delivery apps because it is a flexible type of employment.
You'd get to ride the bike all day, which is excellent. As for requirements, you do not need a college education or specific training. Usually, couriers are expected to provide their own vehicle and know the city decently.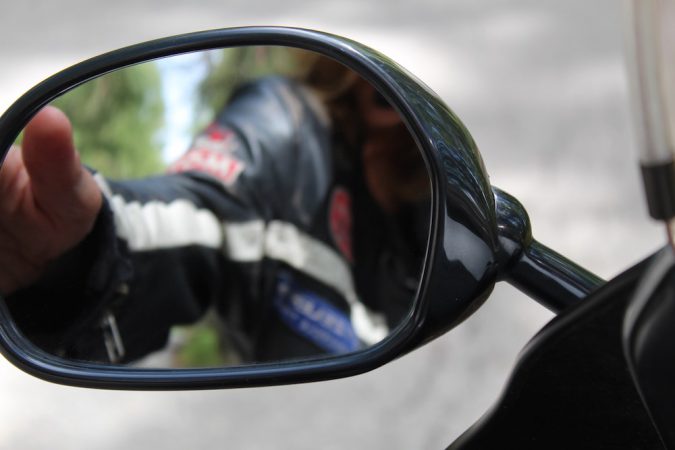 Appraiser Or Adjuster
Auto and motorcycle appraisers need to know almost all these vehicles and different models, both old and current ones. The main objective of such a position is to evaluate the vehicle, its state, and the budget it will take to fix it.
Appraisers might work for shops, insurance companies, or manufacturing brands. Being hired by an insurance company is the most common opportunity. Bachelor's degree is not required, but having one will be a benefit even if it is not related to the job directly.
One of the main requirements is experience with cars and motorcycles and repairs. Also, you need to acquire an appraiser license (sometimes it is possible to do after being hired) and take continuing education courses.  This position might involve traveling, and there is an opportunity to become an independent appraiser.
Motorcycle Police Officer
Although a career in law enforcement is not directly linked to vehicles, it is an excellent option to consider. Many officers ride motorcycles during the job, especially if the climate allows it.
The duties are pretty much the same as for officers driving a car. However, you won't be able to accompany prisoners or felons. Otherwise, you'd get to patrol streets and protect life and property of citizens.
You start the career, you need a high school diploma (or GED). After that, one should go to Police Academy for training. There is an entrance exam to pass, and candidates must have a clear criminal history.
At the same time, it is a well-paying and respectful job. There is also enough space for career growth and professional development.
Engineer
There are three key positions one can aim for:
Mechanical engineer (develop and design vehicles);
Industrial engineer (optimization of vehicle production and manufacturing);
Automotive engineer (design, develop, and troubleshoot manufacturing processes in the automotive industry).
Engineers do not get to ride a bike during their workday. But they get a unique opportunity to work behind the scenes and take part in the manufacturing and design of new models. To pursue this career, one will need at least a Bachelor's degree with a relevant major. As it is a high-precision position for skilled employees.
Such a career offers a good salary, benefits, and room for professional development.
Heading
Conclusion
It is an excellent opportunity to work in the field of your passion. A motorcycle can be both a hobby and a fantastic career choice. Whether you choose to teach others, repair vehicles, or design them, there are many exciting options to consider.