If you think that an Aston Martin by itself just isn't special enough, Q is who you'll need to talk to. No, not the Q from James Bond, but very much inspired by it. This Q figure is Aston Martin's in-house, bespoke personalization division. If you want an Aston that suits all your fancies and whims, they're the ones to do it. In fact, they've been doing it for the last 10 whole years!
There's no better way to celebrate it than channelling everything they've learned since then to create one of the hottest new supercars around… The DBR22. To my eyes, it's quite familiar to the old V12 Speedster, also an Aston, from a few years back. Both their recipes are simple – big (twin turbo) V12 up in the front, compact bodywork in the middle, and leave it roof-less.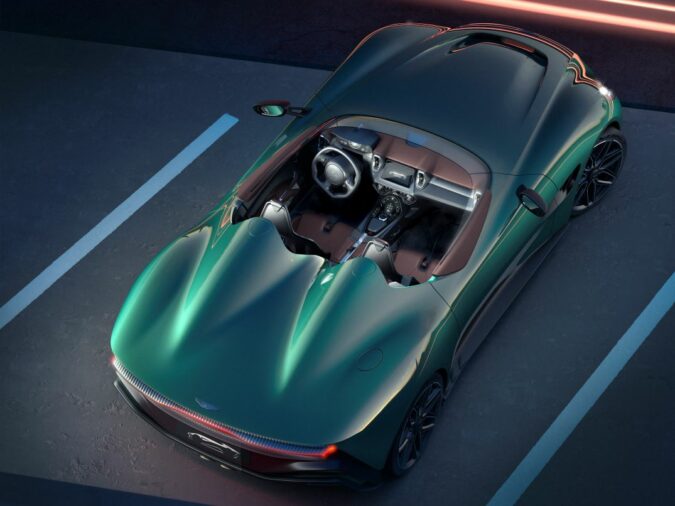 Topless Motoring At Its Finest
Although, that's not to say that the DBR22 is a copy-and-paste of the V12 Speedster. Yes, they both remind us of a time when two-seater, open-cockpit race cars like the DBR1 and DB3S had ruled racing back in the day. But, the DBR22 showcases new learnings from Aston Martin and Q. In particular, parts of the chassis was completely 3D printed – a pretty experimental concept.
The design of the DBR22 is also rather distinct, inside and out. It's a brilliant mixture of luxury, athleticism, and form, all in one. The powertrain should be rather familiar, however. It's a big, twin-turbo, 5.2-litre V12. In the DBR22, this engine is able to output a whopping 715PS as well as 753Nm of torque. So, if you're going to floor it, better be prepared for a pretty bad hair day.