The new Bentayga Hybrid represents Bentley's Beyond100 strategy by becoming the only electrified true-luxury SUV in the world. From zero emissions to major technological improvements, Bentley Motors pride themselves by creating sustainable and environmentally friendly vehicles for the future.
Chairman and Chief Executive of Bentley Motors, Adrian Hallmark, comments:
The Bentayga Hybrid is the next step on our journey to becoming the world's leading sustainable luxury mobility company… Bentayga Hybrid is the first model to pioneer our company's recently announced Beyond100 strategy.
Design – Bentayga Hybrid
The Hybrids charge point is located on the left-hand side, and can be charged at a rate of 7.2kW/h. The advantages of an electrified powertrain is that with a 17.3kWh lithium battery, it has an expected life of 100,000 miles and can be charged to a hundred per cent in two and half hours.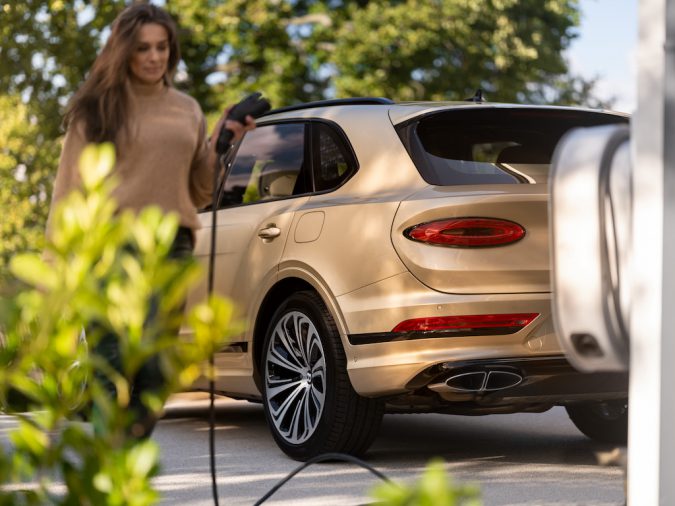 The 94kW E Motor can effortlessly produce 253lb.ft of torque from stationary to full acceleration. When additional torque is required, like speeding above 84mph, a 3.0-litre twin turbocharged V6 engine assists the E Motor.
The tachometer that displays engine speed in the standard Bentayga is replaced with a dial to show operation in EV drive as well as engine speed.
There are also three E modes – EV Drive, Hybrid Mode and Hold Mode that accommodate for the driver to optimise the cars EV power to be suited to the driving environment.
Outstandingly, zero emissions can be achieved whether the Hybrid is used for office commuting or even school runs.
Up to one hundred per cent of customers use EV mode consistently where journeys less than 30 miles are made. Cruising around San Francisco, a driver achieved sixty-seven per cent zero emissions over 672 miles.
Hybrid Exterior
The Bentayga Hybrid is even more stylish and modern than the previous generation.
The front concerns a larger matrix grille complimenting the bonnets chrome work. This creates an upright, muscular profile and emphasises the new elliptical LED matrix headlamps. Also, exterior badging gives the Hybrid a cleaner look.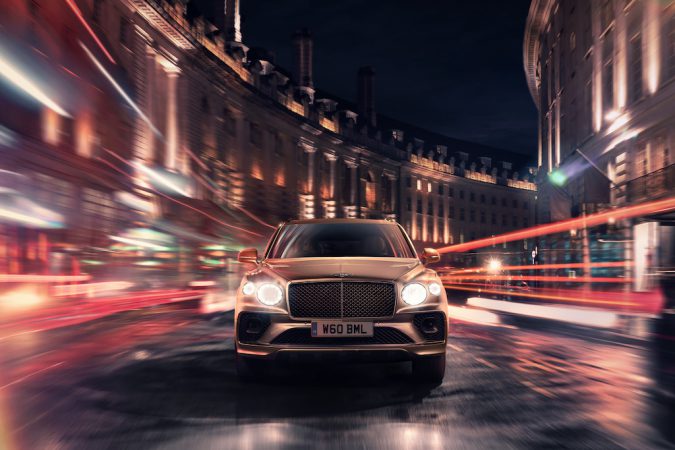 The rear of the car presents the most dramatic design change as it features elliptical tail lamps, completely different to the Bentayga Hybrids predecessor.
JP Gregory, Head of Exterior Design at Bentley Motors comments:
New Bentayga… has a much greater road presence, a more self-confident looking SUV from whatever angle you look at the car. The prouder grill and higher, more focused elliptical headlights give a much more modern expression.
Interior
The interior has been refreshed with a combination of luxury materials and technological advancements.
A new generation infotainment system featuring a 10.9-inch display screen is implemented in Bentleys new wing dashboard design. The latest software brings all-new navigation with satellite maps and online search, also wireless Apple Carplay and Android Auto. The anti-reflection and anti-glare infotainment system also displays information regarding each of the three E Modes.
For the first time, there is a luxurious, dark tinted diamond brushed aluminium trim adding to the masculine aesthetic of the Bentayga.
My Bentley in-car services are now delivered through an embedded SIM, instead of a data connection. The in-car service features MY CAR STATISTICS, MY BATTERY CHARGE, MY CABIN COMFORT and E CHARGING points available to nearest location of the car.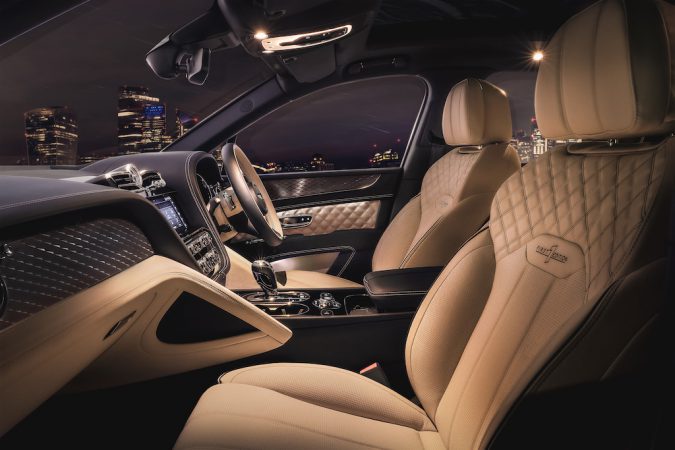 The new handcrafted cabin consists of new door trims, steering wheel, redesigned centre facia and digital instrument cluster.
There are two seating configurations available: a new seat frame for the standard five-seat comes with a larger rear-seat angle and the four-seat layout has two individual rear seats with increased knee room and reclined position. Both seating arrangements create a relaxing and more comfortable environment.