A Game Changer in the Off-Road EV Market
Fisker Inc., renowned for creating the world's most emotional and sustainable electric vehicles, has announced the launch of the Fisker Ocean Force E. This special off-road edition is set to revolutionise the electric vehicle market, drawing more people into the EV fold.
The Specs that Make It Stand Out
The off-road category has been dominated by internal combustion vehicles, but Fisker aims to change that. The Ocean Force E boasts exceptional off-road performance, with significant ground clearance and ramp angles, 33-inch all-terrain tyres on 20-inch reinforced wheels, specialised dampers, and an estimated 550 horsepower.
To ensure the protection of its battery, the Fisker Ocean Force E comes with a full-length titanium underbody plate and structurally mounted front and rear skid plates.
Upgrade Your Fisker Ocean Extreme or Ultra
The Force E package offers versatility, as it can be retrofitted on all-wheel-drive Fisker Ocean Extremes and Fisker Ocean Ultras. This gives future customers the option to transform their vehicles into off-road powerhouses.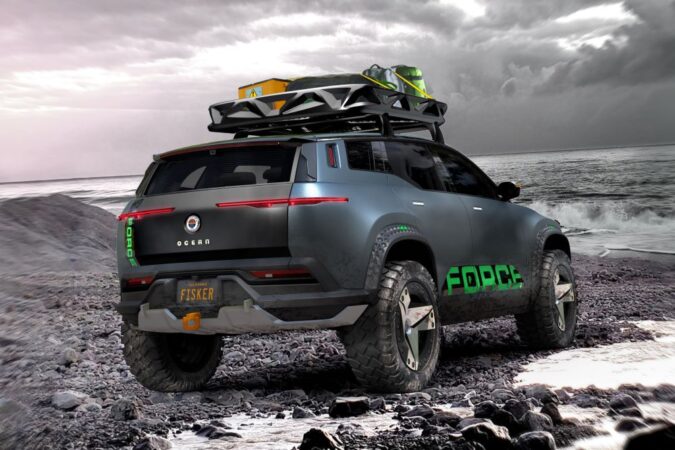 Enhanced Utility with Optional Interior Package
To further elevate the Fisker Ocean's utility, an optional interior package is available, which includes rubber floor coverings, additional grab handles, and tie-downs. For those seeking even more storage, a unique, lightweight roof basket is also offered as an optional extra.
The Perfect Off-Road EV for Nature Lovers
Chairman and CEO Henrik Fisker expressed his enthusiasm for the new vehicle, stating, "This vehicle is going to be a beast. We have pulled out all the stops on this one. I think it's exciting to enter the segment. And for those who love to go off-road and enjoy nature, what better way than with zero emissions?"
Expert Engineering at Fisker's Magic Works
The Force E package is currently being developed at Fisker's Magic Works specialty division in England, under the watchful eye of SVP of Engineering David King. A passionate rally racer in the 1980s and 1990s, King brings a wealth of experience and innovation to the project, ensuring the Fisker Ocean Force E delivers on its promise to transform the off-road EV market.