The new Audi SUV is offered in two formats – SQ5 TDI and SQ5 TDI Vorsprung. They feature performance improvements such as the modified 3.0-litre V6 engine and exterior rework including new digital OLED rear lights for Vorsprung versions.
Prices begin at £56,600 for the standard SQ5 and rise to £71,750 for the Vorsprung edition.
Updated SQ5 TDI: Engine, Powertrain And Technology
The V6 generates 341PS and 700Nm of torque – power output is lower than previous versions however Audi claims that the 516lb-ft of torque is available across a wider engine speed range of 1,750rpm to 3,250rpm where peak power is produced earlier than before. Thus, prompting the SUV to reach 62mph in 5.1 seconds and achieve an electronically limited top speed of 155mph.
Director of Audi UK Andrew Doyle proudly states the "formidable engine and independent electric compressor have been primed to perform even more readily and even more efficiently." As a result, the sheer force of acceleration gives the V6 a particular sonorous sound.
 A lighter, forged steel piston has replaced the original aluminium piston which can effectively reduce heat loss, ensure combustion is faster and more efficient due to the new stepped recesses.
The 48-volt mild hybrid system (MHEV) is integrated with a belt alternator starter (BAS) that can reduce fuel consumption by up to 0.7 litres for every 62 miles driven. The EPC – which drives the turbocharger when exhaust gas flow is too low – is used more often in the new Audi and is more noticeable during step-off acceleration and low speeds.
The SQ5 impressively reduces NOx emissions, undercuts the limits of the "Euro 6d ISC-FCM AP" emissions standard and is capable of returning up to 34.4 MPG with CO2 output from 216g/km. This is due to Audi's revised powertrain that uses two SCR catalytic converters incorporated in a twin-dosing technology.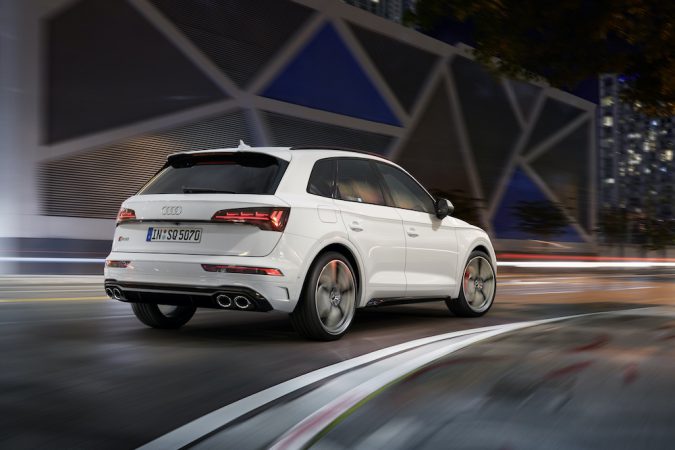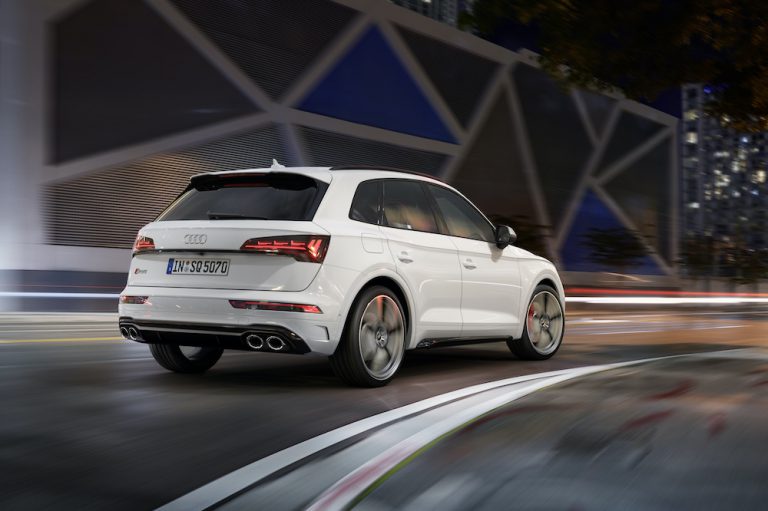 The performance-oriented suspension drops the ride height by 30mm as opposed to the standard Q5 to prioritise cruising comfort. Moreover, there are six available drive modes: Auto, Comfort, Efficiency, Dynamic and Individual. Another mode – all road – is exclusively available for drivers of the SQ5 Vorsprung.
The new generation SQ5 TDI models feature the MMI 10.1in touchscreen from the latest MIB infotainment software that can be controlled using voice commands –with up to six individual profiles – and buttons on the multifunctioning steering wheel.
Upgrades In The Vorsprung
New 21-inch alloys and black body detailing gives the Vorsprung a distinctive appearance.
The Vorsprung trim contains a Bang & Olufsen sound system, heads-up display, electric steering wheel adjustment and a panoramic glass sunroof. If that wasn't enough, the Audi features a Tour Pack incorporated with an adaptive cruise assist system and a predictive efficiency assist.
The sports differential now actively controls the torque distribution across the rear axle which acts as a further aid to adjustability, convenience and better grip.
Specific to the Vorsprung, the rear lights feature a new digital OLED technology which has a proximity detection function and three customisable light signatures.
Brexit Price Protection
Recent restrictions following the pandemic has prompted Audi to keep open virtual aid showrooms, click and collect services, home delivery and service departments to give buyers confidence and convenience when purchasing.
Due to the uncertainty in ongoing Brexit negotiations, Audi guarantees that any potential post Brexit tariffs will not be passed for any orders placed before 17:30 on December 2, 2020.