Big on Power and Range
The latest electric SUV from Škoda, the new Enyaq L&K, is set to define new standards in the electric vehicle market. With an increased power output of a whopping 285 PS (210 kW), it is primed to be a market leader. Boasting a range of up to 354 miles (570 km) on the WLTP cycle, this electric vehicle is ready to tackle long journeys with ease.
One of the significant upgrades is a quicker battery charging time – a jaw-dropping ability to surge from 10 to 80% capacity in less than 30 minutes. You can almost hear the collective sigh of relief from electric vehicle owners tired of long charging times.
Tech Updates: User Interface and Preheating Feature
The Enyaq L&K stands out as the first Škoda model with a new user interface for enhanced ease of use. Updated graphics reflecting the new Škoda CI is a visual treat, ensuring a smoother operation of the vehicle.
Adding to the impressive feature list, Škoda Auto introduced a battery preheating management system, utilising navigation data for optimal charging performance even in cold weather conditions. This is a thoughtful addition that UK customers will undoubtedly appreciate in our chilly winters.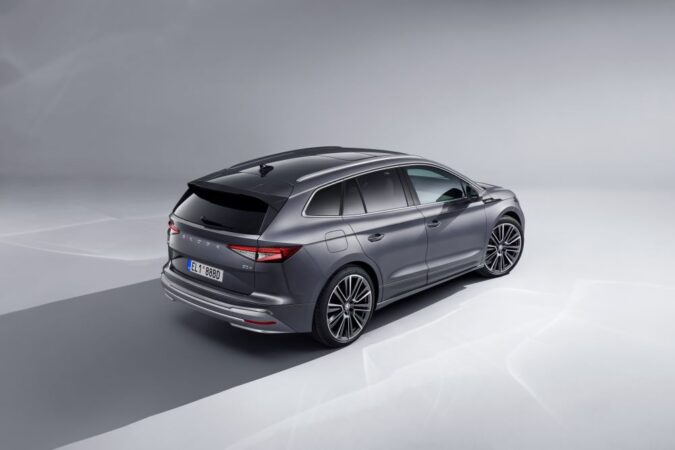 Premium Design: Exterior and Interior
The Škoda Enyaq L&K variant exhibits exclusive Platinum Grey detailing on the model-specific bumpers, diffuser, and exterior mirrors. Its distinctive look is further accentuated with chrome-finished window frames, roof rails, and Škoda grille.
The interior options include two specific Design Selections. The L&K Shell features beige leather upholstery, while the L&K Black sports black leather seats. Ventilated leather seats with a massage function are standard, promising a relaxed and comfortable ride.
New Software and Other Features
Equipped with the latest ME4 vehicle software, the Enyaq L&K is ahead in the tech game. This software optimises the user experience with a restructured infotainment menu and improved favourite buttons for quick access to functions.
The software also offers new navigation map designs and a simplified control menu for the air conditioning system, ensuring an intuitive operation experience. The Virtual Cockpit and head-up display have been updated to reflect the new Škoda CI.
Furthermore, the Enyaq L&K features a new function for Kessy, the keyless vehicle access system. It automatically locks the doors when the owner moves away from the vehicle, confirming the locked door status with an acoustic signal.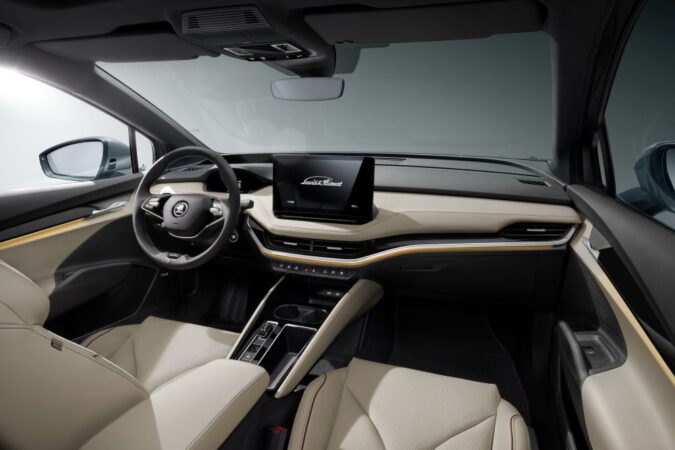 Wrapping Up
In conclusion, the new Škoda Enyaq L&K is a fantastic blend of power, range, technological upgrades, and luxurious design. It's an exciting development in the electric vehicle market and a strong contender in the SUV category. The Škoda Enyaq L&K shows that electric vehicles can indeed offer the complete package without compromising on style, comfort, or functionality.