Introducing the Ferrari Roma Spider
Ferrari has unveiled its latest masterpiece, the Ferrari Roma Spider, at an exclusive event at the El Badi Palace in Marrakesh. This 2+ spider, with its 620cv twin-turbo V8, brings a blend of timeless elegance, driving thrills, and onboard comfort. Let's take a closer look at what sets the Roma Spider apart.
Innovative Soft Top Design
The Roma Spider features a bespoke fabric soft top with numerous tailored options, offering acoustic comfort on par with retractable hard tops. The top can be opened in just 13.5 seconds while driving up to 37 mph (60 km/h). Its compact design also increases boot space, adding to the car's versatility.
Top-Down Comfort with a Patented Wind Deflector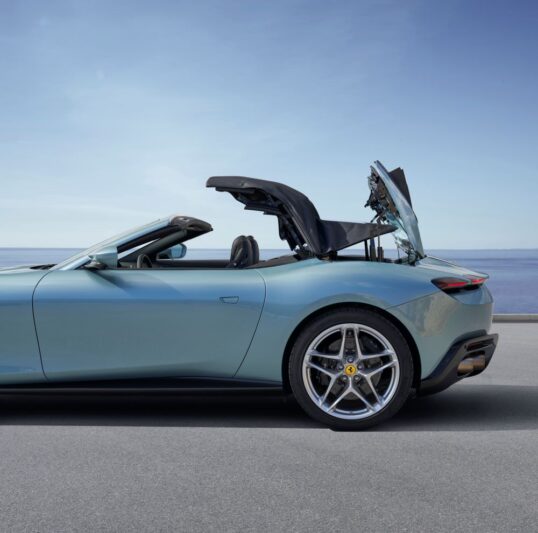 A patented wind deflector, integrated into the rear seat backrest, ensures exceptional in-car comfort when driving top-down. It can be deployed with a button on the central tunnel without taking up extra space in the car.
Dynamic Performance and Handling
Retaining the Roma's excellent dynamic characteristics, the Roma Spider features a best-in-class weight/power ratio, thanks to its all-aluminium chassis and V8 engine. Paired with Ferrari's acclaimed 8-speed DCT, the Spider offers incredibly fast shift times, comfort, and mechanical efficiency.
Versatile and Connected
The Roma Spider is designed for versatility, with features like a category-topping boot size, wireless connectivity via Android Auto and Apple CarPlay Wi-Fi, and 18-way adjustable heated ergonomic seats with an optional neck warmer for colder days.
Powerful V8 Engine
The 3,855 cc V8 engine produces 620 cv at 7,500 rpm, offering flexibility with low-end pick-up, as 80% of the torque is available at just 1,900 rpm. The engine benefits from an evolution of the oil pump, reducing cold start time-to-pressure by 70% and increasing flow rate at medium revs.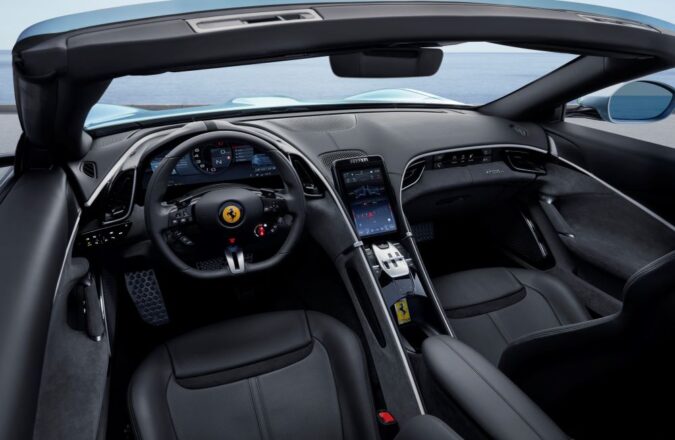 Advanced Gearbox Technology
The 8-speed dual-clutch gearbox, derived from the SF90 Stradale, offers optimum transmission efficiency and reduced fuel consumption without compromising on performance. The gearbox software strategy has been updated, focusing on fuel consumption reduction and emission control, particularly when using the Start&Stop function.
Unmistakable Ferrari Soundtrack
The Roma Spider has its own unique soundtrack, thanks to the flat-plane crankshaft and equal-length exhaust headers. The continuous and progressive bypass valve control highlights the engine sound and performance depending on the driving situation.
In summary, the Ferrari Roma Spider combines elegance, performance, and versatility in a stunning package, making it the perfect companion for weekend getaways and longer journeys alike.