There's always something inherently childish about a supercar, and that's okay! Every child dreams of owning – or at least, getting to sit inside – a supercar someday when they grow up. Even from a young age, that passion is fostered through a Countach bedroom poster. Or, in this digital age, a LaFerrari in the backdrop of an iPhone home screen. The Sound Of Supercars book might do the same, too.
At least, for the little ones. If you're planning ahead for what Christmas gift ideas might suit your kids and those young, soon-to-be petrolheads, this may be the perfect choice. After all, what is a supercar if not for its thunderous exhaust notes. For most, enthusiasm for cars is a grassroots love that started at a very young age. If you have kids that might grow into it too, then this is a great starting point.
But unlike any old book, The Sound Of Supercars has another layer of interactivity with it – noise. You get 12 different vehicles, and they're not just supercars, mind you. There are sports cars, electric cars, classics, oddities, and the ever-maddening world of hypercars. With such a diverse and packed array of aspiring automobiles, this little book offers a wealth of fun and enjoyment for the young'uns.
A Car For Every Enthusiast
So, what's this book about? Well, there are 12 cars, with individual pages dedicated to each one. This is where you (or your kids) get to read a brief rundown and headline specs of that particular car. That being said, the best feature of The Sound Of Supercars is that red plastic tab on the right-hand side. It has a series of 12 buttons with a picture for every car. Press it, and their exhaust notes appear.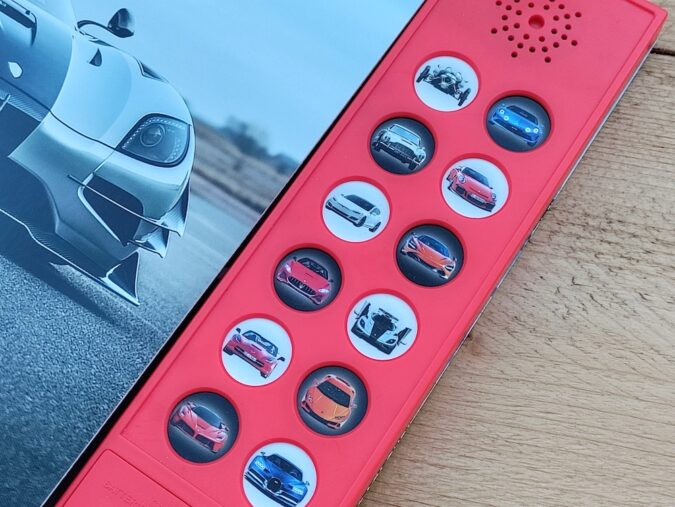 It truly does encompass some of the best noises the auto industry has today… The raspy twin-cylinder of the Morgan 3-wheeler… Alpine's growly 4-pot in their A110… The smoothness of the Aston Martin DB5's straight-6… Heavenly 9,000RPM wailing of the Porsche 911 GT3… And interestingly, there's an EV added into the mix, courtesy of the Tesla Model S and its electrified whoosh and whirr.
Nonetheless, it's not over yet… Pitching the racy twin-turbo V8s of the McLaren 720S and Koenigsegg Agera against the ungodly naturally-aspirated V8 in the Maserati GranTurismo and the C7 Corvette's supercharged V8… Alongside the howling V10 of the Lamborghini Huracan, as well as the LaFerrari's glorious hybridised V12. All culminating in the mighty roar of the Bugatti Chiron's quad-turbo W16.
Sounds To Inspire Young Petrolheads
Despite The Sound Of Supercars book having only a single speaker, the quality of those exhaust notes is rather spot on. They're accurate and true to life with the real deal, adding a layer of realism if any car-loving kids out there need a tangible emotion to dream on. Of course, that's not to say that it can't make a great gift for adults, too. Either as a gag or something quirky to add to the collection.
For just £12.99, it's a wholesome and endearing Christmas gift that won't at all break the bank. And, for convenience's sake, you can even get it right now on Amazon. It's quite a simple device, really – a compartment for batteries, a speaker, one button to turn it on/off, and 12 buttons to tickle your eardrums. For kids and adults alike, so long as you love cars, put this on the gifting list for this coming holiday.