In an ever-evolving world, vehicle safety has become an integral concern for drivers. The choice of car can significantly impact your safety in the unfortunate event of an accident. With an increasing emphasis on road safety, it's essential to be well-informed about the safest vehicles on the market. In this comprehensive guide, we'll delve into the top safest cars to withstand accidents, ensuring you make an educated choice for your peace of mind. We'll also address the relevance of seeking legal guidance from a truck accident lawyer when dealing with accidents.
Electric Vehicles: Prioritizing Safety and Innovation
Electric vehicles (EVs) are at the forefront of technological innovation, and safety is a fundamental aspect of their design. Here are some of the safest electric vehicles on the market:
1. Tesla Model 3
In the realm of electric vehicles, the Tesla Model 3 stands out not only for its efficiency but also its safety features. With advanced driver assistance systems like autopilot and collision avoidance, the Model 3 incorporates an array of sensors and cameras to provide a high level of safety on the road.
2. Nissan LEAF
The Nissan LEAF, a pioneer in the electric vehicle market, also emphasizes safety. Equipped with Nissan's ProPILOT Assist, the LEAF includes features like automatic emergency braking and intelligent cruise control. Its e-Pedal technology enhances control, allowing for one-pedal driving and contributing to accident avoidance.
3. Chevrolet Bolt EV
Chevrolet's Bolt EV offers a blend of safety and efficiency. With features such as forward collision alert, automatic emergency braking, and available surround vision, the Bolt EV is designed to provide a secure driving experience.
4. Audi e-tron
Audi's e-tron is a luxury electric SUV that doesn't compromise on safety. Equipped with an array of driver assistance systems, including adaptive cruise control, lane departure warning, and parking assist, the e-tron delivers both style and security.
5. Ford Mustang Mach-E
The Mustang Mach-E signifies Ford's entry into the electric vehicle arena. Combining the iconic Mustang name with electric power, the Mach-E offers safety features like Co-Pilot360, which includes pre-collision assist, a lane-keeping system, and automatic emergency braking.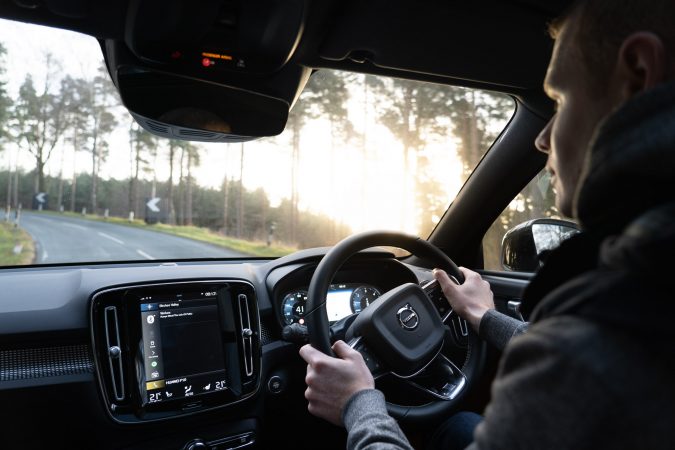 Gas-Powered Vehicles: Embracing Tradition with Modern Safety
Gas-powered vehicles continue to prioritize safety through the integration of advanced safety technologies. Here are some of the safest gas-powered vehicles available:
1. Volvo XC90
Volvo has long been synonymous with safety, and the XC90 exemplifies this commitment. Known for its innovative safety features, including collision avoidance systems, adaptive cruise control, and comprehensive airbag systems, the XC90 has consistently received high safety ratings from authorities such as the National Highway Traffic Safety Administration (NHTSA) and the Insurance Institute for Highway Safety (IIHS).
2. Subaru Outback
Subaru's reputation for safety is upheld by the Outback, a rugged yet safe option for families. Equipped with Subaru's EyeSight Driver Assist Technology, the Outback incorporates features like pre-collision braking and lane departure warnings. Its all-wheel-drive system contributes to improved traction and stability, which is crucial for accident avoidance.
3. Toyota Camry
The Toyota Camry is a staple in the midsize sedan segment, renowned for its reliability and safety. With a strong reputation for durability, the Camry features Toyota's Safety Sense suite, including automatic emergency braking, adaptive cruise control, and lane departure warning systems.
4. Honda CR-V
Honda's CR-V is a popular choice among SUV enthusiasts, and its safety features further elevate its appeal. Equipped with Honda Sensing, the CR-V includes collision mitigation braking, road departure mitigation, and adaptive cruise control. Its advanced compatibility engineering body structure enhances occupant protection in various crash scenarios.
5. Ford Mustang
Even performance cars are not exempt from prioritizing safety. The Ford Mustang, a quintessential American muscle car, offers available safety features such as adaptive cruise control, automatic emergency braking, and lane-keeping assist. Its strong build and modern safety technologies contribute to a well-rounded safety profile.
6. Kia Telluride
The Kia Telluride has garnered praise not only for its design but also for its safety attributes. Equipped with Kia's Drive Wise suite of driver assistance features, the Telluride includes blind-spot monitoring, forward collision avoidance, and rear cross-traffic alert, enhancing safety for drivers and passengers alike.
7. Nissan Altima
Nissan's Altima is another midsize sedan that emphasizes safety. With features like intelligent forward collision warning, automatic emergency braking, and rear automatic braking, the Altima is designed to mitigate accidents and reduce the severity of collisions.
Exploring Innovations for the Future: Autonomous Vehicle Safety
As we look ahead to the future of transportation, the landscape is evolving with the advent of autonomous vehicles. These vehicles are equipped with advanced sensors, artificial intelligence, and intricate algorithms designed to navigate and interact with their surroundings. While still in the testing and development phase, autonomous vehicles have the potential to revolutionize road safety by significantly reducing the occurrence of accidents caused by human error.
Companies like Waymo, Tesla, and Uber are investing heavily in autonomous vehicle technology, envisioning a future where vehicles can communicate with each other and with traffic infrastructure to prevent collisions and ensure smooth traffic flow. These vehicles are equipped with intricate systems that can detect pedestrians, cyclists, and other vehicles in real-time, making split-second decisions to avoid potential accidents.
Seeking Legal Counsel: The Role of a Truck Accident Lawyer
While safe vehicles can significantly reduce the risk of accidents, collisions involving trucks can have complex legal implications. If you or a loved one is involved in a truck accident, it's crucial to seek legal guidance from a reputable truck accident lawyer. Truck accidents often involve multiple parties, including trucking companies, drivers, and insurers. A skilled truck accident lawyer can navigate the intricate legal landscape, ensuring your rights are protected and that you receive appropriate compensation for damages, medical expenses, and emotional distress.
In Conclusion
The safety of your vehicle is an investment in your well-being and that of your loved ones. Choosing a car with advanced safety features can mitigate the potential impact of accidents and provide valuable peace of mind. However, accidents can still occur, particularly in situations involving trucks. In such cases, enlisting the expertise of a qualified truck accident lawyer can make a significant difference in achieving a fair resolution. By combining your commitment to safe driving with informed vehicle choices and professional legal representation, you're taking comprehensive steps to prioritize your safety on the road.
Jennifer Bell is a defensive driver, car enthusiast, and writer for truck accident lawyers in the Philadelphia area.