In the UK, the market for personalised number plates is currently worth £2 billion, and one driver alone spent around £500,000 on a vanity plate. The number plate serves as the vehicle's identity for the majority of people, but other individuals view it as an accessory, and some may even spend all of their money to acquire the perfect plate.
What Factors Contribute To The High Cost Of A Personalised Number Plate?
Approximately six million personalised number plates have been sold in the thirty years that the DVLA has been selling them to the public. The public's emotional attachment to their vehicles and the dynamics of supply and demand are expected to be the main factors contributing to the rising value of personalised number plates. Due to the limited number of potential combinations, there is a short supply of uncommon and distinctive licene plates (such as one letter, one number dateless plates). Additionally, their scarcity makes them more appealing to those seeking to stand out from the crowd.
A Less Expensive Option Being Found
New style registrations provide you with the chance to personalise your registration for a lower cost. Newer plates include more character components, and there are a greater variety of combinations to pick from at a substantially reduced cost. Therefore, a newer, lengthier option should only cost you the base price of £250 from the DVLA, or maybe even less at auction, provided you can think of a number/letter combination that signifies anything to you.
The same cannot be true for the top ten most costly number plates, which cost more than the typical home despite having just two or three letters.
Most Expensive Number Plates In UK
25 0 – £518,480
The 25 O is the most expensive private plate ever sold in the United Kingdom. John Collins, a classic automobile trader and collector, paid £518,00 for it in 2014. Collins put his costly licence plate on his £10 million 1961 Ferrari 250 SWB. And the current asking price for this number plate is £750,000
X I – £502 500
The X1 number plate, which was first issued in December 1903, has been described as "unique and historic." Due to the plate's antiquity and rarity, the asking price has nearly quadrupled. It was sold in 2012 to an unnamed bidder. The current asking price is £1 million
G I – £500,000
 This plate, which was sold in 2011, was the most expensive number plate in the UK for nearly a year. The  Current asking price is £1 million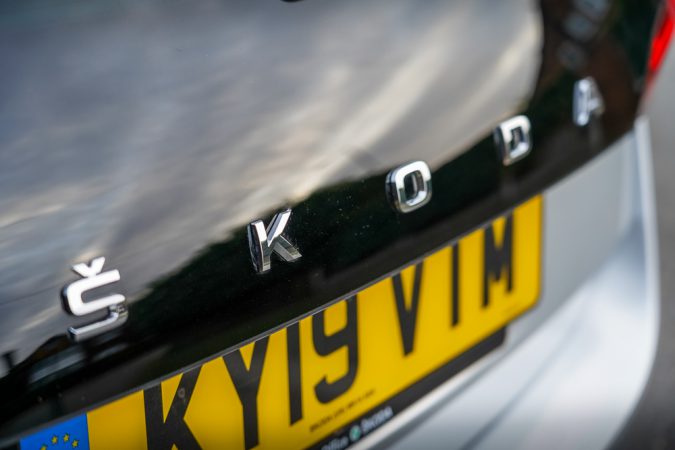 RR I – £472,000
The RR 1 licence plate was first issued in 1925. 2018 saw its sale at £472,000. The plate was sold at an auction at Goodwood to unknown buyers, however, most think they were Bentley cars.
F I – £440,625
It was previously acquired in 2008 by an auto industry mogul. The owner, Afzal Kahn, is said to have turned down bids of up to £10 million. Kahn's Bugatti Veyron is now holding the plate. 
S I – £404,063
This plate was sold at auction in 2008 for a little over £400,000 and is now estimated to be worth approximately £1 million. This licence plate, which is said to be the first legal number plate ever made in Scotland, ushers in a new era on the country's highways. 
I D – £352,411
A business tycoon purchased the ID licence plate at a DVLA auction at Ardencote Manor Hotel and Country Club in Claverdon for his wife's birthday in March 2009 for £352,411.
I S – £340,000
It was sold to a private bidder in 2010 and is reported to be mounted on a Rolls Royce Phantom. Although the importance of the transaction is unknown, the astute buyer has nearly quadrupled their money since their initial purchase. 
M I – £331,500
Mike McCoomb, the proprietor of the mobile business, purchased the M1 plate in 2006 as a gift for his six-year-old son in 2006.
  GB I – £325,000
This plate was sold in 2009 for £325,000 and is in a Rolls Royce. Its current asking price is £500,000.
What Are The Reasons For Purchasing An Expensive Personalised Number Plate?
    Business needs
A private number plate generates a lot of media attention and may provide excellent exposure. Additionally, a personalised number plate is a genuine prestige symbol denoting achievement and riches.
    For fun
With a personalised number plate, car enthusiasts may customise their vehicles to reflect their personalities and create a fascinating talking point.
    It's an investment
Our ranking of the most expensive personalised number plates demonstrates how costly rare and vintage plates get over time, especially ones with considerable wordplay or significance. If you can spend today on a statement piece, you'll benefit from it afterwards.
Article and infographic provided by Click 4 Reg.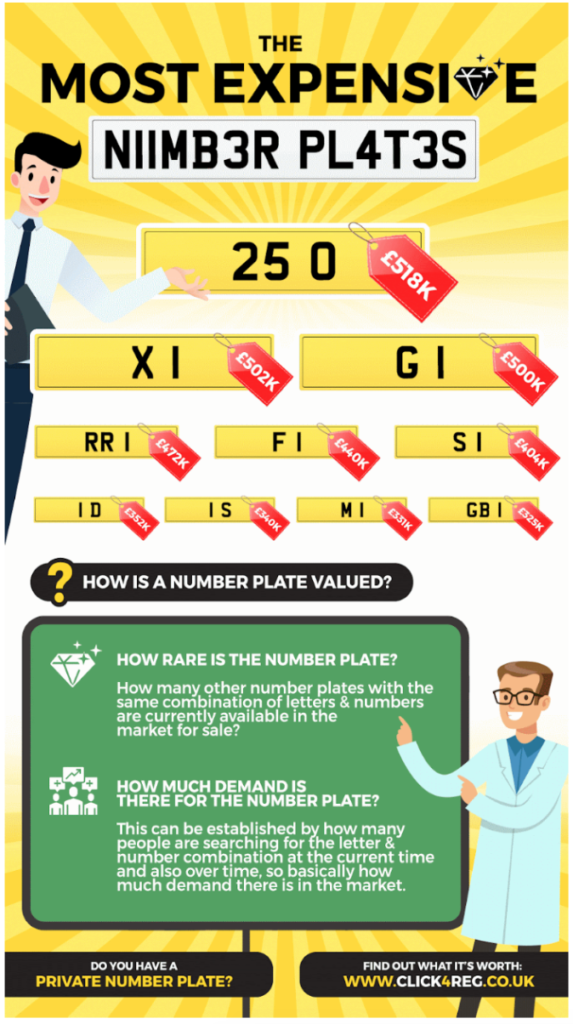 AI Car Expert Thinking 

.

.

.