With the pandemic gradually receding, ever more people are finally embracing an openly outdoorsy lifestyle, filled with adventure and freedom at their fingertips. One in particular – #vanlife – has stood out the most. We thought that maybe it's a good time to give this a go ourselves and see if living out our lives in a van is all that it's cracked up to be. How about a Volkswagen Transporter for a start?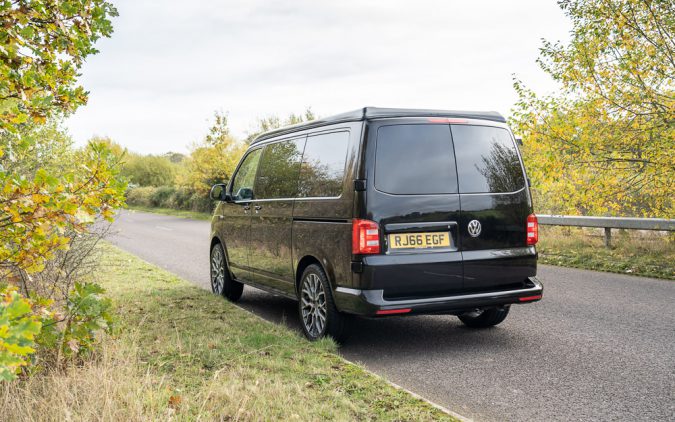 Would it fare well as a travelling buddy, accompanying us from one scenery to the next? Could it be, that this unassuming Transporter is likely the best campervan for Europe? Across the pond, the idea of recreational vehicles is a concept as old as time itself. That said, they do things rather differently there. Surely, you must be familiar with the mansion-on-wheels gargantuan RVs, no?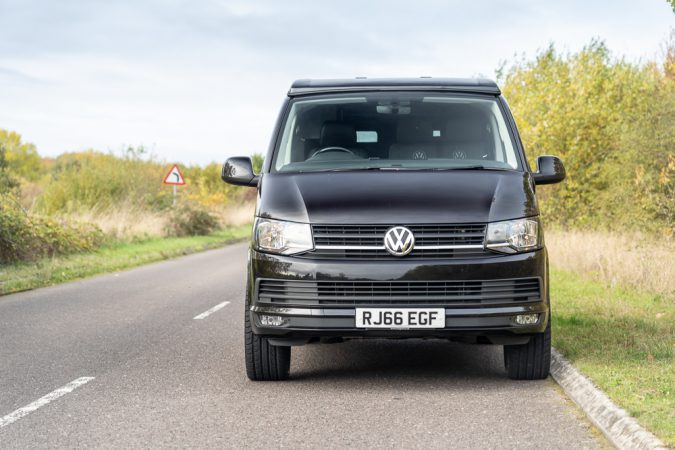 Contents
The Biggest Flaw With Larger Americanised Campers
They feature everything from a king-sized bed to a complete bathroom with a shower and a tub. On top of that, we've written up quite a few other simplified alternatives, as well. There are people out there converting their SUVs and off-roaders into capable all-terrain portable houses. If space is what you need, pickup truck beds work surprisingly well at bolting on a home on top of it, too!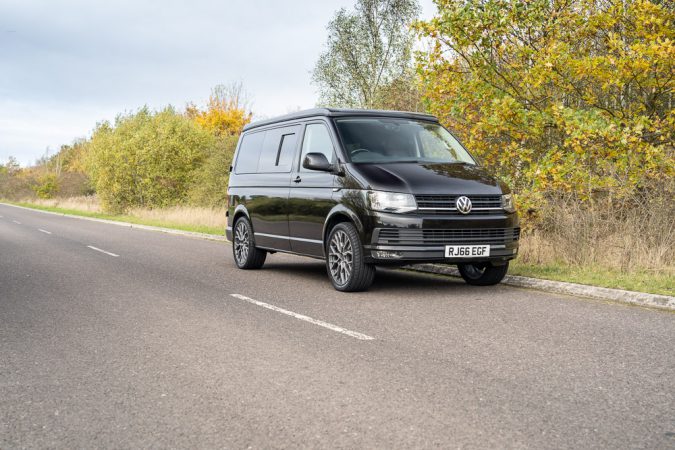 Should that somehow not be roomy enough, then you can turn an entire box truck into one of these campers if you want, as well. In short, there's no shortage of ways that you can squeeze your house – with all its amenities and creature comforts – into any vehicle. However, there's a crucial flaw that prevents them from being popularised on this side of the world – size. They're just far too big.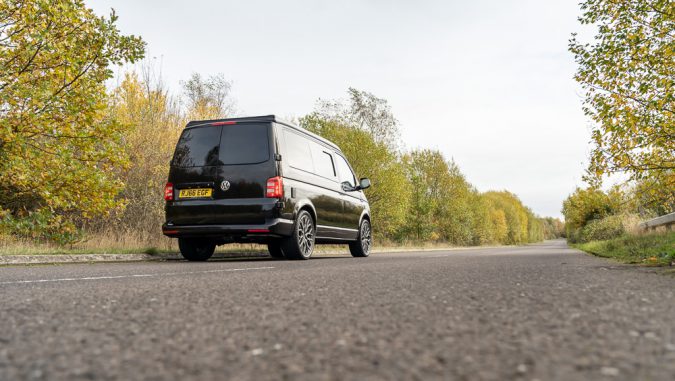 Be it a bus-like RV, an SUV or 4×4 off-roader, pickup truck, or a cargo box truck, the predominantly Americanised ideals of camping-on-the-go are far too large for UK and European roads. What we want is a similar experience, but condensed into a smaller form factor. That's why the Volkswagen Transporter could be the best camper for Europe's more compact landscapes, we think.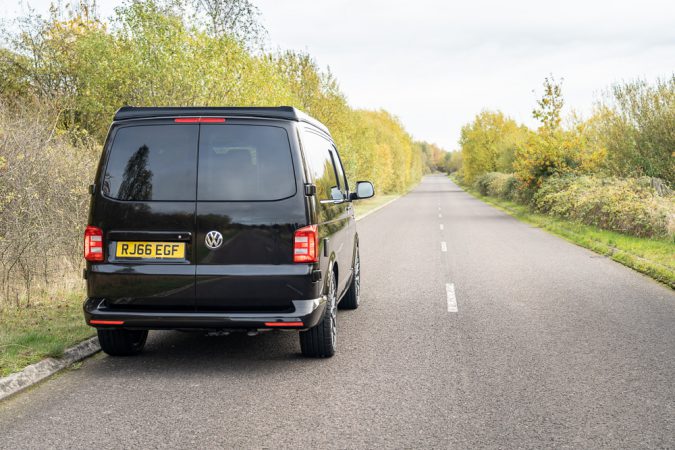 What Did We Buy For Our Camping Adventures?
To be precise, what we have here is a 2016 model year Volkswagen Transporter T6 Highline. Ours is among the first of the T6 generation Transporters, which ran in production until just last year. Thus far in its life, this VW Transporter has done a smidge over 53,000 miles. For the most part, it looks like any other Transporter van, and it doesn't at all look out of place at a storage depot parking lot.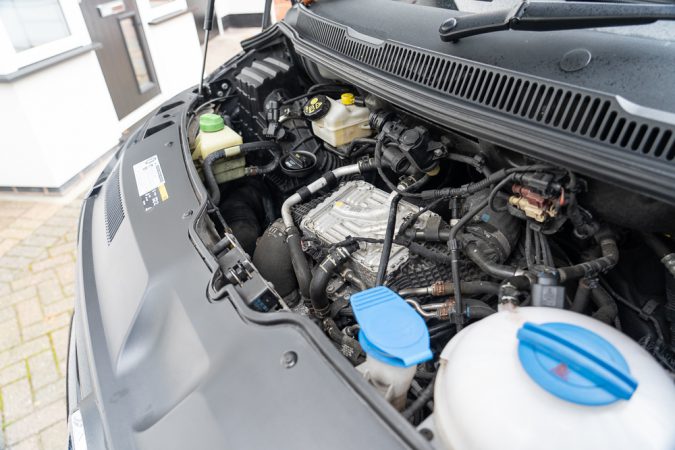 Peek a little closer, however, and you start to notice the rear windows, as well as what appears to be a roof rack of sorts. That's actually a pop-up roof tent, but more of that in a hot minute. Being one of the Highline-spec Transporters, the interior is slightly more upscale than its purely utilitarian siblings. You get fitment like air conditioning, cruise control, as well as parking sensors in the rear.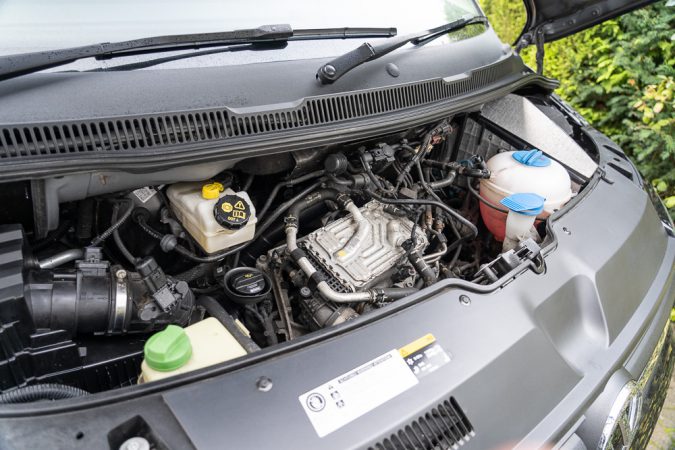 These are all must-haves, I think, for a campervan that you'll be spending a lot of time in, both living and ferrying it around. On long, dreary motorway journeys, even the simple bits like cruise control is going to be a blessing and a half. There's a small display in the middle, although you're not going to find a fully-kitted out infotainment or satnav. But it will pair up and stream your phone's music and hands-free calls.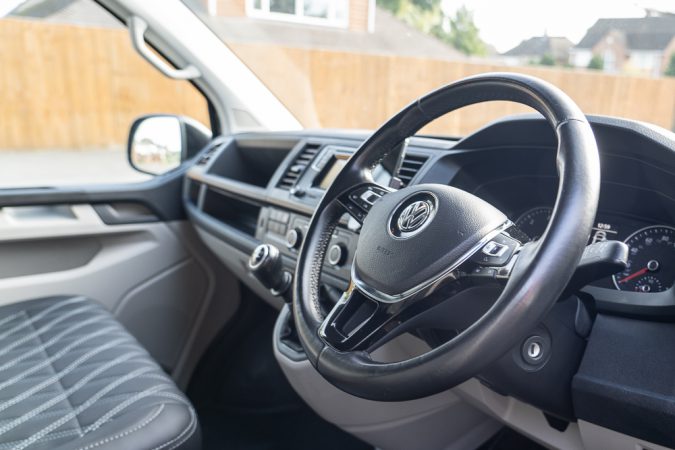 When you're spec'ing a Transporter from VW, you have a choice between two types of rear doors – a hatchback, or barn doors. Ours has the latter, which enables us to fit a bike rack later on. It's much easier to fit and access these accessories with barn-type doors, rather than having to live the entire hatchback.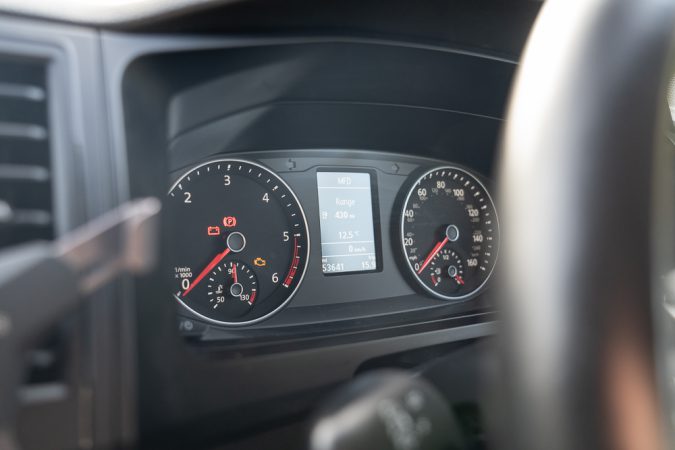 What Happened To The VW Transporter During Its Campervan Conversion?
Converting a van like the VW Transporter into a proper camper DIY-style is a lot easier than it might seem. Granted, it takes days or weeks worth of dedication, with a significant investment of tools, time, and energy to get there. That said, we thought that it'd be best to take a professional approach to it, and spend that extra dosh on a tier-one conversion. This is where Big Wave Campers comes in.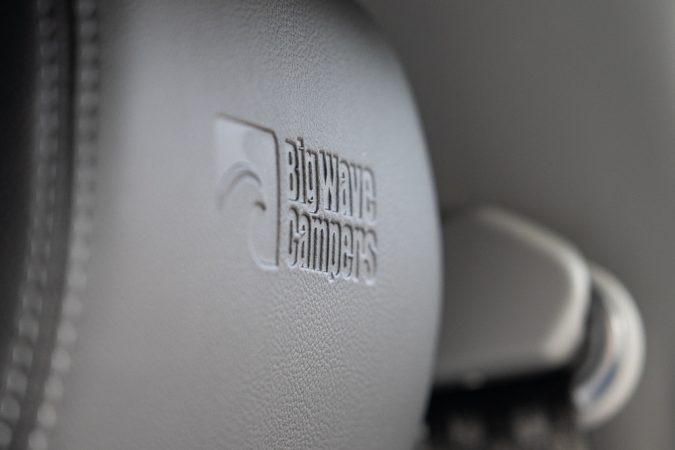 Based in Birmingham, the entire process is quite straightforward. You can speak to them directly to configure your very own bespoke campervan, with all your whims and desires noted down. Albeit, much of the specifications and templates are shared between each project. After all, there's only so much you can do with the Transporter's dense layout. Thus, you'll see similarities.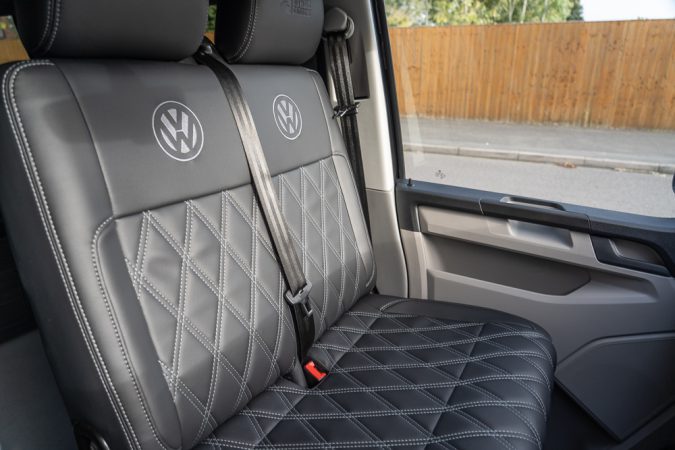 Alternatively, they have a selection of pre-owned and pre-converted campervans that you can get to skip the entire build process. So, what did they do with our Transporter, then? Starting from the front, the seats have all been retrimmed, with the end result looking rather handsome, indeed. It's especially fancy with this quilted leather-like pattern on the seating.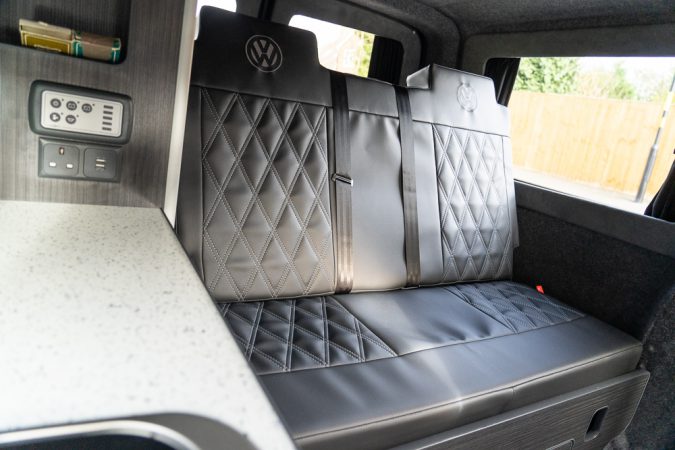 The passenger seats – in true camper fashion – have been retrofitted so that they could be spun around. This is particularly helpful as an additional set of very cosy lounge chairs, or to make more room in the rear. Far, far in the back, the rear-most seats also double as a bed, which you can fold down quite easily. Aptly, they've been retrimmed in the fashionable quilted-esque vinyl, too.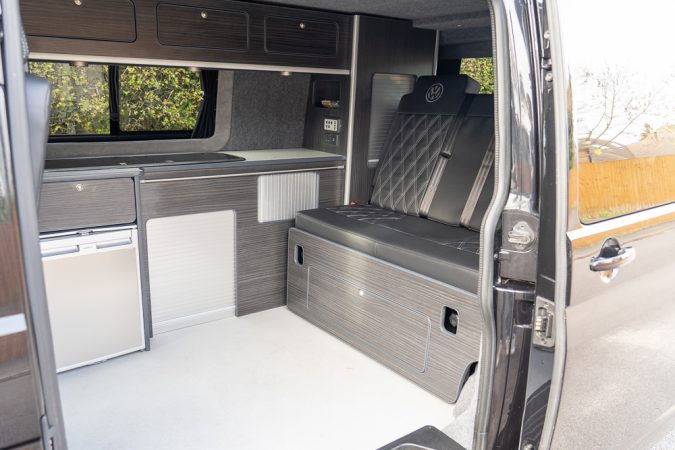 Elsewhere inside, you'll now find a full kitchen set, with a working sink, refrigerator, and gas cooker. You can manage the interior electrics through a control panel. Moreover, and to maximise our use of space, there are cupboards and storage cubbies aplenty to keep everything we'll be needing for a long journey away from home. As we hinted earlier, there's a roof tent, as well.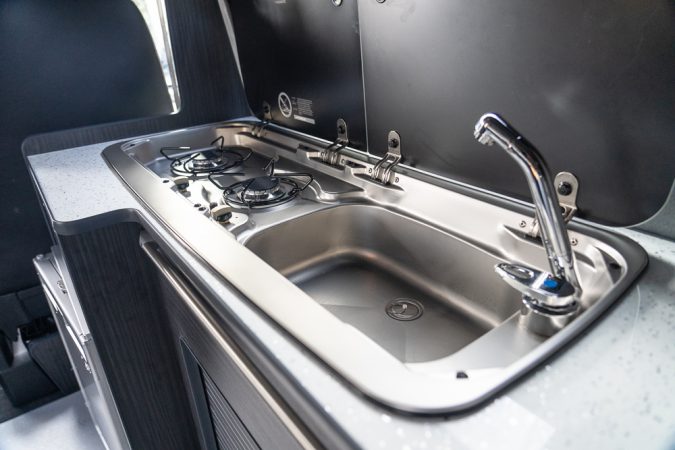 The roof can pop open, revealing another bed up top. It should be enough for a couple of roommates up there. Powering all this is a set of batteries that'll keep the interior accessories juiced up. Once you reach a campsite, you can safely plug in and enable passthrough for the double 240V outlets. At the same time, it'll keep the Transporter's battery topped up.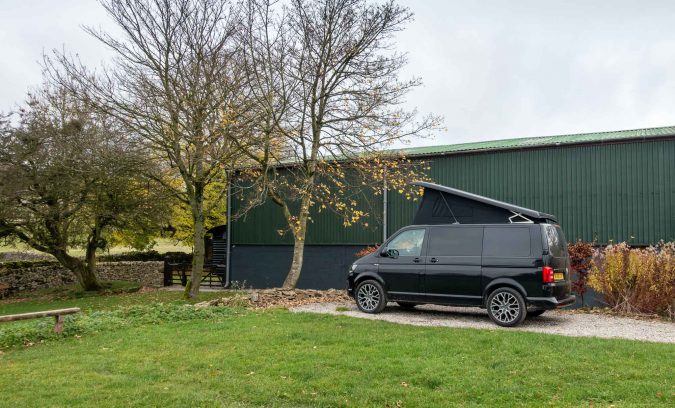 Here's a more detailed list of kit that we have included in our Transporter:
SMEV 9222 Combi sink with a gas cooker.
Waceo CRX50 top-of-the-range fridge.
Touch-on and touch-off LED interior lighting.
A leisure battery for powering onboard accessories, and 240V hook-up.
Sargent power management system and controls.
Tambour doors.
Storage space and overhead lockers, with the rest of the panelling made from lightweight plywood
M1 pull-tested bed, fully lined and insulated with Veltrim, HydroWeld, and Peace Matt.
Fresh and waste-water tanks with a 12V pump.
Belts for the rear-seats; the Transporter conversion should fit 5 people comfortably.
How Does The VW Transporter Campervan Conversion Drive?
Underneath, the VW Transporter runs on a 2.0-litre turbocharged diesel inline-4. It's adequate for around 101bhp and 250Nm of torque. It's a van, so you're not expecting any trailblazing speeds here, are you? However, you'd be surprised at just how well it hauls down the road, even for what might seem like paltry performance figures. Give it the beans, and it's modestly quick.
Suffice it to say, when you really need to rush to your next campsite, it should be able to handle that just fine. The 5-speed manual gearbox does shift rather smoothly, too. Although, a campervan like this deserves to have a proper DSG transmission. Alas, it's a roughly £2,500 option, so that's a pricey luxury to have. The rest of the driving experience is what you'd expect out of a van.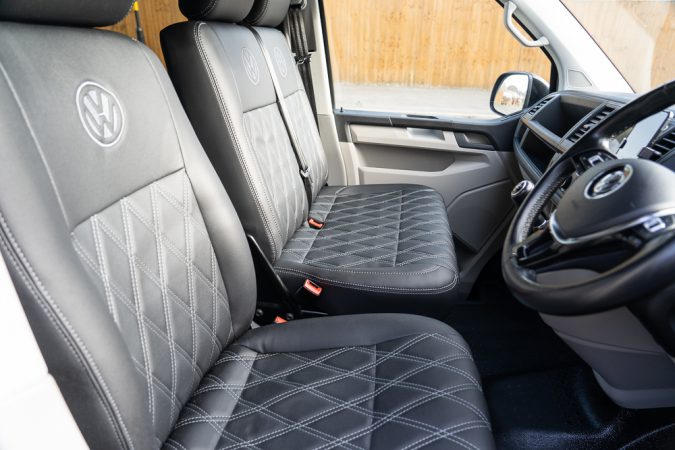 As a consequence of the conversion, the front seats are a bit higher up now. Though, it remains to be a comfortable cruiser for longer drives. One important note here is the tyres. First and foremost, we do have the optional 20-inch Velare VLR wheels on it. Okay, so maybe 20-inch alloys aren't entirely necessary to get the complete campervan experience.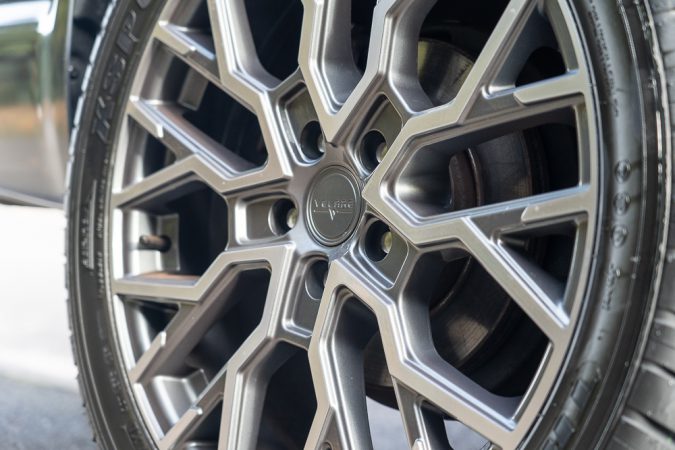 But in a dark graphite finish contrasting against the black paintwork, it does look the business. The downside of these optional alloys – as lovely as they appear – is that they come with fairly cheap tyres. It's not every day that you come across the Rotalla XSport F110. On the bright side, our time with the Transporter ought to give us plenty of insights on how bargain tyres like these perform.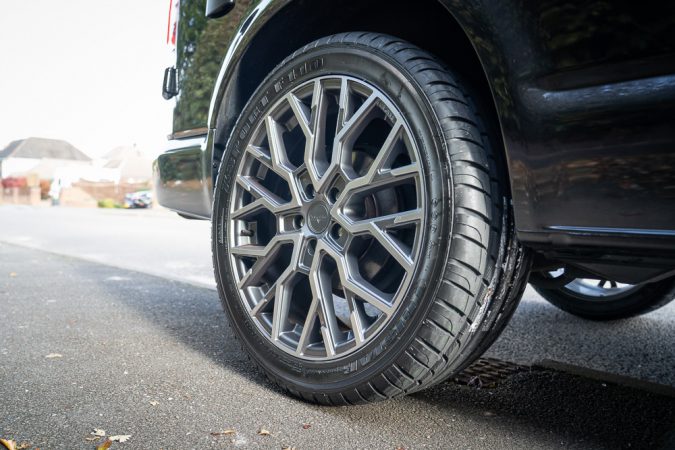 Additionally, it'll be interesting to see how long they'd last, and how they wear over time. One of our bucket list items will be upgrading these down the line for a better set of rubber. As we noted earlier, the key advantage of the Volkswagen Transporter as a camper is its size. An American-style RV would undoubtedly get stuck in the narrow hedgerows of old England.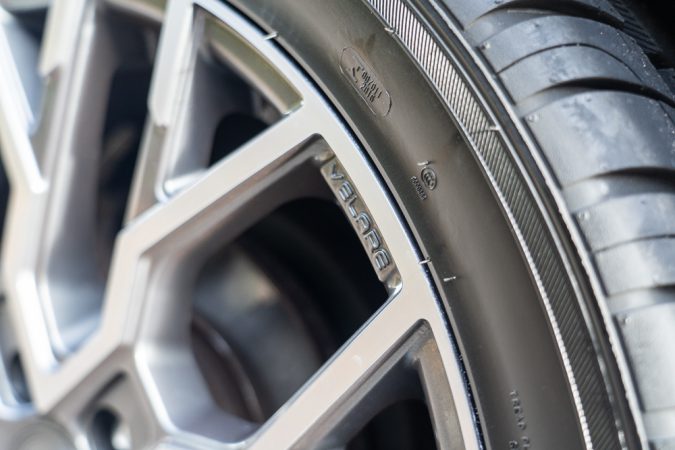 How Are We Going To Test Out The Transporter-Camper?
The Transporter, on the other hand, would do just fine. Better still, it's diminutive enough that we can navigate around some of the smaller coastal roads and hilly passes without fear of getting ourselves stuck. Simply put, we're quite excited to embellish you with the details of that first-hand experience with camping out in the Transporter. That should hopefully come along soon enough.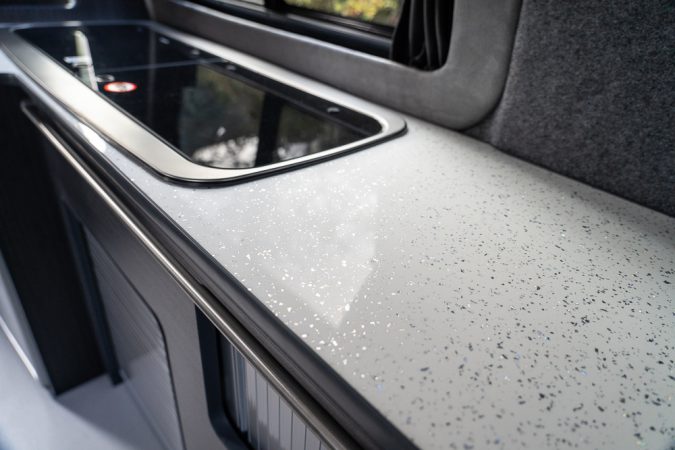 As winter sets in (as I write), it's hardly a wise idea to camp openly in the frostbite. Nonetheless, we'll be testing our home-away-from-home in the following months, once the snow starts melting. At that point, you can join us as we hop from one idyllic scenery to the next. Maybe, we'll head over to Europe, as well. This way, you'll get to experience and see what it's like to live in our VW Transporter day-to-day.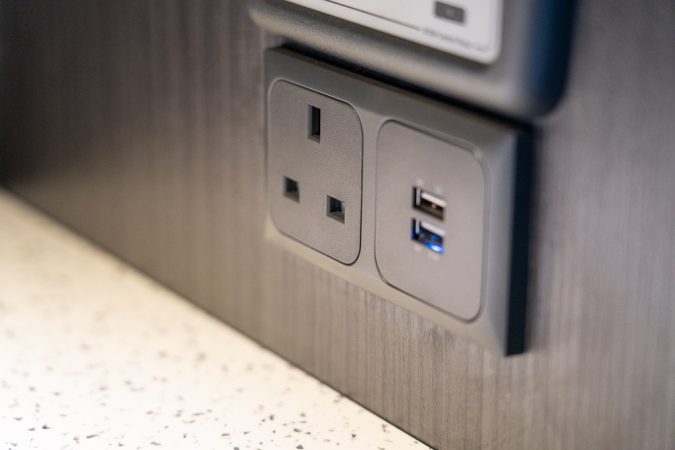 Upgrades
Engine Remap
With the van in great shape, the one thing it needed was a little more power, to help hall everything around. With some help from Unleashed Tuning we were able to get around 35% more power out of the engine and has completely changed the driving experience. Read more about the remap here.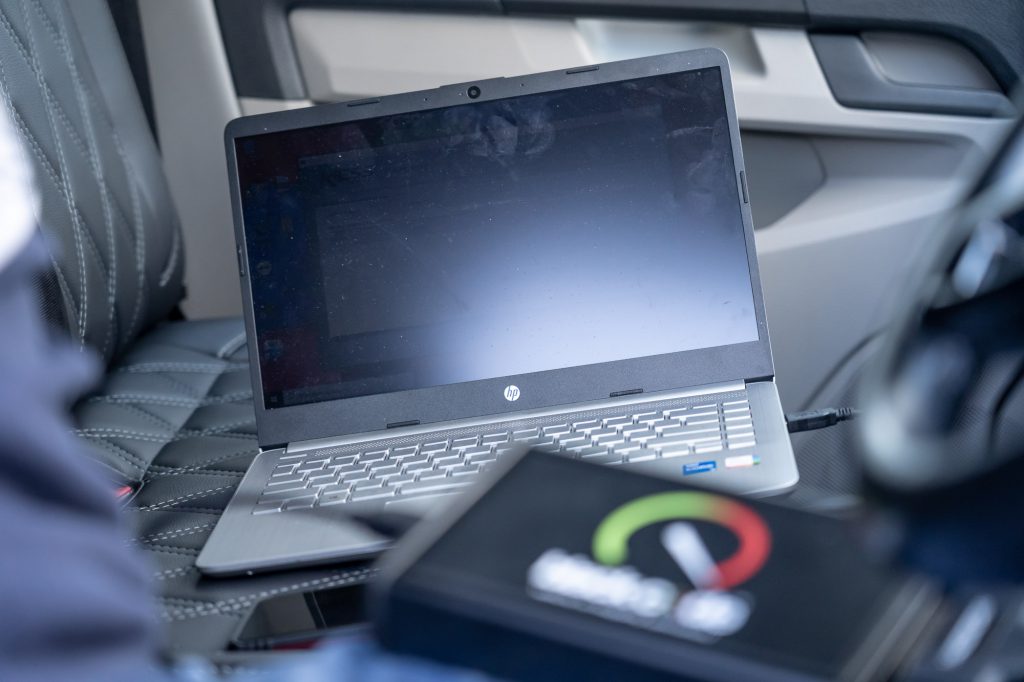 Are We Planning Any Upgrades For The Transporter In The Future?
As a matter of fact, we do have quite a few ideas on how to make this already pretty good camper into a perfect one. We'll just need to tweak a few things here and there…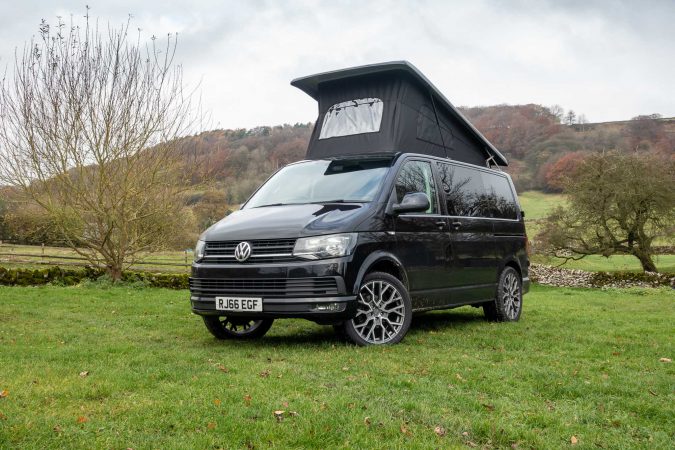 Exterior Styling – We're thinking of making it look at least a bit more sporting and athletic. That should be fitting for the kind of lifestyle that we'll be embracing while we're on the go.
Bike Rack – It wouldn't be a true outdoor experience without your bikes.
Suspension – Lowering the springs ever so slightly is certainly on the cards, as its current form does sit rather high off the road.
Infotainment System – The techy bits and bobs in here as is, while still acceptable, isn't the most ideal if you're going to spend weeks on end with it. That's especially so when it comes to driveability and ease of use. As such, we're thinking of adding a built-in infotainment system with an aftermarket head unit.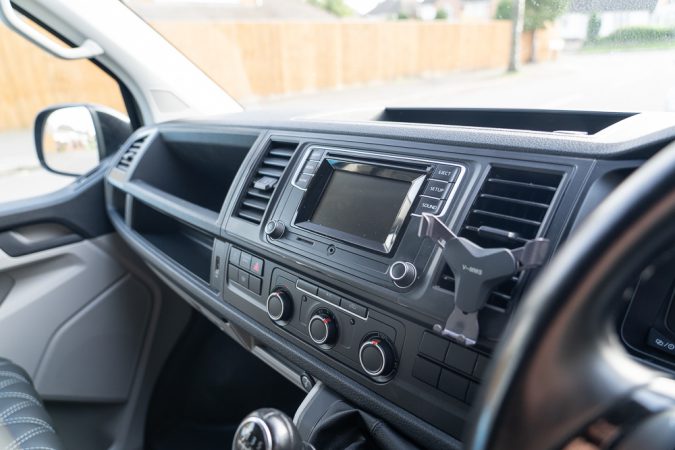 Reversing Cameras And Parking Sensors – While we're installing a larger screen, it would be nice to exploit that extra real estate with a reversing camera. In addition, we'll also consider fitting in some extra sets of parking sensors, especially around the front. With all those cabinets and closets in the back, visibility isn't what we'd call, good.
Electric Camp Heater – One of the reasons why we're avoiding testing this in the wintery seasons is due to its onboard heating. It… Doesn't have any. Not at the moment, anyway. The Transporter does have its standard fan heater, and I suppose you could start cooking and boiling something in the kitchen to keep things warm in there. But as a whole, a dedicated interior heating unit would be a boon.
How About Maintenance On The Transporter?
Another vital deciding factor of why we picked the VW Transporter T6 Highline is its ease of servicing and maintenance. So far, it's proven itself to be among the most reliable of the People's Cars, and it's a great high mileage cruiser. Only a few things hither and tither are susceptible to going wrong. Even when it does come time to have it patched up, repairs and running costs are generally affordable.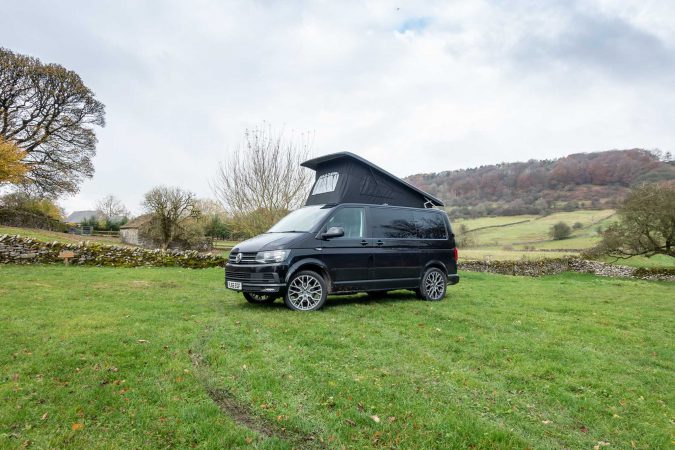 That approachability is aided by how little you need to baby it. A thorough service is expected every 2 or so years. This should give us plenty of time to dedicate to enjoying it outdoors. We have a battery conditioner aboard to keep the batteries in good health. Moreover, the water pump and timing belt have just been replaced. We'd say this Transporter is ready for a spot of camping now.
Final Thoughts; More Of Our Transporter-Campervan To Come…
For now, we'll get our little Transporter cosied up for a brief hibernation, and have it prepped for the coming months. You'll definitely see more of it soon, as we embark to head over to our nearest Tesco to get some supplies. Mainly, a pack of sausages and burgers for a BBQ. Until then, we'll be eager to test out our first campervan and see if it really is the best camper for us here in the UK.