Are you thinking of reselling your Tesla Model 3? Chances are that you will not get the same investment you made on the car but it would be great to get a good amount for your car.
One of the things you can do to guarantee that is by keeping your car in mint condition and that means that it needs to be clean and stain-free.
With the top floor mats for Tesla Model 3, you can trap all the dirt and capture any stains so that your car looks and feels as good as new.
However, you cannot just go and pick the first mats you come across so here are some factors you should consider before making your purchase.
Mat Thickness
As you search for the perfect all-weather floor mats for your car, you want to keep in mind that thicker mats are better in terms of comfort.
They are also heavier so you can rely on them not to move much as you drive. You would think that is all they have to offer but you will be pleasantly surprised to find that there is more.
Heftier mats are also good at trapping dirt and debris as well as absorbing liquid. You may also want to note that they do not curl or crack as is the case with thinner mats.
Build Material
Car floor mats come in different materials with the commonest being rubber and fabric. You, therefore, want to pick based on the ease of cleaning and durability.
Now, rubber mats are waterproof, durable, and easy to clean. This makes them ideal for muddy or humid areas.
On the other hand, fabric mats give a cozier feel to your car and are comfortable to step on. They also absorb liquids well.
The only concern with them is that they tend to wear out faster and accumulate dirt easily. The cleaning process also requires a bit of effort on your part so if you are not too keen on doing that, you may want to go the rubber way.
Ridges And Edges
The perfect mats for your Tesla Model 3 floor have to come with high edges that will contain spillages and debris as well as prevent them from getting to your car's floors.
You want to note that your car's floor mats will remain cleaner for longer if you do not deep clean them often. Some of these floor mats also come with ridges and grooves to channel water away from under your feet and we recommend going for such.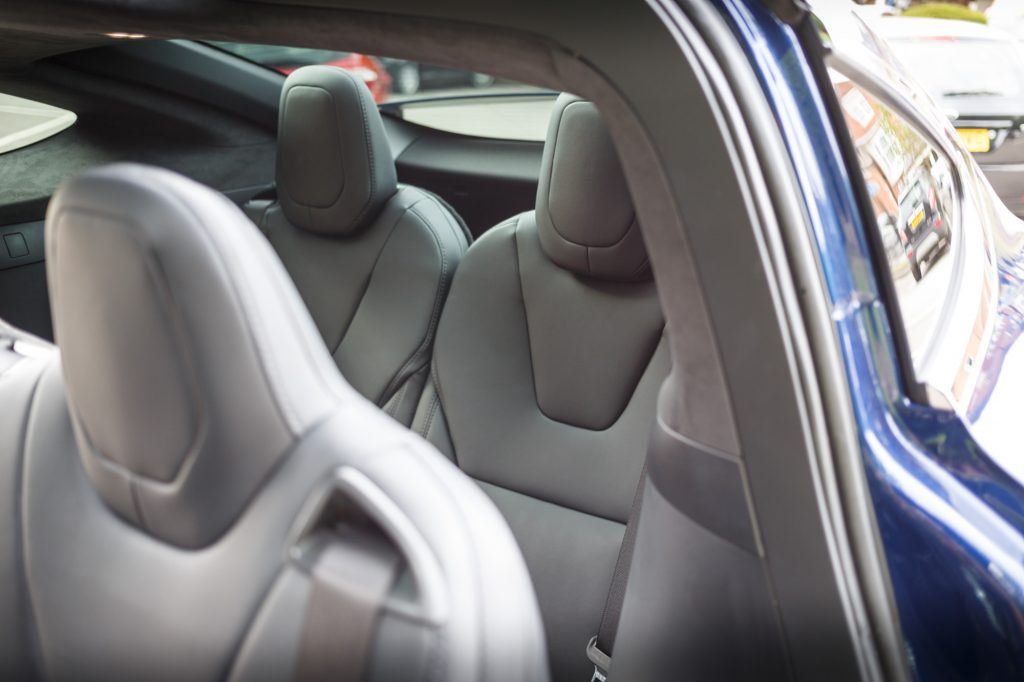 The Design
As you may have imagined, car floor mats come in an assortment of colors and styles to meet different preferences and tastes.
In that regard, you have the freedom to pick a set that matches your car's interior or one that exhibits your style.
That said; you want to ensure that the ones you pick do not sacrifice functionality for elegance. You want to ensure that they are easy to clean and maintain as well.
Mat Underside
What role does the underside of your mats play? An important one for sure! The thing is that you want the underside to be grippy rather than slippery.
This will ensure that the mats do not slide or shift out of place as that can expose the floor to dirt and spillages or worse still cause accidents in the car.
Pick mats with nib or teeth that will hold firmly onto the floor to avoid such.
Helpful Tips
Here are a few tips to help with your purchasing decision.
1. Always go for floor mats that will fit your vehicle model perfectly. That way, you get full coverage and protection for your car.
2. Clean the mats regularly to eliminate unpleasant smells that may have been absorbed by the mats especially if they are fabric.
3. Handwash the mats with water and mild detergent or vacuum clean them rather than cleaning them in the washer as they may cause damage.
Final Thoughts
All-weather mats can protect the interior of your car as well as improve its look. With such a combination, there is no way you are going to be played in case you intend to re-sell yours.
Get one with all the features we have talked about and you have a winner.
AI Car Expert Thinking 

.

.

.