Every nature enthusiast loves camping. They want to go to different places to enjoy various sceneries; mountains and lakesides are just two of the most common camping areas. A pop-up camper is one of the best choices to enjoy nature!
However, buying a camper could be difficult, especially since there are things to consider. Aside from the pop up camper cost, there are other things you need to put into consideration.
You want the camping experience to be fun, so it's best to take note of these five factors.
1. Weight
The camper's weight is a critical feature that you should check. Since you'll be using your truck to pull it, it should be light enough. Campers usually weigh about 1000 to 1500 kilograms, depending on the manufacturer.
A pop-up camper is an excellent choice because they are lightweight and easy to tow. They are also ideal for most terrains, including narrow roads.
Checking your truck's lifting capacity is essential. When your vehicle has enough power, you won't have any problems traveling with your camper.
Remember that even though your truck can lift 2500 kilograms, it's best to use 60%, making it about 1500 kilograms for the camper's weight. Loading your camper with people and supplies that you need could exceed the total weight.
2. Bathroom Or Toilet
Traveling with your camper is exciting. Imagine the long trips, listening to music as you drive, and having fun with friends or families.
However, when you're in the middle of nowhere and suddenly nature calls, you don't have enough time to look for a portable toilet. Unfortunately, not all camper models have toilets and bathrooms.
If your destination doesn't have a toilet around, or perhaps you're traveling long, consider a camper that has a toilet and bathroom. Don't forget to bring the cleaning agents to ensure excellent hygiene.
You might think that if you are camping in a place where toilets are always available, or perhaps your route has establishments along the road, you'd be fine without the bathroom. However, toilet emergencies could happen, so it's better to be prepared.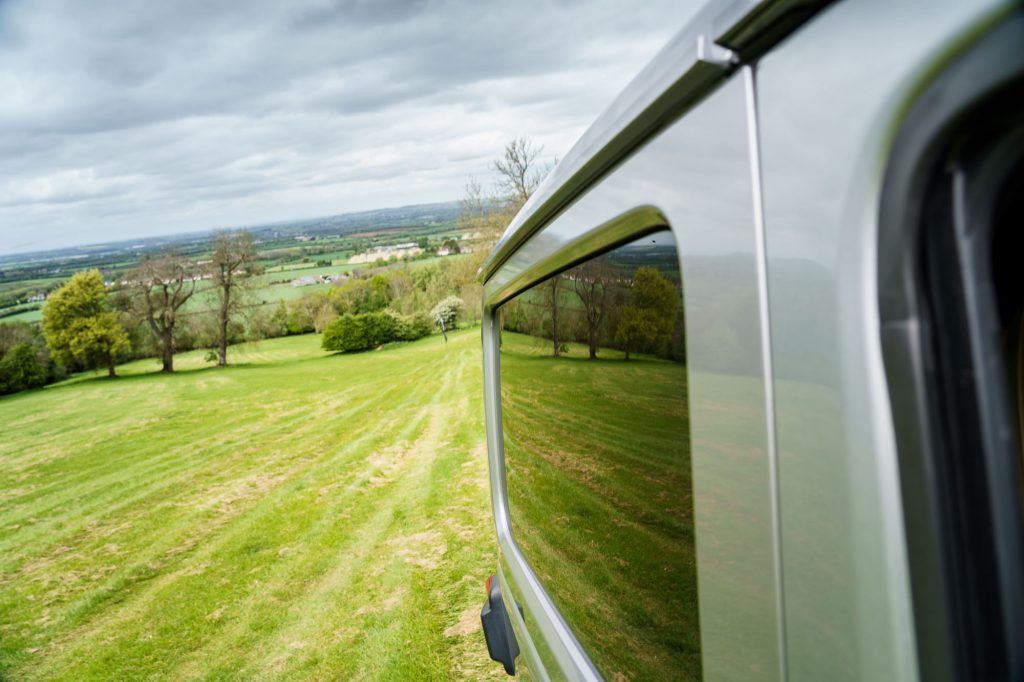 3. Sleeping Capacity
Camping is a perfect bonding time with friends and family while enjoying nature. Even though you want to enjoy the surroundings, you don't need to compromise your sleep. Instead of sleeping outside, you can have a more comfortable sleep inside.
Sleeping inside the camper also promotes safety as there are no insects that could harm your skin.
Pop-up campers are relatively small, but that doesn't mean they cannot have any sleeping areas for more people. Some campers have an A-Frame that can be extended in sections, allowing more people to fit inside.
Some camper models can provide bed space for seven people. They usually come in king and queen-sized beds, with sofa beds for people to sleep in at night.
4. Storage
Pop-up campers are investments. You'll be using them to have quality time with your loved ones. The best thing about them is that they are small and can usually fit in your garage.
If you don't have a garage, or it doesn't fit inside, you can buy a cover to protect your camper. We recommend buying durable and waterproof covers to withstand extreme weather conditions.
If you live in an apartment, storing the camper will be challenging. The most common way is to rent a storage unit to keep it from any hazards. Since the camper unit is small, you won't need a large storage unit; a small one should suffice, saving you money on rentals.
5. Climate Control
Climate control (or humidity switch) controls the temperature inside the camper. It keeps the warm temperature inside, despite harsh weather on the camping ground or in the storage space.
Similar to toilets, not all campers have one. If you live in a mild-weather area, you might disregard this feature. However, if you camp in places where it's hot or freezing, it could affect your camper's condition from the inside.
Before buying pop–up campers, check whether you need one with climate control. In case you need one, you'll have more comfort using the camper, and it will give you no worries when storing it as there will be less chance for mold and mildew buildup. If you see any signs, remove mold and mildew right away.
The Bottomline
Camping is a great activity to be one with nature. You'll be able to relax and clear your brain from daily things that give you stress. However, there are things you need to consider when buying a camper.
Consider the factors we mentioned above to buy the best camper on your budget and, at the same time, get the comfort you want for your excellent camping experience. You will enjoy the time with your family and friends, and probably turn it into a regular activity.
AI Car Expert Thinking 

.

.

.