Carfax is one of the biggest vehicle history report providers. They generate reports on used vehicles for buyers and sellers. These reports help the buyer make informed decisions while searching for the right and most reliable vehicle to purchase from any dealership. Although Carfax is popular, there are many other options available for consumers. Whether you would like to buy a vehicle, sell a vehicle, or are interested in the vehicle history of a particular vehicle, these are the top 9 cheap Carfax alternatives you should try in 2023.
Cheap Carfax Alternatives
The cheap carfax alternatives and car reports other than carfax that we would recommend are
Detailed Vehicle History
Instant VIN Reports
Vehicles Report
AutoCheck
VINCheck.info
FaxVIN
CheckthatVIN
AutoFax
VINsmart
1. Detailed Vehicle History
Top of our list of cheap Carfax alternatives is Detailed Vehicle History, the best alternative to Carfax. This is one of the most reputable companies offering vehicle history reports. They are renowned for producing reports that are precise, concise, and easy to understand. A vehicle history report, generated by VIN or license plate number, from this report company is a cheap and more preferred alternative to a Carfax report, as the reports are more detailed, contain more information, offer great customer service, and are 33% cheaper than Carfax reports.
In a vehicle history report from Detailed Vehicle History, you will find theft records (if any), auction history with pictures, service and maintenance history, accidents and damage history, lien and loan history, title records, ownership records, vehicle specifications, equipment details, and more. There are no restrictions on Detailed Vehicle History, as they can generate reports for vehicles like trucks, motorhomes, motorcycles, and automobiles.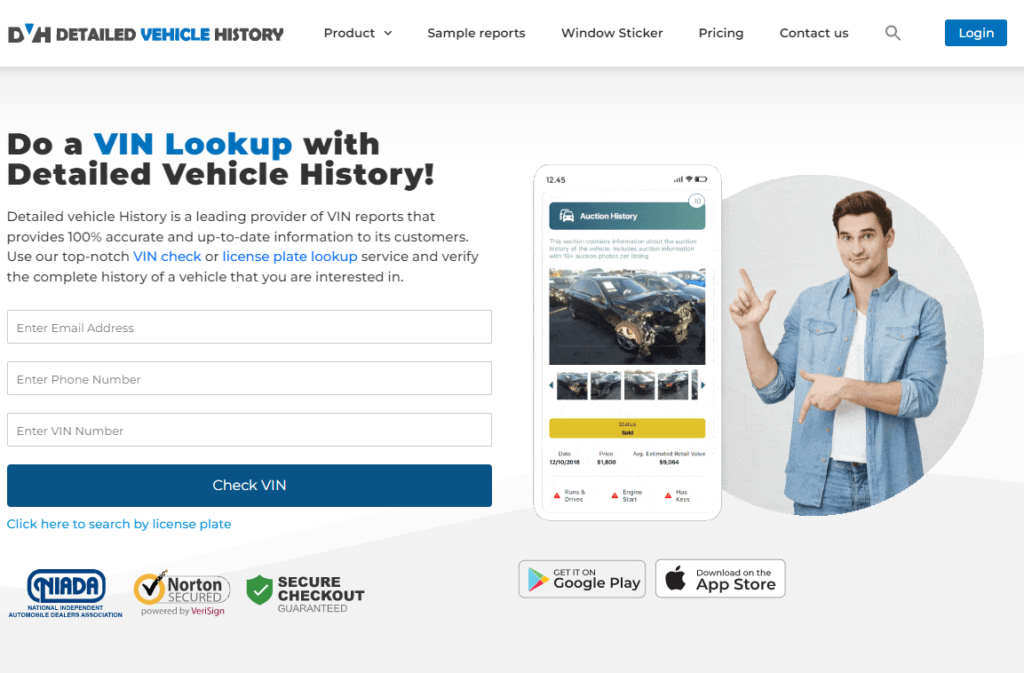 Detailed Vehicle History also offers additional services and discounts on the generation of window stickers for all manufacturers, window stickers for classic cars, support for build sheet creation for classic cars, vehicle history reports for classic cars, auction history lookup with images, custom window sticker generation, and more.
Detailed vehicle history continues to showcase its strength as their mobile app has OCR technology and supports offline VIN decoding. The DVH mobile app is also available for both Android and iOS users.
2. Instant VIN Reports
Instant VIN Reports is a company that provides vehicle history reports that are better than Carfax reports in terms of accuracy and comprehensiveness. The vehicle history reports are generated using just the vehicle identification number or the US license plate number. This cheap carfax alternative covers a wide range of histories compared to Carfax.
For example, Instant VIN Reports provides vehicle history to the general public with auction history provided, while Carfax does not. Alongside auction history, Instant VIN Reports also provide access to accident and damage histories, ownership information, title records, theft records, market value, vehicle specifications and equipment details, safety recalls, and more.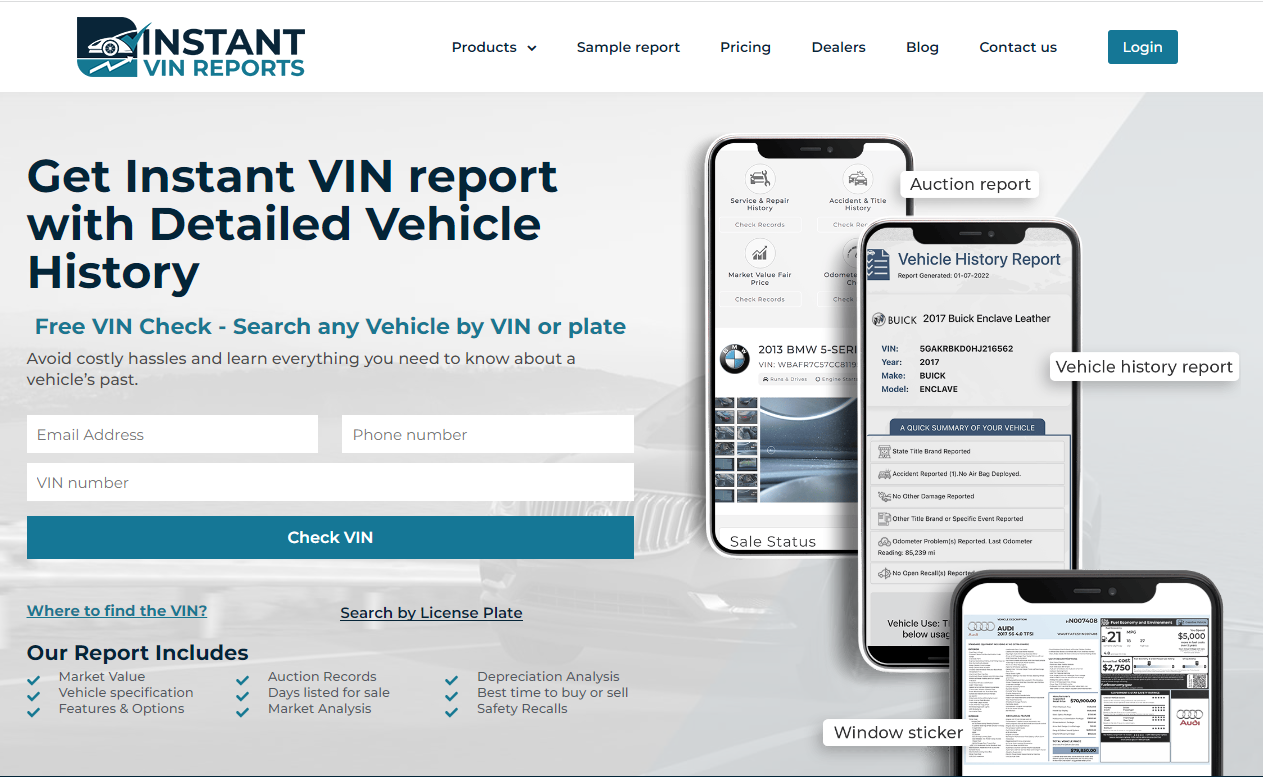 Compared to Carfax reports, reports from Instant VIN Reports are more concise, comprehensive, and preferred, and they stand as an improved, cheaper alternative to Carfax. You get to pay less for more value. With the information contained in a vehicle history report from Instant VIN Reports, you can make informed decisions and end up with a reliable vehicle. Other products offered by this company include window sticker generation for both regular and classic vehicles, the generation of vehicle history reports for classic cars, and more.
3. Vehicles Report
Did you know that you can actually have vehicle history reports from Vehicles Report that never expire? better than Carfax, right? Not only does this cheap Carfax alternative provide reports that are relatively cheaper than Carfax, but they also provide auction images and lifetime access to generated vehicle history reports. Their reports are downloadable as pdf files, and you would even get a copy of your report sent to your email. With a report from Vehicles Report, you have full access to the hidden history of your vehicle.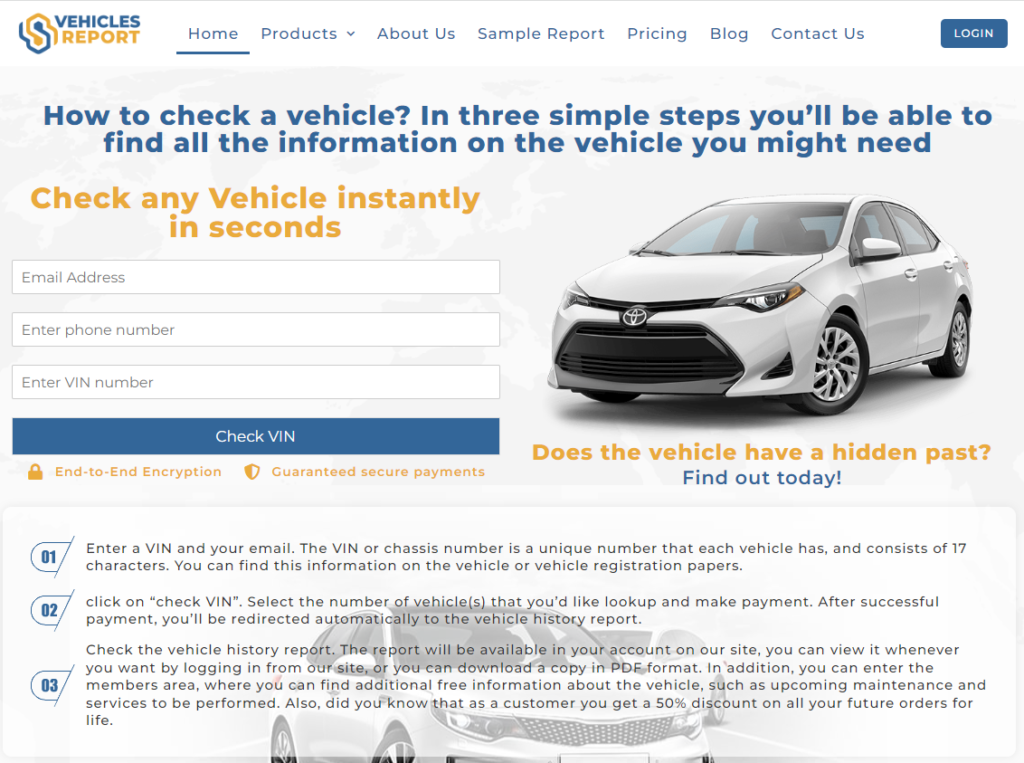 They provide comprehensive auction and sales histories with detailed pictures, theft records, odometer records, ownership histories, lien and loan records, accident and damage histories, service and maintenance histories, and more. Vehicle buyers and sellers can even generate window stickers for their vehicles to gain access to the full vehicle specifications, MSRP, interior and exterior features, and more. Other products offered by this cheaper alternative to Carfax include the generation of classic vehicle histories, custom window stickers, and more.
4. AutoCheck
AutoCheck, a cheaper version of Carfax, is a company that generates vehicle history reports. The ability to evaluate the history and condition of several automobiles side by side is one of the additional services that AutoCheck provides. Additionally, they provide a service called Score that rates vehicles on a scale of 1 to 100 depending on their history and current condition, making it simpler for customers to see a vehicle's overall quality at a glance.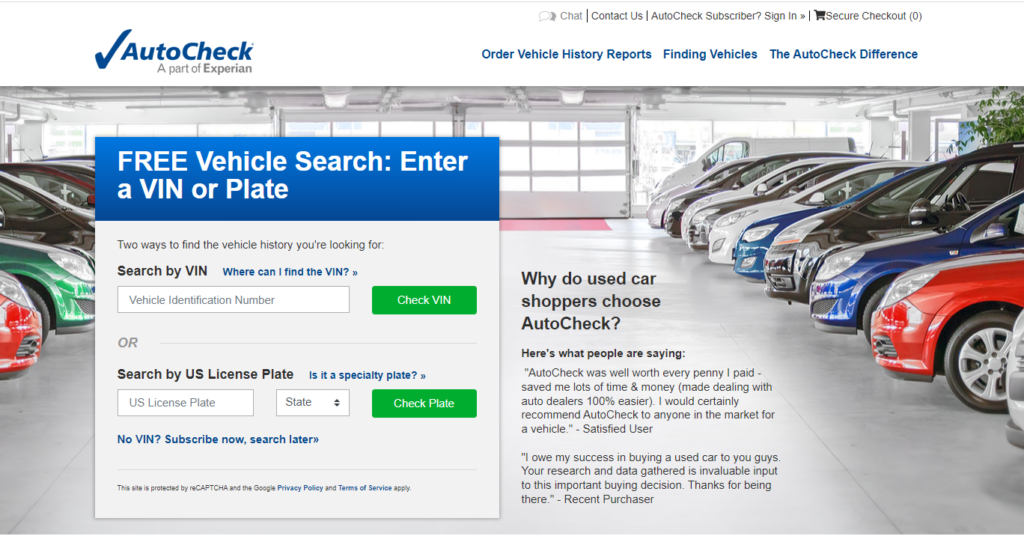 One of the major differences between AutoCheck and Carfax is that AutoCheck provides some level of information on auction history, whereas Carfax does not. This vehicle history provider provides other details such as the ownership history, accident and damage history, title brand, odometer records, and more.
5. VINCheck.info
This is another alternative that is better than Carfax. If you are looking for a cheaper version of Carfax and a free platform where you can get information about the history of your vehicle, then VINCheck.info is one of the free platforms you can navigate to. All you need to do is enter the vehicle identification number of your car and click "Continue."

You will gain immediate access to your vehicle's market value, vehicle specifications, equipment details, fuel efficiency, safety rating, inspection checklist, recalls and defects, current warranty, and auto insurance, among others.
6. FaxVIN
If you are looking for yet another Carfax-like report provider, then turn to FaxVIN. FaxVIN provides vehicle history reports and past vehicle details in clear and concise documentation. In their reports, they detail both significant and minor damages, accident histories, inspection findings, mileage and odometer readings, auction histories, etc.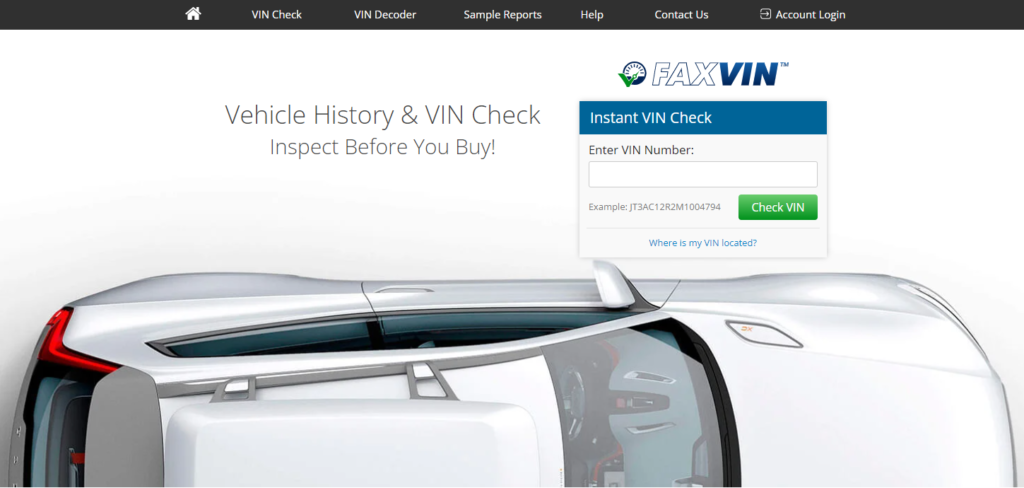 They create reports for both individuals and businesses, and they do so at a discount. To generate a vehicle history report from FaxVIN, visit the company website and enter your 17-character VIN number, and you will be granted access to your vehicle's history.
7. CheckthatVIN
CheckthatVIN is another good platform for obtaining a vehicle history report at a lower cost than Carfax. With CheckthatVIN, you will be exposed to a car's model, year, make, insurance company, and some other basic information. Vehicle history reports generated by CheckthatVIN contain accurate information as data is collected from the National Motor Vehicle Title Information System (NMVTIS).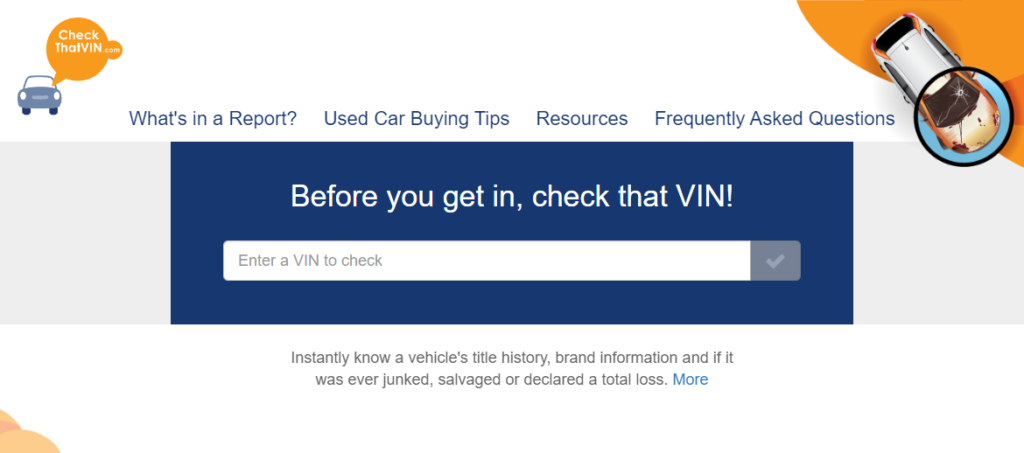 Other information contained in a vehicle history report from CheckthatVIN includes title and brand information, junk, salvage, or rebuilt reports, odometer readings, and insurance reports, among others.
8. AutoFax
Another cheap Carfax alternative is AutoFax. AutoFax generates really simple vehicle history reports and provides vital information that a consumer would require before a vehicle is purchased from the dealership.
Although simple, it provides information on ownership history, title brands, open recalls, service history, odometer history, lien and loan information, and more. To generate a vehicle history report from AutoFax, you have to locate your VIN number and visit their website. They do not ask you to create accounts, and you can get refunds if you are not satisfied with your report(s).
9. VINsmart
Last on our list, but most certainly not least, is VINsmart. This is another affordable alternative to the Carfax report when it comes to generating vehicle history reports. Reports from VINsmart are reliable because they get their data from government databases such as the NMVTIS and NHTSA.
With a vehicle history report from VINsmart, you can uncover your vehicle's ownership history, recall history, theft history, lien and loan history, damage history, and title brand history, amongst others.
Other carfax-similar sites that provide Carfax-like reports are
Premium VIN
VINCheck
KBB
NICB
Vincheckup
Truecar
Titlecheck.us
Bumper
EpicVIN
BadVIN
VINAudit
VINPit
Certain government sites also provide vehicle history reports. Such as
There are other websites like Carfax available to the general public and they are available to make sure that consumers walk out of dealerships with reliable vehicles. Ensure you get a vehicle history report today.