Are you on the market for a pickup truck, and you are excited by the news that Toyota will introduce a Toyota Tacoma diesel variant similar to the famous Hilux? If this is the case, then you are at the right place because we are going to cover everything you need to know when it comes to the Tacoma and more.
Getting yourself properly informed before you jump on the market and purchase a vehicle is key for you to not make big mistakes. Because the decision of spending a lot of money on a specific vehicle can be regretful sometimes.
That's why you need to open your eyes and study the market really well if you want to get a good deal for yourself and your budget. If the Toyota Tacoma diesel is one of your choices then you should get yourself properly informed on this model. Its release dates, the specs, and the trims in this model will be offered. And we are going to help you out with that.
First, we are going to learn what is the Tacoma for those who are not familiar with this model. Then we will learn something about diesel technology. Since this is a diesel truck and diesel vehicles are pretty rare in the US when it comes to regular use cars. We will learn the advantages and disadvantages of diesel. After we will learn the specs in which the Tacoma is offered and whether should this truck is a good deal for yourself and what are the alternatives. So, let's dive into it.
What Is The Toyota Tacoma?
The Toyota Tacoma is a mid-size pickup truck that is sold in the US market. This pickup truck was first introduced in 1995 and is still in production. At the moment the Tacoma is in its third generation.
The Tacoma is the North American replacement for the famous Toyota Hilux. They share a lot of components between them and basically, they are of similar size. Other vehicles of similar size are the Ford Ranger, Nissan Frontier as well as the GMC Canyon, and Chevy Colorado.
But when it comes to the mid-size category, the Toyota Tacoma is the king when it comes to sales. If the big three which are Ford, Chevy, and Ram are ruling the full-size market. The mid-size is ruled by Toyota Tacoma.
With more than 200,000 sales per year, the Tacoma gathers the most attention. The competition is far away with the closest Chevy Colorado struggling to hit 100,000 sales per year. This tells quite a lot about the Tacoma and its popularity.
But it's not only about the fuss, there is still something deeper to it. During these long years of production, the Tacoma has created a name for itself with its Toyota build quality as well as the performance that it delivers. Toyota also always tries to improve the Tacoma and create new features. Making the model last for so long.
And one of the features that Toyota plans to do is to add a diesel engine into the lineup. With a brand new Toyota Tacoma diesel model for the next year. Pretty exciting news I must admit. But before we cover that, let's first see how diesel engines work.
How Diesel Engines Work
Diesel engines work pretty differently in comparison to gasoline engines. Instead of relying on a spark to ignite the fuel, diesel engines rely on compression. This means that diesel engines have tremendous compression ratios.
These compression ratios are far beyond what a gasoline engine could handle. A few times more in some instances. The diesel engine block and the head are manufactured out of steel. Which makes them extremely durable.
The pistons are also extremely strong and designed to withstand this high compression. Compression ignition is needed in diesel engines because diesel fuel doesn't ignite on spark (in addition to worry about why is diesel so expensive). It is extremely difficult for diesel fuel to ignite.
That's why a direct injection system with high-tech injectors and strong fuel pumps are needed to start the engine over. In addition to this, there should be some forced induction.
Diesel engines by nature are very slow. Because of the diesel fuel which has extremely low octane ratings. That's why engineers have gotten the idea to use a device called a turbocharger to boost these engines and deliver more power out of them.
With a turbine, diesel engines behave a lot better than without. They almost match the engine in horsepower numbers and outperform them in torque.
That's why there are a lot of advantages to running a diesel engine. But as well, there are some disadvantages concerning this technology. And before we cover the Toyota Tacoma diesel spec, we are going to focus on the advantages and disadvantages that you will experience by running a diesel engine.
Diesel Engines Advantages
Let's first discuss the advantages of diesel engines. We will learn in-depth what these diesel offer to the table when it comes to usability. Because if you get a Toyota Tacoma diesel you still need to feel some benefits.
1. Diesel Engines Are Fuel Efficient
That's right, diesel engines are a lot more fuel-efficient than gasoline engines. This number is sometimes more than 50% more efficient. Which is crazy, to be honest. So, how come?
This is because diesel fuel ignition is less powerful. But when it ignites, it delivers quite more power. More power means more energy available for the vehicle to move.
So, if you make a Toyota Tacoma diesel, you have an extra fuel-efficient vehicle. And I don't know why Toyota didn't think of this by now. The Hilux easily gets 44 mpg. So, if Toyota decides to release the Toyota Tacoma diesel, you can expect that the Tacoma will have this excellent fuel economy as well.
Imagine how many miles you can drive with only one tank? That is impossible if you are using a gasoline engine. That's why so many people prefer the diesel option
2. They Deliver A Lot Of Torque
Another benefit is the power delivery. Comparing this with a gasoline engine it is a day and night difference. Gasoline engines might take off at the start line much quicker. But the torque that diesel engines make is incredible.
They have so much more pulling power than gasoline engines that is crazy, to be honest. The low-end torque at low RPM is the place where these engines shine.
And that type of torque is needed if you want to haul stuff with your truck. With a gasoline engine, you could struggle to move it off the place. But a diesel engine doesn't break a sweat at all.
So, if you haul things or you tow things. The new Toyota Tacoma diesel might be the truck that you need. But enough of the positives, let's look at the negatives. Because there are still some negative things concerning diesel engines.
Diesel Engine Downsides
In the following chapters, we are going to cover some of the negatives of running a diesel truck. They also need to be covered since you need to be aware of the drawbacks as well. So, let's begin.
1. Expensive To Purchase And Maintain In The Long Run
Diesel trucks are quite more expensive to purchase than regular gasoline trucks. They are an investment and if you really need one of these machines, the investment will return eventually. Because you will be able to do so much more with this truck than with the regular gasoline-powered truck.
Also, when they get a lot of miles, the repairs are getting pretty expensive. Mostly injectors, fuel pumps, and turbos. Those are the things that you need to be aware of when getting a diesel truck. Each of these components can cost thousands to replace. The block itself can withstand almost anything that you throw at him.
2. Diesel Is More Expensive Than Gas
Diesel fuel is also more expensive than your regular gas. Not by a crazy amount but only a slight. This makes diesel a good option for trucks and other big pieces of machinery.
3. They Pollute A Lot
The biggest drawback of diesel engines is that they pollute quite a lot more than gasoline engines. When the diesel fuel burns, it creates particles that go into the air. These are called Nox particles and are harmful to us humans.
That's why Germany who favored diesel engines until recently, slowly is starting to get rid of them. But if you drive it a lot in the country, you will not have problems with these things. In the city is where these trucks are mostly regulated, especially in California and New York where the emission standards are quite stricter than elsewhere.
But what about the Toyota Tacoma diesel? More on that we are going to cover in the following chapters.
Toyota Tacoma Specs For 2022
The present generation of the Tacoma is in production since 2015 and still looks quite modern and up to date. Even though there are some speculations that this model will be replaced for the 2023 model year with a new generation. But these things are only speculations and there is nothing serious yet. Similar to the Toyota Tacoma diesel option that is widely speculated in the public. Even though there is nothing yet official from Toyota.
Nevertheless, the present generation is offered in 8 trim packages that range between $28,000 and $46,000. This is a big difference, to be honest. But with the most expensive TRD Pro version you get quite a lot more in comparison to the basic SR trim. We think that the Trail Edition that goes around $35,000 is the way to go since it offers quite a lot for what you pay and is still $11,000 cheaper than the most expensive one.
But what about the engines, are there Toyota Tacoma diesel options? Well, that's what we are going to cover next.
1. Engines And Transmissions For The Tacoma
The Toyota Tacoma comes with an option of two different engines. The base engine is a 2.7L straight-4 that is producing 159hp. While the more powerful option is a 278hp V6 engine. This engine is the way to go if you want to get a powerful truck that can haul quite a bit more than the competition.
The Toyota Tacoma diesel is speculated to be released for the following year. Toyota has hinted to us a number of times about this upcoming addition to the engine lineup. But still, there is nothing official yet. If this comes true, then the Tacoma will come equipped with the 2.8L straight-4 turbo diesel engine that makes 174hp. This engine is used on the Hilux for the European market.
But what is the most impressive with the Toyota Tacoma diesel engine is that the torque is available at the very low end. At about 1,200 RPM, which will make this truck perfect for towing.
In terms of transmissions, two options are available. A 6-speed manual transmission and a 6-speed automatic transmission. If you want a more engaging drive, you can go for the manual, this transmission is also quite cheaper. But if you opt for a more comfortable ride, then getting an automatic transmission could be your best bet when it comes to purchasing a new Tacoma.
2. Fuel Economy
The fuel economy is also good in the Tacoma. The 2.7L is getting 20 mpg in the city, 23 mpg on the highway as well as 21 mpg combined fuel economy. Which is respectable for a truck of this size.
The V6 engine is also good when it comes to fuel economy. With 19 mpg in the city, 24 on the highway, and 21 mpg combined is a good performer. There is not a big difference when comparing these two engines in terms of fuel economy.
But if everything gets to plan and we get the Toyota Tacoma diesel, you can expect the Tacoma to have an excellent fuel economy. More precisely somewhere around 40 mpg. A number that is quite good, to be honest. This engine would be the number one option for those who want a more efficient pickup truck.
3. Towing And Practicality
The powerful V6 engine equipped with rear-wheel drive can tow up to 6800 lbs and can carry a payload of 1685 lbs. Which is quite respectable. But it still lacks behind some of the competition when it comes to this. But why is this the case? This is the case because there is no diesel option available. While the competition has a diesel option available for the buyers.
So, Toyota is planning to introduce the Toyota Tacoma diesel variant to bridge the gap with the competition when it comes to towing and hauling.
It is estimated that with the introduction of the Toyota Tacoma diesel, the towing power will increase to 8,000 lbs and will surpass the Chevrolet Colorado that can tow about 7,700 lbs. But still, there is nothing official yet. We are only hoping that things will go through and we will see a Toyota Tacoma diesel soon.
4. Safety Ratings
According to the NHTSA, the Toyota Tacoma only got a 4-star overall rating. Which is good but it is not an excellent rating. And considering that this is a pickup truck that is quite large, this is understandable.
According to the IIHS, the Tacoma got a Good rating on most of the tests. Which is their highest grade when it comes to safety. As we can see this depends much on who performs the tests are how they are grading them. But overall, the Tacoma is not a bad performer. 4 stars is still quite acceptable.
5. Toyota Tacoma Price
The base price of the Toyota Tacoma comes at $28,000. This is for the base 2.7L engine and manual transmission. There are 8 trim levels as we mentioned. And as you climb up the ladder and spec out the best Tacoma possible which is the TRD Pro. You could end up paying $46,000.
That's why you need to study the trim levels in-depth to find the perfect trim for yourself. If you opt for sport go for the TRD and Trail Edition, if you opt for luxury, go for the Limited and Nightshade editions. Or if you want just a truck get the SR and SR5 which are the base models.
What Does Mean This Possible New Introduction Of A Diesel Engine?
The possible introduction of a new diesel engine could mean a new life for the Toyota Tacoma. A Toyota Tacoma diesel is an excellent option for people who want a diesel engine.
This will mean an increase in the sale numbers and many people would rather opt for the Tacoma instead of the Colorado or the GMC Canyon.
We still do not understand why Toyota hasn't pulled this off yet and introduced a Toyota Tacoma diesel. But we strongly hope that this will happen in next or the following years when the new generation will be introduced in the market.
But this also means that the customers are going to benefit as well. They will get the Toyota quality in a diesel package. Instead of searching elsewhere, they will be able to get a Toyota product and enjoy it. I bet there are thousands of people who need a truck that can tow up to 8,000 lbs and they have to look elsewhere to find their truck instead of buying a Toyota.
Should You Ge The Toyota Tacoma Diesel?
If it gets released, then yes, you should get a Toyota Tacoma diesel. A diesel engine is a jack of all trades. It delivers excellent power as well as very good towing capacity.
If you need a truck for hauling or towing stuff, then this should be your best bet to get a good workhorse for your business or your free time activities like taking your boat to the lake for fishing or towing your camper across the country.
But be aware that the diesel truck also tends to cost slightly more and see if it is feasible for you to get this truck at all. Since, why would you pay for something that you don't use? Diesel trucks are meant for heavy-duty use.
Overall, a diesel truck is an excellent purchase considering the benefits that you are going to get in the long run while owning this truck and the use that you will squeeze out of it.
Alternatives To The Toyota Tacoma Diesel
The alternatives that you have when it comes to diesel trucks in this segment are limited. The only two options available are the GMC Canyon and the Chevy Colorado. Which actually is the same truck with two different badges.
Both of these trucks are packing two Duramax diesel engines. One of these engines is a 2.5L and the other is a 2.8L, both are turbocharged. And are a really good option if you want to get a truck that can haul a lot of stuff.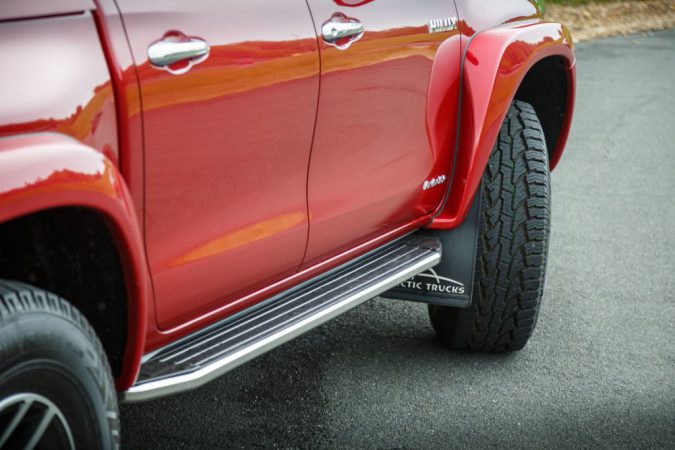 Other trucks are available, but they are in the full-size segment. Which means that they are quite bigger and rather expensive to purchase and maintain. Which you probably are not after since you look for something more compact.
That's why a lot of people are waiting for the Toyota Tacoma diesel variant and see some changes in this market. That's why we strongly hope that this news will come true and we will see a Toyota Tacoma diesel anytime soon.
Facts about the Toyota Tacoma Engine and Diesel Availability
The Toyota Tacoma is a popular truck and is considered an icon in the pickup segment.
The 2021 Toyota Tacoma comes standard with a 2.7-liter inline four-cylinder engine that is not particularly powerful and should be avoided.
The Toyota Tacoma is available with a V6 engine that can tow up to 6,700 pounds and produces 278 horsepower.
The Toyota Tacoma is not available with a diesel engine at the moment.
In 2019, Toyota filed a patent for a high-compression engine that could potentially run on diesel fuel, but it is uncertain whether this engine will be made available on the Toyota Tacoma.
The patent may also relate to the Toyota Tundra.
Alternatives to the Toyota Tacoma that offer a diesel engine as an option include the Chevy Silverado, Ram 1500, Ford F-150, and Jeep Gladiator.
Diesel trucks are often more fuel-efficient and can tow more than their gas-powered counterparts.
The decision to buy a diesel truck depends on personal preferences and needs.
If you're specifically looking for a diesel Toyota Tacoma, you may want to consider other options.
Conclusion – Toyota Tacoma Diesel
In this article, we have covered a lot when it comes to the Toyota Tacoma diesel. First, we have covered what is the Tacoma and we learned the main characteristics of this truck.
Then we took a look at the diesel technology and we learned how diesel engines work in reality and then we covered their ups and downs. Since you should be properly informed about the positives and the negatives as well when you are on the market for a truck.
After we covered the Toyota Tacoma specs and we learned the engines that the Tacoma is using as well as the transmissions and other interesting facts like the fuel economy, safety, etc. And we gave our comparison of what you should expect when the Toyota Tacoma diesel is introduced to the market.
Lastly, we gave our thoughts of whether this will be a good purchase and we also discussed the alternatives to the Toyota Tacoma diesel and as we pointed out there are two options. These are the GMC Canyon and the Chevy Colorado.