Have you been wondering which brand of vehicle to go for? Or, have you been searching for a new or used vehicle, but can't decide on which brand to go for between Toyota Vs Nissan. Then keep reading. It is common to hear drivers argue about the advantages and disadvantages of either Toyota or Nissan.
These two brands are the most popular Japanese automaker in the market. Which one of them has the features, performance, safety, and reliability that you crave for? Still, you can trust that both Toyota and Nissan are reliable companies. They both make affordable and good machines. Unfortunately, these alone don't help you decide on which brand is going to be your best.
This article is going to give you a better in-depth view of what both Toyota and Nissan brands offer. This will help you decide on which brand to go for between Toyota and Nissan.
In this article we discuss:
Reliability And Quality: Toyota Vs Nissan
Although both brands manufacture incredibly reliable vehicles, Toyota has proven itself to be the most reliable brand over the years. Its models can last for over 3 years and keep their value compared to Nissan models.
An example of a Toyota model that keeps its value is the Toyota Camry. It has kept 49% of its original value over three years. The Nissan Altima model will drop its original value to 41% after the same year.
Comparing JD Power and Associates reviews for dependability puts Toyota ahead, and if you give weight to a professional's ranking of reliability, then you acknowledge Toyota wins over Nissan.
Toyota also includes ToyotaCare for all its vehicles, which come with no maintenance cost plan for 2 years or 25,000 miles.
Talking about quality, Toyota has proven to deliver good quality models compared to Nissan. Toyota Tundra, for example, is a pickup that can rack up over 1 million miles on the original engine and automatic transmission.
Performance: Toyota Vs Nissan
Both Toyota and Nissan might be the best choice for you if, for instance, you are looking to base your decision solely on performance.
Both companies offer a variety of engine options depending on the need of a car, truck and also depending on your interest.
Nissan vehicles come with a sporty car with several features like larger wheels, a rear spoiler, and more. They are also far more capable and exhilarating performance machines compared to Toyota vehicles. However, Toyota models often lead their segments in fuel efficiency.
Nissan vehicles are also available in NISMO technology packages and more impressive trucks in terms of power and handling.
When talking about serious performance, the 2020 Nissan GT-R NISMO model can move from 0 to 60 in just 2.48 seconds at a top speed of 205 miles per hour, its closest competitor is the Toyota Supra, which can go from 0 to 60 in 4.1 seconds at a speed of 155 miles per hour. If you are then relying on performance solely, then you can't go wrong with the 2020 Nissan GT-R NISMO model.
Nissan then wins over Toyota in terms of performance considering the above-mentioned features of the Nissan models.
Affordability: Toyota Vs Nissan
Both Nissan and Toyota brands are direct competitors that offer model lineups. Nissan's, however, have more models at a lower starting MSRP. For instance, the Nissan Altima is about $500 less than the Toyota Camry.
Apart from having a lower starting MSRP, Nissans models are offered with higher discounts compared to Toyota models and this is all because there is a very large demand for Toyotas because of their reliable reputation.
Since Toyota has more models available than Nissan, then it opens up the price range to potential customers.
And because Toyota vehicles hold their value more than Nissans, they should noticeably be expected to be more expensive compared to Nissans, which are relatively affordable whether new or used. But you should go for Toyota since it is affordable in terms of maintenance cost for its really reliable, and always keeps its value for many years compared to Nissan, which are cheap but has a high maintenance cost.
Safety: Toyota Vs Nissan
Both Nissan and Toyota brands take safety seriously, ensuring that their vehicles are trustworthy. However, only Nissan models are developed with Nissan's safety shield standards.
Nissans' view of safety is to monitor, respond, and to protect with the Nissan intelligent safety shield technology These safety features include;
Blindspot warning.
Intelligent rearview mirror.
Intelligent cruise control.
Nissan's safety shield also offers monitoring power of rear automatic braking, and rear cross-traffic alert which Toyota models do not offer.
Toyota also provides a comprehensive host of safety features, such as;
Dynamic radar cruise control.
Lane tracing assists.
Road sign assist.
However, Nissan's models are more safe compared to Toyota's models. It offers more responsive features in the safety package, unlike Toyota Safety Sense, which offers a few responsive features of the safety shield.
Features: Toyota Vs Nissan
This section outlines both technological and standard features that are found in both Nissan and Toyota. This helps you decide which features meet your needs and can influence your choice of whether to go for a Nissan or Toyota.
Technology Features
The Nissan Connect is set up to combine entertainment, security, and navigation in ways that no other dash-mounted system can, not even the Toyota Entune System.
The following technology features can only be found in a new Nissan model.
Bluetooth streaming audio, Pandora and iHeartRadio SiriusXM satellite radio and Travel Link.
Available Nissan Connect Service powered by SiriusXM Emergency Response Services.
Nissan Connect navigation powered by Google.
Standard Features
Nissan models come equipped with a wider range of standard features since they rely on other factors than reliability to help their vehicles sell.
For instance, a package like Nissan Intelligent Mobility has more features otherwise comparable to the Toyota Safety Sense, since many used Toyota vehicles lack connectivity features like Apple CarPlay and Android Auto, which Nissan vehicles offer.
Cost Of Ownership: Toyota Vs Nissan
A vehicle's cost of ownership is affected by a variety of factors, including depreciation, reliability, and maintenance cost.
Nissan models may have a lower MSRP, yes, but Toyota is the cheaper one to own.
This is because Toyota vehicles are more reliable and have got lower depreciation and they also deliver better gas mileage.
Engine Power And Size: Toyota Vs Nissan
Both Nissan and Toyota brands have many engine variations. The base engines are only 4 horsepower apart in a raw measurement with the same sizes and number of cylinders.
The Nissan Altima has the advantage because not only does it get the extra horses that let its rate at 182 horsepower compared to the Toyota Camry's 178, but it also came out with better fuel economy that offers 27 mpg in the city and 39 mpg on the highway.
The Camry gets 25 mpg in the city and 35 mpg on the highway, which is still efficient but it is far behind to make a difference.
When both vehicles are upgraded, those difference disappears with the Toyota Camry managing 31 mpg and 268 horsepower to the Nissan Altima 32 mpg and 270 hp.
The difference in efficiency and power can be overcome by some particular driving styles, making their average performance pretty much equal.
Model Choices: Toyota Vs Nissan
Apart from having Standard and Technology Features, Toyota, and Nissan have got a few model choices. You can also base your decision on the segment models like the subcompact SUVs, Compact SUVs, Large SUVs, Compact cars, Midsize cars, Midsize SUVs Subcompact cars, Compact Pickup Trucks, and Hybrid and Electric SUVs.
Subcompact SUVs
The 2020 Nissan Kicks and The 2020 Nissan Rogue Sport ranks 4th and 11th position respectively, coming ahead of the 2021 Toyota C-HR which ranks 14th.
The Nissan 2020 Kicks earns its spot in the top third among Subcompact SUVs for its several standard features, abundant cargo space, and great gas mileage.
For the drivers who value a ton of cargo space paired with technology and safety features, the 2020 Nissan Rogue Sport isn't an awful choice for you. The Nissan Rogue, however, has got some drawbacks which are; a weak engine, poor steering, and low-rent interior materials.
The 2021 Toyota C-HR's downfall is because of its underpowered 144-hp engine, confining back seat, and small cargo area. It might not be the best Subcompact SUV, but it offers a safe menu of safety and technology features.
Compact SUVs
The 2021 Nissan Rogue ranks 5th above the 2021 Toyota RAV4, which ranks 6th out of 16 compact SUVs. The main reason contributing to this is that the Rogue 2021 Nissan is designed with an airy comfortable interior making it appear in the top half among the compact SUVs.
The 2021 Nissan Rogue offers several features, including a lush interior, and commodious cargo space, and it also offers good gas mileage. It could also have faster acceleration, a quieter transmission, and a lower base price.
Whereas the 2021 Toyota RAV4 offers exceptional comfort with features such as spacious seats, well-designed interior, expanded standard features, best gas mileage at 28 mpg within the city, and 35 mpg on a minor highway.
Large SUVs
The 2020 Nissan Armada ranks 5th just above the Toyota Sequoia, which comes 6th out of our ranking of large SUVs.
The 2020 Nissan Armada features a strong 390 horsepower engine compared to the 2021 Toyota Sequoia, which has a powerful 381 horsepower. The Nissan Armada also has a high-quality cabin with sporty and comfortable seats.
The 2021 Toyota Sequoia's drawbacks include its outdated styling, old-fashioned technology features, and poor gas mileage.
Subcompact Cars
For the subcompact cars, the 2020 Toyota Yaris is ranked in 4th, scoring 7.9 beating the 2020 Nissan Versa, which ranked 5th with 7.7 scores out of 10.
The 2020 Toyota Yaris has several features including agile handling, a stylish interior, easy-to-use features, and great gas mileage, earning 36 mpg in the city and 39 mpg on the highway.
For the Nissan Versa which was fully redesigned with nice interior quality and It's appealing for its safety score and a list of standard features, it doesn't impress with its wimpy engine, laggy touch screen infotainment system, and restricted second-row seat.
Compact Cars
In this segment, the 2021 Toyota Corolla model ranked 6th out of 12, earning 8.1 out of the total 10, while the Nissan Sentra ranked last, earning 6.9 out of 10.
The 2021 Toyota Corolla comes standard with an infotainment system and Android Auto. It also offers a gentle ride, a good gas mileage, strong predicted reliability, and earning about 29 mpg in the city and 36 mpg on the highway.
On the downside, the Corolla model has a smaller trunk, a mediocre base engine, and a stiff handle.
Midsize Cars
The 2021 Toyota Camry ranks first, while the 2021 Nissan Altima ranks 6th in this segment.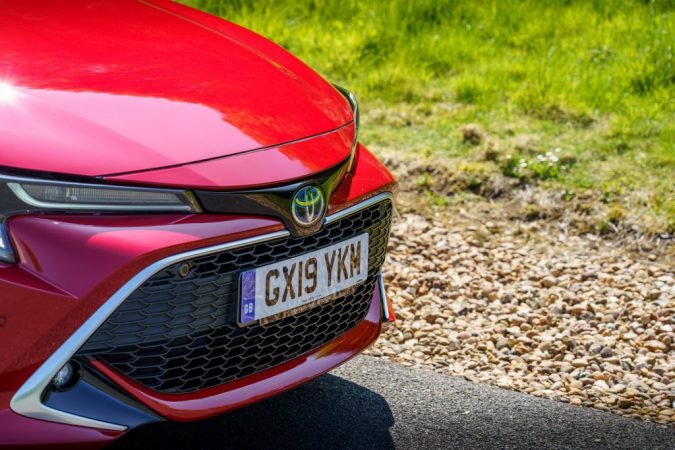 The 2021 Toyota Camry offers fluently safe features, a gentle ride, user-friendly technology, and it is also sporty compared to the Nissan Altima, which is less sporty.
Midsize SUVs
In this class, both Toyota and Nissan have slightly similar scores and positions together.
For instance, the 2021 Toyota Highlander ranks 12th and the 2021 Toyota 4Runner ranks 20th, while the 2020 Nissan Murano takes 15th and the 2020 Nissan Pathfinder comes in 21st.
The Toyota Highlander features a tranquil ride in an advanced cabin, but a tight third row and enthusiastic driving experience.
Nissan Murano, on the other side, lost points because of its dated styling, noticeable body roll corners, and feeble steering feedback.
Toyota wins over Nissan since the 2021 Toyota Highlander comes above the 2020 Nissan Murano which ranks 15th.
Compact Pickup Trucks
The 2021 Toyota Tacoma ranks higher in this segment compared to the 2020 Nissan Frontier model.
The 2021 Toyota Tacoma model features an outstanding quality interior loaded with tech features like Android Auto and Apple CarPlay. It also has excellent off-roading capabilities.
The Toyota Tacoma could have ranked much higher if not for its wimpy 159 horsepower engine.
The Nissan Frontier, on the other hand, is smooth to drive and features 310 horsepower, but its hauling and towing capabilities don't just stack up against competitors in this segment.
It also has a noisy and outdated cabin and the truck doesn't have driver help features.
Large Cars
The 2021 Toyota Avalon, which features a modern cabin with lots of standard features, offers a comfortable ride with a strong 205 horsepower V6 engine ranks No. 2 while the 2020 Nissan Maxima comes fourth in the ranking of large cars.
The Maxima, which comes with a powerful V6 engine and plenty of interior features, and a great safety score, also has its downside, which is a small trunk, small headroom, and a dull handle.
Hybrid And Electric SUVs
The Toyota Highlander Hybrid takes first place in this segment while the Toyota RAV4 takes the 3rd position.
The 2020 Toyota Highlander Hybrid model was fully redesigned with support for Amazon Alexa and Android Auto. It also has upscale cabin features, many standard and technology features.
Its power train is efficient, with 35 mpg in the city and 34 mpg on the highway with a four-cylinder engine and two electric motors which produce 243 horsepower together.
This Hybrid has a high starting price and a confined third row on the downside.
Nissan doesn't offer any of these vehicles, so in this case, Toyota is the winner of the 2020 Best Hybrid Electric SUV family.
Maintenance Cost: Toyota Vs Nissan
Car maintenance is the most important thing to consider before purchasing a new car. Setting a maintenance budget and saving to pay for vehicles repair costs out of pocket is a sensible move for car owners financially.
It's therefore advisable to buy an extended warranty which covers the cost of a certain unexpected repair.
Because of its reliable reputation, Toyota models are the most affordable vehicles in the market in terms of maintenance cost annually. The Toyota Corolla, for instance, will only cost its owner $350 in annual maintenance cost.
For Toyota owners, all factory scheduled, the brand's maintenance costs are covered for 2years/25000 miles by ToyotaCare.
Nissan's maintenance costs the owner about $500 annually, but after the warranty coverage expires, a single repair can quickly set you to pay more than $1400, and its warranty covers for up to 8 years/120,000 miles of vehicle protection.
Warranties: Toyota Vs Nissan
Both Toyota and Nissan brands take pride in their new vehicle warranties. The two Japanese automakers offer the same plan like 36 months or 36,000 miles limited vehicle coverage and 60 months or 60,000 miles limited powertrain coverage.
Nissan, however, offers roadside help for 36 months or 36,000 miles compared to Toyota, which offers roadside help for 24 months or 25,000 miles.
Awards: Toyota Vs Nissan
Having seen some comparisons of the Toyota and Nissan brands, base your decision on awards and reviews.
Toyota has won several 'Best Resale Value' awards from Kelley Blue Book 2019.
Toyota Awards
Apart from its reliable reputation, Toyota has long been recognized for producing safe, durable, and high-performance vehicles of different types.
Some awards achieved by Toyota company include;
Long-Lasting Vehicles of Any Full-Line Automotive Manufacturer.
Most Trusted Brand in the Import Automobile category.
2016 Best Overall Value Awards of Any Car Manufacturer.
2017 Toyota Safety Pick Winners- Toyota Yaris iA and Toyota Avalon.
Toyota Corolla Touring Sports wins "Best Hybrid Car in Carbuyer Best Car Award 2021.
Toyota Yaris wins Best Affordable Hybrid in Auto Express New Car Awards.
2016 IIHS Top Safety Pick with optional Front Crash Prevention.
Toyota named Best Car Brand at Which? Awards.
Green Car of the Year Award.
Awards for CMI Toyota.
Nissan Awards
Nissan has also won a significant amount of awards from different publications, like J.D. Power, which presents awards for quality dependability and performance each year.
Some of the Nissan Awards includes;
U.S. News & World Report has designated the 2019 Nissan Murano the "Best 2-Row SUV for the Money" for the fourth time in five years in the magazine's annual "Best Cars for the Money awards.
Words Auto named the 2019 Nissan Kicks compact SUV to its list of "10 Best Interior at the New York International Show".
Nissan Altima, Rogue Maxima, and Sentra earn Top Safety ranking from IIHS.
The Nissan Sentra was named as a finalist for the North American Car of the Year.
Nissan Mo's awarded mass-market brand in 2020 J.D. Power APEAL Study.
Nissan Pathfinder and Maxima were named to parents' magazines' 2020 Best Family Cars list.
2021 Nissan Altima and Sentra earn Safety awards from IIHS.
Nissan Frontier is the top midsize pickup in the 2022 J.D. Power Vehicle Dependability Study.
2021 Nissan Murano earns IIHS TOP SAFETY PICK+ rating.
Rogue Nissan named one of the Auto trader's ' Good As New' 10 Best Certified Pre-owned Vehicles for 2019.
Nissan posts four best-in-class rankings in the 2021 Auto Pacific Vehicle Satisfaction Awards.
Nissan Maxima is Industry's top performer in J. D power 2021 Initial quality Study.
Nissan Sentra model named one Autotrader's ' 10 Great Cars for Recent Grads in 2021.
Nissan Altima named U.S. News & World Report's "Best Car For Teens".
Nissan Altima and Maxima were awarded Top Safety Pick ratings for the fifth straight year by Insurance Institute for Highway Safety.
Battle Of The Brands Summary: Toyota Vs Nissan
Full-Size Pickups – Winner: Toyota.
Compact Pickup Trucks – Winner: Toyota.
Subcompact SUVs – Winner: Nissan.
Compact SUVs – Winner: Nissan.
Midsize SUVs – Winner: Toyota.
Large SUVs – Winner: Nissan.
Hybrid and Electric SUVs – Winner: Toyota.
Subcompact cars – Winner: Toyota.
Compact Cars – Winner: Toyota.
Midsize Cars – Winner: Toyota.
Large Cars – Winner: Toyota.
Hybrids – Winner: Toyota.
Minivans – Winner: Toyota.
Sports Cars – Winner: Toyota.
Vehicle Lineup – Winner: Toyota.
Final Thoughts: Toyota Vs Nissan
Nissan outshines Toyota in some departments, like the SUV department, but it's clear that Toyota holds the highest ranking in nearly any other department.
Though Toyota wins most categories, it only outranks Nissan slightly. Each of these brands has its strong points that keep customers and experts come back from year to year.
Nissan's focus is on its direction on the SUV segments while Toyota looks towards the electric future in the present time. When accounting everything from reliability, performance affordability, safety, and more are compared across the board, both Toyota and Nissan have their advantages and could be worth your money.
However, Toyota outshines Nissan whether you are comparing model choices, model availability, or features in a particular segment. We will not say that Nissan is not a good option, but it is very clear when comparing statistics and specs across the board that Toyota comes ahead of the game.
And for that reason, Toyota will be your best option and it is worth your money and it should be the one brand you crave for.