If you're going to use your truck for hauling things, knowing the size of the bed is important so that you can make sure it will meet your needs. This truck bed size chart article contains information about various truck bed sizes.
We'll discuss truck bed size classifications, the bed size of many popular trucks, and answer truck-related questions you may have. Here's the table of contents to help you navigate:
Truck Bed Size Chart: General Classification
There are two measurements used for truck bed sizes: cubic inches (volume) and length and width of the truck bed. This article will focus mainly on the length of the truck bed, as it's a lot easier to visualize than cubic inches.
You can generally break down truck bed sizes into four categories based on their length. The length is determined by measuring the back of the cab to the inner side of the tailgate as this is the effective usable space and not the outer dimensions of the bed.
Here are the four general classifications of truck bed sizes:
1. Extra Short Bed
An extra short bed measures under 5 feet (60 inches) long. This is the smallest size that you can get and isn't a very popular option, especially amongst truck enthusiasts.
Not a lot of trucks on sale in the US use this bed size. In fact, the only truck currently on sale that has this bed size is the recently-launched Ford Maverick and Hyundai Santa Cruz. Both are compact trucks.
You won't be able to load a lot of things to the back of a truck that has an extra short bed. You might get a couple of bicycles, a few boxes of items, and that's about it. When it comes to extra short beds, it's really about the lifestyle and not about the practicality of owning a truck.
So, not much use then? Well, it would still be enough for hauling certain items, as mentioned. And will still be more practical than most crossover SUVs, especially if you don't mind the items you're carrying to be exposed to the weather.
Moreover, trucks of this size usually have a monocoque chassis. This means they're more comfortable on the road than traditional body-on-frame trucks. If you want a truck that behaves like a car on the road and doesn't need a large bed, the Maverick, and Santa Cruz with its extra-short bed is for you.
2. Short Bed
A short bed is usually between 5 to 6 feet (60 – 72 inches) long. You'll find this bed in midsize trucks, such as the Honda Ridgeline, Nissan Frontier, Chevy Colorado, and the ever-so-popular Toyota Tacoma amongst others.
A short bed is usually used for midsize trucks that still emphasize interior size and comfort. To explain further, we first need to explain about cab sizes just in case you don't know about it. The cab size is the cabin size of the truck, and you can break it down into four classes:
Regular cab – two doors, no room at the back.
Extended cab – two regular doors, and two small scissor doors. There's usually a second row of seats, albeit with limited room.
Crew cab – four doors and full-size second-row seats.
Extended crew cab – four doors, full-size second-row seats with extra legroom and storage space.
Those are the four common cab sizes, although manufacturers often have their own terminology for each. Anyway, most midsize trucks come with a crew cab. Since the cab is quite big and the chassis isn't very long, a short bed is necessary to accommodate the cab size.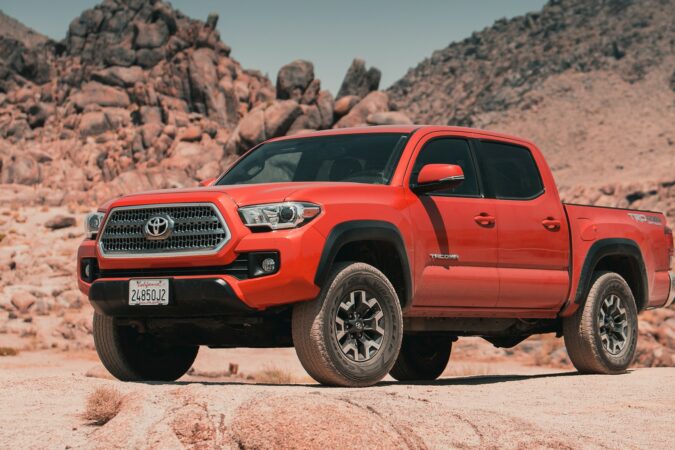 However, some midsize trucks do come with a regular or extended cab. In this case, the bed size will be on the longer end of the range. One example is the Toyota Tacoma, which comes as either an Access Cab (extended cab) or DoubleCab (crew cab).
Anyway, a midsize truck with a short bed is perfect for outdoor types that don't need a lot of space in their truck bed. You can fit in snowboards, camping gears, and recovery gears for offroading.
3. Standard Bed
A standard bed is anywhere between 6 feet to 6 feet 5 inches long. However, in some cases, it may be as long as 6 feet 8 inches long. Anyway, this is the bed size you'll find in light-duty pickup trucks or often referred to as full-size trucks.
Trucks in this class include the Ford F-150, Ram 1500, Toyota Tundra, and the Chevy Silverado. They have a longer chassis, which means they can accommodate large cab sizes while still having a large bed. Although some full-size trucks may come with a short bed rather than a standard bed.
These are usually versions that have an extended crew cab, meaning they need to use a short bed to accommodate the large cab size. Manufacturers offer this to meet the demands of customers who want a full-size truck but prioritize cabin size rather than the bed.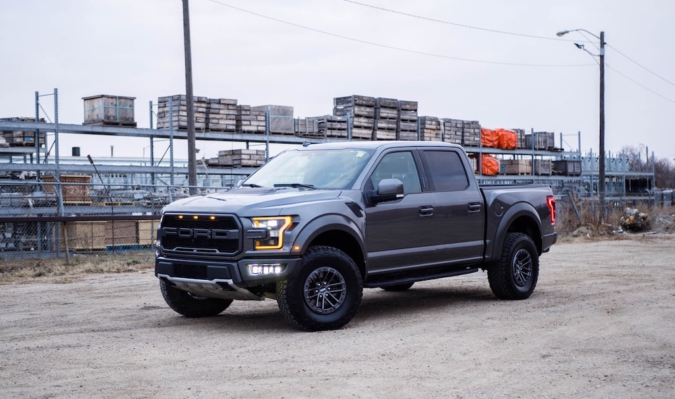 Trucks with this bed size are ideal for those who need to haul lumber, provide moving services, or do other work that requires you to carry heavy equipment. But it's also still versatile and good for recreational purposes such as going camping with the entire family.
Additionally, they often come with a powerful V8, or at least, a powerful turbocharged V6. So you can haul or tow whatever you need without worrying the truck will bog down while climbing a hill – within the tow rating of course.
4. Long Bed
A long bed is usually around 8 feet (96 inches) long. You'll find this in heavy-duty variants of full-size pickup trucks, such as Ford's F-Series trucks (including the F-150 long bed), Chevy Silverado HD, and Ram 2500 to 3500 series. Think of them as light-duty trucks on steroids if you will.
These are considered the trucks for the "real working man" as you need a bed of this size to haul items usually associated with being a contractor. Things you can haul with this bed size include piping, plywood, windows and glass, and drywall amongst others.
These trucks mostly come with either a powerful, high-torque V8 usually found in high-end muscle cars. Or a big diesel V8 with equally high torque output. As you might expect, big powerful engines are necessary since they're heavy and are expected to haul or tow heavy equipment.
So, now you know that truck bed sizes can be broken down into four general classifications. Let's delve deeper into popular manufacturers and their models:
Truck Bed Size Chart: Dodge And Ram
Ram used to be the model name of Dodge's pickup trucks since 1981. However, they split in 2009 and Ram became its own brand, although they are still under the same Stellantis ownership (previously Fiat-Chrysler). Think of Ram as Dodge's division for pickup trucks.
Dodge (or Ram to be exact) no longer makes mid-size trucks and only full-size ones. Although with the rising popularity of mid-size trucks, they might introduce a new Dakota in the future. Anyway, here's the truck bed size chart for Ram trucks:
Model
Model Year
Bed Trim Model
Length (Inches)
Width (Inches)
Dodge Dakota
2008 – 2011
5' Bed
63
57.5
2008 – 2011
6' Bed
76.75
57.5
Ram 1500/2500/3500
1994 – 2011
Standard
76.5
65.5
1994 – 2011
Long
96.5
65.5
2002 – 2008
Standard
74.5
65.5
2002 – 2008
Long
96.5
65.5
2009 – 2018
Standard
74.3
65.5
2009 – 2018
Long
96.4
65.5
2019 – Current
Short (1500 only)
67.4
66.4
2019 – Current
Standard
76.3
66.4
2019 – Current
Long
98.4
66.4
Those are the measurements for Dodge and Ram trucks. You'll notice that the measurements for the Ram trucks have been mostly the same over the years. So, if the bed size of the truck is of utmost importance, you can consider getting older versions of the truck since they're about the same size anyway.
Truck Bed Size Chart: Ford
If you're a Ford fan, then here's the Ford truck bed size chart you might be interested in:
Model
Model Year
Bed Trim Model
Length (Inches)
Width (Inches)
Ranger
1993 – 2011
Short
75.5
61.5
1993 – 2011
Long
87.25
61.5
2019 – current
Short (SuperCrew)
61.0
44.8
2019 – current
Standard (SuperCab)
72.8
44.8
Maverick
2022
Extra Short
54.4
53.3
F-150
1997 – 2003
Standard
77.5
62.3
1997 – 2003
Long
96.2
62.3
2004 – 2008
Short
65.9
62.5
2004 – 2008
Standard
77.8
62.5
2004 – 2008
Long
96.0
62.5
2009 – 2014
Short
65.6
62.4
2009 – 2014
Standard
77.5
65.6
2009 – 2014
Long
95.8
65.6
2015 – 2020
Short
67.1
65.2
2015 – 2020
Standard
78.9
65.2
2015 – 2020
Long
97.6
65.2
2021 – current
Short
65.4
65.2
2021 – current
Standard
77.2
65.2
2021 – current
Long
95.9
65.2
F-250/F-350
1997 – 2007
Standard
80.8
64.8
1997 – 2007
Long
97.0
64.8
2008 – 2016
Standard
80.2
64.8
2008 – 2016
Long
96.4
64.8
2017 – current
Standard
81.9
66.9
2017 – current
Long
98.1
66.9
You'll notice that, unlike the Ram trucks, Ford has different bed sizes for their full-size truck. Their light-duty truck (F-150) typically has smaller beds and is available with a short bed, while their heavy-duty trucks (F-250 and F-350) come with bigger beds and are only available with either a standard or long bed.
Truck Bed Size Chart: Chevy And GMC
Both Chevy and GMC are under General Motors, therefore their trucks share the same platform. They share the same chassis, same bed size, and are different in the interior, engine options, and exterior design.
Much like Ford, their truck lineup consists of mid-size trucks, which are the Chevy Colorado and GMC Canyon. And full-size trucks which are the Chevy Silverado and GMC Sierra, which are both available in either light-duty or heavy-duty configuration.
Here are the truck's bed dimensions, along with the S-10 and Sonoma trucks which are predecessors of the Colorado and Canyon:
Model
Model Year
Bed Trim Model
Length (Inches)
Width (Inches)
S-10/Sonoma
1994 – 2003
Standard
72.4
56.6
1994 – 2003
Long
88.3
56.6
2001 – 2004
Short
54.6
56.3
Colorado/Canyon
2004 – 2012
Short
60.0
57.0
2004 – 2012
Standard
71.5
57.0
2015 – current
Short
61.7
57.8
2015 – current
Standard
74.0
57.8
Silverado/Sierra
1999 – 2006
Standard (Stepside)
77.6
49.0
1999 – 2006
Standard
77.5
63.7
1999 – 2006
Long
96.6
63.6
2007 – 2013
Short
68.0
63.6
2007 – 2013
Standard
77.5
62.3
2007 – 2013
Long
96.6
62.3
2014 – 2018
Short
69.3
62.3
2014 – 2018
Standard
78.9
62.3
2014 – 2018
Long
97.8
62.3
2019 – current
Short
69.9
63.3
2019 – current
Standard
79.4
63.3
2019 – current
Long
98.2
63.3
Chevy and GMC full-size trucks are available with short, standard, and long beds. This depends on their cab configuration and trim level, and the wide range of options means there's something for everyone.
Want a heavy-duty truck with lots of cabin space and don't need a big bed? You got it. Or is a light-duty truck enough for you but do you need a long bed for your business? You got it as well, GM will provide you with whatever you need.
Truck Bed Size Chart: Toyota
Trucks are as American as the bald eagle. But that won't stop foreign manufacturers from trying to enter this lucrative market. Many manufacturers have tried, and while their trucks are decent, Toyota seems to be the only one that truly succeeded.
Both the Toyota Tacoma and Tundra are loved by critics and enthusiasts alike. They've managed to capture the essence of American trucks, with a touch of that famous Japanese reliability. Here are the bed dimensions of their trucks:
Model
Model Year
Bed Trim Model
Length (Inches)
Width (Inches)
Tacoma
2001 – 2004
Short
60.3
57.1
2001 – 2004
Standard
73.4
57.1
2005 – 2015
Short
61.0
56.8
2005 – 2015
Standard
73.9
56.8
2016 – current
Short
60.5
55.0
2016 – current
Standard
73.7
55.0
Tundra
2000 – 2006
Standard
74.4
61.4
2000 – 2006
Long
96.3
61.5
2007 – 2020
Short
64.8
62.6
2007 – 2020
Standard
77.0
62.6
2007 – 2020
Long
95.9
62.6
2021 – current
Short
66.7
66.4
2021 – current
Standard
78.7
66.4
2021 – current
Long
97.2
66.4
One more downside is that they don't offer heavy-duty trucks; the Tundra is a light-duty truck comparable to the Ford F-150 and Ram 1500. So, if you're looking for heavy-duty trucks, you're going to have to look elsewhere. Nevertheless, the long bed on the Tundra is still plenty large.
I personally love Toyota trucks; they're powerful, great to drive, and look great, especially in recent years. Additionally, they have been very reliable, except maybe in the early 2000s due to the infamous Tacoma frame rust.
Truck Bed Size Chart: Others
Ford, Ram, Chevy, GMC, and Toyota make the best-selling trucks in the US. Others are not quite as popular, although some have found a decent level of success such as the Nissan Frontier and Honda Ridgeline. Here is the truck bed size chart for other popular trucks that we haven't mentioned:
Make & Model
Model Year
Bed Trim Model
Length (Inches)
Width (Inches)
Nissan Frontier
2001 -2004
Extra Short
54.9
54.7
2001 -2004
Standard
73.4
54.7
2005 -2020
Extra Short
58.5
58.7
2005 -2020
Standard
72.5
58.7
2021 – present
Extra Short
59.5
61.4
2021 – present
Standard
73.3
61.4
Nissan Titan
2004 – 2015
Short
65.4
61.3
2004 – 2015
Standard
77.3
61.3
2008 – 2015
Standard
84.9
61.3
2008 – 2015
Long
96.8
61.3
2016 – present
Short
67.0
63.8
2016 – present
Standard
78.7
63.8
2016 – present
Long
97.2
63.8
Honda Ridgeline
2006 – 2014
Short
60.0
55.2
2017 – present
Short
64.0
60.0
Hyundai Santa Cruz
2021 – present
Extra Short
41.0
42.75
Jeep Gladiator
2020 – present
Short
60.3
56.8
One thing you might notice is the lack of bed size choice for the Honda Ridgeline, Hyundai Santa Cruz, and Jeep Gladiator. This is because all three of them (and the Ford Maverick) are unibody or monocoque chassis trucks.
We won't get into the details of how this affects it. But in a nutshell, a unibody vehicle means that the body itself is the chassis. Meanwhile, a traditional body-on-frame truck means that the body and the chassis are separate parts.
This makes body-on-frame trucks more modular, hence the ability to fit them with different cab and bed sizes. But with a unibody truck, you're sort of stuck with the design that you have. If you were to change the cab and bed size, you're essentially redesigning the whole chassis.
Truck Bed Size FAQ
Now you know the various bed sizes across manufacturers. But do you have more questions about truck beds and trucks in general? The answer you're looking for might be below:
What's A Stepside Bed?
A stepside bed is a truck bed style that features flared rear wheel arches, and there's a step just in front of it. This allows truck owners to step onto it and gain easier access to their truck bed to reach for things.
This bed style has gone out of fashion since the mid-2000s but was very popular before then. The main downside of a stepside bed is that the bed has to be narrower to accommodate the design, so it's less practical.
How Do I Measure My Truck's Bed?
If you already own a truck, you can measure the size yourself if you like. Here's how:
Get a tape measure.
Hold the end of the tape measure at the front of the bed, also known as the bulkhead.
Take the tape measure to the inside of the tailgate, take note of the length.
So, very simple, no? You can also measure the width easily. The key thing is to always measure the inside of the bed, as that's the size of the bed that you can use.
You may see a slight discrepancy between the manufacturer's claim and your measurements. This is because manufacturers will sometimes round up the number, or they may have listed the outside measurements of the bed. In any case, there isn't any meaningful difference.
Which Bed Size Is Right For Me?
In most cases, a midsize truck with a short or standard bed will meet your needs. Unless you have a contracting business, or you often go camping and need to carry a lot of people and equipment, you don't need a full-size truck. Of course, there's nothing wrong with buying a large truck if you simply like the way they look or feel.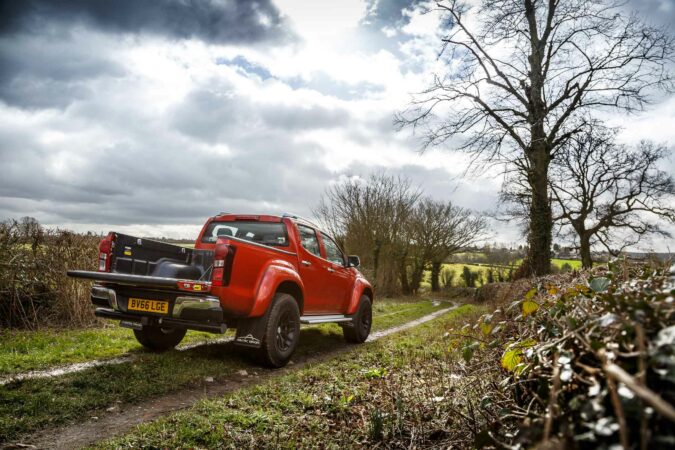 A lot of people rarely haul anything with their truck anyway. I mean, I drive a seven-seat body-on-frame SUV and I rarely have more than two people with me in the car. But I like driving body-on-frame SUVs, I like the way they look, and not to mention the torquey and grunty diesel engines they usually come with.
So, if your heart desires it, then get a full-size truck. Provided that you can stomach their price and running costs, of course.
Which Cab Size Is Right For Me?
This ultimately depends on your need. If you need to drive your family with you, then you want either a crew cab or an extended crew cab depending on how much space you need in your cabin.
Of course, if you want large interior space but a long bed as well, you're going to have to look at full-size trucks. Midsize trucks with a crew cab typically don't come with a long bed. In most cases, a crew cab midsize truck comes with a short bed.
If you don't need the interior space, a regular cab will do just fine. An extended cab is probably ideal if you're a contractor that doesn't need large second-row seats. The extra room means you have space to put tools and other items in the cabin should you need to.
What's The Best Midsize Truck?
If you want a midsize truck that's comfortable on the road, we recommend the Honda Ridgeline as it's pretty much your only option as it's the only midsize unibody truck.
If you don't need the space, we'd like to recommend the Hyundai Santa Cruz, which is technically a compact truck. Nevertheless, it's an excellent and well-rounded "road truck", with the only downside being that it has a smaller bed than the Ford Maverick.
If you want a more off-road capable body-on-frame truck, then you can't go wrong with the Toyota Tacoma. Great performance, practical, and being a Toyota, it will run until the end of time. To be honest, it's not the most modern-feeling truck, but it will do everything that you could ever ask a truck to do – and do it well.
The only downside is that Tacomas are so popular at the time of writing that finding a ready-stock unit is difficult, and secondhand prices are insanely high.
If you're having difficulties finding a Tacoma unit, you can also consider the Chevy Colorado (the ZR2 trim is particularly excellent). The Ford Ranger isn't half-bad either, but with the Ranger, you're going to want to buy new. The 2019 model in particular had serious reliability problems.
What's The Best Full-Size Truck?
When it comes to full-size trucks, the Ram 1500 seems to get good marks from many critics. The interior is luxurious and is unmatched by rivals, the ride is comfortable, and still very capable off the road.
The Ford F-150 and Toyota Tundra are worth a look, although the latter only comes with a twin-turbo V6 engine and no V8 option available.
Meanwhile, the Chevy Silverado and GMC Sierra are slightly less luxurious but they're cheaper and are no less capable when it comes to practicality. In fact, they have the highest tow rating in the class.
The Ram trucks are the best all-rounder whether you want a light-duty or heavy-duty truck, albeit with a higher price tag. If you don't need the luxury and just want an affordable, practical, and capable full-size truck, then we recommend the Chevy Silverado or GMC Sierra.
Truck Bed Size Chart: Wrap Up
To summarize, truck bed sizes can be broken down into four classes: extra short, short, standard, and long. Most midsize trucks will come with either a short or a standard bed, often depending on the cab size of the truck.
Meanwhile, most full-size trucks come with either a standard or a long bed, although some will have a short bed version available as well. Meanwhile, extra short beds are usually only used on compact trucks or midsize trucks that have a large cab.
Hopefully, this article has been helpful for you. Whether you're thinking of buying a truck, or you just want to add some general truck knowledge.
Approved Tools
These tools have been tried and tested by our team, they are ideal for fixing your car at home.