If you're a car guy chances are you have a wallpaper of a car on your phone or laptop. Whether we like to admit it or not, we're infatuated with cars and what they represent, so much so that we go through the effort of decorating our own personal stuff with automotive themes.
This commemorative poster artwork from rearviewprints.com are a great way of decorating your wall and making it stand out, showcasing your love for cars. They'll look great on your wall or your desk, but they're also an amazing gift idea for a petrolhead. They've got plenty of different designs to choose from, so chances are you'll be able to find the specific model you're looking for. We, however, have two favourites we'd like to show you.
Volkswagen Golf GTI Evolution – Artwork
The original MK1 Golf GTI was an instant success as soon as it rolled off the factory floor. It practically invented the hot hatch segment, and it's a fashion icon even today. Prices of well looked after examples are going up, and with EVs becoming the norm, they'll only get more expensive as time goes on.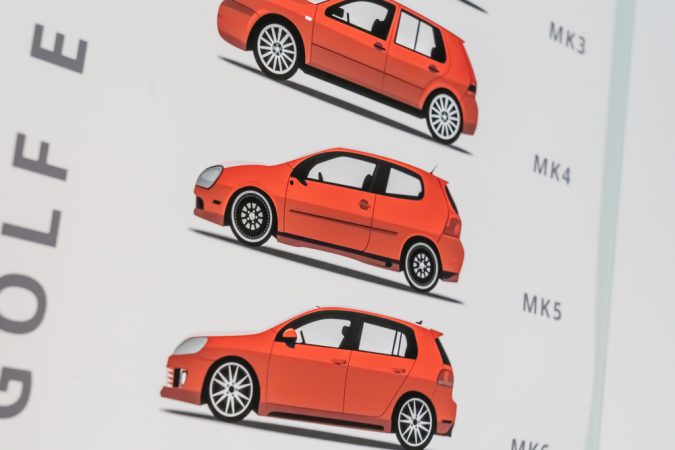 This brilliant poster showcases what we all love and celebrate about cars. The Golf is what you'd call an ordinary car built to be relatively inexpensive and affordable for the average person, but it's also one of the most significant to date. It's been the definitive benchmark in its respective segment for several decades, a car that other manufacturers strive to beat.
The Golf platform also spawned the now-legendary GTI, starting with the MK1. The latest iteration of the Golf GTI is one of the fastest cars in the real world, especially on tight A-roads. The Golf is undoubtedly the most recognisable car sold globally, with VW having sold over 35 million examples to date. That comes out to a Golf being sold roughly every 41 seconds.
Audi R8 Evolution –Artwork
When it comes to supercars though, very few come close to matching Audi's brilliant R8 in terms of character and sheer performance. The first R8 had the 4.2-litre V8 from the Audi RS4 mounted behind the driver, in the middle of the car, and it was a really quick package. Then, in 2008, Audi decided to shoehorn the V10 engine from the Gallardo inside the R8, thus giving birth to the R8 V10.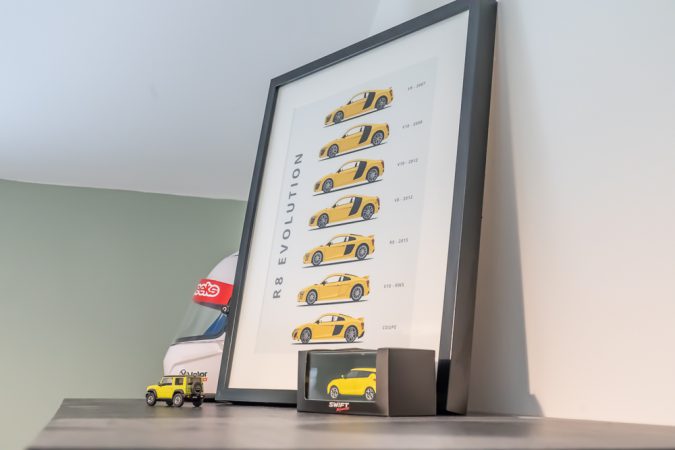 Throughout the years the R8's had several mild facelifts and limited edition production runs, but in 2015 Audi decided it was time for a complete makeover. The second-gen Audi R8 ditched the V8 and only came with a V10, except this time around it had even more power. The Quattro all-wheel-drive system made sure it could put all its power to the ground though, giving it a bite as fierce as its bark. Speaking of bark, the noise the V10 makes is intoxicating and mesmerising. It is another true icon of the motoring world.
The Posters Themselves
The posters come in a few different sizes, depending on whether you've got the space for a giant version or not (and how much you want to spend). Looking at the prices you could think they're a little bit on the costlier side, but rearviewprints.com create these petrol enthused posters that are like nothing else available. So they are worth the price.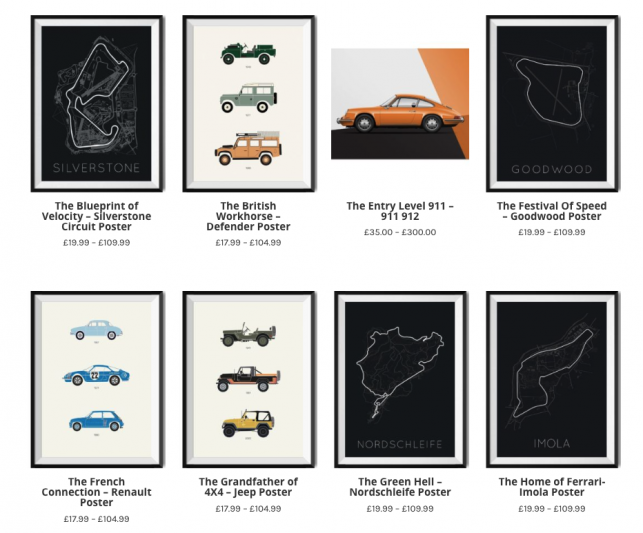 The build quality is superb and the print finish is outstanding. Honestly, it's worth spending a few extra quid to get a product that looks amazing rather than something that looks like it's been hacked together. This is a genuine poster you can hang or your wall or rest on your desk proudly as a car enthusiast because it both looks and feels premium.
The guys from Rear View Prints are amazing too. They'll answer any questions you may have and are more than happy to help you out in any way they can. The customer experience is excellent and we'd highly recommend them.