There is no question that selling a vehicle can often prove to be a tricky process, especially if you happen to be under a time constraint. On top of that, not every dealership is open to purchasing a car outright, and attempting to sell your car privately can often take a significant amount of time and effort, as well as money.
Plus, you will also have to hope that the interested buyers can offer up a fair price rather than try to lowball you. Luckily, we recently came across USCarJunker, which is an online platform that makes it easy for you to junk your car in the US by paying cash.
Their website provides a fast and convenient alternative to those looking to get rid of their old junkers without having to deal with the tedious and often unsuccessful attempts at selling them on their own. The company is also open to purchasing any type of car, regardless of the condition, which makes it an ideal choice for those who may not be confident of their vehicle's cash value.
What Is The Process Of Using USCarJunker Like?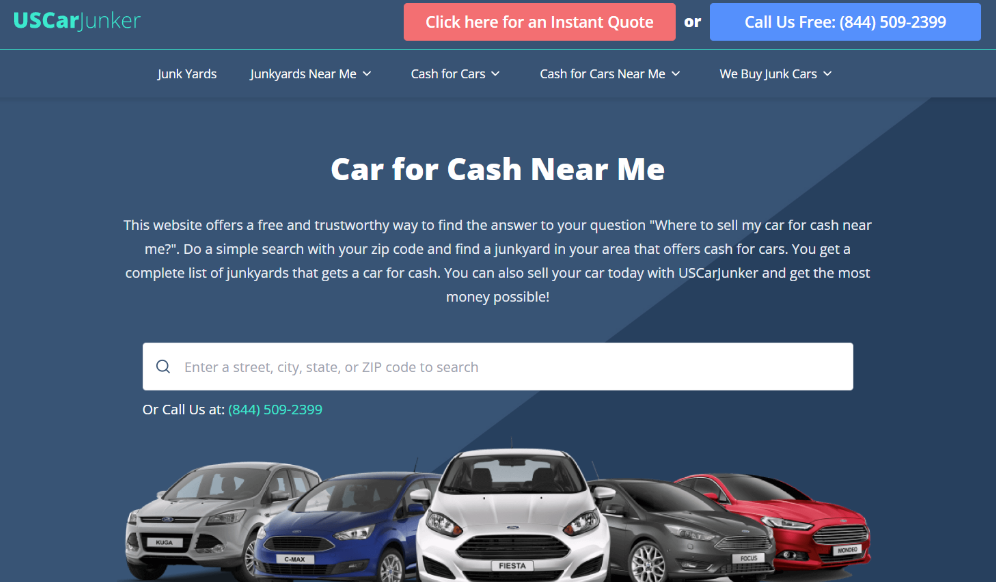 USCarJunker is different from most places where you would sell a vehicle online in that you cannot trade a car or put it up for sale. The company itself purchases the cars directly from car owners looking to rid themselves of their junkers by offering them a quote, and if it is accepted, they pick up the car at no cost.
Also, as mentioned before, it doesn't matter if the car is old, damaged, or no longer drivable. You can easily sell my car for cash on this page by filling out an online form and detailing the make, model, year, trim, mileage, etc., as well as your contact information.
You will also need to answer a few questions regarding the car's condition, such as, "Are there any loose or missing parts?" "Can the vehicle start and be driven?" Once you fill out the application and submit it, you can expect the company's representatives to review the information you detailed before coming up with an offer.
It is for this reason that you should always try to be as accurate as you can with the information that you provide. The no-obligation offer will be sent to you within the same day, at which point you will be able to decide if you want to accept it or not.
What Happens After The Cash Offer Is Accepted?
This is where USCarJunker and the service they provide shine the most, especially if you are looking to offload the junker in a hurry. If you decide to accept the offer, USCarJunker will organize a time to collect the vehicle, and since they are also partnered with professional tow-truck drivers across multiple states, this means that the towing fees are fully taken care of.
You also don't have to worry about the company representative attempting to haggle with you, as once the cash offer is agreed upon, it will usually stand. However, the tow-truck operator will usually conduct a swift inspection to ensure that the car matches the description you provided online. This means that if the vehicle's condition doesn't match the description you initially provided, there is a chance that they may end up calculating a new offer amount.
Remember, you do not need to try to "sell" them the car; as long as you are honest and upfront, they will hand you the agreed-upon amount before the vehicle is towed away. You should also make sure that you can cancel any insurance that may still be active on the vehicle, as once the title is signed over, the vehicle will be USCarJunker's responsibility.
What Makes USCarJunker So Special Over Other Junk Car Services?
While there are a wide variety of junk car services out there, USCarJunker maintains an advantage over most of them in a few particular ways. For starters, the company is built completely on ensuring that its customers are afforded complete reliability, convenience, and speed.
They are also problem solvers, as even if you have a complete junker, the company is open to providing you with a quote and a towing service. Furthermore, their services are available across the country in multiple states, which means that you don't have to wait long for them to attend to you, no matter where you live.
On top of that, the offers you receive from USCarJunker are guaranteed as long as the car is in the same condition that you described on your online form. The company also doesn't require you to submit too much personal information, as you only need to talk about the car, submit those details, and just like that, you are on your merry way to selling it.
And finally, USCarJunker can be counted upon to be highly reliable, as once they set a pick-up time and determine that the car is in the originally described condition, you have the title ready, and the keys are also ready, they will undoubtedly hand over the agreed-upon sum without fail.
What Are The Challenges Of Using USCarJunker?
USCarJunker is a great service, but like any great service, there are still some aspects that are inconvenient. For starters, they won't offer you the same value for the car as you would get if you sold it yourself. This means that you are effectively sacrificing some profit for extra convenience.
It is for this reason that it is not the ideal service to use if your vehicle is still in good condition. However, if the vehicle is a junker, when you take a minute to consider how difficult and time-consuming it can be to try and sell it yourself, this trade-off can often prove to be worth the sacrifice.
Conclusion
Objectively speaking, USCarJunker is a great service that is undoubtedly a solid choice for anyone looking to get rid of their old beater or who may be pressed for time and needs the money urgently. The online process is easy and fairly straightforward; the quotes they provide are guaranteed ahead of time; and their customer service is top-tier, as they are willing to help you by taking the car off your hands at no extra charge.