Buying a van can get a little bit complicated nowadays. There are so many options to be fair they all look pretty good. We have run through all the options to find the perfect selection. Take a look at the list below to find used vans for sale with Hertz Rent2Buy.
Volkswagen Transporter
Available in two wheelbases, three roof heights the VW Transporter offers a range of configurations to meet your needs. The load compartment volumes go from 5.8 to 9.3 m³ with space for up to 3 Euro-pallets. Which is actually quite a lot of space considering the footprint on the road for this van.
Some of the vans were fitted with a washable rubber floor covering, a practical loading edge protective trim. If you can find a van with one of these you know that load space has been well looked after.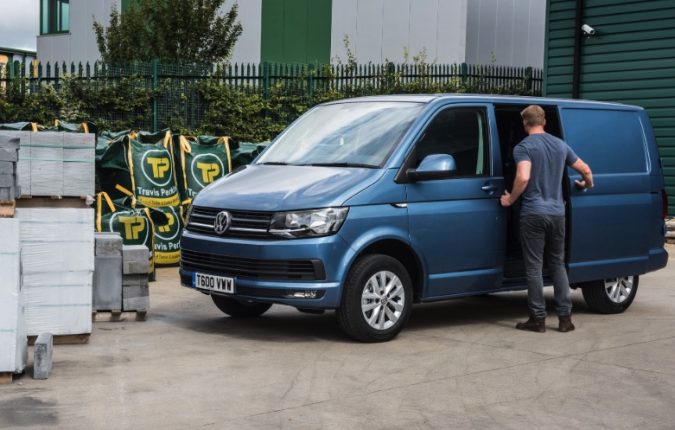 Upfront in the cabin the van features lots of small item storage and is well designed for spending a full working day in the inside.
Volkswagen Caddy
The VW Caddy van is a great everyday choice. It sits nicely in the middle when it comes to size and practicality. It is one of those vans that is just easy to live with. The cabin has good quality air conditioning and heating, the infotainment system is up to date. There is even a multifunction steering wheel that gives you a range of controls at your fingertips, so there's no need to take your hands off the wheel.
Vauxhall Vivaro
Vauxhall called the Vivaro 'The practical and efficient panel van that's your ultimate office on wheels' and they might not be too far off here. The exterior design of the van looks very modern and comes in a selection of colours. Once you are inside the cabin there is certainly a premium feel. There is plenty of space for 3 people and lots of storage for small items.
When looking at second-hand models remember that the vans come with either 16-inch steel wheels or 17-inch alloy wheels.
The large Vivaro van can carry up to 1.2 tons and boasts a load volume of 8.6m3. The load space is nice and wide and has a low loading lip. So if you are moving large and heavy items the Vivaro will be a good choice for you.
Renault Traffic
Renaut says they have created this van for the professionals. Looking further into the van there are some smart innovations which help back this point up. The load volume is 5.2m3 on the SWB, 6m3 on the LWB, and up to 8.6m3 on high roof variants. But the clever thing is that you can load items up to 4.15 metres in length in the long wheelbase version because the storage allows you to place long items through the bulkhead under the passenger bench.
Renault offers a 1.6 dCi turbo engine that can do around 47.9 MPG and will work very well for pulling large payloads.
Mercedes-benz Sprinter
Is the Sprinter the king of all vans? It is certainly one of those vans that has stood the test of time. The latest version of the van has some incredible features like Active Brake Assist and ATTENTION ASSIST and 9G-Tronic automatic gearbox. And even a front wheel drive option if you need it.
There is also a whole host of body styles to choose from – Panel, chassis, dropside, crew, 4×4 and tourer. Meaning that there is a Sprinter that has been optimised for pretty much every customer.
There is a reason this van is so great. For us, in our business the extra long wide body allows us to transport more window blinds to and from our factory and showroom. With this van we're able to deliver to our customers in larger quantities, resulting in increased customer satisfaction and in turn, resulting sales. Most of our customers need transport of blinds up to 4.5 meters in length, it's simply not possible without a van like this. We also love the reliability and quality we can expect from a brand like Mercedes.' says Aaron, from My Direct Blinds.
Ford Transit Custom
The Ford Transit Custom has always been renowned for its toughness, functionality and reliability for many years. Now, it delivers an even wider range of innovative features and smart technologies, plus greater efficiency and high levels of design and craftsmanship. The result, you can look forward to getting behind the wheel of a van that's more refined and sophisticated than ever before. There is a nice range of colours, trim and configurations so make sure you know what you are buying.
Ford Transit Connect
The Ford Transit Connect is up there with the best of them. It offers a lot of versatility allowing you to get where you need to be with all your gear. The cabin looks like it is straight out of a Ford car. It is highly practical with lots of storage and very comfy.
The Transit Connect will allow you to load long items 3m in length through the bulkhead (going up to 3.4m with the long wheelbase model). If pallets are your thing, there is room in the back for 2 EU size pallets. So it might look small on the outside, but it can certainly move some gear.
Fiat's big contender to the Transit is the Ducato van. Available in a range of body types – Van, crew van and dropside. The panel van itself is going to be the most popular and can carry 2,200kg of weight.
On the inside, the Fiat Professional interior is hard wearing and has all the functionality you want from a trade vehicle. There is plenty of drink holders, small item storage and it will make a nice environment to spend a lot of your day in for sure.
Fiat Doblo Cargo
The Doblo Cargo might not be the first thought when you are looking for a new van. But it does actually have some generous carrying capacities. The interior is clean and tidy covering off all your basic requirements for an everyday van.
Looking at the van from the outside I think it is slightly odd looking, but it is there to do a job rather than impress the crowds really. In the back the load space is good with 5m3 of space