These days, the way we transport ourselves is constantly falling into the spotlight. Cars are gradually becoming electrified and the impact they have on Mother Nature is under scrutiny, too. However, no matter how much we electrify cars, they still have their challenges that can't be solved. In particular, there's the concept of 'last-mile' transportation, which is typically a problem for bicycles, scooters and public transport to solve.
This is where newcomers like the VITESSE Force MTB WM electric bike come in. Just like any bike, it'll go places where cars can never traverse, like a narrow dirt path in the countryside. Or, tight lanes or alleyways in cities and towns. Yet, unlike a regular bicycle, the inclusion of an electrified assist would at least help to minimise the discomfort and tiresome pedalling that you normally have to do.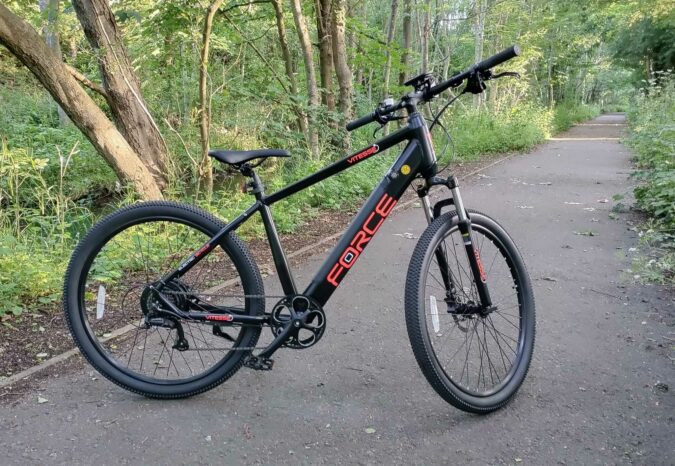 Electrification To Help Move You Along – eBike
But… Is this VITESSE Force MTB WM electric bike any good? First, let's take a deeper dive at the one thing it has, but other bicycles don't – its electric assists. Here, you'll find both a 250W motor and its accompanying 36V battery. Consequently, that does make it heavier than your average, non-electric mountain bike, at just over 21kg in mass. Still, at least the way it's been integrated is rather neat.
The battery pack itself hides within the VITESSE Force's frame, which sits flush against the rest of the bodywork. There's a lock on the battery compartment, which allows you to remove the battery, and then charge it separately from the bike, if you need to. With that in mind, the official rating for its range is upwards of 60km to 70km. However, a more realistic figure from my real-world testing is around 30 miles.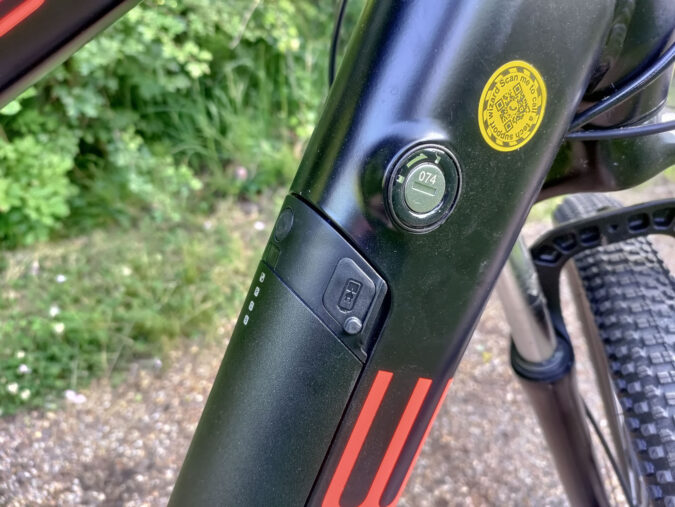 For a bike, that's not too bad, I find. Of course, this will depend heavily on how you ride your bike. In addition, what terrain it's riding on, the speed of the bike, your body weight, and so on. With a more moderate approach to riding it – i.e. limiting your use of the pedal assist – I reckon that's more than a typical bike ride would demand. Now, that 250W figure for the rear-wheel motor is rather crucial.
Owing to the laws around e-bikes here in the UK, an ebike can't have motors that output any higher than 250W(average). Plus, they're limited to a top speed of just 15.5mph. In short, the VITESSE Force is at the legal limit for how fast it can be. Another legal detail, FYI, is that all e-bikes have to be pedal-assisted. And spoiler alert, it's a pretty fast machine, easily capable of testing that 15.5mph limit.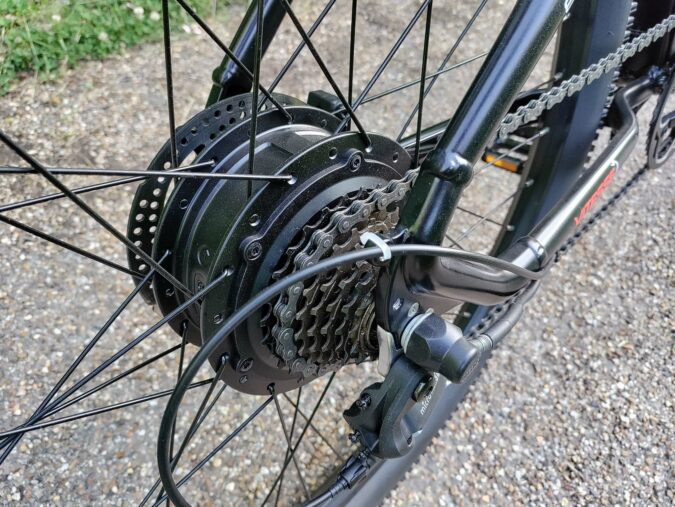 Could've Used Some Better Tyres
For now, let's move on to the rest of the VITESSE Force first, starting with the bits and bobs that have to contend with all that electrified muscle. Being a mountain bike, it's crucial that the tyres are up to par with the rest of the bike itself. On this unit, the tyres that I have here are a mix of on-road and off-road tyres. In practice, they're not the best and feel more like a bad compromise of the two.
At the very least, the suspension is pretty good. It'll comfortably maintain compliance of the bike on off-road terrains like grass, gravel, hills, or even kerbs. The brakes are also exceptionally powerful. As we begin discussing its performance, later on, this is absolutely essential given how fast it can go. Do bear in mind though, that the brakes are so good, in fact, that they can easily overcome the tyres.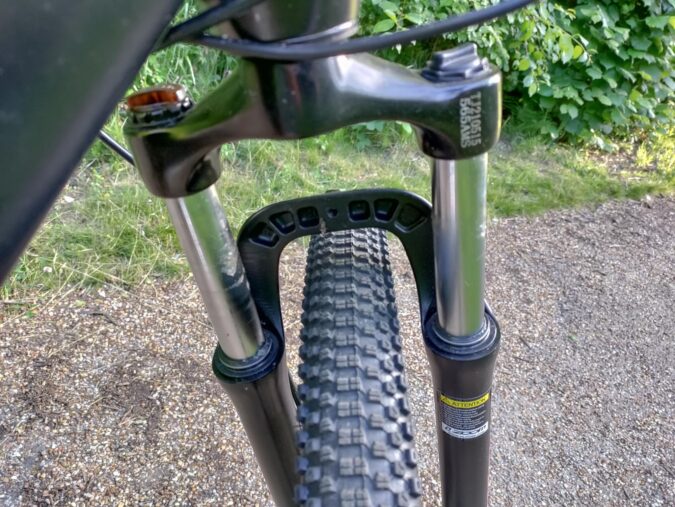 Tap on the brakes too hard, and those not-so-good tyres will readily break traction. Therefore, you'll have to be ultra cautious when you're applying the brakes just so you don't go skidding off the road thanks to the subpar tyres. With this, the VITESSE Force drives all that electric power through a 7-speed gearing system. The latter is pretty decent at modulating power while keeping it smooth.
Keeping The Pedal Assist Under Control
Another highlight of the VITESSE Force is its 4-inch central screen. Frankly, it's as basic as it gets, but you'll have more than enough information to make do with. You can find details like its battery level, your current speed, as well as a trip odometer. On top of that, it'll show you the electric power assist level that you're currently on. In total, there are five distinct power assist modes to choose from.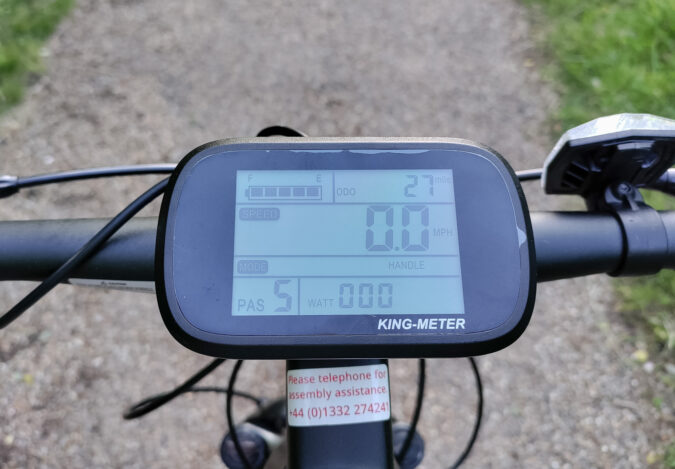 0 is reserved for no power assistance whatsoever. This is where it'll default to you just pedalling the bike, which can feel a tad heavy to get it moving. It's a constant reminder that you're not riding any old mountain bike. From there, you can gradually notch up the pedal assist. It starts from 1 (Eco), 2 (Standard), 3 (Power), 4 (Speed) and then 5 (Handle). The higher the number, the stronger the pedal assist.
For me, I usually just stick the pedal assist all the way up to 5. To get it going, all you need to do is to pedal it a bit. Then, the motor will steadily kick in, before surging you onwards down the road. You'll have to remember that this is a pedal-assisted e-bike. So, once you stop pedalling, the motor would disconnect, after which point you'll be freewheeling from there. As I've mentioned, it's pretty fast.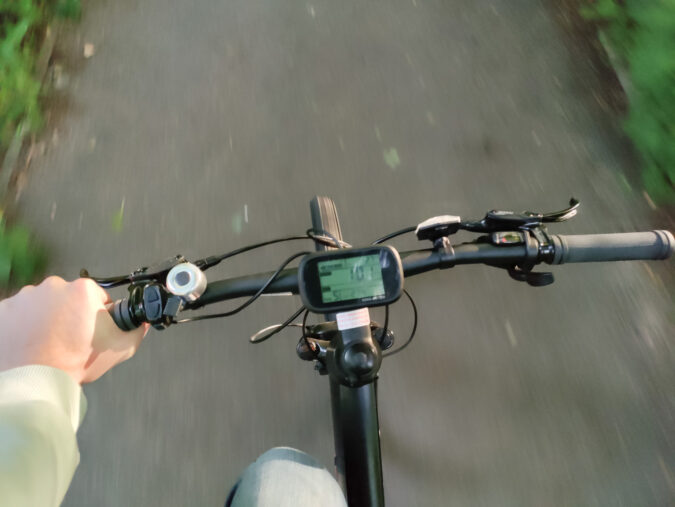 Although the legal limit is 15.5mph, you can still go faster than this. Albeit, the motor cuts out once you reach 15.5mph, so you'll no longer get pedal assists beyond this point. But let's talk more about that motor, because they're pretty interesting. From all the info that I can find, the motor is rated officially at 250W. Nonetheless, I've seen it output around of 600W on that central display (when going fast and up a steep hill).
eBike – The More (Power), The Merrier
Granted, that high output will only be activated under select circumstances. For example, let's say a hill gets in your way, and you need to pedal up it at a steady pace. What the VITESSE Force's motor does now activates its higher power mode. Hence, ramping it up to 500-600W. This is to ensure that it could keep you going at such a steep incline, and have it shove you along.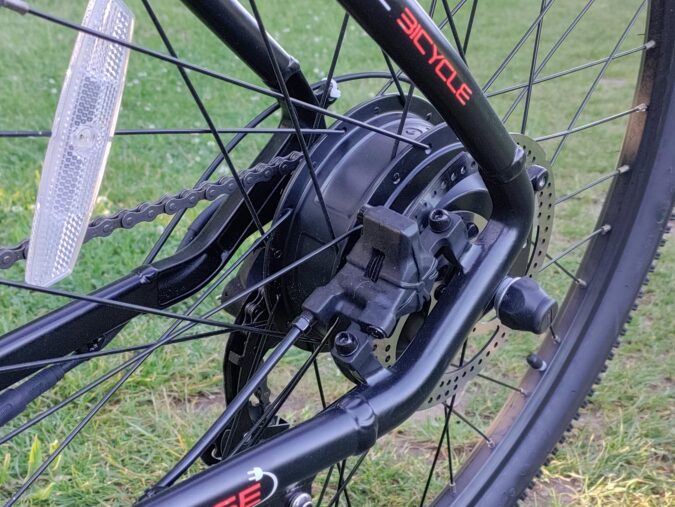 That should make pedalling up a hill that much more effortless. Even on the steepest of slopes, it would still keep me going at a steady 10 to 15mph, without breaking a sweat. Naturally, that would drain the battery much faster. Sure, 15 and a bit mph doesn't sound impressive on paper. In the real world though, owing to how the motor and pedal assist has been set up, it's a huge difference.
With the VITESSE Force, you could be doing 15mph practically anywhere. As a whole, it's a joy to use, whether you're keen on attacking a bouncy dirt path, or just want to gently cruise on by. With all the time I've spent with it, it's encouraged me to take a ride on the VITESSE Force even more. Their clever pedal assist system really does take away most of the gripes that regularly come with riding a bike.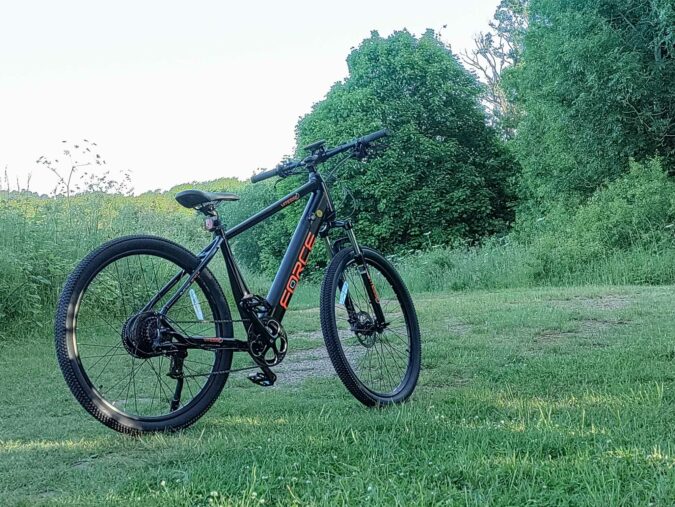 The latter includes tackling steep hills or tiring yourself just to pedal. With an e-bike like this, the use of a motor and well-thought-out pedal assist could handily manage those laborious exercises. For its price – I originally bought it off of Aldi for £899.99 – the VITESSE Force is a great buy. And, you'll get a lot for the money, too. It's hard to make a good e-bike, but I'd say VITESSE nailed it with this one. The standard bike within the UK laws is great, however, it would be nice to have that top-speed motor unlocked and allow for a thumb throttle on the handlebars. Maybe it can be modified in time.