Volkswagen Golf GTI TCR Experience
Here's a question for you, if you had, say, around £100,000 to spend on a track car, what would you pick? A Porsche 911 GT3? Maybe a Mercedes-Benz AMG GT? Well, what about something more curious, like a Golf?
Not a normal Golf at least, a purpose-built, full-blown touring car variant. It hasn't had as much marketing as others just yet., so you may not have heard of it: the Golf GTI TCR. Imagine a Golf that's built in an effort to promote touring car racing for the 'masses', a racing car for the public.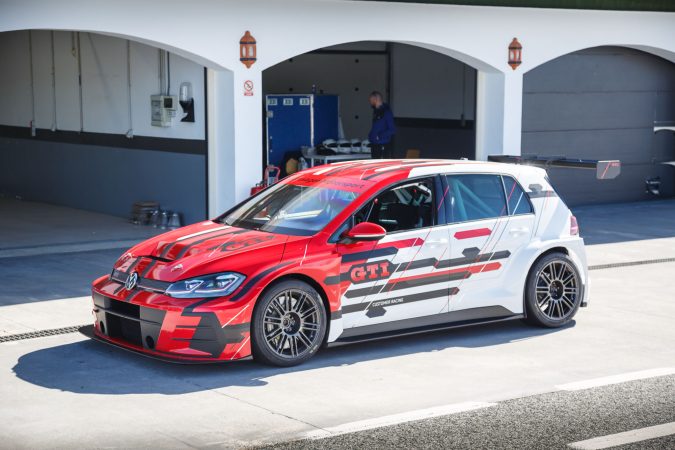 At least, that's the philosophy of Volkswagen in building the latest Golf GTI TCR. I've been invited down to Circuito Ascari in Spain to experience it first hand, and this is my impression of it.
Why is this TCR special?
To really understand why the Golf GTI TCR is built, you have to know about the fascinating world of Touring Car Racing. It's an incredibly exciting racing discipline where all the participating racing cars are your day-to-day grocery getters, bar the extensive modifications to race-prep them.
The TCR series is actually prospering recently, and it's getting increasingly popular throughout the globe. It may seem odd because touring cars are mechanically modestly modified compared to other racing disciplines, and it's rigorously regulated and mandated by the sanctioning authority.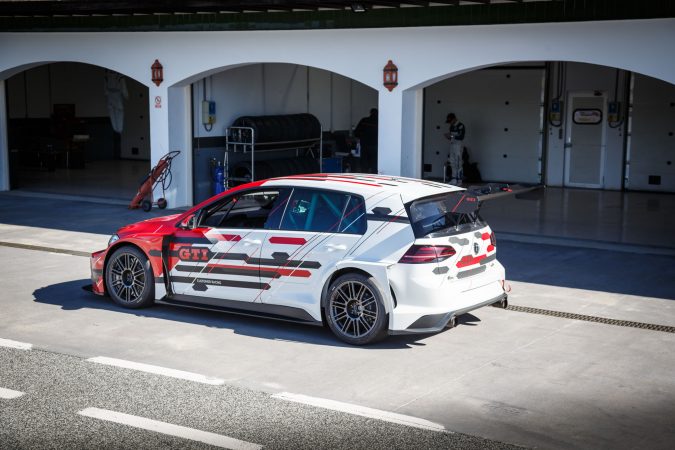 Displacement, weight, dimensions, etc, are all tightly controlled. To be approved, the production variants of the touring cars have to move 5,000 units globally in 12 months. This ethos, 'balance of performance', they say, helps keep the competition pertinent between drivers, and not just engineers. Any aerodynamic, horsepower or even gear shifts disparities are offset by weights or engine tuning.
That should really keep the races engrossing for the audience, combined with the very relatable saloons or hatchbacks running on the track mean that it's a rather captivating sport to watch. And the Golf GTI TCR is basically a purchasable touring car for those who wish to partake in one of these touring car races.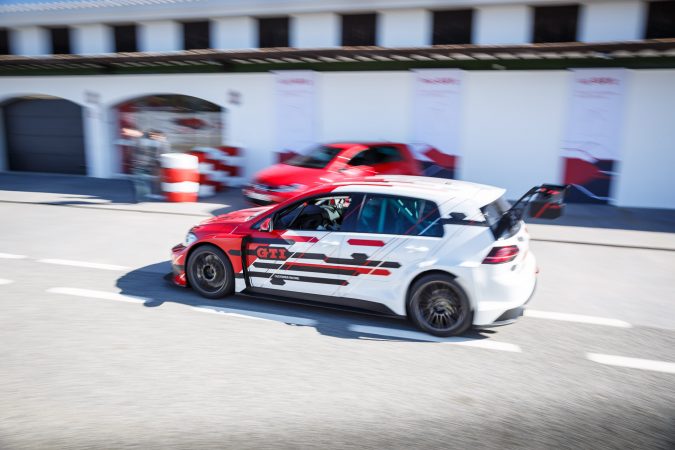 Powered by a 2.0-litre turbocharged inline-4, it produces 345 hp and 420 Nm of torque, mated to your choice of transmission, either a DSG or a sequential 6-speed, that spins the front wheels. Regardless, you can expect a 0-62mph time of 5.2 seconds, onto a top speed of 155 mph.
There are no creature comforts here. You sit in a bucket seat with a 6-point harness buckling you down, surrounding you is a comprehensive network of thick steel piping which is the full roll cage. The only acoustics you have is the engine roaring, transmission whine, and brake squeal. It's 15cm wider than a standard GTI, and the mighty swan-neck wing nearly extends to the entire track of the car.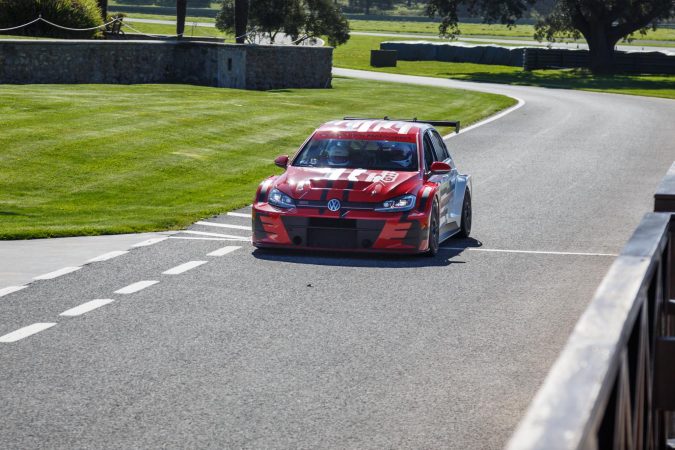 It's fully race-ready, setup and manufactured with the expertise of countless engineers from the Volkswagen Group. Everything about it, chassis, suspension, powertrain, aero, technology, etc, are all sorted. And you can have all this for around £83,500 with the DSG, or £100,000 with the six-speed sequential.
Why is it even built?
It's built with the goal of promoting the TCR International Series, of course. It lowers the barrier of entry when you allow smaller motorsports teams to purchase an already proven chassis to race with. This is the concept that TCR adheres to, affordable intense racing.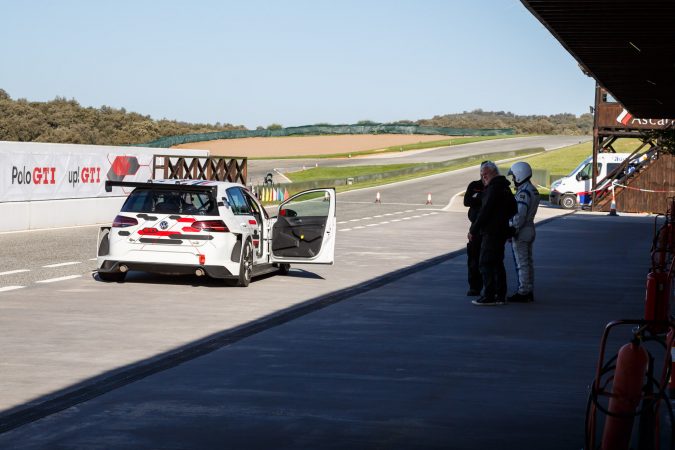 Building a dependable racing car is a daunting task, no doubt. Even if you were to build your own touring car, it's not going to be cheap. When you factor in the amount of valuable time that will be spent on navigating the tight boundaries of the rules and troubleshooting potential issues, that price tag begins to make more sense.
Because of the whole idea of public involvement and approachability that TCR demands, further developments on the car mid-season is banned. You can use second-hand parts and equipment to keep your touring car running. Since the rule mandates parity, big manufacturers with tons of resources to pour into developing a car won't necessarily dominate the series.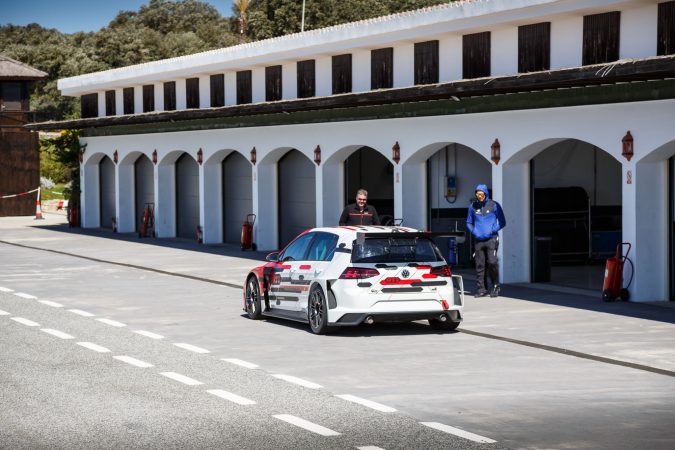 The Golf GTI TCR shares many components with its siblings, the SEAT Leon TCR and Audi RS3 LMS, and all three models will make up over 150 TCR touring cars. This relatively large production volume along with sharing common parts should really cut costs down.
With a properly setup car from Volkswagen themselves, teams can of course also approach Volkswagen for help in setting up their own Golf GTI TCR and receive professional help in solving problems. Buying one of these TCR cars is basically the easiest and quickest way to get into TCR racing. Volkswagen themselves also value customer feedbacks and reviews them for further improvements.
What is it like?
I've been in some pretty intense cars, but none could quite compare to the experience inside the Golf GTI TCR. Oddly, it may not be as loud as you'd imagine inside, because you have to wear a helmet which does dampen the sound.
From the video, you can get a small sense of what it's like being inside one of these. The chassis is incredibly taut, you feel every bit of vibration and harshness in the cabin. It's a race car, and it behaves every bit like it.
You can definitely hear the drivetrain working hard here, and it sounds rather glorious. The driver can access many of the controls like headlights, wipers, cockpit ventilation, etc on the steering wheel. Brake balance can even be adjusted on the fly.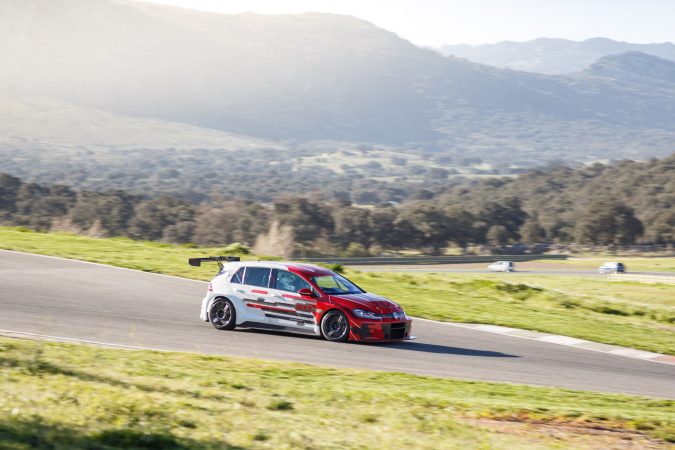 It's a very visceral, raw experience, in the right hands it feels very fast. I asked the pro driver how hard he was pushing, and the driver here afterwards cheekily added that he was going just 70%. The Golf GTI TCR definitely feels like it can carry a lot more cornering speed, and I can only imagine how intense it gets when another touring car is right abreast.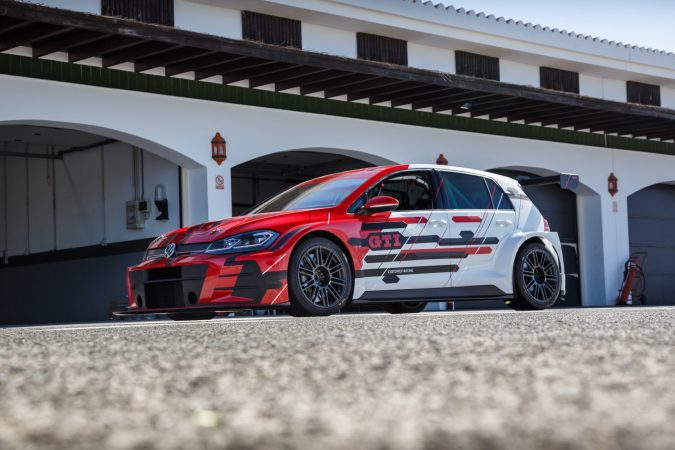 Verdict
TCR International Series was actually absorbed into WTCC and ETCC earlier this year. Although TCR touring cars are quite tame compared to something from GT3 or WRC, it's still an enthralling spectator sport. Wheel-to-wheel duels are very commonplace, and when the competition is filled with your everyday SEAT, Volkswagen, Subaru, Opel, Hyundai, etc, it's even more captivating.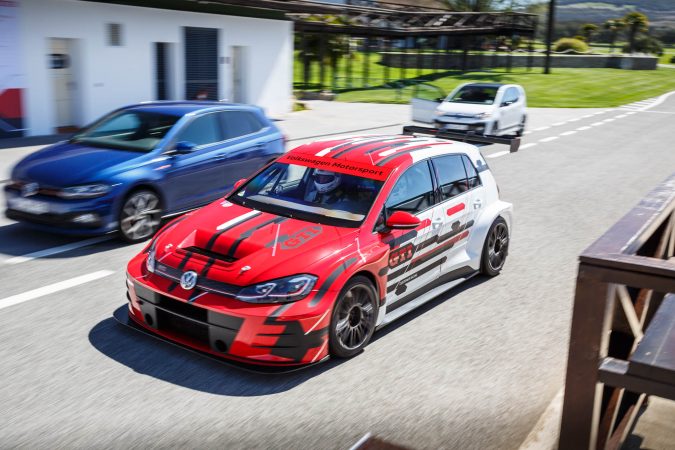 The Golf GTI TCR represents itself as one of the TCR breed, one that you can technically own and drive, in fact. Of course, one of these makes less economic sense than even a supercar, you can't deny it's quite cool to be able to just order a racing car from a big name manufacturer.
Considering the amount of effort that must be painstakingly spent making even one Golf GTI TCR, the hundred grand asking price is actually a bargain per se. Having a fleet of TCR cars is just the beginning for an aspiring racing team, but it certainly takes a lot of the headache out of it. It's certainly a very potent touring car, proving itself multiple times worldwide, and with the right drivers, I believe that more is to come.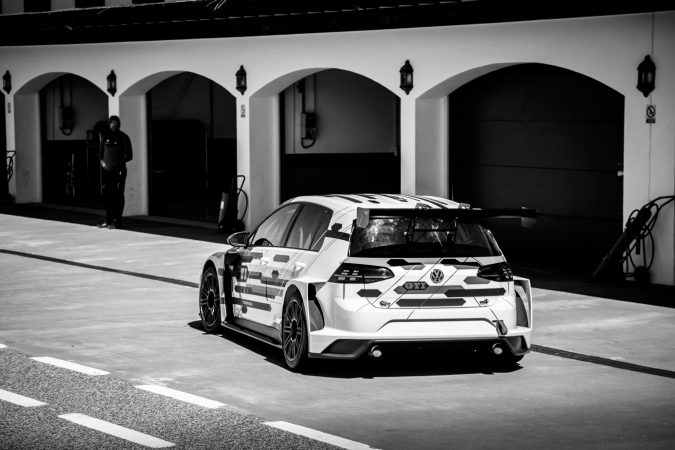 This whole TCR ethos of balance and accessibility is quite interesting, and a different take from common FIA disciplines. The potential to flourish into something grander is there, and I'll definitely be keeping an eye out on it.