Its in-house Volkswagen truck division is worth around €28.5-billion, or around $32.16-billion. Meanwhile, Volkswagen's heavy-truck segment produced €24-billion in revenue last year. It's not a surprise then that Volkswagen trucks are market leaders in Germany, Europe, and South America, particularly Brazil, where VW first committed to the trucking business. But their trucking business is absent in North America and Asia, two significant regions that account for 60% of worldwide sales.
Let's talk about a few trucks made by Volkswagen who made a name for themselves, being loved worldwide or for failing to get any.
Volkswagen Truck: 1950 Volkswagen Type 2 Pick-up
The Volkswagen 1950 Type 2 Pick-up was built on the famed VW Bus, which transformed the automotive sector far more than the Beetle it was based on.
VW fans adore the Volkswagen Type 2 pick-up truck, available in single-cab or double-cab variations, for its usefulness as well as its groovy hippy feel. Only one problem: it's incredibly sluggish, as are all unaltered Types 2 models.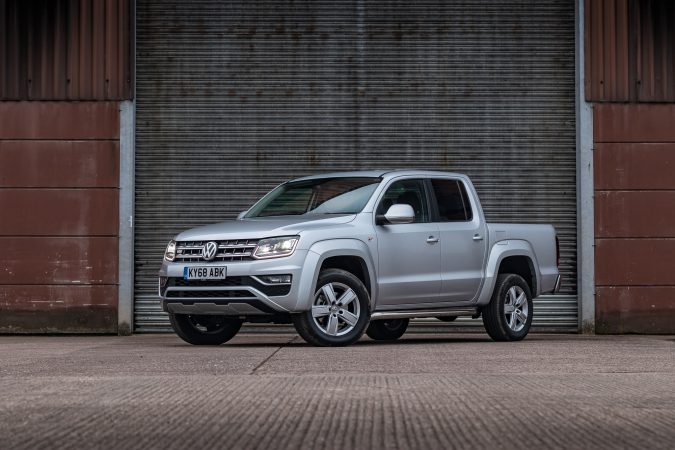 Origin Of The Truck
Surprisingly, the now-legendary VW Type 2 was created totally by chance. Volkswagen truck division employees had developed a basic boxy van to move components within the facility, based on the flat chassis used for the VW Beetle. Netherlands VW importer Ben Pon spotted it during a trip to the company in Germany.
Ben saw the possibilities for such a truck right away and drew up a more beautiful design. Manufacturing was at its peak at the time. It was just two years after WWII ended, and VW's manufacturing was at full potential, supplying the inexpensive and adaptable Beetle to customers in Europe and worldwide.
The first VW Type 2 walked off the assembly line two years after Ben's revelation in 1947. The project development had lasted approximately three months, and it was rapidly determined that the original Type 1 Beetle floorplan was not sturdy enough.
Specifications
A ladder chassis was built, then equipped with a modular body that housed the driver, guests, and freight in the back.
Type 2 used a driver's side, air-cooled flat-4 engine, similar to the Beetle. Because of the engine's placement, the rear luggage compartment had a level floor back all the way, moving materials easily. However, the rear portion may become a touch warm on extended trips.
Volkswagen Truck: 1971 Volkswagen Karmann Cheetah
We have always liked the notion of a simple and economical roadster, and this design had a lot of promise that was sadly disappointed.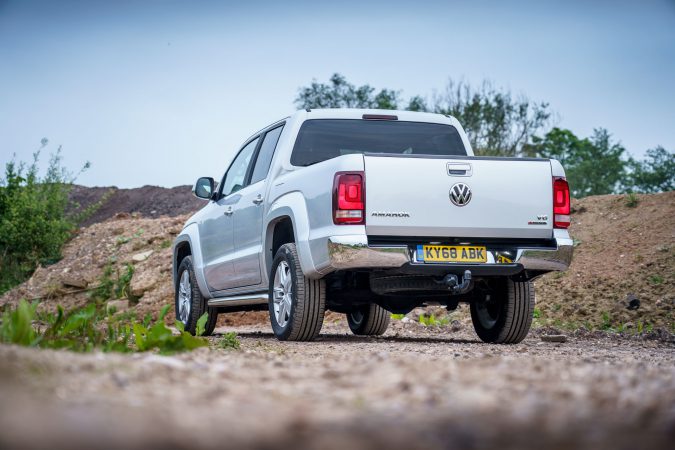 Origin Of The Truck
It was created in 1971 as a cooperation between Volkswagen, German coachbuilder Wilhelm Karmann, and Italdesign. Giugiaro and his team were primarily responsible for the car's design, with Karmann assisting with creating the fabric top (fun fact, check out our guide on how to clean fabric car seats).
The Cheetah was envisioned as an affordable convertible, and according to the initial public statement, the automobile was designed to be mass built. That certainly did not materialize, which is unfortunate because it would have been a cheaper alternative to the more formidable Porsche 914 of such era.
The design emphasized square designs in the 1970s, which can be seen on the Karman Cheetah.
Specifications
The design took advantage of the Beetle's 1.6-liter engine, which produced a whopping 50 horsepower. 50 hp is a complete embarrassment in today's modern horsepower battles, but the Cheetah was not designed for raw power. The convertible was designed for folks who care more about grins per hour than kilometers per hour.
The Cheetah had a pleasing appearance. It was built Fiat built until 1982, after which it was manufactured by Bertone's facility until 1989 when the model was retired.
Volkswagen Truck: 1979 VW Rabbit Pickup/Caddy
VW had figured out how to squeeze every last penny of value out of a vehicle by the 1970s.
Volkswagen introduced a tiny pick-up truck version of their Rabbit in 1979. They needed something to combat all of the tiny pick-ups on the market simultaneously, and the Rabbit Pick-up filled the description.
The Rabbit Pickup, which was constructed on a car frame, had over 9 inches longer than the sedan version. It had a 6-foot bed and a towing capacity of 1,100 lbs.
Let's talk about some interesting trivia about this Volkswagen truck.
It Suffered In The US Market
Volkswagen had planned to capitalize on the classic cars mania overtaking America at the period. This resulted in the Rabbit Truck, a small vehicle with a good cargo capacity of roughly 1,100 pounds. The engine was also engineered to be very efficient, and the fuel tank size was increased by 16 liters over the Golf hatchback to improve range.
However, the vehicle failed to attract consumers, and interest quickly dwindled following the initial enthusiasm around its unveiling. Over thirty-seven thousand units were sold in 1981, but that figure had plummeted to two thousand and seventy-two units by the following year.
You Can Get One Of This Today
A short web search can turn up decent Rabbit pick-ups for sale for around a few thousand dollars. Despite its lack of power, the Rabbit is little more than a cramped vehicle and, as a result, is nevertheless enjoyable to drive thanks to its front-wheel-drive system.
At this pricing, the truck is a relatively affordable solution for routine runabouts and can still be helpful in today's modern atmosphere. The only things to keep an eye out for are rust-related issues or over-customization, which is typical with these vehicles.
Record Breaker
The Rabbit truck was a sluggish vehicle in standard condition, and any acceleration over a jog was sheer torment. Yet, in 2013, a Rabbit pick-up truck traveled to the Utah barren lands and set a land speed record with a high speed of 189.7 miles per hour. The vehicle, in reality, had been significantly upgraded for this accomplishment.
One of the first components to be changed was the underpowered engine, replaced with a turbo two and a half liter VR6 new engine. Customized Rabbit trucks are not as rare as you might think.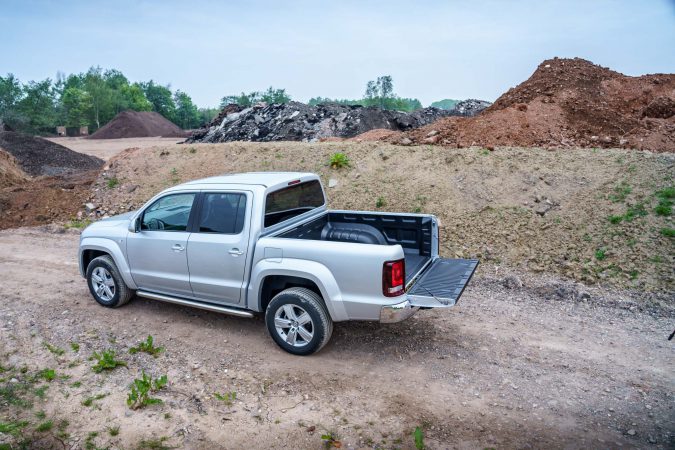 Specifications
The Rabbit Truck, on the other hand, was wholly distinct from the back doors. Everything was explicitly created for the Rabbit Pickup, from the springs to the taillamps. The wheelbase was ten inches longer, and the rear suspension replaced the hatchback's coil springs with leaf springs suspending a durable tubular axle to increase the pickup's payload to a respectable 1,103 pounds. The gasoline tank was expanded to 16 liters to improve range.
The payload of the Rabbit Pick-up was roughly equivalent to that of any other four-cylinder pick-up. Its bed also had an advantage. Although many small trucks had either a single-walled bed or a few bolt-in inner walls that enabled mud to seep down into the lower fenders, the Rabbit Pick-up had a bed with genuine double-walled construction, preventing dents on the external bedsides.
Why Did It Go Out Of Business?
There are two reasons for this: dropping gas prices (unless you're looking at what state has the cheapest gas and compare is diesel cheaper than gas) and the allure of full-sized trucks.
Compact pick-ups were popular in the early 1980s because, due to high gas prices, people chose utility above elegance. When fuel costs began to fall, customers felt it was safe to treat themselves and splurge on fancier automobiles.
They forewent the high mileage of small pick-ups in favor of the comfort-oriented characteristics of full-sized pick-ups. All-wheel-drive expanded cabs and high towing capacity were among the traits.
The Rabbit Pickup, on the other hand, was not entirely extinct. It persisted in South Africa. It was known as the VW Caddy, and it is still in production today. However, it is no longer a pick-up. In the mid-1990s, Volkswagen converted it into an industrial van.
Volkswagen Truck: 2000 VW Advanced Activity
Approximately two years before the first Touareg debuted, Volkswagen debuted a concept pick-up truck at the Detroit Auto Show that checked all the envelopes. It blended the toughness you'd expect from a double cab pick-up with a very luxurious cabin that rivaled the Touareg. In reality, VW defined the AAC at the time as a cross between the capabilities of a pick-up truck and the comfort of a highest-class sedan.
Specifications
VW decided to try something new by giving the AAC suicide doors, which looked cool on this body design and allowed the two passengers in the back to enter the cabin quickly. The prototype gets a lot of underbody protection and a pair of thick Pirelli Scorpion all-terrain tires because it was designed to conquer tough roads.
The skid plate at the rear added to the pick-up truck's toughness (as one would with a skid plate to protect catalytic converter), as did the jacked-up air suspension with three adjustable settings and a 4.33-inch difference between the minimum and maximum configuration.
Volkswagen Truck: 2010 VW Saveiro Rocket
This is the updated version of the Volkswagen Saveiro. The Saveiro is a small pick-up truck created and manufactured in Brazil. These are the first photographs of the compact utility, and they reveal how its look is now more similar to other new VWs. This is especially true for the higher-end models.
Saveiro Rocket's initiative arose from the discovery that many users of tiny trucks regard their vehicles as sports cars of two types, one of which is rare and typically expensive in Brazil. Based on this assumption, the goal was to reinforce the trend in all feasible ways, from the outside to the inside and mechanical parts.
Specifications
There are three trim levels available for this car. The 1.6L is the most basic engine, with unpainted bumpers and little inside decoration. Its only goal in life is to work. On a higher level, there is the Trend, which includes elements such as body color-coded bumpers. Some may even go so far as to label it a freight vehicle with style. The Trooper model, intended for younger, more energetic people, is at the top of the line. It is also more defined visually.
Up front, the upper grid is likewise coated in high gloss black. At the same time, the lower bumper is matte gray Spectrums, highlighted by a prominent honeycomb grille emphasized in red by adding a bevel, a design trend of the Volkswagen trucks brand's new philosophy.
The Xenon headlights feature black masks and motorized washers that work with the windscreen. Aero wishers are windshield wipers with rubber blades that are simpler and more effective than standard devices.
The daytime running lights with light strings, cables of light silicone-based material that produce a twofold contour accentuating the lower region's appearance and includes four helpers LEDs that light up when the wheel and dung, a novelty in Brazil, stands at the ends of the bumper.
Volkswagen Truck: 2012 VW Amarok Canyon
If you're looking at alternatives to a huge SUV, skip the Volkswagen Amarok Canyon. Even though it's a sleek and beautiful truck, it's still a business vehicle. If you're looking for a fighter, we highly suggest it. It's good to have home comforts in rigid and functional packaging.
The Amarok Canyon is likely to be more of a luxury experience than most buyers are seeking. Leather interiors are lovely, but wipe-clean surfaces, sturdiness, and buttons are more important to many customers in this group.
Specifications
The height-adjustable seats are made of wear-resistant fabric and simulated leather, with bold orange embroidery and orange accents on the belts. The center console isn't as spacious as you would expect, and the handbrake takes up a good portion of it. However, there is a handy pocket for devices and purses upfront, and the door containers are good.
The wheel and gear knob, in an authentic Volkswagen truck manner, feel excellent in hand, and everything seems securely put together.
Is Volkswagen Amarok Coming To The US?
Considering this country's fondness for trucks, the Volkswagen Amarok mid-size pick-up never made it to the US market because it was just too pricey and too fancy. It was niche popularity in Europe and South America before being withdrawn last year.
VW is now discussing the next-generation Amarok. It's part of cooperation that includes a Ford City van inspired by a VW Caddy and another commercial truck idea. The teaser image for the upcoming Amarok seems robust and stylish. It has also been claimed that it may make its way to the US market.
The moment might be ideal for Volkswagen to launch the Amarok in the United States. However, it would have to be produced in the United States to avoid seeing dealer window stickers with inflated costs due to the 25% Chicken Tax. However, if the market exists, the production modification may make monetary sense. It may even give a route for Volkswagen to reintroduce diesel engines to this region, but that is far from certain.
If you already know everything there is to learn about the Amarok and want to check if it is available for purchase here, don't get your hopes up just yet. VW had already trademarked the Amorak name in the United States. However, recent speculations that Volkswagen may be collaborating with Fiat-Chrysler Automakers to produce a new pick-up and panel van may indicate that it will happen anytime soon.
Although we'd like to see the Volkswagen Amarok truck come in the United States and Canada, several other steps must be taken before VW can do so. Only time will tell if a Volkswagen truck will be produced in North America.
Volkswagen Truck: Volkswagen Tristar TDI
The Tristar project, the automaker's latest pick-up truck invention, has now been presented.
The inside is incredibly sumptuous, going above and beyond what you'd expect from a production truck, with smooth brown leather covering the seats, steering wheel, armrests, and even the door pockets. Instead of a bench, there are two separate chairs, and some pretty lovely gear may be discovered hidden beneath them.
The muscular pick-up boasts a permanent four-wheel-drive system with mechanical rear axle differential lock and 30 mm more ground clearance, as well as an enlarged cab, style bar, and short wheelbase. To match the concept car's moniker, the designers created a high-precision, fresh, and yet recognizable architectural style.
Specifications
The sharp, wrap-around lines, LED headlamps, and a modified architecture of the entire front give it a broad and robust look. The monolithic dashboard is evocative of early VW Transporter models in its design and simplicity of functioning.
The weight may be spread on two levels: a large, dust-proof, and waterproof drawer under the flatbed part, which also contains a deep-tread spare tire (make sure you understand how far can you drive on a spare tire).
You can't fault VW for going all-out with the onboard equipment: there's a coffee maker, a refrigerator, a squeeze desk with a digital control computer, and a pair of video conference cameras. For casual meetings, the chairs are intended to rotate around to face each other.
EA288 engine
2.0L displacement
Inline four-cylinder configuration
201 horsepower at 4,000 rpm
x 3.76-inch bore x stroke
Aluminum is the material used to make the head.
Material of the block: cast iron
DSG seven-speed dual-clutch transmission
4MOTION with Haldex all-wheel drive is the drivetrain.
188-inch length
Width: 91 in.
81 inches tall
17-inch wheels
245/70R17 BFGoodrich Mud-Terrain T/A tires
What we can say is that the Tristar is a specialist's all-rounder. The TRISTAR's extraordinary off-road prowess, combined with versatile transport and storage capacity, transforms it into a portable workplace. It is a multipurpose tool for any user since it is safe, high-quality, and adaptable whether you're a designer, a production crew, a service professional, a civil engineer, or a participant in an adventure.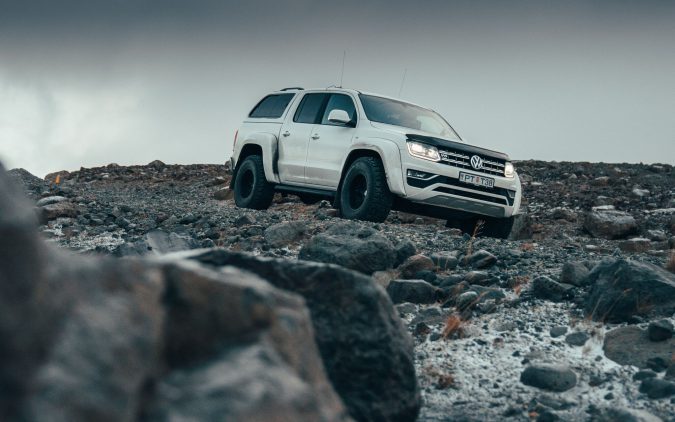 Volkswagen Truck: Volkswagen Atlas Tanowak
Given that pick-ups are valued as much for their usefulness as they are for their appearance, this particular truck ticks a lot of boxes in terms of a practical truck.
Design
The exterior appearance is similar to that of the Atlas SUV. This one got a notably different front design which goes well with its aim as an off-road–friendly pick-up. For pickup-specific style, new headlamps with circular LED accent lighting are introduced.
There's a mighty power dome on the hood, as well as other necessary protection and a front-mounted winch for off-road activities. The front-end graphic is much more aggressive, suiting the truck's status as a concept vehicle. However, we hope that a potential production version keeps the original Tanoak concept.
How Does It Feel On The Road?
The seating posture is elevated, and the view of the road is wide and unobstructed, yet you never feel like you're sitting on top of the car's roll center. It's a simple machine to identify with. The middle-rear seat will not be a popular choice for anyone because it's not contoured like the rest of them, and the transmission tunnel slips beneath it.
Even though we were confined to 30mph in the Atlas Tanoak, the bits we could figure out were outstanding. The engine is the weakest component since it breathes significantly. It has an unpleasant gruffness about it, and good luck getting it to move with another 750kg in it.
However, the remainder of the package functions appropriately. Everything else seems impressively sophisticated for a concept car, from a brand-new cabin, which features a different design that is noticeably different, to the ride quality and noise levels.
It has the same wheel travel as the Atlas and many suspension components, but it has its unique tune. It works well, with calm and easygoing handling and plenty of front-end bite and rear-end confidence.
The automatic transmission performs admirably and provides a type of low-range gearing via its Active Control feature. The ingredients for success appear to be in place.
Volkswagen trucks got a long history of dominating the automaker industry. We hope that this reliable German company sorts out the worries coming into the US market.
Volkswagen Amarok: Mid-Size Pickup Not Destined for U.S. Market
The new second-generation Volkswagen Amarok is closely related to the next-gen Ford Ranger and will be produced in South Africa.
The mid-size pickup is not destined for the U.S. market despite sharing underpinnings with the Ford Ranger.
Volkswagen plans to sell the Amarok in Australia, New Zealand, numerous countries of Africa, the Middle East, and Europe.
The new Amarok would be regarded as a mid-size pickup with an overall length of 210.6 inches, which is 3.8 inches longer than the old Amarok but 0.8 inch shorter than the 2023 Ford Ranger.
Both single- and double-cab versions will be offered, with the two-door having a cargo bed 90.7 inches long and the four-door having a 60.8-inch bed.
Volkswagen claims the Amarok can carry up to 2550 pounds and tow up to 7700 pounds, depending on the specification.
The Amarok will be able to handle off-road driving with a 29-degree approach angle, 21-degree departure angle, and 21-degree ramp-over angle, and can safely pass through up to 31.5 inches of water.
Volkswagen is planning to offer a multitude of powertrain options, mainly diesel, ranging from a basic rear-wheel-drive version to a twin-turbocharged diesel making 200 horsepower.
The top-of-the-range Amarok models will have digital instruments, a 10-inch portrait-oriented touchscreen, LED headlights, and adaptive cruise control, and a much plusher PanAmericana and Aventura will add such luxuries as a bigger 12-inch display screen, Harman/Kardon audio systems, and even 21-inch alloy wheels.
Pricing seems to be the big issue for the Amarok, with the previous model starting at over $40,000 in Europe, making it difficult for automakers outside the big three selling trucks in the U.S. market.
Conclusion
Volkswagen has consistently been producing high-end but affordable vehicles for the people. The Volkswagen trucks are different from the excellent vehicle lineups that we love. Just make sure you're making the right pick based on your requirements.