Volvo have announced the details for their new V60 'Cross Country' – an AWD version of their mid-size premium estate.
The design team's goal with the Cross Country was to create a more rugged version of the V60 capable of handling tougher driving conditions.
Styling Tweaks
Similarly to the Audi Allroad, the V60 Cross Country will feature bodywork adjustments to better suit it's new found purpose as a vehicle capable of off-road driving. Wheel-arch extensions, lower sill mouldings, and a rear bumper embossed with the Cross Country logo give the sophisticated Scandinavian estate a more robust look.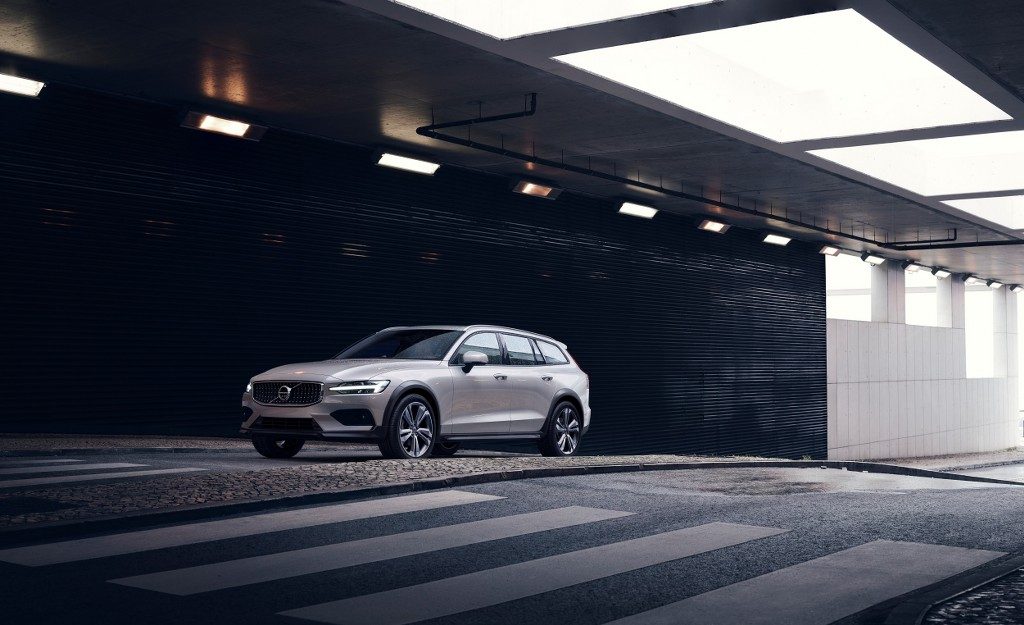 The Cross Country sits on 18-inch five-spoke alloy wheels, and Volvo, citing advancements in rubber and suspension technology, maintain this won't impact the Cross Country's ability to take on tougher terrains.
To further prepare the Cross Country for any future punishment it may endure, a permanent AWD drivetrain comes as standard as well as an extra 60mm of ground clearance.
Driver Technology
A lack of any sophisticated or new technologies may no seem inexcusable in the modern premium vehicle market and despite the no-nonsense appearance of the Cross Country, it's still armed to the teeth with cutting edge features.
'Hill Descent Control' automatically controls the cars speed when descending down a steep slope, and 'Off-Road Drive' mode setting allows the driver better control when navigating challenging terrain under 25mph. This is done by altering the responsiveness of the engine, gearbox, and accelerator, while electronically adjusting the parameters of the AWD system.
A number of creature comforts assist Cross Country drivers in urban environments; front and rear parking sensors, auto LED headlights, an automatic tailgate, and 'hill start assist' are amongst those features .
The interior is signature Volvo – surgically clean lines, with brushed metal trim integrated throughout. You can breathe easy -literally – as dual zone climate control comes as standard with CleanZone, a system specifically designed to filter out all pollutants, pollen, and dust from the environment to provide the driver with clean air when using the air conditioning.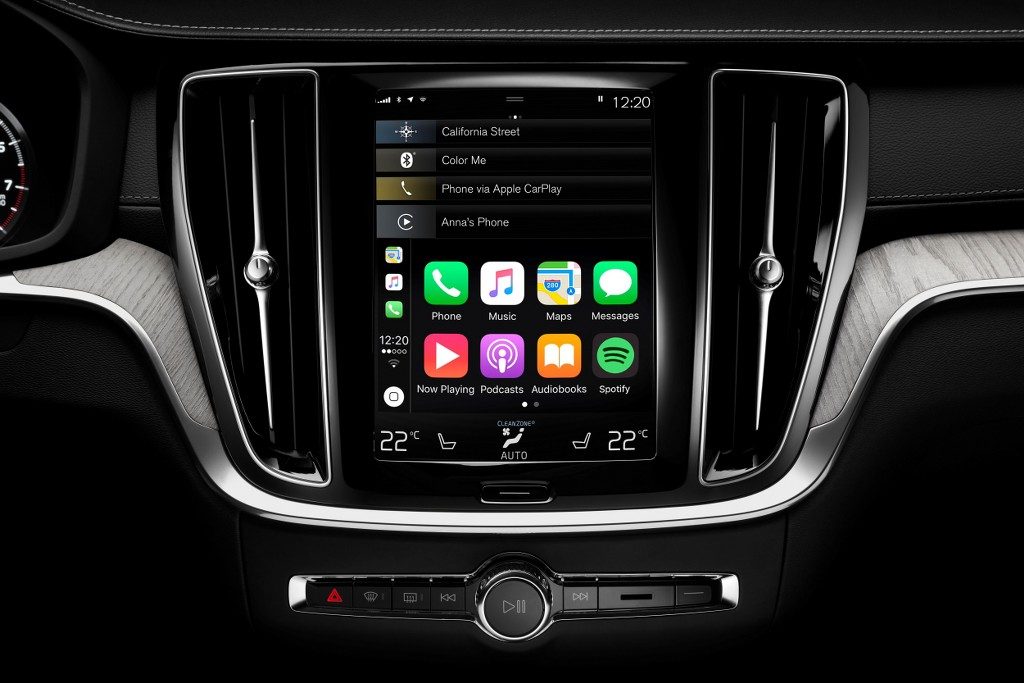 Volvo's Sensus multi-media system will allows easy access to satellite navigation and other apps; whilst  smartphones can pair to access a range of features such as central locking, air conditioning and radio.
Safety features are Volvo's forte and the Cross Country proves no exception. Emergency braking technology detects pedestrians, cyclists, and other cars on the road, and works in harmony with the 'Oncoming Collision Mitigation' – a new system which Volvo calls a 'world's first' that detects oncoming traffic travelling towards you and automatically applies the brakes to greatly reduce the severity of the impact.
Aimed at Adventurers
Volvo is especially proud of the class leading luggage space boasted by the Cross Country, offering buyers 595 litres of cargo space with the seats up, and 1,441litres with the rear seats folded down, with underfloor storage also available.
Staying true to their intention for consumers to take the car off the beaten path, a range of optional accessories enable users to transport unique items which may require them to stray from the road. Ski, kayak, and bike racks comprise the options.
The Engine
A 190bhp 2.0 litre D4 Diesel engine – one of the new hybrid engines Volvo offer – powers the car.  Volvo have paired this with an eight-speed automatic transmission, providing less noticeable gear changes when compared to a conventional five or six speed.
Creating ample amounts of torque at low rpm in aid of improved off-road handling and towing capabilities remained Volvo's priority. 400nm/295ft-lbs of torque will be readily available at just 1,750rpm which will not only greatly benefit such a heavy vehicle when traversing loose terrain, but also allows the Cross Country to tow 2000kg (4,409lbs) – an impressive figure.
All of this performance is accessible with 55.4mpg and only 135kg/km of emissions, all thanks to hybrid engineering.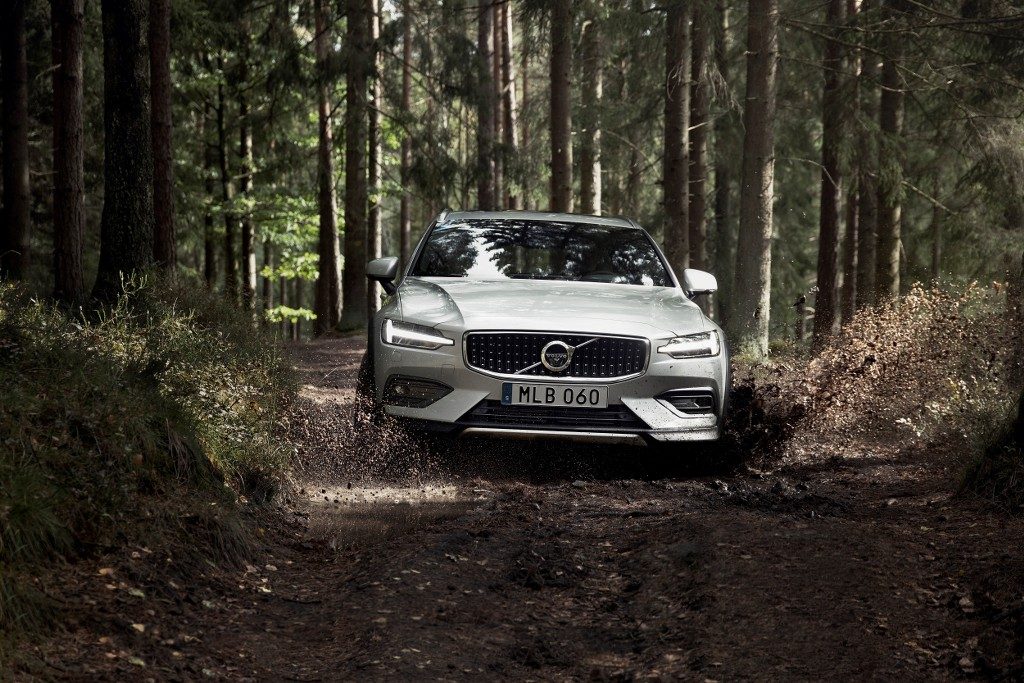 Words From Volvo
Matt Galvin, Volvo Car UK Sales Director, was keen to highlight the heritage of the model:
The Cross Country has been an integral part of our estate car line-up since 1997, and this latest version maintains its heritage of giving customers another dimension of driving capability and ruggedness. The new V60 has been incredibly well received since its launch earlier this year, and the addition of the new Cross Country version promises to raise its appeal even further.
If you were to order the new V60 Cross Country now, you could expect to receive the car early 2019 and receive. Prices start from £38,270.
You can check out the review of the previous V60 Cross Country here and for more information, you can visit Volvo's website here.