More often than not, you have faced this dreaded situation at least a few times in life: It's early morning and you put your keys to turn up your ignition and instead of revving up, you are faced with a dud! In the olden days, you would need another car, maybe call up your neighbor and jumpstart your engine from the second car. But those olden days are over with Fanttik's latest offerings.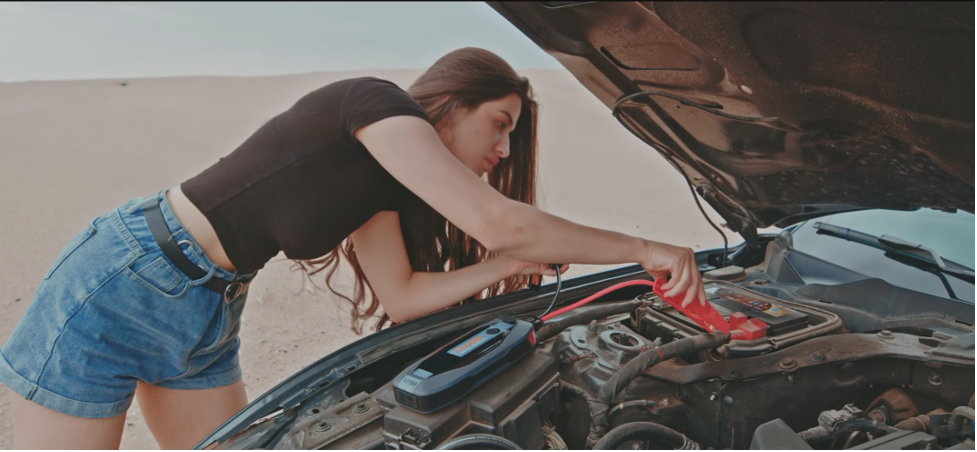 With the launch of the T8 and T8 Max, you are covered fully alongside the trusty and reliable T8 Apex which won both the prestigious IF Design Award and Red Dot Design Award.
T8 Apex – 2000 Amp The Classic
How people comment on Fanttik T8 Apex on YouTube? Check this link.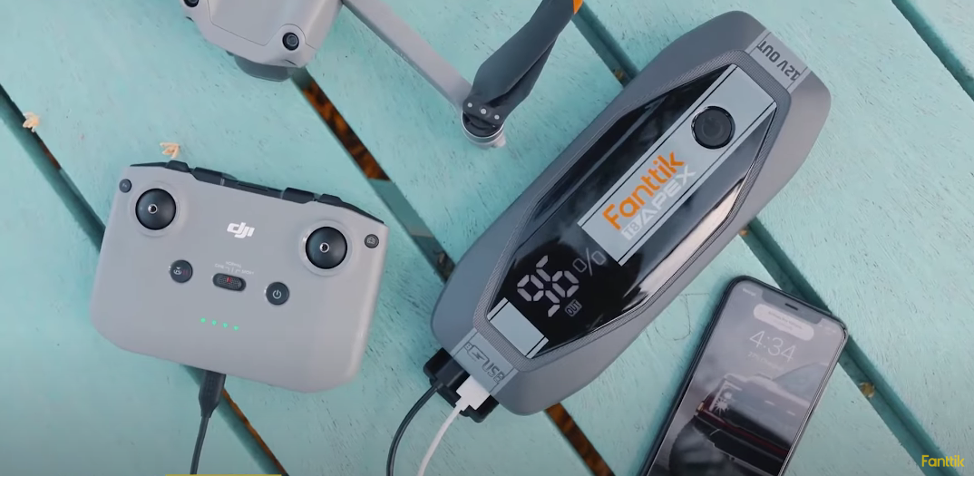 We simply couldn't leave out the multiple award-winning, Amazon charts-topping, rave-reviewed – T8 Apex. Now you may ask, why would I buy the classic T8 Apex if there are two new ones on the table? Good question but we have a better answer. The T8 Apex strikes the perfect balance between the T8 and T8 Max. So, if you have a sedan with a gas engine up to 8.5L or a ride with a diesel engine up to 6.0L, T8 Apex is still your loyal rescuer in time of need. For regular sedans and even supercars, the T8 Apex is a proven lifesaver as has been seen in countless reviews.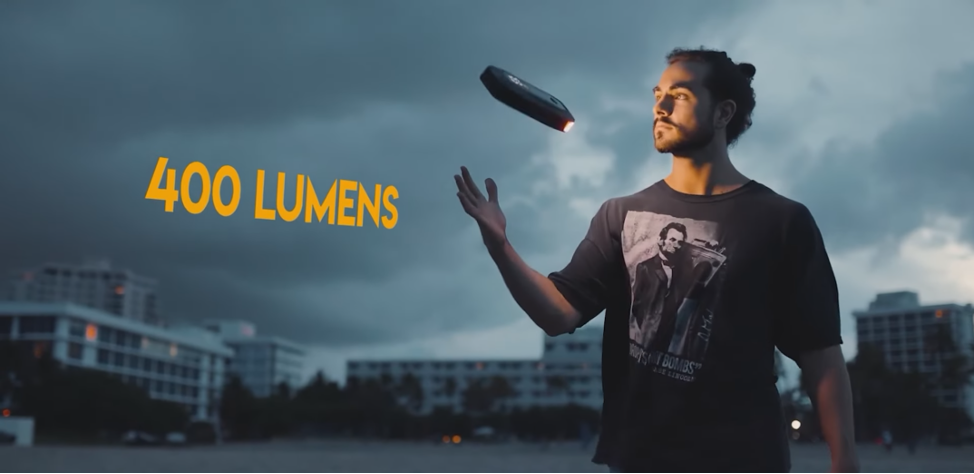 New Launch
The first one in the new launch is likely the do-it-all for the masses as it serves most of the modern compact cars you may own.
Not sure if it's right for you? Here's a litmus test: is your car an Acura or a similar sedan but smaller than an SUV? Yes, then the T8 is your best bet. Wanna get more technical? If your engine is smaller than 7L (in gas) or 5L (in diesel) – this is the one.  engine or below Coming in with a powerful 1300A, if you are a city dweller and want the perfect safety companion, the T8 1300 is the perfect choice for you.
Aha! Now the big boys are out to play and Fanttik joints the big leagues! Felt left out driving on the interstates throughout the nights on your truck with no assurance of a dead battery? Well, those days are over because Fanttik's flagship jump starter – the T8 MAX has hit the market to cater to folks like you who demand nothing less than the maximum (hence, we named it MAX). With its gargantuan 3000 Amp current, it is the ideal jump starter for larger vehicles like trucks, SUVs, and the like. More technically, it is for rides with up to 10L gas engines or 8L diesel ones. So, for the rocky ride on your hauler, maintain peace of mind with the T8 Max.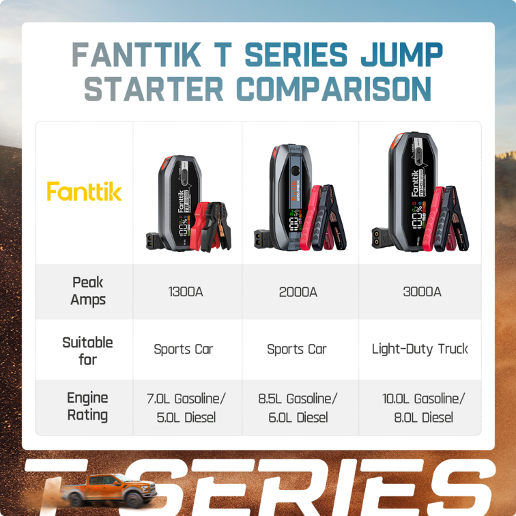 For those who are not privy to engine sizes, here is a one-line explanation: To use as a frame of reference, most sedans are only 2.5L, SUVs are 6.0L and motorbikes are 1.5L gas engines. Now, it's your call to choose the one that is right for you.
More Than Just Jump Starters
But wait, Fanttik doesn't just make jump starters and call it quits. They pack a plethora of safety and convenience features in every product in our jump starters.
Since safety comes first, let's address that accordingly. Using the industry-lauded TenSafe technology, it packs more than 10 types of protection. It covers protection against sparks, reverse charges, reverse polarity, overcharging, and short circuits.
As for convenience features, all three offer two-way charging. Just like their position in the line the T8 boasts 30W, the T8 Apex offers 65W and the T8 Max accommodates a massive 100W punch of fast charging. That means, mere minutes to charge your smartphones, laptops, and other gadgets. Similarly, the jump starters charge themselves blazing fast via USB-C making life even more effortless.
As a cherry on top, all three jump starters sport the 3-inch LCD Smart display that presents all germane metrics like the real-time voltage and the device's battery among others. It also illustrates charging levels and start/input/output/low voltage indicators.
So, what are you waiting for – for the battery to die? Save yourself the hassle and check out Fanttik's T8, T8 MAX, and the OG T8 Apex right away!
Availability
All highly acclaimed products including:
are available with the most loyal customer service and logistical support on our Fanttik's Amazon Store and also on the official Fanttik website.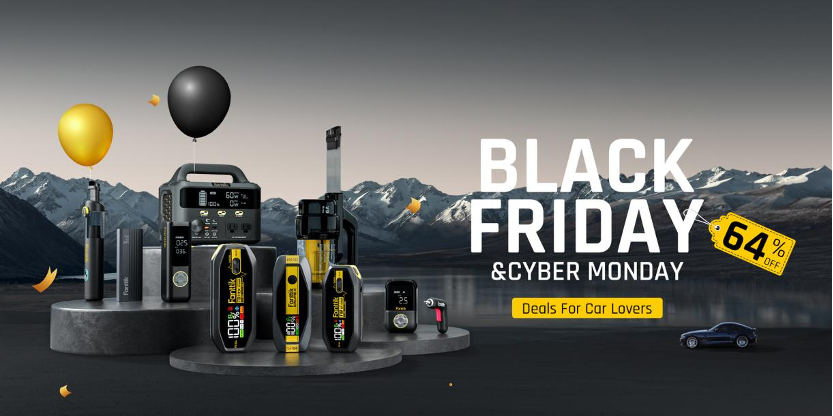 From 24th-28th Nov, Fanttik will offer Black Friday & Cyber Monday Sale!
Including: Tire Inflator (X8 and X8 Apex), Jump starters, car vacuum (V8 and V9), EVO 300 Power Station, etc.
Stay tuned!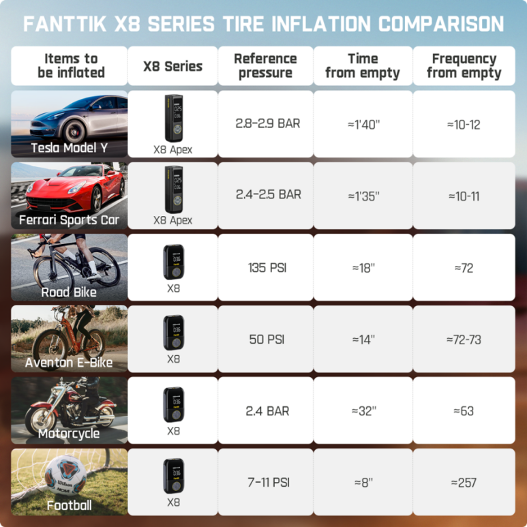 Flagship Product – Tire Inflator
For more information, please visit: www.fanttik.com
For media inquiries: marketing@fanttik.com