The Volkswagen Tiguan has a lovely, cosy image. It's a family SUV – happiest on the school run and day trips to the beach. The typical Tiguan has an interior full of crumbs. The back seat will be home to an unexplained coat hanger. And the boot will be storing clothes that need donating to the charity shop.
But the person who buys a Tiguan is happy with this. Because they're happy with their lot in life. No sporty features required for their trips to the shop. No brash, shiny chrome required to impress their neighbours. The Tiguan is the perfect option for happy people living comfortable lives.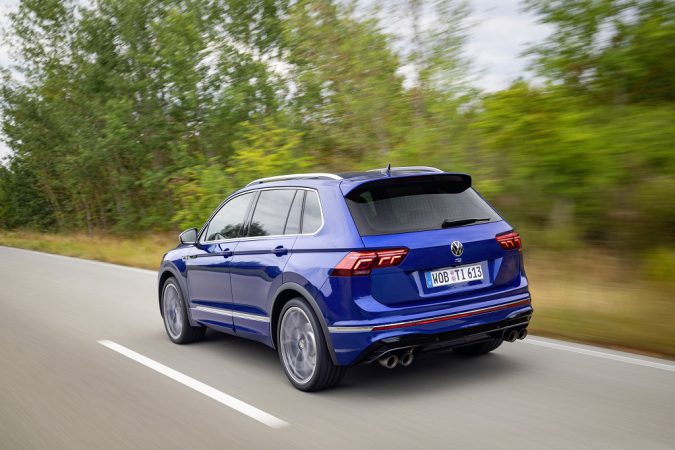 All Change
Except this sweet little SUV, so beloved by happy people across the country, has recently returned from an elite sports training academy for cars. And it's come back with a lower ride, a rear spoiler and sporty new bumpers. It's changed its name too. It now calls itself Tiguan R. R stands for 'racing'. But it could just as well be a mean new growl.
Performance
VW has decided to change the Tiguan's comfortable image. But does the Tiguan R's performance live up to the marketing hype? The new sporty Tiguan R boasts a four-cylinder 2.0-litre turbocharged petrol engine. It generates 420nM of torque and travels from 0-62 mph in 4.9 seconds. Yikes. The normal Tiguan will reach the same speed in 10.9 seconds. Better make sure your seat belt is securely fastened in the Tiguan R then.
Handling
The ride on the Tiguan R is 10mm lower than normal and the car sits on 21-inch wheels. Braking is provided by an 18-inch performance braking system. A 7-speed gearbox is supported by an "R-performance Torque Vectoring System". This sounds like something from a space rocket. But it's simply a system to manage the power between the four wheels and between the two rear wheels. Up to 100% of torque can be redirected to a rear wheel, which provides "more agile handling" on corners and "eliminates understeer".
Design
What about aesthetics? Because a sporty engine has to be matched by sporty looks doesn't it? In addition to new bumpers, the exterior boasts quad exhaust pipes, blue brake callipers and matt chrome door mirror caps. And don't forget the new spoiler (or "rear diffuser" as VW calls it). An Akrapovič titanium exhaust system is also available as an optional extra.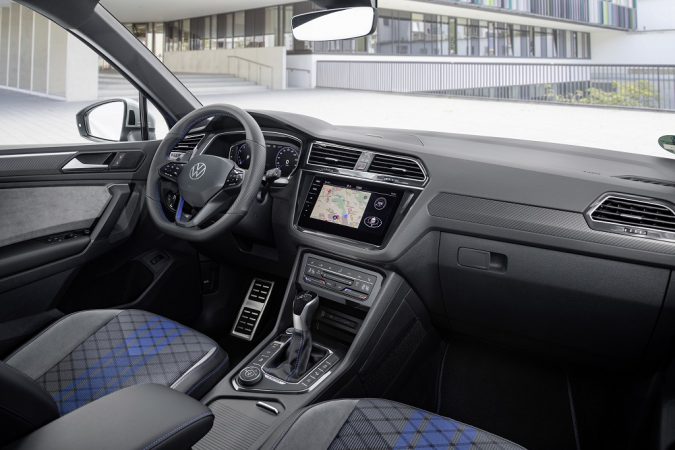 Inside, the Tiguan R's sports seats are covered with blue-black cloth. The heated R steering wheel incorporates paddle shifters à la Formula 1, as well as a new 'R' button. Much to my disappointment, the 'R' button is not for rocket booster activation, but simply an easier way to change between the Tiguan R's seven driving modes.
Additional standard equipment includes 30-colour ambient lighting (30 colours!), heated front seats, keyless entry and start, LED headlights and Adaptive Chassis Control.
The Result
This sounds like great fun for really sporty drivers. But I'm just glad that the normal Tiguan will remain for the majority of Tiguan drivers who are happy people living comfortable lives.