You've got a severe case of water spots on car if your paint still looks like the lunar surface after you've just washed it. This causes havoc on your car's paint and is a hassle to deal with. Hard water and acid rain, depending on where you live, will destroy your paint at any time. You want the color to last as long as possible without having to wash the car every 15 minutes. We'll look at the most prevalent types of water spots on cars, their causes, and a few tried-and-tested techniques for removing them from a hard surface in this article.
Because it's nearly impossible to avoid evaporated water, we might as well make the removal of water spots on car as painless as possible.
What Are Water Spots On Car, and How To Identify Them?
Acne is similar to water spots on car. It makes no difference if you have a few or a lot; the embarrassment connected with both is evident. Water spots on cars, like pimples, are more than an aesthetic embarrassment since they create scars. While their unpleasant presence is the first thing that people notice, the damage they leave behind is even more undesirable.
Clearcoat etching and 'spider webbing' marks are persistent concerns with water spots on cars since car owners spend billions of dollars on its maintenance products each year, many of which are expressly designed to eliminate the risks connected with water spots. Water spots are residues of minerals, salts, acids, or other contaminants dissolved in water and formed on the surface of your car when the water vapor condenses and dries naturally.
When it comes to water, it's never simply water. It's one of the most effective solvents available. It works well at dissolving calcium and magnesium carbonates from adjacent rock, CO2 and acids from industrial pollutants and volcanic eruptions, and lead and other metals from pollution.
Unless the liquid water evaporates, these will remain in it. It will eventually end up in your car as a result of hard water washing or acidic rain. If you leave your vehicle to dry in the sun, off-white powdery spots will emerge, and you should act quickly to remove them before they cause harm to your vehicle's paint.
The Three Stages Of Water Spots
To the inexperienced eye, all water spots appear to be made of the same residue, but they are as individual as the person concerned about their appearance. Water spots can be divide into three categories, each of which is due to a distinct source.
The fundamental cause of a water spot might be anything from dehydrated mineral deposit leftovers within a sprinkler to acid rain integrating itself into a clear finish or road salt etching into glass surfaces. It is one of the main reasons why water stains (which you can fix by understanding how to get water stains out of car seats) are usually dividing into three automobile detailing communities.
Stage 1: Hard Water Spot On The Car
By now, you've probably heard of the awful "hard water spot." Hard water stains are as frequent as H2O itself, whether they're embedded in your shower door or dripping down your car's paintwork. This car wash pollutant is more of a water source issue than anything else, and it is common for excessive minerals like calcium and magnesium.
When this mineral-rich, hard water dries, it leaves behind the residue inside the liquid itself, resulting in spots. Rain contaminated by impurities such as airborne dust, smog, or pollen can also generate Stage I hard water spots.
Water spots in Stage I are also known as "normal water spots." These marks may be eradicated in most situations by rewashing the vehicle and then quickly drying all of its surfaces using ultra-plush microfiber towels.
Stage 2: Bonded Mineral
A Stage II water spot, also known as a "bonded mineral" water deposit, is the second water spot. While pollutants or overly hard water can also cause this type of water stain, the difference is that a Stage II water stain has had more time to "bond" with the painted surface's clear layer.
The removal of a Stage II water spot frequently necessitates using a hand-held rotary polishing tool and various cutting or polishing compounds to level the paint's protective clear coat. Certain Stage II water stains can also be removed with a clay bar, mitt, or towel.
Stage 3: Etched In
Stage III water spots are referred to as "etched-in" water stains when they appear on your vehicle. This hard water spot resembles a fading section of clear coat and is most common on older, single-stage paint jobs without hard clear coats.
On the plus side, Stage III H2O stains, like other water spots, are limited because they cannot penetrate the clear coat. Consequently, many of the similar paint correction techniques utilized in the Stage II water spot removal process can be applied to eliminate them.
Types Of Water Spots On Car
There are two primary forms of water stains, depending on the composition of your local water supply, both of which are detrimental to your car's paint to varying degrees.
Mineral Deposition Caused By Hard Water
The hardness of water is actually measured by the number of minerals dissolved in it. If the pH level of the water exceeds 7, which is the pH level of pure distilled water, then its means it is hard.
The rainfall in your area will naturally take up some calcium and magnesium-rich rock on its route to the subsurface water system.
As it enters the water tank, hard water deposits minerals on everything it comes into contact with, including the car you just washed with your lawn hose. It doesn't matter if you have an M3, an S-Class, or an Escalade; wash it in hard water and dry it in the sun, and you'll have baked yourself a calcium-frosted cake.
The minerals, usually in calcium carbonate, or CaCO3 – remain behind as the water evaporates and aggregates on the surface. They cling to the clear coat's microscopic roughness. And solidify into a chalk-like powdered substance that is off-white and harsh to the touch. These minerals aren't poisonous. However, they do reduce the lifespan of any machine exposed to them, including your car's paint.

Industrial enterprises and water utilities treat groundwater to maintain the mineral concentration below safe levels. Depending on where you live, though, it might not be enough to keep hard water at a distance.
Acid Rain Causes Chemical Etching
Rain is inherently acidic because it dissolves carbon dioxide (CO2) from the atmosphere, which falls as mild carbonic acid with a pH of 5.0-5.5. If your car is kept outside for an extended time, any acid will degrade the paint, no matter how weak. Rainfall is usually not too awful as long as you wash your automobile regularly.
Rain can become more acidic if you reside in an industrial location with many carbon dioxide and nitrogen oxide emissions. Volcanic eruptions can release large volumes of sulfur dioxide (SO2) and other acidic gases into the atmosphere, resulting in acid rain. Rainfall, for whatever cause, can bring a large amount of acid to the surface, including on your parked automobile on the street.
Is It Harmful To Paint To Have Water Spots On The Car?
Definitely! Dust, dirt, and other road contaminants will attach to the calcium carbonate as it builds upon the body panels, slowly degrading the paint. Acids are damaging to your car's paint.
Suppose you have more acidic rain and let your car dry in the open. The acids can erode little bumps in the clear finish. As water accumulates in the cavities and burrows into the exact locations, the impact will intensify, eventually wrecking the paint.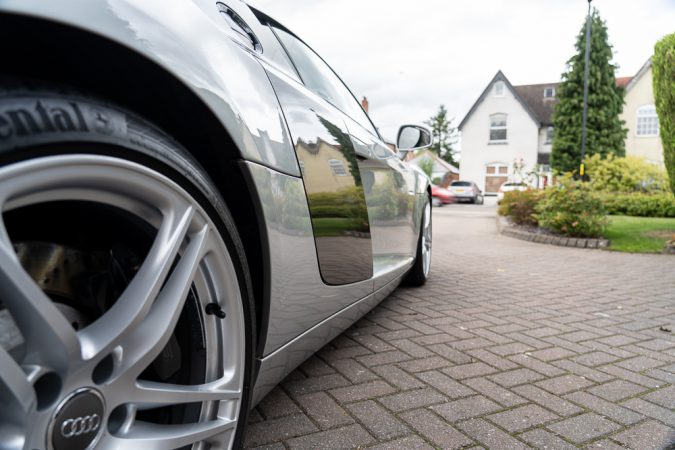 When acid rain and hard water are mixed, the situation becomes considerably worse. Calcium carbonate is a base, which means it will react with acid rain or even regular rain to generate salts that are just as corrosive to your car's paint, metal, and pretty much everything else.
Worse, as the rain becomes more acidic, the water becomes more challenging as it dissolves more calcium and magnesium from the rock. It's a continuous cycle, and ignoring it will most likely destroy your car's paint in a matter of years.
Ways To Remove Water Spots On A Car
Now that we've gone over the different types of water spots. It's time to talk about how to get rid of them. Professional detailers recommend six proven procedures for removing complex watermarks, with each approach outlined below becoming more rigorous as it progresses.
The Two-Buckets And A Beer Method
The super-chill two-buckets-and-a-beer strategy is frequently the most significant way to remove Stage I water sports. Just remember to finish with a thorough toweling-off with an ultra-absorbent microfiber drying towel to keep those bothersome mineral-rich deposits from reappearing.
Here's a quick rundown of what this procedure comprises.
The first step is to wash down the entire vehicle. This not only removes any surface debris but also gives your washcloth a lubricated surface to slide over.
It's critical to scrub and rinse your vehicle's wheels and tires before washing them. Brake dust, which comprises millions of tiny metallic and ceramic particles, is frequently found on a vehicle's rollers. Brake dust is infamous for embedding itself in paint and producing scratches, so blasting it away before cleaning any painted surfaces is essential.
Using the two-bucket method, scrub and rinse one section at a time, dipping your filthy sponge in water before loading it with the sudsy H20 stored in the other. To keep everything lubricating and prevent wet spots from appearing too soon, re-spray each section with water as you get further.
When you are done washing, use a soft microfiber cloth to dry the entire vehicle quickly. This will drastically lessen the likelihood of recurrent wet marks. This is especially true when using a high-quality microfiber towel, which absorbs moisture much faster and is less prone to drips than standard cotton cloths.
The Clay Bar Technique
Mineral deposits, as well as trapped dust, can be removed with a clay bar. Keep the surface moist and soapy while rubbing your clay in, folding it over to reveal a fresh surface periodically.
The clay can efficiently draw the calcium carbonate out of the high places, just like scrubbing. However, it is powerless to remove stains lodged in the pores. This procedure is the most successful if you have already applied a nano-ceramic coating, ceramic spray, sealer, or wax to the body (with some insight into how often should you wax your car).
Removal Of Water Spot Car With A Distilled Water + White Vinegar Solution
Vinegar is frequently hailed as a miraculous ingredient that can clean tiles, bathe pets, destroy weeds, and extend the life of cut flowers. Therefore, it should be no surprise that vinegar may be used to remove water stains from automobile bodywork and windows. Because white vinegar is somewhat acidic, it works well against alkaline deposits.
White vinegar, distilled water, a cleaned bucket, a spray bottle, a cotton cloth towel, and towels are necessary ingredients. After cleaning the automobile, fill the bottle with equal parts distilled water and vinegar and carefully shake it. Spray the compound all over the glass or car body to thoroughly saturate it.
Pour the remaining solution, as well as the towel, into the bucket. As needed, add an extra 50/50 solution to submerge the towel fully. Cover the region of the car that should be clean with a towel. Allow for two minutes of resting time before scrubbing away the water stains with the same cloth. Using a hose, thoroughly rinse the area.
Water Spot On Car Remover (Commercial)
Using a commercial water spot remover to eliminate localized areas of water stains on your car is one of the best ways to do it. Although the components in spot removers vary, including several elements in all of them.
The base is clean, distilled water with mineral oil, added as a lubricant. A mix of other components provides hydrocarbons, absorbent materials, regulators, and conditioners.
Paint, metal, chrome, and glass are the ideal surfaces for water spot removers. They're safest when utilized on glossy paint surfaces; they shouldn't be used on flat or matte paint surfaces.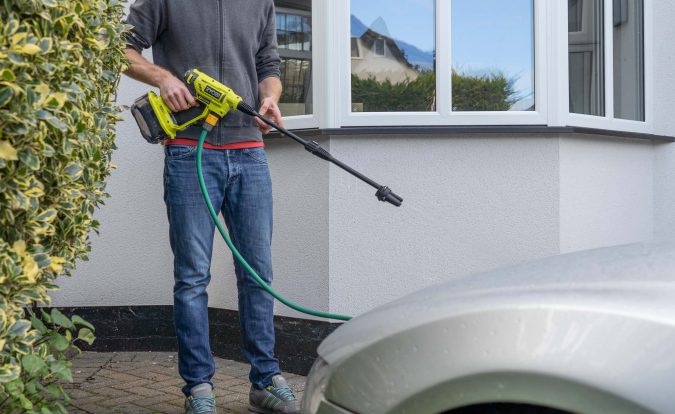 After rewashing and drying the automobile, use a foam applicator to apply the water spot remover to the spotted areas. The spot remover can apply to the paint in two or three passes, similar to vehicle wax. Finally, wipe away the compound with dry, clean towels.
Products To Remove Water Spot On Car
A3714 Compound Water Spot Remover Meguiar's is a well-known brand that is used in the automotive industry. This mixture is safe for clear coats and created to remove water spots on cars from paint, chrome, and glass surfaces.
Hot Sauce Premium (Hard Water Spot Remover) mixture is safe for the environment and recyclable. It removes water spots without damaging the wax or sealants off your car's finish. Boast Bling's silicone sealants and high-gloss polymers work together to prevent water spots and preserve your car's shine at its finest.
Eraser Water Spot Remover –  We use this gel on paint, glass, windows, and mirrors. By removing the mineral deposits left behind by water, this gel solution reduces hard water stains. The acidic combination softens minerals quickly but does not harm paint, metal, or glass. It is also excellent for windows.
Polishing And Compounding
If you used wheel acid, there should be no leftover mineral deposits. Because it's so powerful, you're almost certain to see effects. However, if your car has been lying in acid rain, you may notice microscopic etchings on the clear coat's surface. Similarly, if hard deposits have baked too hard, they may leave micro-cavities behind after removal.
When the car becomes wet, these dimples will concentrate water and impurities, aggravating the problem over time. This last option can be used only if all other options have failed to eliminate the wet spots.
Because it necessitates the use of polishing power equipment and abrasive cutting compounds, paint correction or polishing is reserved for only the most severe forms of clear coat and paint damage. If the layer is too thin, you'll have to sand down the panel and re-spray the clear coat at a professional paint shop, which will be costly.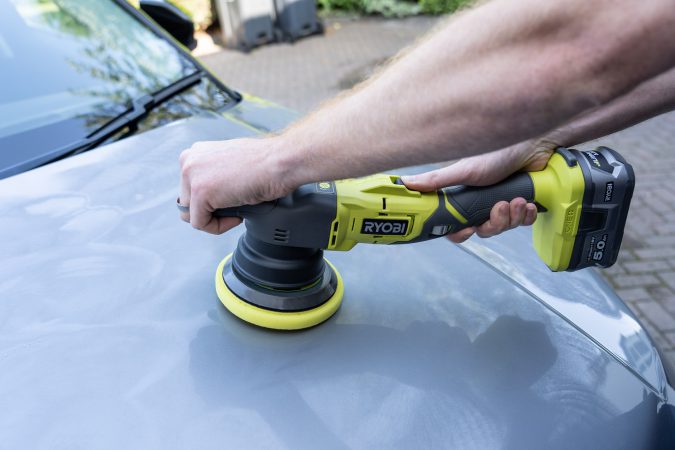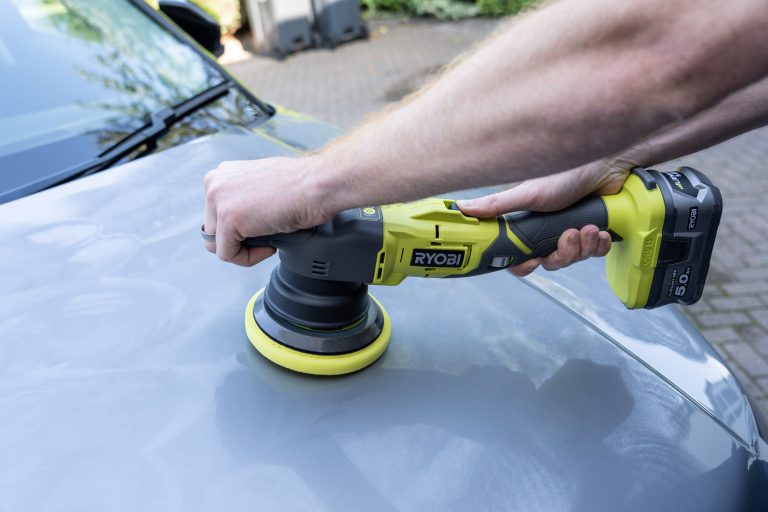 How To Prevent Future Water Stains
Although there are numerous strategies for keeping a vehicle dry. There are five well-known methods for eliminating typical hard water stains.
Always Wash In Two Buckets Method
Most varieties of Stage I hard water stain can be eliminated by using the two-bucket approach every two weeks and never letting your vehicle air dry or roast in the sun during a wash.
Use Of Microfiber
A clean microfiber towel will swiftly dry vehicle surfaces and lift unseen pollutants without scratching the clear finish. If you want to go the extra mile, you may always use compressed air or a leaf blower to eliminate watermark drips and the chance of surface scratches on your freshly scrubbed vehicle.
Avoid Sprinklers And Toxic Water
Sprinklers and other types of irrigation devices are infamous for utilizing the dirtiest water on the grid. Therefore parking your car far away from an area where giving water to plants daily is always a good idea. If you suspect you've come into touch with some tainted water, get some fast detailing spray and a microfiber cloth and sanitize the contaminated area as quickly as possible.
After It Rains, Wash Your Car
After it rains, it's a good idea to wash your car. You'll give acids and pollutants less time to degrade the clear coat. If you have one, you'll be able to refresh the hydrophobic properties of your coating.
Apply A Coating Of Protective Paint
Ceramic coatings are the most efficient because they have a low friction surface that prevents buildup from adhering to the paint. Ceramic sprays and coatings are long-lasting and resistant to acid rain and other corrosive substances.
Paint sealants and waxes will provide some protection against mineral deposits. Still, even the best formulae will succumb to chemical attacks quickly, rendering them ineffective against acid rain and other pollutants. Even so, any protective coating should outperform a non-coated body panel.
Using a sealer or carnauba wax to prevent hard water stains from destroying a car's paint job is also a very efficient approach to prevent hard water stains from ruining a car's paintwork. The various product types serve two purposes. To begin with, they aid in the enhancement of the paint's luster. They make it possible for the paint to keep its sheen.
Second, they provide a layer of protection to the vehicle's exterior. Additionally, the items are water-resistant and aid in the removal of water from the paint. When opposed to spots on an unwaxed and rough clear coat of paint, hard water stains on the sealant layer will be much easier to remove.
Removing Water Spots and Cement Splatter with Vinegar
Water used to wash a car can damage the paint by leaving behind trace elements, and tap water containing calcium and metals is especially harmful.
Harmful elements in rainwater, combined with acids from air pollutants, can cause damage to a car's paint.
Getting rid of water spots is easy if they are dealt with immediately using a quick detailing spray after routine washing.
Water spots left for too long can harden and attach to paint, requiring a mild acid such as distilled white vinegar to remove.
Distilled white vinegar is an effective and inexpensive solution to remove water spots and minor cement splatter stains.
The vinegar treatment will remove wax, so the car will need to be re-waxed afterward.
Soaking a clean sponge with vinegar and letting it sit on a cement splatter stain for 2-3 minutes can remove the stain effectively.
Minerals in water spots or cement stains can etch the paint if left for more than a few days, causing dimples or damage to the paint.
To remove etch marks, a dual-action car polisher and foam cutting pad, foam polishing pad, and Meguiar's Ultimate Compound are necessary.
A good car polisher system, such as the Griot's Garage Polisher Kit or Porter Cable Polisher Kit, is worth investing in to achieve the best results, or a professional detailer can be hired.
Final Verdict -Water Spot On Car
Nobody likes to go around in a filthy vehicle. When a car is in water stains, even the cleanest car can appear dusty. There are products on the market that can help you avoid, remove, or eliminate water spots on cars. Water stains are calcium carbonate (CaCO3) mineral deposits that linger after hard water has evaporated naturally from the vehicle.
Mineral deposits are primary; therefore, we'll clean them with various acidic chemicals. We start with something light like vinegar and work our way up depending on the severity of the problem. Aside from mineral deposits, acid rain can damage the surface structure by causing stains and etchings in the clear layer. If this is the case, wash the car well before polishing the clear coat and resealing or recoating it with a suitable protective agent.