As a reputable and well-established automotive brand, Motor Verso has gained the trust and recognition of millions of visitors each year. Our expertise and dedication to the automotive niche have earned us a loyal following who rely on our insights and knowledge.
Our founder, Paul Hadley, is not only passionate about cars but also deeply committed to the Motor Verso brand. As a forward-thinking entrepreneur, he understands that there comes a time when it's necessary to allow one's creation to flourish under new ownership and to embark on fresh ventures.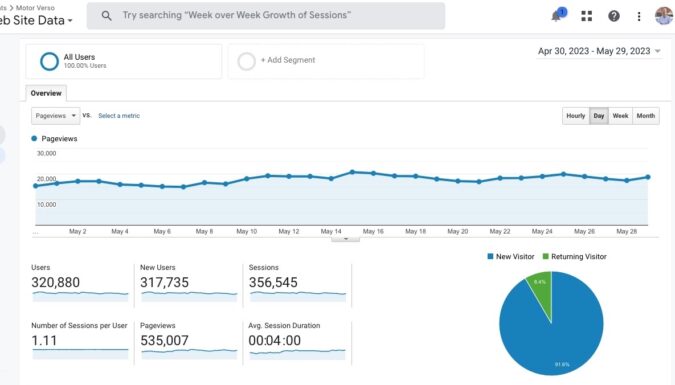 If you are interested in acquiring Motor Verso and have a serious expression of interest, please reach out to paul.hadley@motorverso.com. In your initial email, kindly provide a brief explanation of your motivation for purchasing the brand, as this will help us better understand your vision and intentions.
We look forward to hearing from potential buyers who share our enthusiasm for the automotive industry and Motor Verso's future growth.
Key Facts:
Impressive Annual Traffic: Over 4 million visitors per year, demonstrating our strong online presence and appeal to automotive enthusiasts.
Extensive Content Archive: A decade's worth of valuable content and organic links that cater to a wide range of automotive interests.
Lucrative Display Advertising: Outstanding returns from display advertising, contributing to the brand's financial success.
Future Growth Potential: Substantial investment in expanding our reach, with traffic anticipated to double within the next 12 months.
High Domain Authority: A Domain Rating of 53 on Ahrefs, reflecting our strong online reputation and influence.
Diverse Link Portfolio: Over 15,000 incoming links from automotive niche websites, showcasing our relevance and credibility in the industry.
Robust Organic Search Performance: Ranking for over 300,000 automotive-related keywords, ensuring high visibility and accessibility to our content.
Acquisition Cost for MotorVerso.com
We invite purchase offers exceeding $2,000,000 for the acquisition of MotorVerso.com. Our ideal new owner or investor will share our enthusiasm for the automotive industry and appreciate the value of our extensive, established audience, leveraging it for continued success and growth.
Valuation Components for MotorVerso.com
We understand that not everyone may have the financial means to invest in a well-established brand like ours. However, it is essential to remember that Motor Verso has been built over a decade and cannot be replicated overnight. The valuation of our brand encompasses both direct and indirect costs and assets.
Direct Quantitative Costs or Assets Worth:
Annual website revenue with a 4x multiplier: $1,250,000.
A decade of work by the founder at a basic rate – 10 x $40,000 = $400,000.
Recent two years' investment in SEO-focused content for significant growth: $200,000.
A 10-year-old domain name with 17,000+ organically gained backlinks: $125,000.
Indirect Costs or Assets Worth:
Brand reputation and trust established within the motoring industry: $65,000.
A decade's worth of investment in unique content and experiences, such as car loans from manufacturers, test drives, and exclusive events, amounting to $62,000 per year: $620,000.
Ahrefs' estimation of the value of our current monthly traffic, which would cost around $183,000 per month to generate through PPC or similar campaigns: $2,196,000 per year via PPC.
This comprehensive breakdown illustrates the value of MotorVerso.com and the extensive resources that have contributed to its success over the years.
Authoritative Automotive Website with High Domain Authority:
Motor Verso has established itself as an undisputed authority in the automotive realm over the past decade. Our consistent brand-building efforts have resulted in the acquisition of thousands of backlinks, demonstrating our credibility and trustworthiness. This gradual yet sustained growth has cemented our position as a reliable source of automotive information in the eyes of Google. Consequently, we currently rank highly for hundreds of thousands of automotive keywords on the internet, solidifying our prominence in the industry.

Sustained Traffic Growth and Future Potential:
Since September 2020, we have implemented a highly effective content production strategy aimed at driving more traffic to the Motor Verso website. Although this method of gaining traffic through Google is gradual, it yields impressive returns.
Every month, we target 100 keywords and proceed to research and develop 100 comprehensive articles, each consisting of 3,000 words. Our website's traffic growth during this period can be viewed here.

It can take 12 months or more for this content to rank highly in organic search results, gradually rising to the top and generating significant returns. The current traffic growth is attributed to articles produced over 12 months ago. Since then, we have been creating 100 new articles monthly following the same strategy, and they are steadily climbing Google's rankings.
We project that the traffic levels will likely double within the next 12 months, which also implies that display ad revenues are expected to double during this period.
The graph below demonstrates the number of keyword-focused articles we have created each month. With over 1,300 articles yet to surpass the 12-month mark, we anticipate substantial traffic increases as these articles reach the top 3 results on Google. You can view examples of these articles here.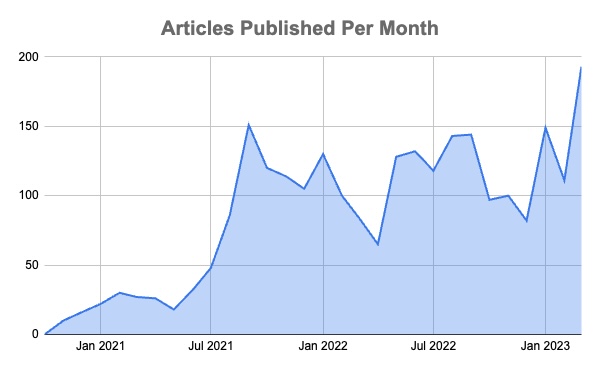 Express Your Interest in Acquiring Motor Verso
We invite you to express your interest in purchasing the Motor Verso business. While we are open to considering all serious offers, we are not in a hurry to sell. We are seeking a new owner who understands the value and potential of our well-established brand.
If you are interested in acquiring Motor Verso, please reach out to paul.hadley@motorverso.com and share your motivation for purchasing the website. This will help us better understand your vision and evaluate how it aligns with our goals.
Don't miss out on this unique opportunity to:
Leverage our extensive, loyal audience to further expand your presence in the automotive industry.
Benefit from our well-researched, SEO-focused content strategy that drives continuous traffic growth.
Capitalize on our strong domain authority and high organic search rankings to increase your online visibility.
Enjoy the potential for significant returns on investment as traffic and display ad revenues continue to grow.
Build upon our established brand reputation and trust within the motoring community.
Take advantage of this rare chance to acquire a thriving automotive website with a proven track record of success. Act now and secure your future in the highly competitive automotive media landscape.