Motor Verso is a mature established automotive brand with millions of visitors each year. We are trusted and recognised by our readers as experts in the automotive niche.
Our founder Paul Hadley is incredibly passionate about cars and about the Motor Verso brand. However, as an entrepreneur, he recognises there is always a time to let your creation be purchased and move on to new ventures.
Serious expressions for purchase can be made to paul.hadley@motorverso.com. Please indicate why you would like to purchase the brand in your initial email.
Key Facts:
4 Million+ visitors a year.
10 Years of content and natural links.
Really high returns from display advertising.
Massive investment has been made for future growth – Traffic is expected to double in the next 12 months.
High domain authority. We have a Domain Rating of 53 on Ahrefs.
15,000+ incoming links from automotive niche websites.
We rank for over 300,000 automotive keywords in organic search.
How Much Would It Cost To Purchase MotorVerso.com
£1,500,000 would be the offer we would be looking for to sell the business to a new owner/investor.
Valuation Breakdown
Whilst we appreciate not everyone can afford to spend this type of money purchasing a brand like ours. Remember this has taken 10 years to build and this type of business can not be replicated overnight.
Direct Quantitive Costs or Assets Worth
Total website yearly revenue with 4 times multiplier = £1,000,000.
10 years of work from the founder at a very basic rate – 10 x £30,000 = £300,000.
Recent 2 years content costs on SEO-focused articles for massive growth = £150,000.
10-year-old domain name with 15,000+ organic gained backlinks = £100,000.
In-direct Costs or Assets Worth
Reputation and trust built for the brand in the motoring industry = £50,000.
10 years of investment in content from car manufacturers, loaning cars, flying to test cars, giving us unique experiences  to document etc. £50,000 per year = £500,000
Ahrefs registers the value of the traffic we receive to costs around £265,000 a year if you tried to receive it by PPC or similar campaigns.
Authoritive Motoring Website – High Domain Authority
We are an undisputed authority in the motoring world. We have spent 10 years slowly building a brand. Along the way, we have earned thousands of backlinks to the site. The benefit of this long and slow growth means that in the eyes of Google we are a strong source of information in the automotive world and we rank well for hundreds of thousands of automotive keywords on the internet today.

Massive Growth In Traffic Will Continue
Since September 2020 we have been carrying out a highly effective content production process to bring more traffic to the Motor Verso website. Gaining traffic this way from Google is slow but has great returns.
Each month we have targeted 100 keywords and then researched and created 100 x 3,000-word articles covering the topics in full. You can see how Motor Verso traffic has grown during this period here.
Getting this content to rank well in organic search can take 12 months or more to slowly rise to the top and bring in good returns. The traffic growth you can see here is from articles we produced over 12 months ago. Each month since we have been creating 100 new articles with the same strategy and they are slowly going up the rankings in Google.
We estimate that the traffic is likely to be double the levels of what we are currently experiencing at the moment in 12 months' time from now. Which also means that display ad revenues are also likely to have doubled in 12 months' time.
Below you can see a graph showing how many keyword articles we have been creating each month. We have over 1,300 articles that are yet to age over 12 months, so big traffic increases are still expected as these articles reach the top 3 results in Google. Examples of these articles can be seen here.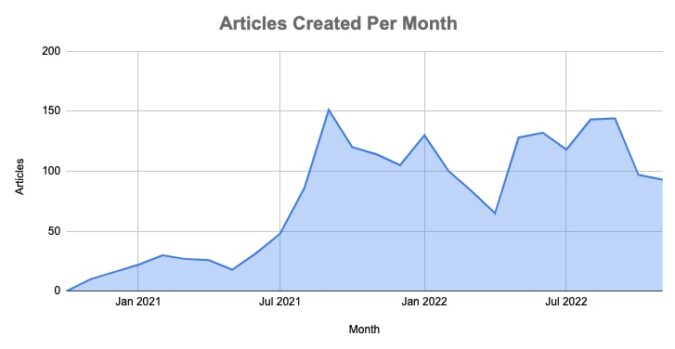 Website For Sale – Express Your Interest
You are welcome to express your interest to purchase the Motor Verso business. We will consider all serious offers, but we are not in any rush to sell this business. If you are interested please contact paul.hadley@motorverso.com and let him know why you would like to purchase the business.