Besides the high upfront expense of buying one, another key factor cited for why folks are hesitant to make the switch to EVs is range anxiety. Yes, most electric cars these days have more than enough to survive the daily commute. Nevertheless, it's nice to know that it'll have the endurance necessary in a single charge to go for a long-distance trip, for example. So, what electric car has the longest range?
If you can't trust charging your EV on the go or managing it as economically as possible while driving, a simple alternative is getting an EV with a battery that'll go the distance. A typical benchmark for an electric car's range is 200 miles – anything above that is pretty good. But what if that's not enough? A range of 300 miles, perhaps? Or, maybe even 400 miles and further? If so, here are your options…
Longest Range Electric Car
Just so we could standardise finding what electric car has the longest range, we'll be reliant on WLTP quotes for EV range. In addition, our list here will only include electric cars that can manage at least 300 miles of range. And, it'll be limited to those cars that are currently on sale, though we'll leave a hint or two for equally-as-enduring upcoming models that are just around the corner.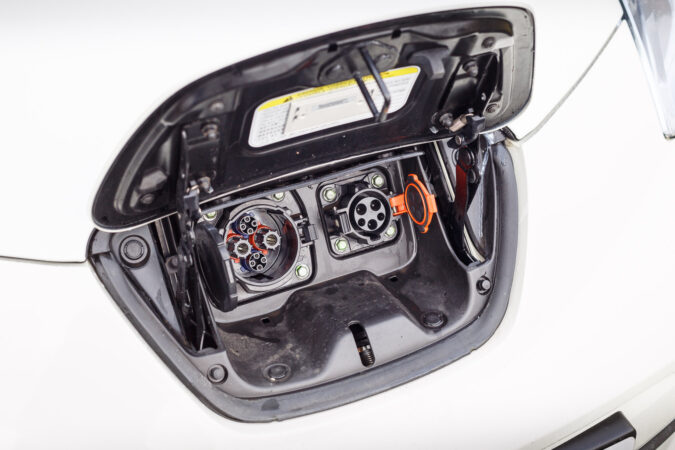 At a glance, here's a top-10 to answer what electric car has the longest range:
Mercedes-Benz EQS 450+ – 453 miles
Mercedes-Benz EQE 350 – 410 miles
Tesla Model S – 405 miles
BMW iX xDrive 50 Sport – 380 miles
Ford Mustang Mach-E Extended Range – 379 miles
BMW i4 eDrive40 – 365 miles
Tesla Model 3 Long Range – 360 miles
Tesla Model X – 348 miles
VW ID.3 Tour – 340 miles
Polestar 2 Long Range (Single Motor) – 335 miles
If you're curious about which one you should go for, a quick summary of each might help…
1. Mercedes-Benz EQS 450+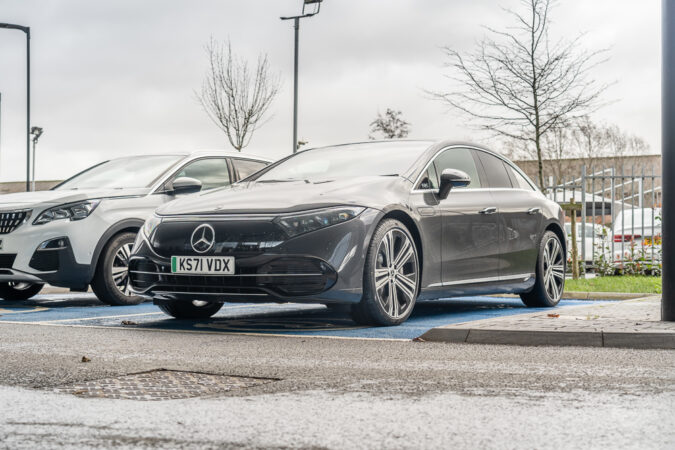 By far the costliest of the bunch, the EQS is Mercedes's idea of an electrified S-Class. Endlessly comfy and opulent, it's just as jampacked with features and tech as the S-Class lineage deserves. With that long bodywork, Mercedes was able to accommodate a vast 107.8kWh battery pack. Right now, this is the largest battery in an EV. Hence, why it's able to travel a whopping 450+ miles on a charge.
2. Mercedes-Benz EQE 350
Ah, but what if you want an EQS, but can't afford its nigh-on six-figure price tag? In that case, you'll be just as pleased with the EQE – otherwise, Merc's idea of an EV'd E-Class. It looks just as swoopy in appearance and is just as cosy to be in as the EQS. Yet, it's far cheaper than the EQS, to boot. Still, it doesn't mean that Mercedes has skimped on the range, as the top-end EQE can easily tackle 400 miles.
3. Tesla Model S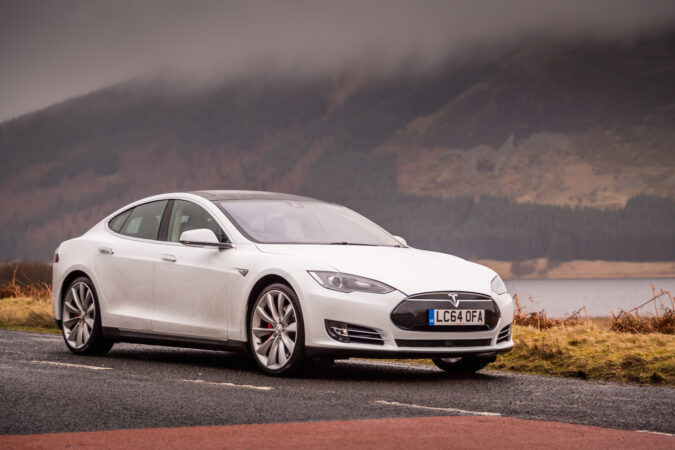 To be fair to the Model S, there's a chance that they might get bumped up this list. Oddly, Tesla's UK website quotes 405 miles, which was taken from its State-side counterpart. This is crucial, as ranges there are rated by the EPA. Compared to WLTP, EPA is much stricter. As such, WLTP quotes are often around 11% higher than the EPA's. If so, this means that the Model S might match the EQS's range.
4. BMW iX xDrive 50 Sport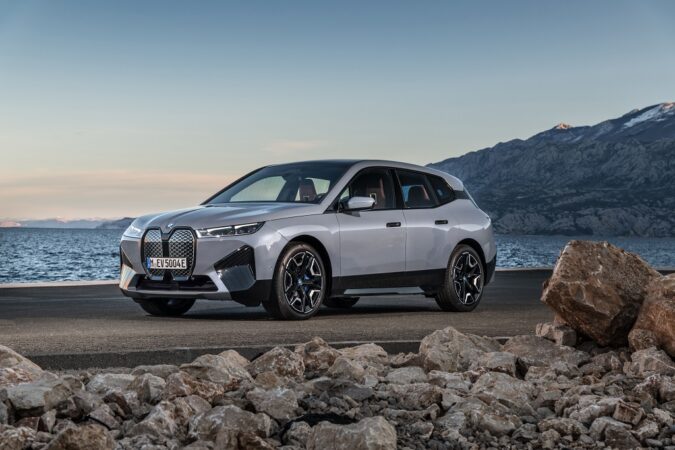 As confusing as its name might be, it's at least better than how the iX looks – at least, in our opinion. If you're okay with the looks, BMW's first properly all-EV SUV does offer a stunning interior to spend time in. Just as addictive is the speed, thanks to dual motors with a combined output of 516bhp. Its range is just as impressive, up to 380 miles owing to the use of a gargantuan 106.3kWh battery.
5. Ford Mustang Mach-E Extended Range
The electrified Mustang garnered quite a bit of controversy for its badge. Though hardcore Pony fans may shun it forever, the Mach-E is a brilliant car underneath. If you want a long-distance cruiser, but are on a tight budget, the Mach-E can be had for half of the price of the above three. Among all the trim levels offered, you'll need to option the 91kWh battery pack to unlock those 379 miles, though.
6. BMW i4 eDrive40
Compared to the iX, BMW's i4 is not nearly as divisive by comparison. Although, that gigantic grill is still a major point of contention. Should you be willing to forgive and forget, the i4 is a great car. Its entry-level eDrive40 trim is what you should be eyeing, with its 81kWh battery. It has enough power to have a bit of fun, though the i4 is rather heavy. Yet, it's still able to enjoy 365 miles of range.
7. Tesla Model 3 Long Range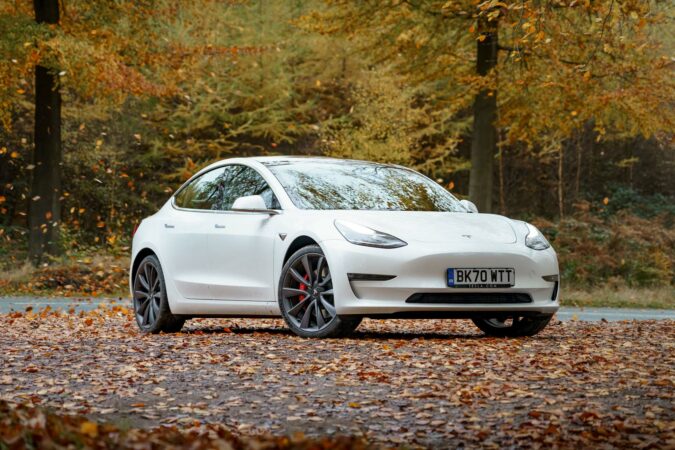 Unsurprisingly, there'll be a lot of Teslas on this list. Their early and pioneering entry into electric cars means that they have a huge head start over other automakers. Crucially, Tesla has a solid charging infrastructure laid out, and a well-developed platform. Owing to its extensive experience, they could offer a relatively affordable EV like the Model 3 with the muscle and comfort and 360 miles of range.
8. Tesla Model X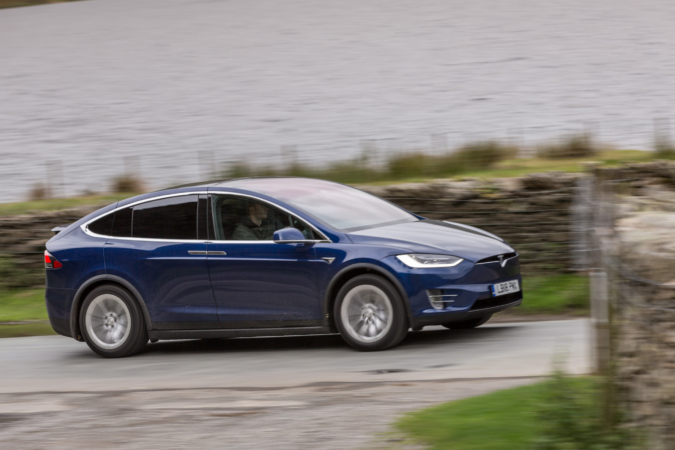 Oh, another Tesla, you say? If the Model S and 3 are a bit too tiny, the Model X has all the passenger and cargo space you desire. Plus, it's the only mainstream passenger car to feature gullwing doors, if that's worth anything to you. The Model X might have a lot of competition to deal with in the future, like Mercedes's EQB. But for now, the Model X and its 348 miles of range is an attractive proposition.
9. VW ID.3 Tour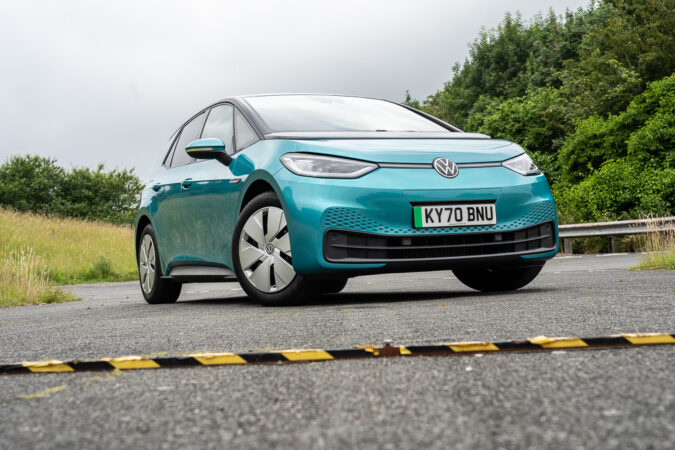 Volkswagen's so-called EV for the people is a bit pricier than most would prefer. Although, it at least offers a lot in return, such as a relatively large 77kWh battery pack. Albeit, you'd have to spend a bit more for the Tour trim to get it. In doing so, you're unlocking around 340 miles worth of range. If it's a bit too expensive for you (understandably so), the entry-level ID.3s are still good for 200+ miles.
10. Polestar 2 Long Range (Single Motor)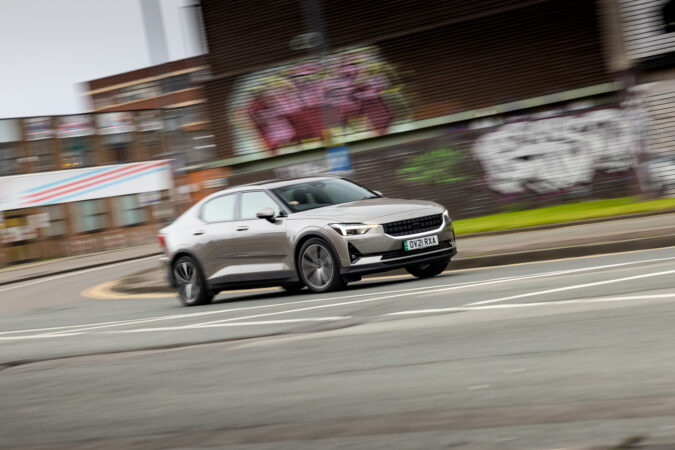 Polestar – Volvo's half-cousin – makes some of the prettiest cars today, in my eyes. But not only that, they're pretty well-thought-out, as well. The Polestar 2, in the costlier trims, is easily able to go past 335 miles on a full charge. All the while, you're cocooned in sophisticated Nordic luxury. The serenity of the cabin is interrupted only by bouts of speed from a shockingly potent powertrain underneath.
Tips And Tricks To Boost EV Range
But let's say that you already have an EV, and aren't satisfied with its endurance… There are ways in which you could further optimise the range. Here are some tips and tricks to get more miles out of an EV, aside from wondering what electric car has the longest range…
Pre-condition your EV in colder weather (fact: EV batteries lose efficiency and range in the cold), and get it warmed up before you set off.
Use regenerative braking to its fullest (especially with cars that have strong regenerative brakes). As you continually drive, these can add more miles back to your battery than you think.
Consider using EV-specific tyres to minimise its rolling resistance and smoothen out the aero. While a set of normal tyres are sufficient, made-for-EV rubber allows your car to drive more efficiently.
Be gentler on the accelerator pedal, and coast when possible to reduce battery usage. The former is a crucial factor, as hard stomps on the throttle and hard driving will drain your battery faster.
Take good care of your battery and be mindful when charging it. Ideally, keep your battery up to 80% charged. Regularly filling that remaining 20% heats up the cells more, which risks degrading them.
Be diligent about using onboard electronics, like the infotainment system, heaters, lights, and so on. Obviously, keeping these running all the time will rapidly drain the battery.
Reduce weight where necessary, which prevents your car from being overburdened. There's no need to go too extreme. However, if you don't need to carry a boot-full of bags, then get rid of them.
Plan out your routes more carefully, which most satnavs should readily manage for you. If you spend most of your commutes on higher speed motorways, you'll naturally have to use more power.
Final Thoughts… Good Enough Range?
The future of EVs seems to remain divided as far as range is concerned. On the one hand, most people want to be able to drive further in their cars. It's to serve this audience that brands like Mercedes are expanding the threshold for electric range. For example, their latest EQXX concept was able to cover more than 1,000km. Or, around 621 miles, which is beyond impressive given where we are today.
Yet, other brands like Audi think that the future isn't about more range – it's about less. They've noted that the expansion of high-speed charging networks means that future EVs could easily make do with smaller batteries. In other words – fewer miles on a charge but they're also lighter and more compact. For now, though, I dare say that 400 miles for what electric car has the longest range are pretty good.