The new 2020 model year is the second generation of the GMC Acadia which underwent a diet plan, thereby, reducing its size in terms of length and width resulting in a significant 700 lbs of weight loss when compared to its first-generation model. A 2.5L 4-cylinder (193HP) engine is offered as standard. Optional ones include a turbocharged 2.0L 4-cylinder engine (230HP) and a 3.6L V-6 (310HP). This three-row family SUV starts at around $31,000 and the new AT4 trim at around $41,000 and rivals against Ford Explorer, Toyota Highlander, and Hyundai Palisade. The lower base price of Acadia might seem enticing but also keep in mind that it is the smallest, both inside and out when compared to its rivals.
The Good
Smooth driving experience
Standard dual-clutch 9-speed automatic transmission with smooth shifts
Standard all LED Headlights
Standard three-row seating (But not for AT4 variant)
USB ports for all three rows
Apple car play and Android auto comes equipped as standard
The Bad
Very poor boot space if third-row seats are up
Any color other than white costs $500 extra
Keeps changing back to 2WD mode once you turn off your car
Poor legroom for third-row passengers
Third-row seats cannot be reclined from the inside
What's New?
The new revised design of front grille and bumper
The new AT4 trim gets the GMCs off-road design theme; Black chrome grille along with 17-inch wheels with all-terrain tires
All-new 2.0L 4-Cylinder turbocharged engine churning out 230HP
New as well as weird to use the electronic shifter
Other subtle changes include a revised center console design with better storage space on offer, an updated infotainment system with improved voice recognition, and an optional 8-inch screen.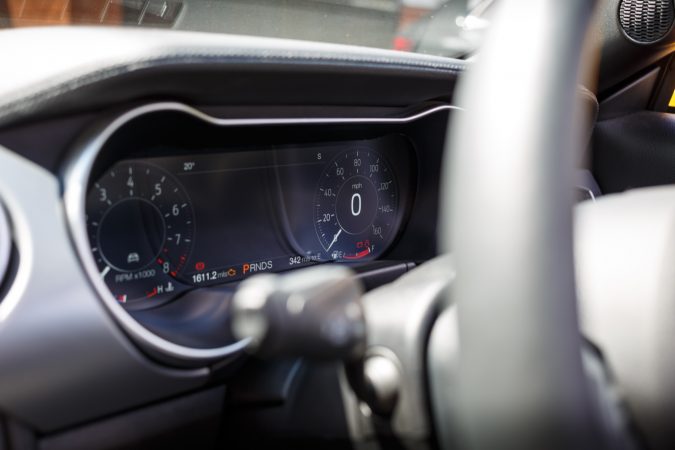 What Are Its Standout Features?
The standout features which help to sway more customers include USB ports on all three rows keeping everyone juiced up, a feature which most of its rivals do not offer, making it extremely practical. Also because of poor visibility, GMC has compensated it with the inclusion of the Blind Spot Monitoring System as standard. Along with these features, GMC also includes the Teen Driver Monitoring system, standard on all GMC vehicles which helps teen drivers develop safe driving habits. This feature can be elicited with your key fob.
2020 GMC Acadia Vs. 2020 Ford Explorer
Both the cars provide excellent comfort as demanded by family SUV standards, with a plethora of safety features on offer, but there are subtle nuances that create a disjuncture between the Acadia and the Explorer. For starters, Acadia has USB ports on all three rows whereas the Explorer offers it on only the first two rows, also GMC is accoutered with a much simple to use infotainment screen when compared to Ford. But where the Ford Explorer excels is in its interior, with much more space on offer, but third-row legroom remains identical on both the cars. Explorer is also much better in terms of reliability, evident by 2020 J.D. Power VDS, which ranks Ford 10th out of 32 whereas, GMC is ranked way below the industrial average making it very unreliable. Explorer also takes the lead in terms of power with 250HP when compared to 230HP on the Acadia, but ironically, although having less power, the Acadia has a faster 0-60 mph time (6.1 sec) than the Explorer (6.8 sec).
Should You Buy The GMC Acadia?
With menacing looks, the Acadia surely is one of the best looking in terms of aesthetics. If how your car looks is a crucial factor for you, on which car to buy, then Acadia would surely strike you as one of the best looking family SUVs. With USB ports on all three rows to keep your family juiced up, serene driving experience paired with a silky smooth dual-clutch 9-speed automatic transmission and comfortable seats with one of the best interior quality makes this car extremely desirable. But upon shedding some light on its disadvantages, we see that GMC is very poor at reliability with bad scores from J.D. Power VDS for the past 2 years, falling below the industrial average. And also when all the three-rows are in use, the poor cargo space on offer can make it very impractical for a family SUV. There are many other family SUVs in the market in abundance to choose from, some even better which can create skepticism from buying the Acadia, but, if you want a slightly smaller, punchy three-row family SUV with menacing looks along with excellent off-road puissance, and reliability doesn't matter to you at all, then GMC Acadia is surely a good car to buy if you can find a good deal.
Safety
The 2020 GMC Acadia bewitches us with one of the best in class scores receiving 5 out of 5 stars on its overall safety according to NHTSA. 2020 GMC Acadia gets knocked down to 4 stars when the car is subjected to hard cornering, according to NHTSA, the Acadia has a 15.10% chance of rolling over.
GMC proves that the 5/5 star rating by NHTSA is no fallacy by gaining maximum possible scores on every parameter (except ease of use for latch) by IIHS. GMC has clearly made a robust and durable family SUV in terms of safety.
Recalls
According to NHTSA, the GMC Acadia bears 0 recalls against its name. Not only for the 2020 model year but also for 2019, Acadia held no recalls against its name. But, 2018 is where the Acadia was recalled twice. Once for an improper fixture of the high-pressure fuel pump, according to NHTSA, the high-pressure fuel pump may detach from its mounting resulting in damaging the fuel line. GMC has notified their owners and the customers can get it fixed at their dealership for free of cost. Again the Acadia was recalled for the second time due to possible fracture or separation of front drive shaft increasing the risk of a crash. GMC has notified its owners and customers can get their issue fixed for free of cost at their convenient dealership.
Warranty
Standard warranty: 3 years/ 36,000 miles whichever comes first
Powertrain warranty: 6 years/ 100,00 miles whichever comes first
Warranty details for certified pre-owned cars are given below
Standard warranty: 1 year/ 12,000 miles whichever comes first
This standard warranty can be extended to 6 years/ 100,000 miles whichever comes first depending on the condition of the car.