Have you ever wondered who makes those Infiniti cars and SUVs you love? Infiniti is a well-known Japanese luxury automaker, but you might be wondering who owns Infiniti. Infiniti is currently under the control of the Nissan Motor Company, which developed the luxury brand in 1985 with the top-secret "Horizon Task Force". Continue reading to learn about Infiniti's history and where the company is headed now!
Who Makes Infiniti Cars?
Let's get right to the point: Nissan owns Infiniti. Infiniti is Nissan Motor Company's luxury business in Japan, and it competes in the premium luxury segment alongside Lexus and Acura.
Read the Nissan study if you want to learn more about the brand and how good its cars are. Let's take a look at the company's history now that we know who makes Infiniti.
The History Of The Infiniti Brand
So, who manufactures Infiniti cars, and where did this brand originate? The Horizon Task Force was established in 1985, but Infiniti was not named until two years later, in 1987! The Infiniti emblem and logo, which represents two perspective lines stretching out toward the horizon, were developed during the same year by teams of designers. We're confident you can see how this image ties into Infiniti's heritage and presents visual design characteristics.
"Is Infiniti owned by Nissan?" Many drivers wonder. Yes, in a word. Infiniti is a branch of Nissan Motor Co., a Japanese automaker responsible for producing Nissan's luxury cars. The brand was formally debuted in November 1989, with the majority of its cars being related to those offered by the parent firm, Nissan. Within the USA, Infiniti is a luxury car manufacturer based in Dallas. Globally, they are based in Yokohama, Japan.
Nissans, But More Luxurious
When Infiniti was introduced, Toyota had just launched its Lexus brand, and Honda debuted its Acura cars. Both firms were attempting to profit from a trend in the American and worldwide markets to produce affordable luxury cars. Infiniti created a niche for itself as a high-performance vehicle with extravagant interiors. And yes, cutting-edge technologies that provided drivers with the pleasure of a fast car without sacrificing style.
Although Nissan's new luxury brand was launched in 1987, its initial models, the Q45 sedan and performance-oriented M30 coupe, were not released until 1989 (1990 model year). It followed them up a year later with the G20, a tiny sports sedan. Throughout the 1990s, Infiniti expanded its model selection, offering customers stylish, athletic, and surprisingly cheap luxury cars. The brand was one of the first to develop a premium SUV, the QX4, seeing the market's potential.
The excellent G35 was a luxury sedan that many driving fans and automotive journalists deemed superior to the luxury automobile benchmark at the time. The BMW 3 Series, in almost every way, launched Infiniti into its stride in the early to mid-2000s. After establishing itself in North America, the company expanded into European and Chinese markets in 2008 and 2013 to become a more global player.
What Countries Produce Infiniti Automobiles?
While Nissan produces several INFINITI models in Japan, several foreign facilities create models not available in the United States, including sites in Canada, the Middle East, Europe, and the United Kingdom. The QX60 crossover, which is available in the USA, is currently manufactured in Smyrna, Tennessee, whereas the QX50 crossover, which is also available in the United States, is manufactured in Mexico.
Here's a list of INFINITI models currently on the market in the United States, along with their manufacturing locations:
Sedans
Q50 model (Japan)
Q70 model (Japan)
Q70L model (Japan)
Coupes
Crossovers
SUVs
Specific Models
According to Infiniti of Dayton, the Japanese plant is in charge of producing Infiniti sedans. The Q50, Q60, and Q70 model lines, as well as their derivatives, are included. Among the sedans, the Q50 is the most competitive vehicle built in Japan, holding its own against higher-priced European luxury competitors. We'll go over the Infiniti models briefly in this part.
Infiniti Q30
The Q30 is a raised-up hatchback that acts as both an entry-level model and Infiniti's smallest vehicle ever. It's a British-built family hatchback that aims to steal BMW 1-Series, VW Golf, and Audi A3 customers despite being halfway between a sedan and a crossover. Because Nissan collaborated with Daimler, which owns Mercedes-Benz, the Q30 is an intriguing concept because Infiniti could cherry-pick pieces from Mercedes-parts Benz's bin.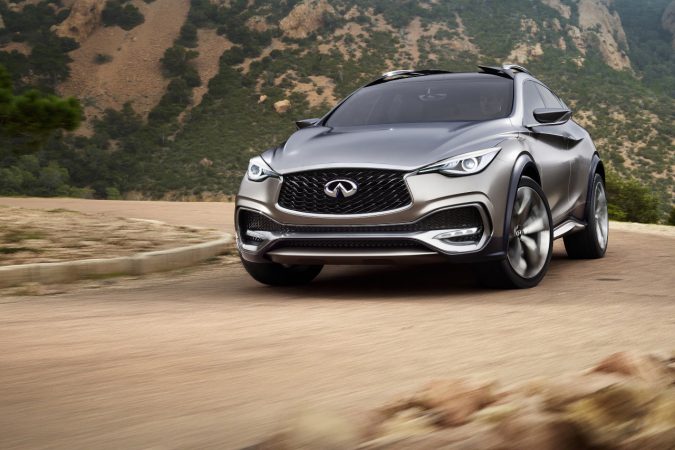 The Q30 is a cross between the A- and GLA-Class to develop a hatchback with higher suspension travel for better comfort. As a result, it's aiming for the luxury hatchback and all-wheel-drive sectors. The 1.5 is relatively cost-effective, with low operating costs; however, there are better solutions available. The Q30's major flaw is that it lacks a unique selling point that would make it stand out if it had comfortable suspension.
Infiniti QX60 (2022)
Infiniti's mid-size three-row QX60 is all-new for the 2022 model year, and it aims to move drastically up-market to win the hearts of top-quality SUV buyers. The 2022 QX60's fresh look previewed by the QX60 Monograph concept is a modest change from Infiniti's present design language. The interior has been completely redesigned compared to the previous generation QX60, with additional luxury and convenience amenities and a more sophisticated appearance.
The powertrain will be the same as the one found in the 2022 Nissan Pathfinder. The engine is a 3.5-liter V-6 with 295 horsepower and a nine-speed automated transmission. Although the QX60 will face fierce competition from competitor SUVs such as the BMW X5, Lincoln Aviator, and Mercedes-Benz GLE-class, it appears that Infiniti has developed something new and fresh when redesigning this vital member of the brand's SUV range.
QX70 Infiniti
Infiniti's awful timing put an outwardly designed, petrol-only, SUV-heavy line-up into a market that was collapsing due to bad credit and dwindling disposable income. The early QXs were entirely gasoline-powered, which made them quick but not economical. That has changed with the launch of the QX30d, a QX that is easy to understand since it's a fun ride.
QX70 Infiniti grips aggressively thanks to its broad stance and large contact patch provided by the enormous tires – even more so if configured with the CDC damping. The steering is responsive and accurate, and the ride is exceptionally smooth.
With a timing of 8.3 seconds from 0 to 62 mph and a top speed of 132 mph, the 235bhp 3.0-liter diesel is capable enough, but the QX's 385bhp 5.0-liter V8 is a genuine Porsche Cayenne chaser. The only thing that makes it less enjoyable is its size, which is too large to enjoy on the small, twisting country roads.
Infiniti QX55 (2022)
Some will refer to it as a QX50 with a sloped roof, but Infiniti will refer to it as the QX55 in 2022. And its fastback style makes it a stylish addition to the Infiniti collection. The QX55 shares its foundation with the compact QX50 SUV. But its appearance is influenced by the brand's distinctive mid-size FX model, which debuted for the 2003 model year.
Power comes from the same turbocharged 2.0-liter four-cylinder with variable compression found in the QX50, but it comes with all-wheel drive as standard. The QX55 is distinguished from its square-back predecessor by 20-inch wheels and a more robust front design.
The Infiniti QX55 is a brand-new nameplate for the company. It will have a bolder outward look and a slightly higher price tag than the QX50 SUV, but it will retain an interior, motor, and suspension with it. It will compete with the BMW X4 and the Mercedes-Benz GLC coupe because of its sloping roofline. There are three trim levels for the QX55, base Luxe, midrange Essential, and loaded Sensory.
The Essential trim, which offers popular tech and luxury features at a reasonable price, is the most incredible value of the bunch. The standard Features are in-dash GPS, a 360-degree external camera system, heated and cooled front seats, and a 16-speaker Bose car audio. The ProAssist package is also recommended, which includes adaptive cruise, LED headlights, and blind-spot detection.
Infiniti QX80 (2022)
The 2022 Infiniti QX80 has a sleek and upmarket exterior, a well-built interior, and a comfortable ride and powerful engine. All of these characteristics, in theory, should add up to a compelling huge, three-row luxury SUV? Well, this doesn't seem right. That's because other than the Infiniti emblems, it's essentially a spruced-up Nissan Armada that costs substantially less. There are minor differences between the two, but not enough to justify the higher price or narrow the gap to the QX80's more attractive alternatives, such as everything else in this class.
Infiniti's biggest car offers a smooth ride with a completely independent suspension, and its 400-horsepower V-8, despite its need for fuel, sounds good and has enough power. Still, the 2022 QX80 can't compete with newer and ritzier rivals in most areas.
The QX80 is getting a new infotainment system and a redesigned center stack for 2022. The confusing split screens and uninspiring climate controls are no longer available. There's a larger 12.3-inch touchscreen now, as well as more desirable features like Apple CarPlay wireless connectivity.
A revised HVAC control panel with buttons and knobs, which appears more excellent and is easier to operate than before, is located just beneath it. The QX80 now has a wireless smartphone charger hidden beneath a sliding panel beneath the temperature controls.
Infiniti Q50 (2021)
The 2021 Infiniti Q50 looks the part of a sports sedan, with its strong front and curved sheet metal, but it's not as sporty as its design suggests. Its robust 300-hp twin-turbo V6 engine, which gives rapid and smooth acceleration, is perhaps its most sporty feature. The 400-hp Red Sport 400 model will appeal to those who seek an even faster version.
Despite its dull exterior when driven energetically, the Q50 provides a relaxing and controlled ride. While its internal storage and load room, as well as its dual-screen infotainment system, aren't very impressive, we do appreciate its excellent outward visibility and spacious front seats.
The 2021 Q50 isn't nearly as fun to drive as rivals like the BMW 3-series or Mercedes-Benz C-class, but it's still a stylish and quick sedan.
Sensory is a new high-end vehicle trim from Infiniti for 2021. It has 19-inch wheels and more aggressive front and rear bumpers. It also comes with leather seats, a Bose audio system with 16 speakers, open-pore wood trim, and power-folding exterior mirrors with an auto-dimming option. Signature Edition automobiles include 19-inch anodized aluminum rims, rich-looking saddle dark leather upholstery. And darkened chrome external trim and are based on the Sensory trim.
A 360-degree video system, adaptive cruise control, automatic high-beams, blind-spot monitoring, and lane-departure warning are now standard features on the Luxe model. Slate Gray and Grand Blue are two new paint colors in the collection.
Infiniti Q60 (2021)
The exterior on the Infiniti coupe is both graceful and muscular, making it one of the most attractive models in a class that includes the Audi A5 and the divisive BMW 4-series. While the top-of-the-line Q60 has 400 horsepower, all models are equipped with a strong twin-turbo V-6 engine and rear- or all-wheel drive. Unfortunately, there is no manual transmission, and the driving experience is less thrilling than we would anticipate from a sporty two-door.
Its optional adaptive steering technology is particularly unappealing to certain buyers. The Infiniti Q50 sedan is a good choice for those who desire a usable back seat and plenty of cargo capacity. Nonetheless, the 2021 Q60 is a better deal than many of its competitors. And its pleasing aesthetics help make up for its lack of sportiness.
Infiniti has added more standard driving assistance to the mid-level Q60 Luxe for 2021. Adaptive cruise control, automatic high beams, blind-spot monitoring, and lane-keeping assist are now on the list. Power-folding exterior mirrors and upgraded carbon-fiber trim are now available on the Red Sport 400. Slate Gray and Grand Blue are also included in the paint range.
Infiniti QX50 (2021)
The 2021 Infiniti QX50 features some desirable and distinctive qualities for a tiny luxury crossover, including an attractive design and an innovative powertrain. Due to its upmarket exterior and large interior, the Infiniti will appeal to buyers who might otherwise choose segment leaders such as the Audi Q5 or Mercedes-Benz GLC-class. Although it has a unique engine that's supposed to enhance fuel efficiency and performance, the QX50 doesn't perform as well as competitors like the BMW X3 or the Porsche Macan, a genuine sports car.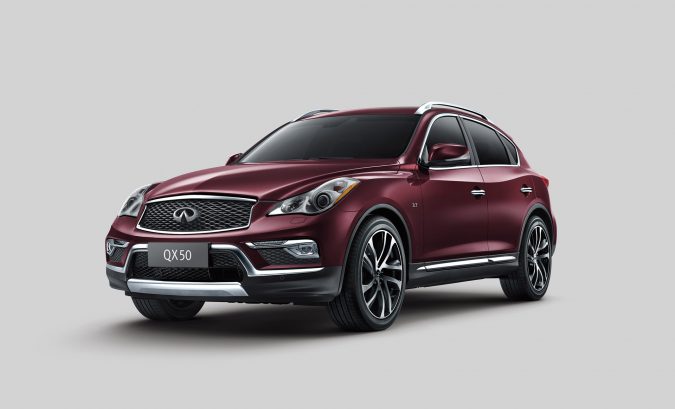 Infiniti's tiny two-row crossover does little to alter the existing status because it lacks the engaging personality of those competitors. Undoubtedly, the 2021 QX50 is sophisticated enough to satisfy Nissan owners.
With a few modest tweaks, Infiniti upgrades the QX50 range for 2021. Every model now includes a Wi-Fi hotspot, laminated front-side glass, and rear seat side-mounted airbags. Mineral Black has also been added to the list of optional paint colors. Along with heated front seats, the Luxe variant now has additional driver aids and a blackout kit as standard equipment.
Adaptive cruise control, an upgraded blind-spot monitor, and lane-keeping assist, and ProPilot Assist are just a few of the driver aids available. Also, you have black-painted 20-inch wheels, dark chrome highlights, and black mirror caps. A grille mesh is then included in the new appearance package for the Luxe variant.
Infiniti QX80 2021
The QX80 SUV from Infiniti is huge, attractive, and upscale. But it isn't quite as sumptuous or well-rounded as its more premium rivals. The QX80 comes standard with a V-8 engine. This sets it apart from competitors like the BMW X7 and Mercedes-Benz GLS-class. And purchasers can opt for rear- or all-wheel drive. The QX80's spacious cabin can be configured with seven or eight seats. All of which are well-cushioned and include genuine leather material. Infiniti also offers several driver-assistance systems at no extra cost.
The value argument falls a little when you consider that the Nissan Armada, from which the QX80 is derived, can be equipped with nearly as many amenities as the Infiniti. The QX80 has an appealing appearance and a luxury-brand cachet, but there are better options available.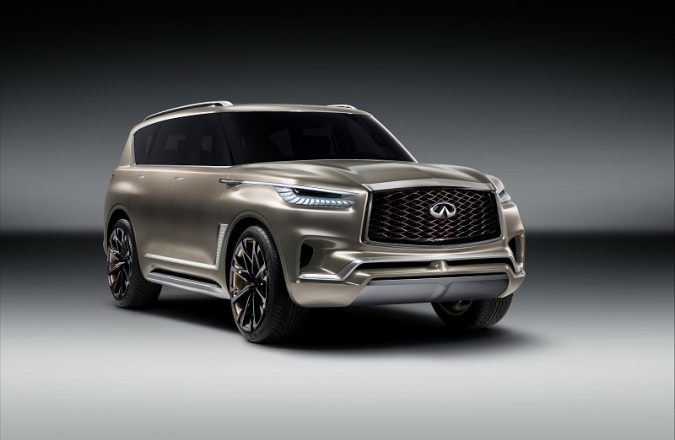 For 2021, Infiniti has added a new mid-range Premium Select trim and a high-end Sensory variant to the QX80 line. Standard driver-assistance features including adaptive cruise control and lane-keeping assist were also incorporated.
Dark-chrome exterior trim, 22-inch wheels, and matte-brown interior embellishments with a Sahara Stone. Or Truffle Brown color scheme distinguishes the QX80 Premium Select. The most luxurious variant is the Sensory, which features chrome accents on the outside, cushioned semi-aniline leather upholstery. And burlwood trim on the inside, hydraulically adjustable suspension. And a vast rear-view mirror serves as a digital display for a rear-facing camera.
The Infiniti Q50 (2020)
Other sports/luxury sedans that do better at keeping up their half of the sports-sedan pact compete against the 2020 Q50. The Q50 looks fit, and none of its variants is particularly slow. But it falls short of German rivals such as the Audi A4 and BMW 3-series. The Q50 falls short in every category, from all-day comfort to decent back-road capability to great control feedback.
For 2020, Infiniti will replace the turbocharged 2.0-liter Q50 Pure and Q50 2.0t Pure AWD cars with twin-turbo 3.0-liter V-6 cars. For a total of six 300-hp versions, three trims: Pure, Luxe, and Sport will be available in rear- or all-wheel drive. On the Q50 Red Sport 400, a V-6 engine with 400 horsepower is also offered.
Infiniti Q70 (2019)
The Q70 is beautiful, but its good looks and pleasant interior aren't enough to make it stand out against fresher competitors. A 330-hp V-6 or a 416-hp V-8 is sent to the rear wheels via a seven-speed automatic transmission. Optional features include all-wheel drive, adaptive cruise control, and a range of active-safety systems.
For rear-seat passengers, an extended Q70L variant provides 5.6 inches of legroom and additional luxury features. The Q70 has a nice ride, but the steering is unnecessarily heavy, making it a chore to drive.
The Q70 has undergone few alterations throughout the years, with only minor differences between the 2018 and 2019 models. Infiniti also terminated the hybrid variant of the Q70 for 2019. However, the 2019 model received some standard amenities. Infiniti previously offered most of these items as free upgrades on preceding models.
Gps, a 10-speaker Bose stereo system, leather upholstery, heated and cooled front seat, front and rear parking sensors, and a 360-degree parking control system are just a few of the features available.
The 2019 Infiniti Q70 comes in two trim levels: 3.7 Luxe and 5.6 Luxe. The two available engines, a 3.7-liter V6, and a 5.6-liter V8 are referred to by both trim names. Except for the powertrain, there isn't much difference between these versions regarding essential equipment and possible options.
INFINITI Cars: Facts You Need to Know
INFINITI is a luxury auto brand from Japan and is currently owned by Nissan Motor Company.
The brand was launched in 1989, two years after the formation of the top-secret "Horizon Task Force."
INFINITI badge and logo depict two perspective lines stretching out toward the horizon, representing the brand's commitment to moving forward.
INFINITI cars are mostly manufactured in Japan, but there are also production plants in Canada, Europe, the Middle East, Britain, and the United States.
Specific models, such as the QX60 and QX50, are manufactured in plants located in Smyrna, Tennessee, and Mexico.
Starting in 2018, INFINITI announced a push to design all their new vehicles with hybrid or all-electric powertrains as early as 2021.
INFINITI's goal is to provide accessible luxury vehicles, primarily for drivers in the United States.
The 1997 INFINITI QX4 was the first luxury midsize SUV on the market, and it was the INFINITI vehicle fully manufactured in the United States.
INFINITI has sold over one million models since its launch in 1989.
INFINITI vehicles are known for their innovative and luxurious designs.
Final Verdict – Who Makes Infiniti
To remain competitive in today's market, Nissan Motor Company felt the necessity to develop automobiles that satisfied the requirements for the luxury class. In the midst of the 1980s, Nissan's Infiniti subsidiary was created, complete with its own distinct identity and attitude. The Infiniti brand became extremely popular after it was first developed in Japan. Then, it quickly expanded throughout the world as sales increased.
These are cars for folks who want understated luxury rather than dazzling excess. Rather, Infiniti has discovered a niche in the market for drivers who desire reliable, easy-to-use onboard electronics in a well-designed interior with all of the vehicle's helpful tech gadgets within easy access. This article has provided information about who makes Infiniti, the brand's history, and a general overview of specific models.