Evoque, another masterpiece by Range Rover
When someone hears the word Range Rover, the first thing pops up in mind is luxury and comfort. There is no controversy in the idea that Range Rover is one of the best SUV's around the world.
Owing expectations of people all around the world, Range Rover keeps introducing new SUV's with improved features and they always come up to the expectations. British company initially launched range Rover in 1970, which was known as North America Land Rover in United States.
First generation Range Rover was manufactured from 1970 to 1996. It was built only as a 2-door vehicle initially. The second generation Range Rovers were developed from 1994 to 2002. The third generation spanned from 2002 to 2012 with a number of structural and bodily changes with a bundle of new features.
Fourth generation Range Rovers are made from 2012 till now. These are equipped with latest technologies contained in sleek designs. Range Rover Evoque is one of thosefourth-generationn dream cars that everyone loves to own.
Evoque is derived from the English word Evoke as it truly evokes the feelings and emotions of its driver. As the name depicts, it also evokes the sense of style, amazement, wonder and pleasure as well. People who own this vehicle experience the true sense of contentment. Let's take a look at it.
Range Rover Evoque is a British origin luxurious vehicle manufactured by Jaguar Land Rover, which is an auxiliary company of Tata Motors. Its production was started in 2011 and since then it has kept the bar high. Many editions followed its launch with numerous upgrades and modifications.
Even though it is a Britain Based vehicle but its assembling units are active in China, India and Brazil as well. Range Rover Evoque is undoubtedly one of the best car models available out there in the market. It wins the trust of the user and instils a sense of happiness in him that his money is not wasted.
Overview
Evoque is based on 2008 LRX concept vehicle. The car was launched as three different models: the five-door Evoque, the three-door Evoque Coupe, and the Convertible Evoque, which was launched in 2017. The Coupe model was discontinued later on.
Engine and performance of a masterpiece
Initially, three Range Rover engines were available for use in the vehicle. Later, the company manufactured its own branded Ingenium Turbocharged Engine. Now there are three 2 litre variants available one is eD4 150 PS (110 kW; 148 bhp) which is turbo diesel 2 wheel drive manual gearbox. The second one is TD4 180 PS (132 kW; 178 bhp) which is permanent 4 wheel drive 9-speed automatic transmission system and last one is 2 litre Si4 240 PS (177 kW; 237 bhp) which is turbocharged petrol permanent 4 wheel drive and have 9-speed automatic gearbox.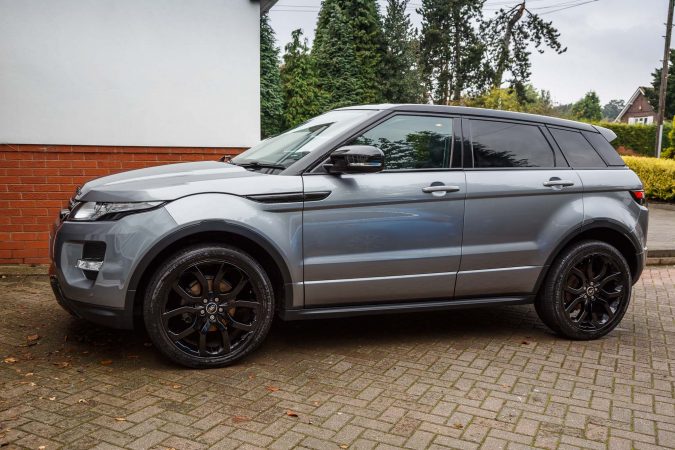 The automatic seamless transmission feature ensures economy of fuel. It also makes sure that the engine provides maximum efficiency in all conditions and on all tracks.
Futuristic and Attractive Body
Evoque is not with the traditional concepts of the body instead it employs modern body and shape concepts. Its aluminium-based body reduces the weight of the vehicle exceptionally which in turns provides the owner more manoeuvring options and a comfortable ride.
Moreover, its body is designed in such a way, which provides the option for the instalment of five exterior cameras that enhances the visibility of its driver largely. Evoque comes in twelve different colors, which take care of the different likings of people and becoming a vehicle of their choice. The company makes sure that the first glance of the car makes its place in the heart of its viewer.
Impressive Interior of Range Rover Evoque
As per expectation, the interior of the vehicle is simplistic yet innovative and based on latest technology. It comes with an eight-inch touch screen infotainment system i.e. Touch Pro. Another amazing feature is mood lightning which means that the owner can set the lightning theme of interior according to his mood.
The light patterns help in improving the mood. Plus, the push button start system saves a lot of time and effort. Needle stitched leather seats and climate seats speak for themselves too.
Classy Exterior of Lavish SUV
The exterior of Evoque exhibits high personalization options. One can choose from a range of colors. It comes in two distinct designs, which reflects the dynamism of the Range Rover.
The five-door body style gives an executive look to the vehicle .The wide space provided inside the vehicle can accommodate the whole family or a bunch of friends for a wonderful and comfortable ride.
It supports all weather conditions, exhibits pragmatic approach of its manufacturer. With a well-built roof structure, one can enjoy all the perks of all the climate conditions. The air condition equipped with latest technology, which keeps the environment cool and comfortable.
The open-air ride in the Convertible Range Rover Evoque gives new feelings to the passengers and opens the vistas of comfort for them. Its sleek design perfectly matches with its broad tires and gives the overall look of a royal vehicle. Its Z-folding convertible roof system takes its look to the next level.
Evoque convertible looks distinguished from all other vehicles owing to its unique outstanding looks.
All Terrain Progress Control System
The All-Terrain Progress Control (ATPC) is an amazing feature, which controls vehicles rides on different terrains. When activated, it is so efficient that it does not let the rider know what kind of terrain he is driving on.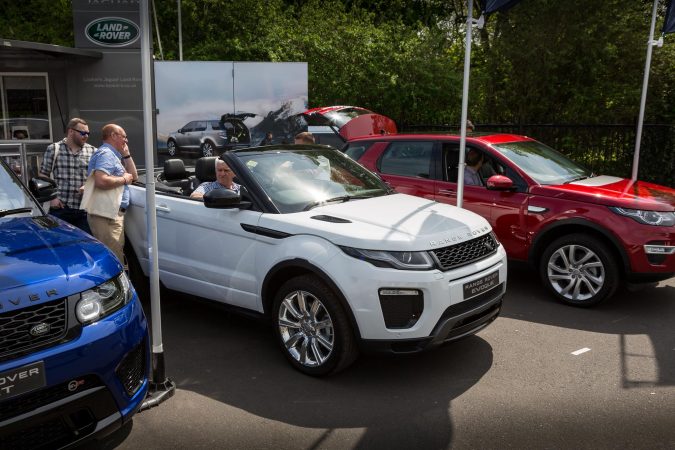 Even on the most difficult, muddy, bumpy, sandy or snowy tracks the vehicle absorbs all the disturbances and renders the passengers comfort as if they are riding a smooth seamless road.
This built in feature is a landmark progress in the field of automotive industry and sets foundations for many other modern concepts. This feature makes the vehicle worth a ride in countries with extreme and sudden weather changes. Evoque comes as a blessing in all such countries.
Safety Features
Safety and security of the driver and passenger should be a pre requisite for any manufacturer of cars. The developers of Range Rover take this aspect serious and thus provide a range of safety features. Range Rover Evoque incorporates all the safety features, which are expected from a modern day vehicle.
These features include driver and passengers air bags along with front head and rear head air bags, four wheel ABS, disc brakes, brake assist, electronic stability control and child safety locks. These features show the concern of the company for the safety of its customers.
All one has to do is drive and enjoy, the vehicles has all one's worries mitigated. In addition to that, it got five stars rating from European New Car Assessment Programme (Euro NCAP) which is the highest score a vehicle can achieve which means the NCAP totally trusts the Evoque and considers it the best in terms of safety and security.
The Range Rover Evoque is equipped with electric power steering system, fixed to the front frame, rather than the body to improve steering feel and driving experience.
Editions of Range Rover Evoque
For the satisfaction of customers and for keeping a steady flow of products, Range Rover keeps launching different additions to address different needs of the users. After its launch in 2011, the fist improved edition came in 2013 namely Range Rover Evoque Autobiography Dynamic. It came with a number of upgrades and various bugs were fixed as well.
The second improved edition came in 2014 and it was named as Range Rover Evoque Pearl Noir Edition. It was a special edition for Hong Kong Market and came with a few unique updates.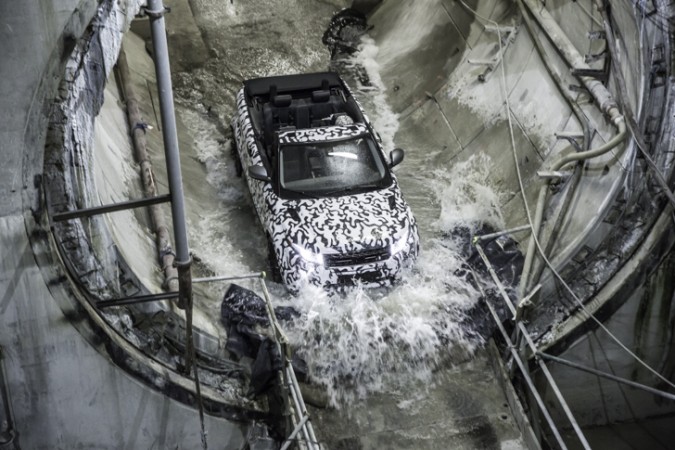 Then in 2017 came third edition Range Rover Evoque Convertible. This convertible edition activated the option of a roofless experience. The new convertible body was achieved with minimal changes to the weight.
Cargo Space
One of the most underrated features of any vehicle is its cargo space. People usually do not take this aspect serious while buying a vehicle. However, those who know the worth a large cargo space would always go for a vehicle that provides an adequate space for cargo.
Range Rover Evoque takes care of this aspect and provides an intelligently accommodated cargo space at the rear end.The four-door Range Rover Evoque provides 20.3 cubic feet of cargo space when the rear seats are up and 51 cubic feet when the seats are folded.
Cargo space is fixed in such a way that instead of giving an odd appearance like in other vehicles, it actually adds to the beauty of the vehicle. Whether you are going for sports activity or going for fishing, you do not have to worry for accommodating all the material.
The cargo compartment portrays the qualities of both, the practical yet fashionable approach as well, which absorbs all the cargo and does not look messy.