Tell me… Who doesn't love saving fuel? Not only are fuel-efficient cars healthier for mother nature, but it also brings many more benefits to your wallet, too. These days, motorised vehicles of all shapes and sizes are significantly more economical than the ones that our dads and granddads used to drive. Nevertheless, it doesn't mean that there isn't room for improvement, which is where the X Carbon comes in.
Just recently, they unveiled their latest X Carbon fuel treatment and additive products. As its name suggests, the concept is quite simple… By adding this to your fuel tank, it complements all the other elements in your fuel. It changes some of the structure of the fuel, acts as cleaners, adds lubrication, or enhances the fuel's performance. Circulating with the fuel, it helps to make your car more efficient.
This is especially handy nowadays, given that fuel prices have gone through the roof. Moreover, that X Carbon fuel treatment and additive brings several other benefits besides just improving your MPGs. The use of fuel additives would otherwise allow engines to run cleaner, thus lowering their carbon emissions. A good fuel additive might also prevent the excessive build-up of carbon within your car's fuel system.
As such, using products like X Carbon's fuel treatment may reduce your maintenance costs, as well. In so doing, you can rest assured that X Carbon's particular concoction here could work with both petrol and diesel cars. But does it really work? Well, we had a 20ml bottle from X Carbon to try it out, which we poured into the least-fuel-efficient car that we have at the moment… A Mustang GT with its giant 5.0-litre V8.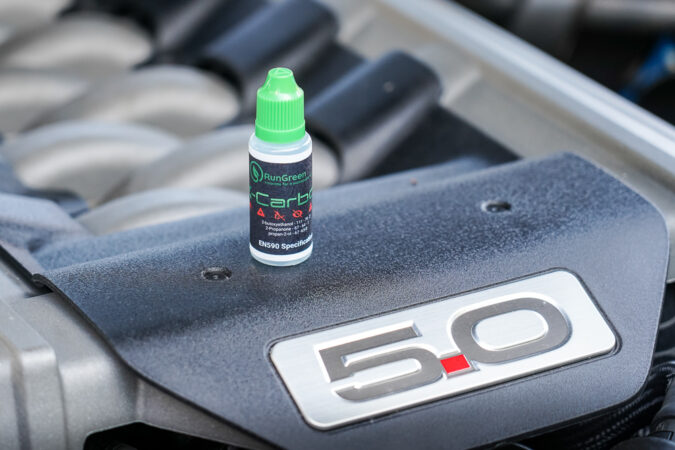 Does X Carbon's Fuel Treatment Really Work?
In reality, though, products like these are pretty hard to test. It varies from one car (and its driver) to another. Specifically, MPGs aren't constant as they're highly dependent on how you're driving or how the environment around the car was at the time. For example, aggressive and athletic driving as well as driving in stop-and-go traffic would nonetheless impact your fuel economy negatively, regardless.
In theory, fuel additives and treatments like X Carbon's do work. They've tested this themselves, using a Porsche Cayenne with a 3.0-litre diesel V6, as a rolling testbed. Prior to adding their fuel treatment, this big sports SUV would typically achieve 30mpg. But after adding the fuel treatment and using the figures gathered by the Cayenne's onboard trip computer, MPGs had improved rather significantly.
X Carbon noted a 20% increase in fuel economy, now reading around 36mpg. Even when accounting for the added cost of buying X Carbon's fuel treatment, you're still saving money on every fill-up. So, should you be really keen to try it out, we'd recommend grabbing a small sample bottle and trying it on your car. Who knows… It might work far better on yours, depending on how you're driving it.
Speaking of, how much does X Carbon's fuel treatment cost? Currently, you can buy a sample bottle for £28, which gets you 20ml. If you'd want more, they have a subscription plan for £24 each month, where you'll get one 20ml bottle every 30 days. This should be good to run a single car. Additionally, they also have 50ml and 250ml bottles, if you need to add their treatment to multiple cars, instead.