One of the toughest aspects of #vanlife or living away from the grid, is getting electricity. A lot of the time, it's not always so accessible while you're out in the middle of a jungle, or are high up on a mountain. For that reason, especially if you're keen on spending more time with an RV or caravan, a portable power station… Like the Zendure SuperBase Pro 2000… Is a must-have!
But, in a market that's slowly flooding with these big battery banks, what makes Zendure's setup any different? Well, for starters, it's the fastest solar recharging IoT power station that you can find today. Specifically, when the Zendure SuperBase Pro 2000 (or the SBP 2000) is paired with a solar array or capable AC outlet, it can top up 80% of its battery, from empty, in just 1 hour.
This is thanks to a combination of clever tech. That includes Zendure's GridFlow system, which allows for the SBP 2000 to take in as much as 1,800W of charging at a time. Additionally, they have their PVMax technology, enabling an array of solar panels to charge the SBP 2000 at the same rate as conventional AC charging. At 1,800W, that's 1 hour for 80%, or 2 hours for 100%.
Aside from this, the Zendure SuperBase Pro 2000 still stands as a worthy contender among the best portable power station for camping or van life, in general. Specs-wise, the SBP 2000 has a whopping battery capacity of 2,096Wh. If neither AC nor solar charging is rapid enough for you, you'd like their Dual MPPT system, and at 2,400W, will fully charge the SBP 2000 in just 1.5 hours.
We highly recommend the SBP: 1* SBP2000 + 1* 200W Solar Panel at $1,899. This combination is currently the lowest price of the same combination on Amazon, and is 30% cheaper than others. Its features a 200W solar panel, daily 5-6 hours, a day can be charged to 50%, with only 1 degree of electricity to meet the basic outdoor electricity needs. So it's really worth buying.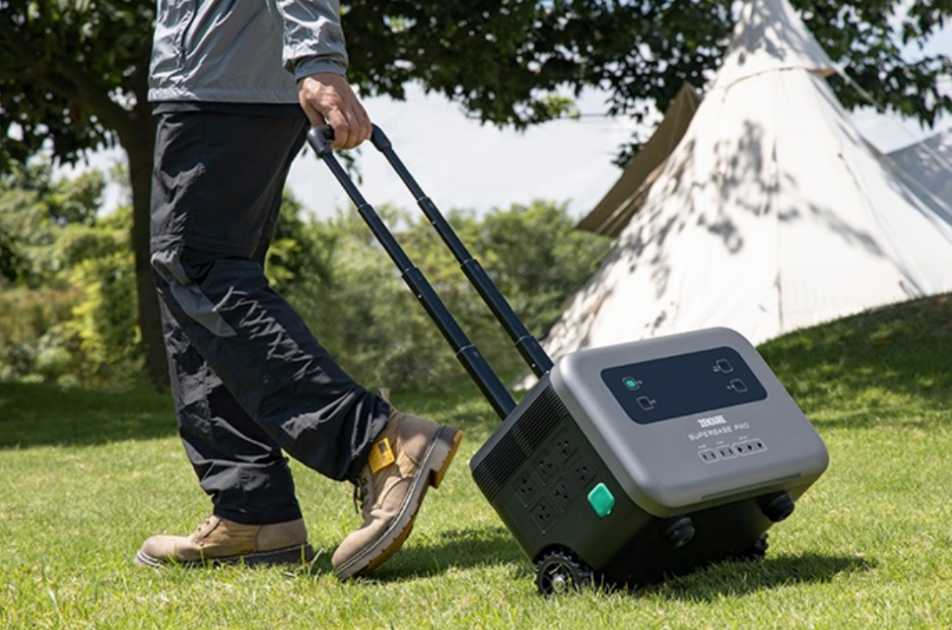 Super Fast To Charge, Super Capable To Use
Besides charging the SBP 2000 itself, it's also versatile for charging up your electronics. It has 6 AC outputs, each one capable of outputting a mighty 2,000W. Yet, it could still support any heavy-duty hardware, such as powering up 3,000W power tools. Or, keep up with surge power as high as 4,000W. Elsewhere, it has a car outlet (x1), and a DC outlet (x3 of them), as well.
For smaller electronics, Zendure's SBP 2000 will easily support charging via USB-C, peaking the output rate at 100W. For easier access, the SBP 2000 also comes with 4G and Wi-Fi support, so you could pair it up with your phone. No doubt, it's a great companion if you're going camping. In a single power station, you could run mini-fridges, lights, drones, appliances, and more.
Or, even use the SBP 2000 as a backup power source for your RV or campervan. Besides that, a fully-charged-up SuperBase Pro 2000 would handily work as a UPS for your home. All you need is to keep it plugged in, and it'll automatically turn on once your power is out. Right now, you'll be able to buy the Zendure SuperBase Pro 2000 as a promotional item bundle for just $1,899.
That also includes the cost of one 200W portable solar panel; a great pairing for when you're a ways away from the nearest grid. But, if your budget is a bit too tight and needs to find the best budget portable power station, Zendure's SBM series (including the neat SBM 600) can now be had for a $200 discount. It's light and small, yet has a dense 607Wh capacity and 1,000W output.