The Ford Escape is one of the most well-liked family SUVs on the market because of its excellent safety features, cutting-edge technology features, and spacious interior. The 2017 Escape is receiving a few exciting updates for this model year. That includes a new external style, a turbocharged 2017 Ford Escape engine, and more sophisticated safety features. Continue reading our review of the 2017 Ford Escape below to find out more information.
The 2017 Escape features an updated exterior style, minor interior upgrades, a new 1.5-liter four-cylinder engine, and a reworked 2.0-liter engine with increased power. Models equipped with Sync 3 additionally include an ownership app (FordPass with Sync Connect) as well as smartphone interaction with Apple CarPlay and Android Auto. Adaptive cruise control with front collision detection, lane departure prevention, and a drowsy driver warning system are now available as safety options.
2017 Ford Escape
The Ford Escape is a solid, safe pick amid a field of strong candidates when it comes to shopping for a small crossover. The 2017 Escape features improvements to its design and performance, better small-item storage, and a modernized tech interface that has a strong focus on connectivity.
The Escape delivers respectable fuel economy, selectable all-wheel drive, a roomy cargo area, and an optional hands-free power liftgate. The Escape is available in various configurations, from cozy casual (the SE trim with no options) to tough luxury (a loaded Titanium variant that may cost over $40,000).
Its agility on the road inspires a level of driver confidence that is uncommon in this class. Ford has gradually lowered several coveted amenities, such as automatic climate control, to cheaper Escape trim levels for 2017.
A button has taken the place of the previous lever-operated parking brake, allowing for better small-item storage. Smartphone connectivity with Apple CarPlay and Android Auto is now available. Finally, in addition to the optional 2.0-liter turbo-four, a new standard 1.5-liter turbocharged four-cylinder 2017 Ford Escape engine is available.
2017 Ford Escape Recalls
Report 1: Automatic Transmission: Gear Position Indicator
A number of 2013-2019 Escape, 2013-2018 C-Max, 2013-2016 Fusion, 2013-2021 Transit Connect, and 2015-2018 Edge vehicles are being recalled by Ford Motor Company (Ford). It is possible for the bushing holding the shifter cable to the transmission to deteriorate or separate.
The vehicle can be unable to engage the desired gear. Or, travel in an unanticipated direction if a bushing broke or missing. After the driver picks the "Park" position, the car could also roll. A collision or an injury is more likely in either case.
Solution:
Free of charge, dealers will replace the shift cable bushing and the under-the-hood shift bushing. Owner notification letters outlining the safety concern were sent to owners on July 1, 2022. Remedy parts are anticipated to be offered in the fourth quarter of 2022. The recall number is 22S43.
Report 2: Devices And Controls For Power Windows
Certain model year 2017 Ford Escape Titanium and SE vehicles produced between October 5, 2015, and May 12, 2016, are being recalled by Ford. The power-operated windows' closing-force settings could allow them to close on something like a body part and hurt it before they automatically reverse.
As a result, these cars do not meet the criteria of FMVSS 118, "Power-Operated Window Systems," which is a federal motor vehicle safety standard.
Solution:
The power window operating system software will be updated by dealers at no cost to customers when Ford notifies owners. On September 6, 2016, the recall got underway. The recall number is 16C12.
2017 Ford Escape MPG
The Ford Escape is one of the more fuel-efficient options in its class. Despite not being the most economical, thanks to its selection of 4-cylinder engines. The 2.5-liter inline-4 base 2017 Ford Escape engine is primarily a fleet option. It is capable of 24 mpg combined and 29 mpg on the highway.
All of these cars exclusively have front-wheel drive. The 1.5-liter turbocharged 4-cylinder, which ought to be the most popular 2017 Ford Escape engine, is the next step up. It achieves 23/30/26 mpg when the front-wheel drive is engaged. These ratings drop to 22/28/24 when all-wheel drive is added.
The 2.0-liter turbo-4, the most potent engine, is rated at 22/29/25 mpg with front-wheel drive and 20/27/23 mpg with all-wheel drive. The 1.5 and 2.0-liter engines use direct injection and turbocharging as part of Ford's EcoBoost family.
Active grille shutters are standard on all models, which aid in accelerating engine warming and enhancing driving mileage in cold climates.
2017 Ford Escape Problems
The issues with a 2017 Ford Escape that you are most likely to experience are as follows:
Several engine issues. The biggest problems with the 2017 Ford Escape engine include a check engine light coming on, a coolant leak into the cylinders, and power loss. The 2017 Ford Escape engine's excessive loudness and stalling have also been cited as issues.
It has everything you would anticipate from a Ford that is mass-produced and cheaply priced.
1. Brake Issues: Stiffing And Power Assist Issues
Several reports revealed that the 2017 Ford Escape has serious braking problems.
Most of these problems affected relatively recent cars with fewer than 10,000 miles on the clock.
Customers notably mentioned that they experienced abrupt issues using the brake system since the pedal could cease operating at any time with no prior warning indicators. The issues, according to customers, are hazardous and dangerous, particularly if you're driving on the motorways.
2. Issues With The Interior Accessories
Some owners state that the infotainment system frequently shorts out. Others claim that the backup camera has to be replaced. Most of the time, drivers can fix these problems promptly and without difficulty.
If you're curious, we also have a guide on can you add a backup camera to a car, and how much to install a back up camera. So, if the default cameras are wonky and aren't working right, you always have to option of replacing them with a better, aftermarket unit.
Other internal problems include:
There have been complaints that the door accessory buttons are overly small and somewhat uncomfortable seats. So, it's definitely not among the most comfortable SUV around. However, this is not specific to Escape. It appears to be a problem with a lot of midsize SUVs.
Complaints about the radio not working.
In addition to occasionally failing, the navigation system is also obsolete and frequently struggles to identify the shortest path.
3. Difficulties With The Suspension
The primary issue with the suspension is that it appears the shocks and struts weren't sufficiently tightened during construction. In essence, it's a manufacturing flaw. If you're unsure about the differences and need further context, feel free to take a peek at our guide on strut vs shock, as well as the shocks and struts replacement cost.
Due to complete failure within the first 12 to 15 months of operation, some owners were forced to replace them. According to these claims, Ford rebuilt the shocks as part of the warranty.
Although shock problems may not appear very widespread, it is important to remember that many individuals had these problems early in the car's life. Otherwise, be wary that suspension repair costs can be fairly expensive.
4. Issues Relating To Structural Integrity
Owners of a 2017 Ford Escape frequently complain about structural integrity problems. The most frequently reported problems are water leaks under the car and rattling from the car's plastic panels. Water leaks appear to be a serious problem.
Due to inadequate weatherproofing, the sunroof, the headlights, and occasionally the windows all allow water to enter the vehicle. The plastic undercarriage engine splash shield (or a Toyota Highlander catalytic converter shield or a Prius catalytic converter protection system) appears to be rattling because it is slightly loose.
But allegations of a rattling and crackling sound in the dashboard area have appeared. Most of these noises are still undiagnosed. Dealers claim that these rattling and creaking sounds are typical for this vehicle, as many drivers have noted.
2017 Ford Escape Towing Capacity
The 2017 Ford Escape's towing capability, which is the key feature for such an adventure, should be kept in mind when going on thrilling outdoor trips. The maximum weight a vehicle can safely tow is indicated by its towing capacity. Typically, this information can be found on a sticker inside the driver's front door, next to the door latch.
A vehicle's maximum operating weight (including passengers and cargo) is its gross vehicle weight rating (GVWR), which must not be exceeded. It's advised to keep the mass of a trailer being pulled between 15% and 20% of the GVWR as a general rule.
The 2017 Ford Escape has a towing package available on the two top trims. Allowing it to tow up to 3,500 pounds when properly equipped. That surpasses the majority of rivals, such as the Honda CRV vs Mazda CX 5.
2017 Ford Escape Transmission Recall
Since the launch of its dual-clutch automatic transmissions (DCTs) in 2008, Ford has experienced nothing but issues. These transmissions use gears positioned on opposing shafts, similar to a manual transmission.
Instead of the planetary gearsets used in a conventional automatic transmission. The term "dual-clutch" refers to a separate clutch for each shaft. However, unlike a conventional stick shift (make sure you know how to drive a manual), the car's onboard computer shifts the gears instead of the driver.
Complaints:
One customer complained that they were traveling down a downtown street when my 2017 Ford Escape's transmission started slipping out of the blue. A minute later, the car would not accelerate past 35 mph, and the system noticed "transmission failure servicing now" appeared.
After having it back, the transmission occasionally shifts out of gear, frequently after pausing at a stop sign or traffic light or while driving through a city. When returning it to the dealer, there are no error codes. Our write-up on what causes a transmission to slip and the symptoms of a slipping clutch should provide some added insight into this.
The car is unsafe because the transmission fell out of gear, and I nearly got hit while crossing an intersection. Ford refused to service it because it was intermittent, and the computer didn't display any problems after it escalated to the shop.
2017 Ford Escape Oil Capacity
You might wonder if the engine oil volume varies among Ford Escape versions. Even if it would be simpler, your Ford's engine oil capacity varies based on the year. The oil capacity of a 2017 Ford Escape's 2.5-liter, four-cylinder engine is 5.7 quarts or 5.4 liters.
Remember that the engine oil capacity and displacement are two different numbers. The volume that the engine's cylinders occupy is referred to as the engine displacement. That's if you're wondering about what does liter mean in an engine. The engine size of a 2017 Ford Escape is 2.5 liters.
The amount of oil required for an oil change, however, is determined by engine oil capacity (again, 5.4 liters).
1- 2017 Ford Escape Oil Type
A 5W-20 synthetic blend motor oil is used in a 2017 Ford Escape. Let's explain what that entails: The minimum and maximum temperatures at which the oil maintains its viscosity are indicated by the oil weight code (thickness) numbers.
The viscosity of the oil for the 2017 Ford Escape is constant at 0°F (shown by the "5") and up to 212°F (marked by the "20"). "W" stands for winter, indicating that the engine oil can function in chilly climes.
Although these ratings can be difficult to understand, you must use the proper oil grade to maintain your car operating at its peak performance. If you want to learn more about oil grades, do check out our guides on 0W20 vs 5W20, and 5W20 vs 5W30, as well as whether can you use 10W30 instead of 5W20.
2- 2017 Ford Escape Oil Filter
Your 2017 Ford Escape's engine oil is contaminated with additional particles, sludge, metal shavings, smoke, and pollutants. The oil filter's job is to filter out these impurities to improve engine performance and reduce the possibility of internal damage or additional expensive repairs.
The performance of your 2017 Ford Escape depends heavily on having clean oil, and the best oil filter differs depending on the make and model of your car and, in some circumstances, the type of oil you like for it.
The best place to look for the correct type of oil filter and suggested replacement cycles is in your owner's manual for your 2017 Ford Escape. Your 2017 Ford Escape's oil filter will often last longer than 3,000 miles or three months.
However, many oil filters can withstand typical wear and tear for up to 7,500 miles. It is advised to have your 2017 Ford Escape's oil filter changed each time you have an oil change and to have it inspected each time you go to your neighborhood auto repair shop.
For more info, you can find out in our guide on do you have to change the oil filter every time, as well as the best oil filter for synthetic oil.
3- 2017 Ford Escape Oil Change
An oil change is one of your car's most fundamental and crucial services. For conventional oil, Ford advises changing your 2017 Ford Escape's oil and filter every 3,000 to 5,000 miles.
Generally speaking, synthetic oil needs to be changed every 7,500 to 10,000 miles. Remember that the best way to determine the appropriate intervals for your automobile is to consult your owner's manual and speak with your dealer.
Oil changes are crucial, and you certainly don't want to get caught testing out what happens if you don't change your oil. Now, when it does come time to change the oil, some do wonder if it is cheaper to change your own oil.
If you're caught in that dilemma, we have plenty of articles that touch upon oil changes. That includes looking into a cheap oil change, as well as the cheapest oil change near me. For more specific comparisons, we've also looked into how much is an oil change at Valvoline, the price of an oil change at Firestone, and the oil change cost at Walmart.
2017 Ford Escape Value
The 2017 Ford Escape is available for purchase for a price ranging from $16,999 for the SUV Escape Trend (AWD) to $34,990 for the top-of-the-line SUV Escape Titanium (AWD). Diesel and Premium Unleaded Petrol are both options for the Ford Escape 2017.
2017 Ford Escape Specs
Three different variants of the 2017 Ford Escape are available: S, SE, and Titanium.
The Escape receives a 7 on the scale for having good base functionality, a strong collection of add-ons, and good customizability possibilities.
Ford Escape S Model
The S model isn't a bare-bones miser. It costs a little over $24,000 and includes cloth upholstery, a 6-way manual driver's seat, a 4-way manual front passenger seat, air conditioning, an AM/FM/CD player with six speakers, the Sync infotainment system with a 4.2-inch center screen, a rear-view camera, cruise control, power locks, power mirrors, and power windows as standard.
Ford Escape SE Model
The 1.5-liter 2017 Ford Escape Ecoboost 4-cylinder is included in the SE model, along with aluminum alloy, fog lamps, dual-zone automatic climate control, a rear center armrest, satellite radio, a 10-way power driver's seat, keypad entry on the door frame, and other features.
Ford Escape Titanium Model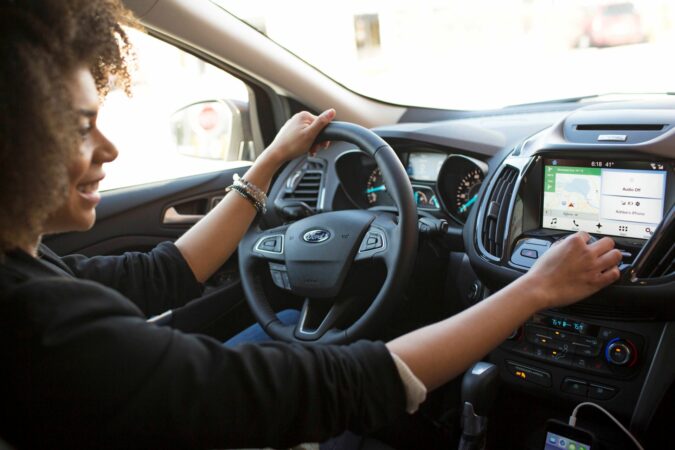 The top-of-the-line Escape Titanium has a luxury-car feature set, including leather upholstery, a 10-way power front passenger seat, heated front seats, a leather-wrapped steering wheel and shifter, a 110-volt power outlet, a 12-speaker, 390-watt Sony audio system, HD radio, a blind-spot monitor, keyless entry and starts, remote starting, an auto-dimming rearview mirror, heated exterior mirrors, a universal garage door (if you want to learn more, check out our guide on the garage door spring replacement cost) .
Additionally, the Sync 3 infotainment system with an 8.0-inch touchscreen, the Sync Connect app, and a media hub with two USB connections, RCA connectors, and an SD card slot will be included. Finally, it includes a hands-free tailgate that you may open or close by waving your foot under the bumper.
The SE and Titanium versions have a $1,295 option for the 2.0-liter 2017 Ford Escape Ecoboost engine. Most Ford Escape models come equipped with the standard amenities we look for in a crossover SUV, but if you're not careful, the higher-line models and option packages can quickly raise the price.
However, there is a desire to select widely from the list of standard features, including a panoramic sunroof, keyless entry, navigation system, Sony sound system, HD radio, remote start, hands-free liftgate, active park assist, 18-inch wheels, and towing package.
A Titanium Sport Appearance kit adds a 19-inch 2017 Ford Escape tire size with black paint. Black exterior trim and "V"-shaped seats with partial leather upholstery.
2017 Ford Escape Dimensions
The 2017 Escape has considerable room for its class, with 34 cubic feet behind the back seats and 68 cubic feet with the second row folded down. Furthermore, the Escape features a low cargo floor, making it simple to carry large items. So, not really among the SUV with the most cargo space, but pretty good for its class.
Even the motorized liftgate is foot-activated and hands-free in the Titanium trim. The 2017 Escape measures nearly 15 feet long and weighs nearly 3,500 pounds.
2017 Ford Escape Reliability
The 2017 Ford Escape is generally a dependable vehicle. It should be largely trouble-free if you take care of it and carry out regular maintenance. Any 2017 Ford Escape owner should be concerned about probable brake problems and engine difficulty. According to reports, you won't probably run into these problems.
Part failures can often happen randomly, but this is a rather common vehicle that is not too difficult to work on. Its parts are easily accessible in almost every region of the nation.
In other words, any 2017 Ford Escape in decent condition should do the trick if you're looking for a car that will last you five years. The Escape will, in the end, get you from point A to point B just fine and is dependable enough to drive for long distances.
Transmission, Engine, And Performance
Additionally, the 2.0-liter engine has a smoother ride with less engine grumbling and more power available for overtaking and merging. On the road, the Escape is agile, responsive, and more enjoyable to drive than some of its less.
The top two four-cylinder engines in the Escape are turbocharged, finely-tuned engines that work well with the vehicle's standard six-speed automatic transmissions. While the smaller 1.5-liter EcoBoost with 179 horsepower is sluggish, the larger 2.0-liter 2017 Ford Escape Ecoboost with 245 horsepower is actually rapid, and both turbo fours underperform in terms of fuel efficiency.
Only the base S trim of the Escape's 168-hp 2.5-liter engine is offered with front-wheel drive. Power from the 1.5-liter engine is not sufficient. The driver must wait for the turbocharger to start working before applying the throttle. The 2.0-liter four-cylinder has no issues.
For greater context into any potential reliability concerns that you might have to worry about, be sure to check out our guide on the common Ford EcoBoost problems.
2017 Ford Escape Safety Rating
The 2017 Escape scored four out of five stars in the rollover crash test. And, five out of five stars in the front and side collision tests. Both the front-wheel-drive and all-wheel-drive 2017 Escape models are subject to the rating.
Antilock disc brakes, traction and stability control, front-seat side airbags, a driver's knee airbag, and side curtain airbags are all included as standard safety features on the 2017 Escape.
Rearview cameras, blind-spot mirrors, and Ford's MyKey are all included as standard equipment. The Insurance Institute for Highway Safety has evaluated the 2017 Escape in part, giving it "excellent" scores in the side, roof strength, and head restraints and seating tests.
2017 Ford Escape Transmission Problems
The following are typical symptoms that your transmission may be having problems:
If the transmission warning light on your 2017 Ford Escape is on, it would immediately be an obvious clue.
Odd odors are a symptom of your transmission fluid overheating inside your components.
When changing gears, if you hear an odd noise or feel your gears catching, your transmission likely needs additional lubrication. Nevertheless, something more serious could be wrong.
A leak in the transmission fluid is the most typical and essential indication that you need to change the fluid in your transmission or, in certain cases, perform a full flush service. Even though it's rare, leaks could indicate a problem with your transmission hose.
The most typical symptom is when your transmission shifts gears, but the outcome is delayed.
2017 Ford Escape Warranty
Ford offers a certified pre-owned program for vehicles six years old or younger with fewer than 80,000 miles on them. The first selling date of the car establishes eligibility. Ford increases the powertrain warranty for its certified pre-owned vehicles to seven years or 100,000 miles from the original selling date.
After the first three-year/36,000-mile new-car warranty expires, these vehicles also receive a one-year/12,000-mile limited warranty. A 172-point check is required for every Ford CPO vehicle. Additional features may include vehicle history records, towing, and roadside help.
Frequently Asked Questions
Are Ford Escapes Good Cars
The Ford Escape is a top-notch SUV, yes. The standard engine in models achieves good fuel economy, and the optional turbo-four contributes to quick acceleration. The Escape boasts two rows of comfortable seats, a smooth ride, and lots of cargo room.
How Much Is Ford Escape
The base price of the 2023 Ford Escape is $27,500. The starting price for a plug-in hybrid vehicle is $38,500, while the starting price for a turbocharged four-cylinder vehicle is $34,040. The price of the Escape is comparable to that of the Hyundai Tucson, Toyota RAV4, and Chevy Equinox, which are all members of the compact SUV class.
Is Ford Escape All Wheel Drive
Starting with a 1.5-liter three-cylinder turbocharged engine with 181 horsepower that can be obtained with either front- or all-wheel drive, the Escape provides a wide spectrum of powertrains.
Is Ford Escape Reliable
The anticipated reliability rating for the 2022 Ford Escape is 81 out of 100. J.D. Power predicts that reliability scores will range from 91 to 100, with 91 to 100 being the best, 81 to 90 being great, 70 to 80 being medium, and 0-69 being fair and below average.
What Year Is The Best Ford Escape
The completely new 2020 Ford Escape is a safe, inexpensive, and enjoyable vehicle to drive. In highway driving, cylinder-deactivation features produce improved fuel economy, yet the vehicle's turbocharged engine provides adequate performance.
How Much Is A 2017 Ford Escape Worth
This car's price range is between $16,500 and $26,800. The typical list cost is $20,300. The condition, mileage, features, and location of the vehicle all affect the price.
Does 2017 Ford Escape Have Apple Carplay
The new 2017 Escape is compatible with both Apple CarPlay and Android Auto, allowing users to quickly access saved map searches, contact libraries, and other features by simply connecting their compatible smartphone to the car's USB port.
How Big Is A Ford Escape Gas Tank
All models of the 2021 Escape share the 15.7-gallon fuel tank capacity with all-wheel drive. The 14.3-gallon fuel tank for the 2.5-liter Hybrid and the 11.2-gallon tank for the 2.5-liter Plug-In Hybrid are both standard.
How To Jump A 2017 Ford Escape
Getting the right tools, including jumper cables and appropriate safety gear, will be the first thing you need to accomplish. The battery is located on the driver's side of the car when you open the hood. You will need to release the plastic tabs to access them because they will be hidden below the plastic engine cover. You will now need to find the positive terminal and the ground. Any unpainted surface can be used to detect ground, and the positive terminal will be red. The positive clamp should be connected to the positive terminal, and the negative clamp should be connected to the negative terminal. Ensure all lights and electronic accessories are turned off to ensure proper charging.
Is There Any Recalls On 2017 Ford Escapes
The 2017 Ford Escape Titanium and SE, manufactured between October 5, 2015, and May 12, 2016, are among the vehicles that Ford Motor Company (Ford) is recalling. The power-operated windows' closing-force settings could allow them to accidentally hit a body part or other object before automatically reversing, inflicting damage.
Can You Flat Tow A 2017 Ford Escape
The only tow dolly that can tow a 2017 Ford Escape behind a motorhome is the Roadmaster Tow Dolly with Electric Brakes # RM-2050-1. It can't be flat hauled because doing so could harm your car's transmission.
Final Verdict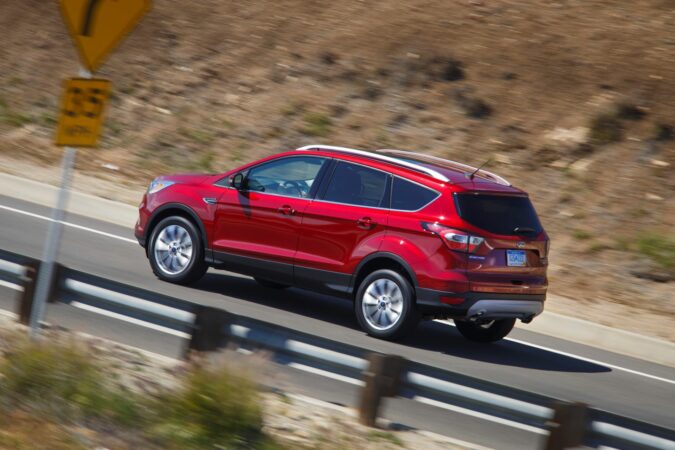 Ford sweetened the deal with a more straightforward front-end design and other noteworthy upgrades for the 2017 Ford Escape. A brand-new electronic parking brake inside frees up room on the console.
The Sync 3 infotainment system now supports Apple CarPlay and Android Auto. SE and Titanium variants now come standard with a 1.5-liter turbocharged four-cylinder engine in place of the old 1.6-liter turbo engine. Alas, you can't get a Ford Escape plug-in hybrid back in 2017.
There is also the choice of a 2.0-liter turbocharged four with additional power. Adaptive cruise control, collision warning with a braking assist, a lane-keeping system, and automated parking assist are just a few of the modern electronic driving aids available.
Granted, there are still some issues that you need to be aware of. Due to this, the 2017 model year is considered by some to be among the Ford Escape model years to avoid. If you'd like to see which years are best, you can check out our guides on the 2005 Ford Escape problems, 2010 Ford Escape problems, and 2013 Ford Escape problems to find out more.