Convertibles, which are the topless version of their coupe counterpart, are all about maximum visual appeal and wind-in-your-hair driving enjoyment. These drop-top versions are the greatest since they surpass expectations in both categories. The top affordable convertible cars of various segments are listed here.
Convertibles frequently weigh more than their fixed-roof counterparts and occasionally have less rigid body constructions, but they are minor drawbacks compared to the appeal they offer. They also frequently have smaller rear seats and less cargo room.
However, convertibles don't necessarily have to be pricey. In actuality, many of them have affordable price tags. The following list of the new and used convertibles that are the most reasonably priced is organized by price and segment, starting with the least expensive.
Affordable Convertible Cars: Subcompact Convertible Sports Cars
Affordable Convertible Cars: Mazda MX-5 Miata And Miata RF ($27,650 – $38,550)
The Mazda MX-5 Miata is the only affordable rear-wheel-drive sports car with a convertible top. It's also one of the few cars that offer thrilling driving experiences at a reasonable price. In general, a spirited four-cylinder is paired with a gratifying six-speed manual transmission, though an automatic is also available.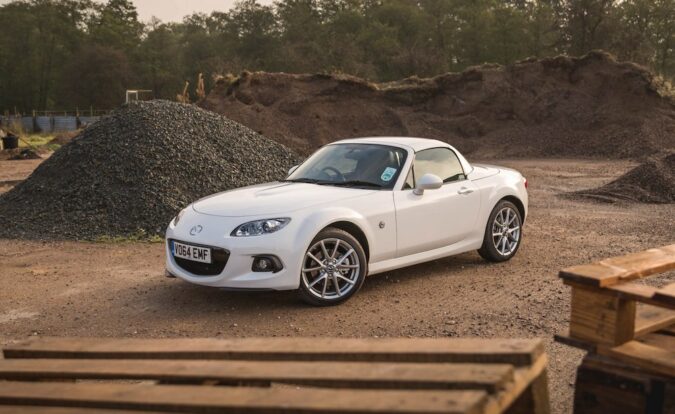 Due to the Miata's energetic and playful handling, navigating winding roads is a delight. The majority of models have a soft top that can be folded manually. But there's also an RF model with a power-folding Targa hard-top offered. The Miata's interior is compact but tastefully furnished with infotainment features including Apple CarPlay and Android Auto being standard across all models with either roof.
Affordable Convertible Cars: Mini Cooper Convertible ($27,900 – $38,900)
With its cheeky and iconic appearance, infamously precise handling, and plenty of customization options, the Mini Cooper is a legend in the automobile industry. The Cooper is the brand's best-selling model and is available as a ragtop convertible. Customers can select between a 134 horsepower three-cylinder and a 189 horsepower four-cylinder engine, with the latter being a better fit for the Mini's engaging chassis.
Although the base models are reasonably priced, the better-equipped S versions go into the realm of entry-luxury cars, placing them up against BMW's, Mercedes-Benz's, and Audi's small sedans and hatchbacks—a competitive field. However, those who value style as much as they value driving fun might consider the Mini Cooper.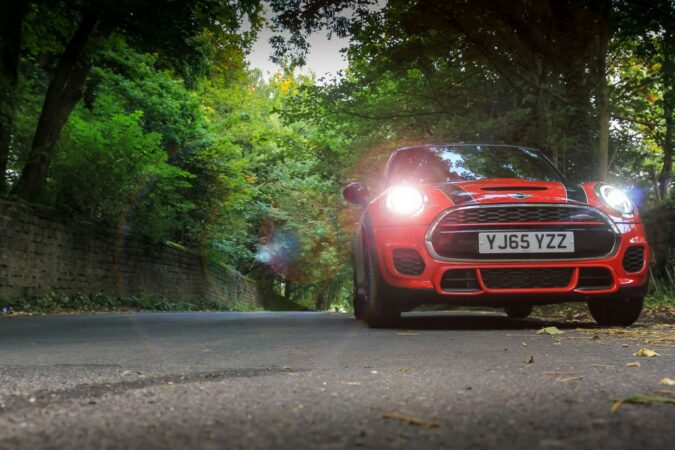 A 2.0L inline-4 turbocharged engine with 228 horsepower powers the Mini Cooper JCW. While owners of the Hardtop have the option of a six-speed manual transmission, the convertible only comes with an eight-speed automatic transmission. A JCW convertible completes the dash to 60 mph in 5.7 seconds.
Affordable Convertible Cars: Convertible Muscle Cars
Affordable Convertible Cars: Chevrolet Camaro Convertible ($31,500 – $33,500)
The Chevrolet Camaro convertible is all about the simple pleasure of motoring. Ignore their poor outside outward visibility while the top is covered and the confined rear seats. Instead, appreciate their remarkably smooth ride, engaging stick-shift transmission, and agile handling.
The standard engine is a 275 horsepower turbo four, but upgrading to a 335 horsepower V6 or a 455 horsepower V8 unlocks more melodious soundtracks and more powerful acceleration.
Although some may find its interior ugly and claustrophobic, its front seats are supportive and comfortable, and its well-stocked infotainment system is simple to use. Although the Ford Mustang might be superior as a daily driver, Chevy's pony car is the greatest track muscle car when equipped with the optional 1LE package.
Affordable Convertible Cars: Chevrolet Camaro LT1 And SS Convertible ($40,000 – $48,500)
Chevy's venerable small-block V8, with 455 horsepower and 455 lb-ft of torque, is found in the Camaro LT1 and SS. The optional dual-mode exhaust, which erupts with a piercing bark at startup and thundering noises during wide-open-throttle blasts, enhances its remarkable low-end torque, linear power delivery, and chest-compressing acceleration.
The six-speed manual transmission that comes standard upholds the enthusiast's attitude while a 10-speed automatic is optional. The remarkable chassis of the Camaro offers a car-and-driver relationship that is unmatched among muscle cars.
Its sturdy construction facilitates precise handling and a premium feel. Its balanced ride is firm enough to be responsive on winding roads while remaining docile on the uneven tarmac. Camaros with the 1LE package are tight on the track but loose on the open road. Their power-steering systems with electrical assistance make reasonable attempts and provide extremely precise reactions.
The hot Chevy's outstanding brakes round out the performance trifecta; the brake pedal regularly delivers progressive and reassuring responses. Even more potent, track-ready Brembo brakes are added to the 1LE variants.
Affordable Convertible Cars: Ford Mustang EcoBoost Convertible ($32,970 – $37,995)
There is a Ford Mustang for almost every lifestyle and personality, whether it's bought for a top-down evening drive or for a serious weekend track attack. It could be substantially customized by utilizing its numerous aesthetic packages, and remarkable performance-enhancing upgrades.
Power comes from a potent turbo four sending power to the rear wheels via either a fun 10-speed automatic or an engaging manual transmission. Both versions are enjoyable to operate, and it is easily manageable for daily driving. Also, the Ford offers a roomier back seat and greater outward visibility than the Chevy Camaro.
Affordable Convertible Cars: Ford Mustang GT Convertible ($48,565)
The Ford Mustang GT Convertible is the ideal entry point for anyone seeking to explore the world of serious American sports cars. This Mustang's naturally aspirated 5.0-liter V8 engine generates 460 horsepower and 420 lb-ft of torque. This power is naturally transmitted to the rear wheels either through a ten-speed automatic transmission or a more thrilling six-speed manual transmission.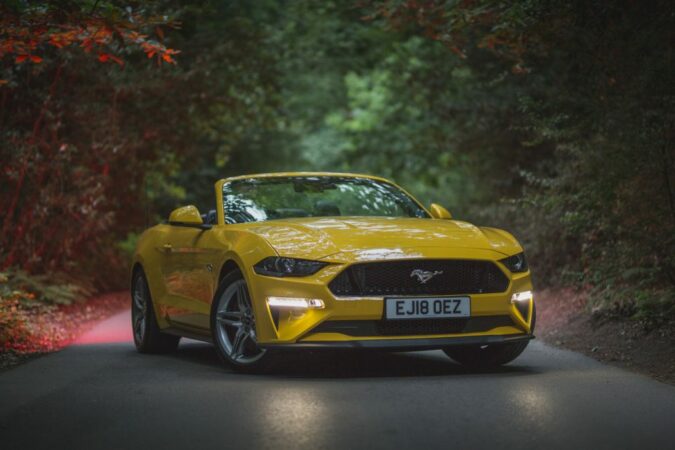 The GT Convertible is not only a blast to drive, but it also makes a useful everyday companion. It still merits its position at the top of the sales charts in comparison to rivals like the sporty but less practical Chevrolet Camaro convertible. Ford has released six new exterior colors as well as a few extra packages. Eruption Green Metallic and Code Orange, for example, are two of the new hues.
By including distinctive 19-inch wheels, an aggressive front splitter, side scoops, a custom honeycomb grille, and Miko suede interior trim, the new California Special Package gives the drop-top a touch more sportiness. The Mustang GT Convertible remains identical to the last model year aside from this.
Affordable Convertible Cars: Affordable Luxury Convertibles
BMW Z4 ($49,900 – $63,700)
BMW sports cars are known for their thrilling handling and potent turbocharged engines. The Z4 convertible exactly meets those expectations. However, its luxurious cabin, which is cozy enough to be used as a daily driver, also contributes to its appeal. An energetic turbocharged four-cylinder serves as the base engine, but the M40i trim gets a more aggressive twin-turbo inline-six.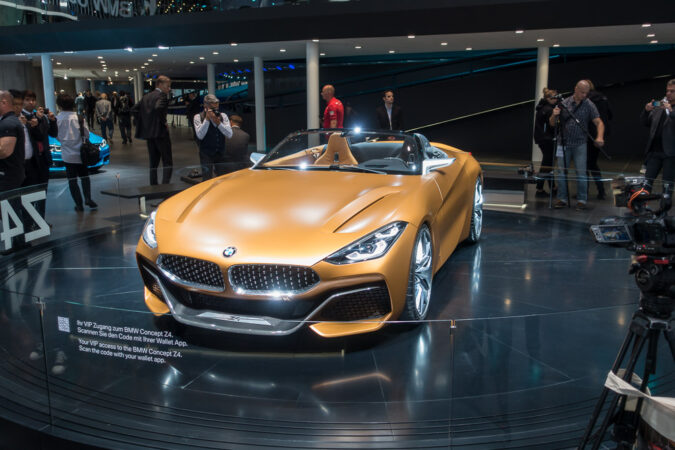 All Z4s are rear-wheel drive and have an eight-speed automatic transmission that is equally at home cruising down the highway as it is engaging in sportier driving. Although the handling isn't as precise as a Porsche Boxster, it's nevertheless really entertaining on a winding road.
The base sDrive30i trim can attain a speed of 60mph in 5.1 seconds while the M40i can achieve the same feat in 3.8 seconds. The Z4 is only available as a soft-top convertible. but if you'd like a hardtop coupe, check out the Toyota Supra. These cars were built alongside and has a fundamentally comparable drivetrain.
Audi A5 Convertible And Audi S5 Convertible ($52,200 – $63,400)
While pragmatists will appreciate that they don't require many compromises in terms of utility, style connoisseurs will find the Audi A5 Cabriolet convertible version more attractive than the A4 sedan. The A5 Cabriolet is a fantastic option for luxury consumers who also enjoy driving because it is classy, posh, and athletic. A robust 261-hp turbocharged four-cylinder with standard all-wheel drive powers the car.
The Audi S5 is a good option for those who want more power, but most drivers will find the A5's powertrain to be more than adequate for even enthusiastic driving. From the less potent A5, the Audi S5 cabriolet represents the next level in performance. The S5 replaces the 261-hp turbo-four of its sister with a 349-hp turbo V6.
The stronger engine is the primary distinction between the two Audi models, but it also leads to a beginning price differential of about $10,000. While that additional cost equips the S5 cabriolet with equipment that allows for better handling and acceleration, it offers little to elevate their refinement or style over that of the standard A5.
Additionally, the sportier variant lacks a manual transmission and has a less musical soundtrack. However, it's simple to admire the S5's effortlessness and grace. The A5 can fly to 60mph in 5.6 seconds while the S5 Cabriolet boosts that time to 4.7 seconds.
BMW 4 Series Convertible ($53,300 – $66,200)
The BMW 4-series has a distinctive if divisive, appearance. Thanks to its rakish two-door roofline and snout-like front grille, despite sharing much of its interior and chassis with the BMW 3-series sedan. Competition for the 4-series Convertible includes Mercedes-Benz C-class and Audi A5 convertibles.
You can choose between a turbocharged inline-six or a turbocharged four-cylinder engine for the 4-series; both are available with rear- or all-wheel drive. A well-equipped cockpit, simple controls, and a variety of contemporary infotainment technology, including a digital gauge display, are all found within.
Although the rear seat is uncomfortable for adults, in the convertible, the 4-series is a strong contender in this class for buyers who prioritize fashion over utility. The base 430i can do 0 to 60 in 5.8 seconds while the higher-end M440i convertible does the same in just 3.9 seconds.
Audi TT Roadster ($54,600)
The drop-top Audi TT Roadster doesn't offer any engine options with higher power than the 228-horsepower turbo-four, in contrast to the Audi TT Coupe. This is a sign that Audi is aware of the value of style and glitz above pure performance in the context of a convertible.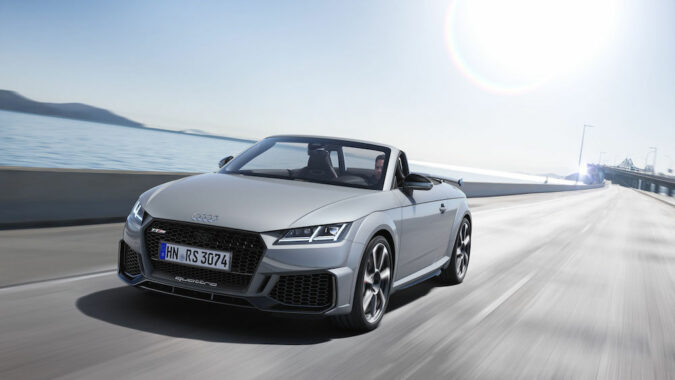 The sporty, little TT Roadster certainly matches that description, but that doesn't make it a boring car to drive. The solid MQB architecture and just-enough power from the 2.0-liter engine combine for neat, capable handling. You get a beautifully built cabin with more than enough tech inside it, just like with almost every other Audi.
Under the hood of the TT is a 2.0-liter four-cylinder turbocharged engine that produces 228 horsepower and 258 lb-ft of torque. It takes the car to 60mph in a solid 5.5 seconds.
Mercedes-Benz C-Class Convertible – C 300 And AMG C 43 ($55,400 – $67,000)
The Mercedes-Benz C-Class Convertible variant based on the previous generation will continue to be produced for at least another year or so after the arrival of the C-Class Sedan. Thankfully, Mercedes chose to give the convertible version a more comfort-focused setup, and it continues to be a more well-rounded car than the Audi A5 and BMW 4 Series.
A wonderfully designed interior with many standard features can be found behind the power-retractable soft top. The C-Class convertible is a tough act to follow in terms of a luxurious top-down cruiser, even though its rivals from Audi and BMW may be more entertaining to drive.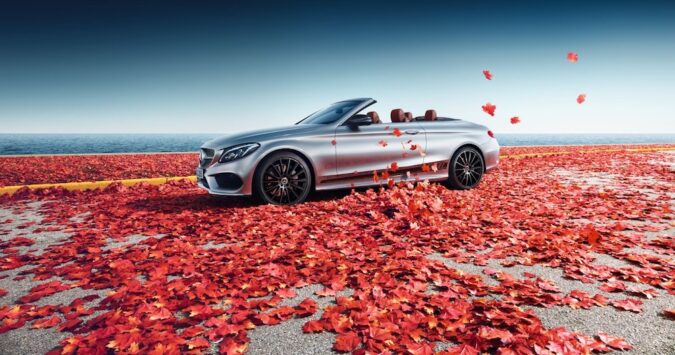 The 2.0-liter inline-4 turbocharged engine produces 273 lb-ft of torque and 255 horsepower. It is coupled to a nine-speed automatic transmission that can drive the 4Matic all-wheel-drive system or the rear wheels. The RWD and AWD, models have a 0-60 mph sprint time of 6.1 and 6.2 seconds, respectively.
Even though the Mercedes AMG C43 Convertible is near the bottom of the AMG lineup, it is still a sports car and may be among the most beautiful in its class. The C43 Convertible has a powerful 385-horsepower twin-turbo V6 beneath its svelte hood. It distributes that power to all four wheels using Mercedes' 4Matic all-wheel-drive system and a nine-speed automatic transmission.
Porsche 718 Boxster And Boxster S ($62,600 – $74,600)
With its joyful handling and hungry turbocharged powertrains, the Porsche 718 Boxster exceeds the romanticism of most convertibles as a way to enjoy the open road. The similarly sporty 718 Cayman coupe shares its chassis and technical components with the Boxster. But the cloth top of the Boxster lets in more fresh air and the liberating sensation of the wind in your hair.
Speed enthusiasts will choose the optional flat-six over the turbocharged horizontally opposed four-cylinder found in base versions. Although Porsche's historic 911 sports car may have more cachet, the 718 Boxster is still one of the best-driving sports cars on the road. Credit goes to its focused chassis and energetic temperament.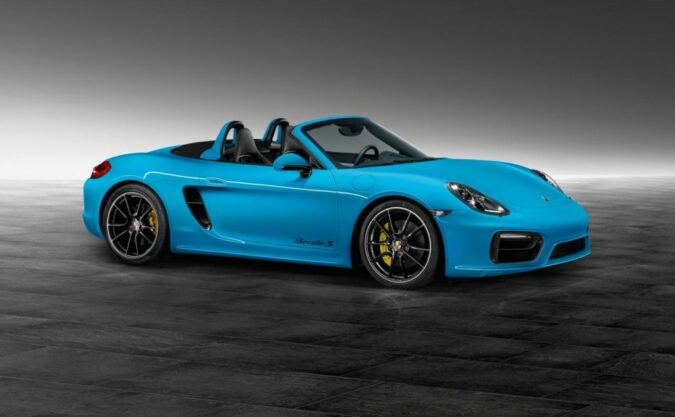 A 300-hp turbocharged 2.0L flat-4 on the base Boxster and a 350-hp 2.5-liter flat-4 on the S variant are the two engines offered. Each comes with a supremely engaging six-speed manual transmission. However, customers can instead choose Porsche's perceptive seven-speed automatic. The base Boxster reaches 60mph in 4.7 seconds while the Boxster S achieves the same in 4.3 seconds.
Deep fondness is felt for the Boxster's handling and steering abilities. The Boxster's mid-engine configuration contributes to its sense of balance and stability through turns. Also, its incredibly communicative steering responds fast and precisely to even the smallest adjustments.
Affordable Convertible Cars: Honourable Mention – High-Performance Convertible Sports Car
Affordable Convertible Cars: Chevrolet Corvette Stingray Convertible ($68,400 – $79,850)
The Chevrolet Corvette has a long history dating back to the 1950s. The current C8 model continues this legacy in a new direction with a rumbling V8 positioned behind the passenger compartment and a still-affordable price.
When outfitted with the Z51 package, the Corvette has performance in the supercar territory. Coupled with its surgically precise handling this makes it a track day favorite. However, its ride over bumpy stretches is surprisingly pleasant, and its cabin is comfortable enough for daily use.
Though it is now beneath the passenger compartment rather than in front of it, the engine is still a 6.2-liter V8. It puts out a strong 490 horsepower and 470 lb-ft of torque. It produces 495 horsepower when equipped with the dual-mode performance exhaust that is included with the Z51 package (fun fact, check out our guide on the NB Miata catalytic converter). The Corvette Stingray Convertible blasts to 60mph in under three seconds.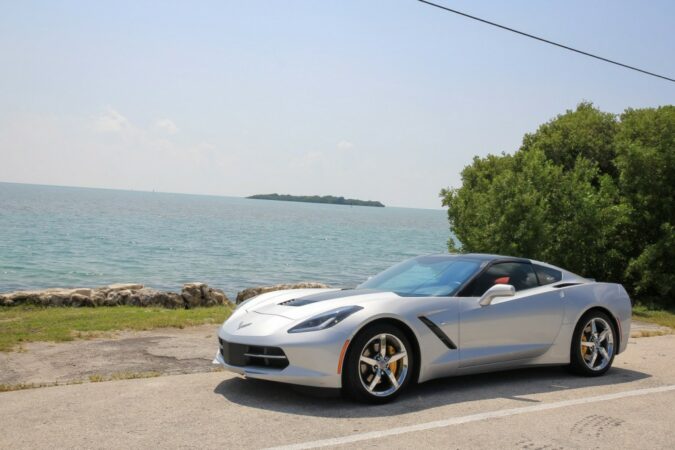 The Z51 package also includes summer tires, a more aggressive set of brakes, and an electronic limited-slip rear differential. The only available transmission is an eight-speed dual-clutch automatic, a Corvette first. Either a push-button gear selector on the center console or two sizable shift paddles mounted on the steering wheel are used to operate it. There isn't a manual transmission available.
Even in its most basic configuration, the Corvette Stingray Convertible can handle heroically and provides intense thrills on both the road and the racetrack. The Corvette C8 is a highly sought-after sports car that appeals to a wide audience. Thanks to its Ferrari-like handling and incredible performance at a Chevrolet pricing.
Affordable Convertible Cars: Used Convertibles
What if you want a more powerful convertible on a budget? Thankfully, there is a sizable range of pre-owned convertibles with outstanding performance. A thorough search of online markets and used automobile dealerships can turn up a number of excellent options. Here is a list of some of the top convertibles you can buy used for under $25,000.
Audi A5 Convertible
The Audi A5 is a two-door luxury convertible with a stylish interior and a respectable reliability record for a German luxury car. The Quattro all-wheel-drive technology became standard on every trim in 2015. This was unusual for a fast convertible in this price range and makes it a fantastic year to shop.

BMW 2 Series Convertible
The 2 Series is a love letter to BMW devotees who long for the company's earlier years. It possesses the compelling driving qualities that made BMW a legend. It is a real driver's machine that isn't overly large and exudes a sense of exquisite simplicity. Since 2015, a convertible body was made available and these 2015 models would be available in the mentioned price range.
Chevrolet Camaro Convertible
The Chevy Camaro is adored for its powerful appearance and performance. The V6 or the turbocharged 4-cylinder will likely be the engine you choose in this price bracket. But every Camaro is enjoyable to drive regardless of its engine. Additionally, it boasts a fantastic entertainment system that feels modern. We recommend the 2016 Camaro as the best option in this price range.
Chevrolet Corvette Convertible
The C6 generation of Corvettes is the one to buy if you're looking for one in this price bracket. It offers superb value as a 2-seater sports car with a strong standard 430-horsepower V8 engine and low maintenance expenses. Additionally, you may comfortably drive it every day, even with the top down.
Ford Mustang Convertible
With the 2015 model year, the Ford Mustang entered the S550 generation. The Mustang is a legendary American muscle car with a striking appearance, thrilling performance, and cutting-edge technology. The Mustang excels at almost everything it does and we recommend the 2015 model to be the best option considering the price bracket.

Mazda MX-5 Miata Convertible
The Mazda MX-5 Miata's ND generation, which debuted in 2016, is becoming more widely available at a reasonable price. The ND builds on the Miata's strengths, such as its low curb weight and enjoyable driving experience. It also adds to it with more up-to-date tech features.
Mercedes-Benz SLK-Class Convertible
The less expensive, more compact alternative to the SL-Class is the Mercedes-Benz SLK-Class. This high-end roadster is beautiful, comfortable, and delightful to drive. The SLK is a used convertible that will have your friends believing you spent more money on it than you actually did.
Nissan 370Z Convertible
If you can find one, the Nissan 370Z roadster is a thrilling sports car despite its rarity. It features a futuristic appearance that is still current, as well as a powerful standard V6 engine. The Z has a fantastic blend of power and agility thanks to its nimble handling.
Porsche Boxster Convertible
The 987 generation Boxster is undoubtedly one of the most affordable used Porsche sports cars. It seamlessly combines a sumptuous cabin with an exhilarating driving experience, in typical Porsche form. The mid-engine Boxster is a fantastic performance car, top-down or top-up.
FAQs On Affordable Convertible Cars
Are Convertibles Worth It
Ownership of a convertible is ultimately a sacrifice, but if you can frequently lower the roof, it's worth it. If that doesn't happen frequently enough, you just have to cope with all the drawbacks and not enough of the enjoyable portion. So, determine whether you're likely to regularly remove the roof.
What Is The Cheapest Convertible Car
The Mini Cooper Convertible and the Mazda MX-5 Miata. As of 2022, these are the two most affordable convertibles you could buy. The Mini offers a more practical ownership experience while the Miata is a true RWD driver's machine.
Is 170 Horsepower Good
A suitable range for a car's horsepower is between 200 and 300. For drivers who don't mind a more relaxed driving experience in exchange for higher fuel efficiency, many base models from some companies offer between 100 and 200 horsepower.
What Was The First Convertible Car
The first attempts at convertibles were frequently noisy and difficult to drive. However, this changed in 1934 when the Peugeot 601 Eclipse was introduced. This car had a retractable hardtop and a self-contained roof that vanished behind the driver's seat in the back.
Are Convertibles More Expensive
Due to the additional moving components required to operate the convertible top, convertibles are typically more expensive to buy.
Are Convertibles Less Safe
The research on crash and fatality rates shows that late-model convertibles are no riskier than non-convertibles. This is despite the relatively fragile appearance of their roof systems. In reality, convertible variants of the same cars had lower crash rates and driver fatality rates than nonconvertible ones.
Why Not To Buy A Convertible
The interior of your car may suffer from exposure to the sun. Although driving an exposed car could be exciting, it also increases the speed at which dirt accumulates inside the car. Additionally, a car loses a significant portion of its structural support system in the lack of a permanent roof. This might result in a chassis shudder.