One of Tesla's most alluring selling features, when it solely dominated the electric car market, had little to do with the cars themselves. Instead, it was the brand's unrestricted free access to Tesla Superchargers. But now in the present time, are Tesla charging stations free?
Whether you've owned a Tesla before or not, you probably know how and where to charge it, especially with the network of Superchargers constantly expanding. You have qualified for free supercharging from Tesla if you have owned your Tesla for a while, or you still do.
With some cars, it might be fairly easy to just look up the free EV charging stations near me. Yet, this might not always be as straightforward if you own a Tesla. The best ways to check if you or your Tesla model still qualify for free charging are listed below.
Tesla Charging Stations
It goes without saying that Tesla is the most well-known producer of electric vehicles worldwide. The Model 3, Model S, Model X, and Model Y (whichever you think are the best Tesla model) are the four electric vehicle models offered by Tesla. Finding a vehicle that suits your needs is simple with so many possibilities available.
However, there is a lot of reluctance to purchase electric vehicles, and range anxiety is one of the causes of this. There's a good reason why folks worry about how long does a Tesla battery last. Many individuals worry that their electric car won't be able to take them where they need to go without the battery dying.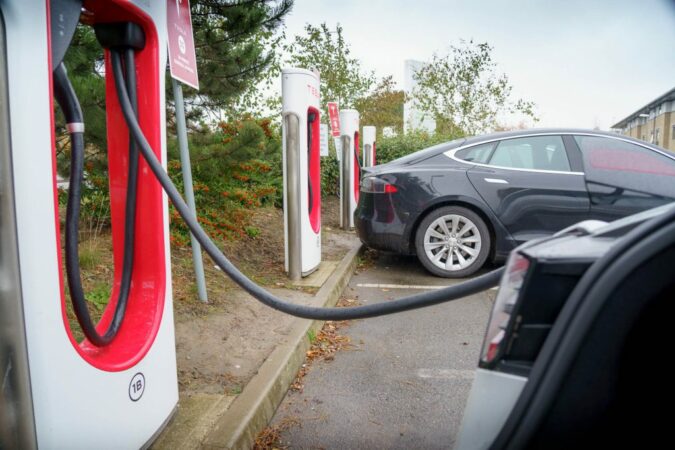 Long-range batteries in their cars and their large network of Tesla charging stations have helped Tesla as a reaction to calm some concerned minds. With access to Tesla's charging stations, you'll be able to keep powered wherever you go because they're dispersed around the nation in practical spots along popular routes.
This article will go over everything you need to know about Tesla charging stations. It covers the many types of charging stations that are available, how quickly they can recharge your electric car, and the cost. And if you're new to EVs and don't know how they work, our guide on whether can you put gas in a Tesla might help.
Tesla has a huge network of charging stations for EVs. Superchargers and Destination Chargers are the two different categories of public Tesla charging facilities. In North America, there are more than 19,000 of both types combined.
We will further explain both these charging stations in detail and also answer the question – are tesla charging stations free?
Tesla Supercharger
Owning a Tesla has many advantages, like Autopilot, in-car electronics, and an immensely long range. However, there is also the Tesla Supercharger network which is a global network of fast-charging locations. You've probably heard of Superchargers, but you might not fully understand what they are or what they do.
Tesla Superchargers are 480-volt direct current fast chargers created by American automaker Tesla, Inc. for electric vehicles. Six Supercharger stations made up the Supercharger network when it debuted on September 24, 2012.
As of June 2022, Tesla operates 36,165 Superchargers in 3,971 stations around the world. (an average of 9 chargers per station).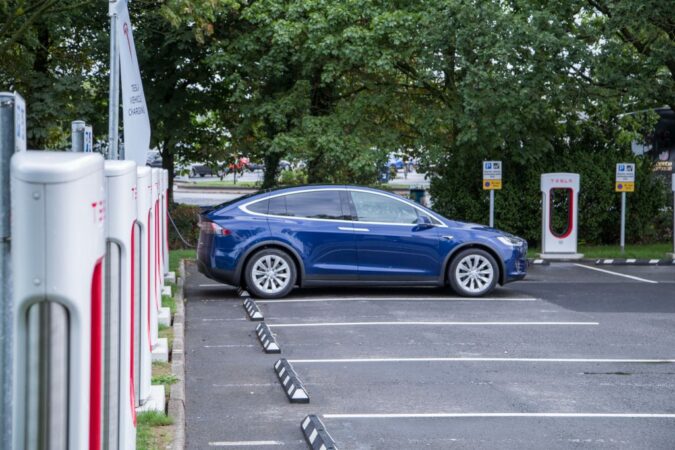 There are 1,621 stations in North America as of August 2022, 1,139 in Asia/Pacific, and 842 in Europe. A connector for electrical power at maximums of 72 kW, 150 kW, or 250 kW is present in Supercharger stalls.
The first vehicle to utilize the network was a Tesla Model S, which was followed by a Tesla Model X (the one with the falcon doors), Model 3, and a Tesla Model Y. Some Tesla vehicles came with unlimited free supercharging, others with 100–400 free kWh per year, others with a single 100–400 kWh credit and yet others with a monetary credit.
Any fees are automatically charged to the corresponding Tesla account of the vehicle or to the credit card on file. Although stations in countries that forbid billing by consumption instead charge by time spent charging, usage is commonly billed by the energy consumed.
If you stay plugged into the Supercharger after charging is finished, you could also be charged an idle fee.
Tesla Miles Per Charge
Long-distance travel is intended to take advantage of this lightning-fast charging. A Supercharger can charge your Tesla to 80% in only 40 minutes. The rate of charging slows once the battery has reached 80% in order to safeguard the battery's health.
It's vital to remember that using a Supercharger would require approximately 75 minutes to obtain 100% charge. Even while Superchargers are quicker than other types of electric vehicle chargers, they still take longer than filling up a tank of gas. Therefore, it's crucial to account for extra time for charging while planning your vacations.

As such, make sure you're aware of how long does it take to charge a Tesla. Each Tesla model has a different Tesla Supercharger charging rate which is as follows-
Tesla Model Miles Per 15-Minute Supercharging
Model 3 – 175 miles
Model S – 163 miles
Model X – 142 miles
Model Y – 158 miles
Tesla Free Supercharging
Prior to April 2017, all those who purchased and took delivery of a Tesla also enjoyed the benefit of unlimited free charging for their car at Tesla's nationwide supercharging stations. However, after that date, Teslas no longer included that option, with the exception of a brief period to boost sales in 2018.
In the middle of August 2019, Tesla brought back the option for Model S and Model X sales. However, it was later discontinued at the start of 2020 due to the Covid pandemic. Although the free supercharging bonus offered by Tesla has gone back and forth several times, the current situation is that it is no longer an option for new Teslas.
Tesla Superchargers are charging stations scattered around the US and Europe that do exactly what you'd expect them to do. They charge your Tesla much more quickly than if you were to plug it in at home. Just make sure you're wary of the cost to install a Tesla home charger.
A Tesla Supercharger can charge a battery from empty to 80% in under 30 minutes for roughly $0.25 per KW. However, owners who have access to limitless free supercharging don't have to pay a dime for the service.
Are Tesla Charging Stations Free: Why Did Tesla Stop Providing Free Supercharging
The Covid-19 pandemic that struck at the start of 2020 is a direct cause of Tesla's removal of the free supercharging program or at least the most recent version of it. As the global economy deteriorated, so did Tesla's sales and manufacturing rates.
As a result, Tesla was compelled to lower the starting prices of numerous models and permanently discontinue the limitless supercharging benefit.
Tesla spent more than $23 million on free supercharging for owners who already had the option before the program was restructured. This was even after the perk was discontinued for new or resold cars. And while you're here, we've written a guide on comparing lease vs buy for a Tesla, if you're thinking of getting one.
Basically, Tesla has spent more on free supercharging since its major sales boom than it has actually made from more sales by providing the perk.
Are Tesla Charging Stations Free: Tesla Models That Qualify For Free Supercharging
Here are some of the finest methods for figuring out whether you or your Tesla are eligible for Supercharging. First, it's crucial to highlight significant regulatory changes and recent Tesla news that have occurred since the firm started providing unlimited free Supercharging in 2012. This information should help you catch up:
The first-generation Tesla Roadster lacks supercharging capability.
Tesla offers some type of complimentary supercharging for all Model S models. This is aside from the Model S 40, which required to be unlocked because it was a software-restricted Model S 60,
Since 2017, fully transferable, unlimited free supercharging has not been available.
In 2018-2019, the Model 3 Performance offered free, unlimited Supercharging for the duration of the EV. However, this offer is non-transferable and only applicable to the original owner. Oh, and be sure to refer to our article on the Tesla Model 3 Performance horsepower for more details and specs.
Tesla reinstated the feature to boost the sales of the Model S and Model X in the middle of August 2019. However, because of the Covid epidemic, it was subsequently stopped at the beginning of 2020.
Tesla has not ever mentioned additional free unlimited Supercharging since the middle of 2020.
The Model Y is the most recent Tesla, hence there have never been any ongoing free Supercharging offers. However, Model Ys bought later in December 2020 may have been eligible for a year of free Supercharging in an effort to meet Tesla's sales target. That's especially when you consider the Tesla Model Y towing capacity, and the amount of power needed for that to run.
Are Tesla Charging Stations Free: How To Know If Your Tesla Qualifies For Free Supercharging
The Tesla models that may still be eligible for the promotion of free unlimited supercharging are listed below. Keep in mind to contact Tesla to find out whether your EV qualifies or not:
Model Y 2020-2021 – None (Unless you bought the car in late December 2020)
Model 3 2018-2019 – Performance trim only and limited to the original owner.
Model X 2016-2020 – Potentially offered, Contact Tesla to confirm
Model S 2012-2020 – Potentially available excluding the S 40 trim, Contact Tesla to confirm
Contacting Tesla directly is the quickest and simplest way to find out if you or your Tesla have unlimited free supercharging. It could be more difficult to reach someone these days, whether it be by phone or chat.
However, it might be worth the wait to find out for sure if you still qualify or not. The following are the steps to check your Tesla account online to find out the same-
Login to your Tesla account.
Select "manage" then "see details" next to the linked Tesla vehicle.
Look for the option marked "free unlimited Supercharging"
This option will simply inform you of the availability of free unlimited supercharging for your Tesla. However, it will not inform you of the transferability of this benefit. For that, you'll have to contact Tesla and confirm.
Tesla Destination Charger
Tesla owners can now benefit from the company's network of destination chargers in addition to Tesla Superchargers. Tesla's "Charging Partners" are responsible for installing destination chargers. Business or property owners who decide to install a Tesla Wall Connector on their property for public use are known as Charging Partners.
The charging speed of destination chargers is lower than that of Superchargers. A destination Charger can fully charge your Tesla in one to twelve hours, depending on how much power is left in the battery. The chemistry in the latter is crucial to understanding how much does a Tesla battery weigh in addition to how much is a Tesla battery.
When you are going to be stationary for a long amount of time it is advisable to use a destination charger. Such as during dinner at a restaurant or overnight at a hotel. If you're only stopping briefly, destination chargers won't be much use because a 30-minute lunch pit stop will only add 15 miles to your charge.
The majority of Tesla's Destination Charging locations have been free, with the only prerequisite in some cases being that you must be a client of the establishment. For instance, if you use a Destination Charger at a hotel, some locations demand that you are a guest there. The firm would pay for the electricity used by the chargers.
However, Tesla is now introducing paid charging at these locations. But there is a catch. You need to have at least six Wall Connectors to be able to establish pricing at your Destination Charger location.
Depending on the Tesla model you own, different destination Chargers have different charge rates. Rates for Tesla destination chargers by model:
Model 3 – 44 miles/hour
Model 3 Standard – 30 miles/hour
Model S – 34 miles/hour
Model X – 30 miles/hour
Model Y – 42 miles/hour
Tesla Supercharger Locations
There are Tesla charging stations all around the United States. To ensure that people who drive long distances will have easy access to charges, Tesla purposely put Superchargers on popular travel routes. That's especially given that some Teslas are AWD, which consumes more power.
You may find a number of Tesla charging stations on a map of major interstate roads, scattered across the parking lots of hotels, rest areas, and retail establishments.
Additionally, Tesla is putting in Superchargers in urban areas. These urban Superchargers are set up in locations like supermarkets and downtown districts. While you wait for your Tesla to finish charging, you may shop or grab a cup of coffee at one of these nearby locations.
Destination Chargers on the other hand aren't usually available in the same practical places. This is due to the fact that Tesla's Charging Partners are spread throughout the country, not just in major cities or on busy routes.
When you are going along local routes, where Superchargers might not be installed, Destination Chargers come in handy.
Tesla Road Trip Planner
Tesla has concentrated on attempting to make charging your car as simple as possible. In addition to placing super-fast Tesla charging stations in practical areas, they also have their Go Anywhere tool. This tool optimizes your road journey based on Supercharger locations and essentially serves as a Tesla charging station map.
The tool creates a path with Supercharging stations along the way from your starting point to your destination. It also includes the locations of Destination Chargers close to your destination and instructions on how long to charge at each station.
The touchscreen in your Tesla also has access to this feature. The fastest path with Tesla charging stations will be found via the navigation feature. The most current and reliable information on the best route to take is provided by the navigation system of the vehicle.
If necessary, Tesla lets you modify the suggested path. So, if the path they recommend isn't great for you, you can modify it to suit your specific requirements.
No matter where you are, you can use the touchscreen to identify the nearest Supercharger. It will show you the number of available stalls and the fastest charging rates. You may feel secure knowing that you can get to your destination without running out of juice thanks to Tesla's navigation feature.
Tesla Supercharger Cost
Tesla owners with models that are not eligible for free supercharging must pay to use the stations. Depending on where you live, the price of a Tesla charging station varies. It also depends on whether the Supercharger charges you per minute or per kilowatt hour (kWh) while your battery is charging.
When a car is charged per minute, there are two charging tiers:
Tier 1 – While vehicles are charging at 60 kilowatts or less
Tier 2 – While a car's charging rate exceeds 60 kilowatts.
The following are the current US average prices for using a Supercharger:
Tier 1 (under 60 kW) – $0.13 per minute
Tier 2 (over 60 kW) – $0.26 per minute
Per kWh – $0.28 per kWh
Tesla has also introduced idle fees to try and stop Supercharging stations from filling up too much. If more than half of the parking spaces at a Tesla charging station are occupied while your car is fully charged, Tesla will charge you an idle fee.
If your car is connected to a Supercharger after it has finished charging, you will be charged $0.50 per minute in the US. The idle charge increases to $1 per minute when a Tesla charging station is 100% full.
It can be a little frustrating to worry about idle fines. The cost can be avoided, though, if you keep an eye on your Tesla app. You won't be charged an idle fee if you move your car within five minutes of being informed that the charging is finished.
Are Tesla Charging Stations Free: Tesla Charging Stations Cost Reduction
Due to the crisis in Ukraine and the restrictions on Russian oil and gas, the cost of both gas and electricity has been soaring over the past year, especially in Europe. It used to be difficult to pay more than $5 or $10 for a full charge at a Tesla Supercharger.
However, many Supercharger stations are now charging $0.50 per kWh after many price increases over the course of the past year. This can result in a reduced cost of $30 to charge 60 kWh.
Tesla announced a significant Supercharger pricing increase earlier this year. First in Europe because of the energy crisis and afterward in North America, particularly in California. But what rises must inevitably fall.
Over the past few weeks, numerous Tesla owners in numerous markets have reported that Tesla has lowered costs at local stations. So, that should alleviate your concerns over how much does it cost to charge a Tesla.
Supercharger prices cannot be tracked internationally. However, Tesla drivers can view local station prices using the GPS system in their cars. According to a Tesla owner in California, local costs have decreased by as much as 5 cents per kWh.
Charging stations undoubtedly have the most impact on prices because they are beholden to electric utility rates, but the charging industry as a whole is also changing. It's only been around for approximately ten years, and only now is the number of electric vehicles on the road beginning to rise to the point where the industry is beginning to mature.
Are Tesla Charging Stations Free: In Conclusion…
Tesla has recently taken a lot of steps to adjust, such as increasing time-of-use rates to correspond with peak traffic hours. Of course, it will also gradually allow non-Tesla EVs access to the Supercharger network, making the network a legitimate business rather than merely a tool for promoting Tesla vehicles.
It is now clear that no new Teslas offer free supercharging. However, there are some older models of Tesla that still possess this benefit. If you are the original owner of your Tesla and you acquired it with the free supercharging option before April 2017, the benefit should still be in effect as of right now.
Pre-2017 supercharging benefits are also purportedly entirely transferable. Thus they should continue to be in effect even after being transferred to another party. However, it's difficult to say whether the benefit is still transferable after many changes to Tesla's supercharging regulations.
However, you can always log in to your Tesla account and confirm, if you are eligible for the free perk. It's one of the many benefits of owning a Tesla that makes the overall ownership experience a bit easier. Such as, the Tesla car wash mode.
For anyone reading this who is new to Tesla ownership, we also have some guides that might be insightful. Particularly, concerning some of the most common Tesla problems, as well as the myriad of Tesla reliability concerns. On top of that, our comparison of Waymo vs Tesla, to see which semi-autonomous system is better.
FAQs On Are Tesla Charging Stations Free
If you're curious to learn more about are Tesla charging stations free, our FAQs here might help…
How Long Does It Take To Charge A Tesla
Standard Tesla batteries can be charged to 80% using a SuperCharging station in around 15 minutes. Because high voltages might hasten battery deterioration, experts advise against fast-charging your EV past 80%.
How Much Does It Cost To Charge A Tesla
If you get the basic 2022 Model 3, for the battery to be fully charged, you need a budget of roughly $10.9. The price per mile now equals around $0.04, or $4.02 for every 100 miles. The cost of fully recharging the 2022 Model 3 Performance model is $14.39. Roughly about $0.046 per mile.
What Is A Tesla Supercharger
Tesla Superchargers are 480-volt direct current fast chargers made by American automaker Tesla for their electric vehicles. Six Supercharger stations made up the Supercharger network when it debuted on September 24, 2012.
What Is Tesla Destination Charging
Tesla's Supercharger network consists of DC fast-charging stations for long-distance driving. However, the Destination Charging network consists of level 2 chargers. These are primarily installed at restaurants and hotels to charge Tesla owners once they arrive at their destination.
Do You Have To Pay To Charge A Tesla
No, using a Tesla charging station does not come at no cost. The cost to charge your Tesla at a Supercharger is around 26 cents per kWh. Based on this, a Model X's full charge would cost roughly $15.29. With a 348-mile range, the 2022 Model X's cost per mile would be somewhat higher at $0.053, or $5.27 for every 100 miles.
How Many Kwh To Charge A Tesla
Depending on the Tesla model, a Tesla may charge at a maximum rate of between 7.2kW and 11.5 kW. So how many kWh is required to fully charge a Tesla? Battery sizes for Teslas range from 50 kWh for the Model 3's base range to a stunning 100 kWh for all Model S and Model X variants.
How Far Can A Tesla Go On One Charge
Any Tesla vehicle's battery has a minimum range of 267 miles per charge. The range of batteries is influenced by a number of factors. These two factors are your driving style and battery capacity. Tesla now offers a maximum range extension of more than 400 miles on a single full charge.
How Long Does A Tesla Battery Last When Fully Charged
Range differs between models and trims in the Tesla lineup. The average range of a Tesla car's battery is 336 miles per charge. The Model 3 has the shortest range (267 miles), while the Model S has the highest range (405 miles).
How Long Do Tesla Cars Last
Tesla automobiles are predicted to survive for at least 8 years or 100,000 miles. However, several Model S vehicles have exceeded that threshold. This necessitates extensive maintenance and safe driving practices.